So what should you do if one dog is being aggressive towards the other dog in your own house?
Some dogs may even attack their fellow canines, leaving owners with lots of questions.
Whether it's about reintroducing the dogs or the question of whether or not they should be separated after a dog fight and what line one should draw when it comes to the safety of other members in the house.
While it's always saddening us to witness our beloved dogs fight each other, the problems are often pretty easy to solve if owners are ready for workarounds and training.
You'll learn how to spot the signs of how serious a dog fight is (or was if you're coming home too late), what to do with them and how to work on this issue.
My Dog Keeps Attacking My Other Dog For No Reason
Many owners report one of their dogs fighting with each other for no apparent reason.
While it may seem like our dogs just go on murderous frenzy out of nowhere, that's actually almost never the case.
Dogs always communicate using their body language which includes facial and vocal gestures like growling, body postures, and tail positions.
We humans can sometimes have a hard time reading theses signs but even though threats can be pretty clear to dogs, they too can challenge their fellow canine. And sometimes both refuse to back down.
In other cases, it's just known issues that one dog has and the other doesn't, as is the case with food aggression.
While the aggressive dog may have initially triggered a dog fight, your other dog might as well be the first to attack. Every dog has a different threshold of what they take.
Keep in mind that it's never your dog's fault, some dogs just have a tendency to take less bullying than others and they might strike the provoking dog.
As a responsible dog owner, it's your responsibility to take precautions if one of your dogs has known issues like resource guarding, food aggression, not wanting to be annoyed by your new puppy, and so on.
We'll dive deeper into this in the bottom section where we discuss why dogs fight and how to solve it.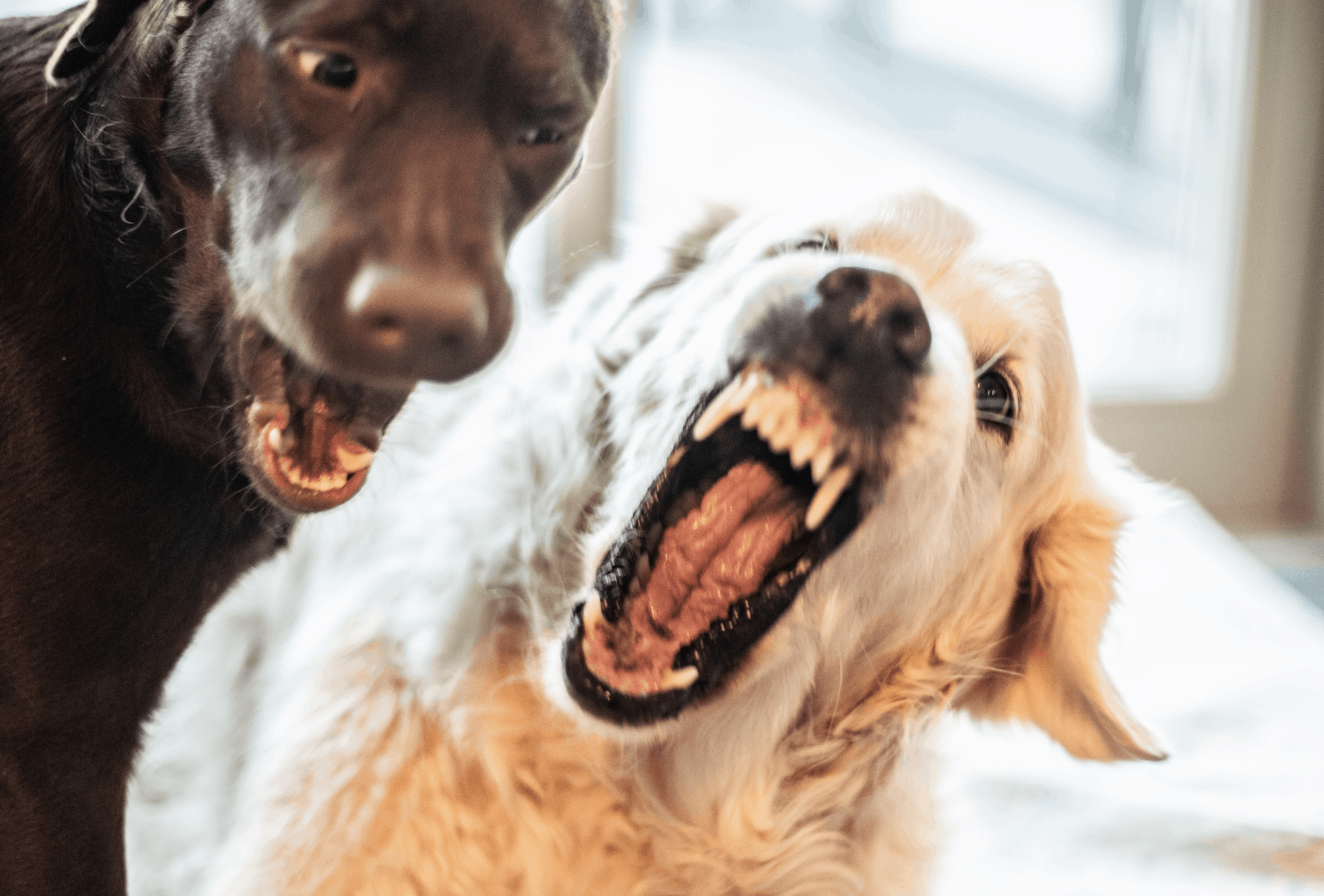 Why Is My Dog Suddenly Aggressive Towards Our Other Dog
While your dog might not outright attack the second dog in your household, signs of aggression can be a tell that something might happen in the future.
How can your dog display aggression towards your other dog?
Growling or snarling upon approaching
Baring teeth when food or toys are around
Snapping your other dog when overexcited
Redirecting leash reactivity towards other dogs
Bullying the weaker (usually smaller or younger) dog
These signs can all be perceived as aggression and can be indicative of future problems that might arise.
A very tense relationship is never welcome and should be resolved immediately upon being spotted, but what can you do?
How To Stop Dogs From Fighting In the Same Household
When it comes to stopping your dogs from fighting at home (or outside), it's important to note that I'm referring to constant nagging, snapping, growling, and so on – not any immediate threat or dog attack.
I have an article that covers the actual dog on dog attack if you're interested.
To stop dogs from fighting, the most important question is why your dogs fight in the first place.
Once you know the root of the problem, you can take care of it.
So why do dogs fight?
Resource guarding
Food aggression
Redirected overexcitement
Desire to be left alone
Jealousy

Pain

Territorial issues / previous aggression
1. The basic explanations for fights with dogs are always resource guarding and food aggression.
If one dog is known to have either of these issues, please take care of it early on and read the linked articles.
2. If you walk your dogs outside or guests are over and one of your dogs redirects the negative energy to your other dog due to his level of excitement, training will be required.
If that is the case, it's best to walk your dogs separately and work on the overexcitement with lots of new situations, dogs, humans, noises, etc.
The whole desensitization and socialization package.
My Rottweiler puppy was quite overexcited too (which presented as tension on the leash, nothing serious) and the causes and ways to solve this are almost always identical which is why I've written an article on this too.
3. If one of your dogs has a lack of exercise, this could be another reason why he is constantly nagging your other dog.
Besides extensive walks, there are several other things you can do to entertain your dog in your own backyard.
Make sure to adjust the amount and kind of exercise to your dog's breed, age, and individual needs.
Sometimes this also means walking the dogs separately as they can have different exercise needs.
A tired dog is a good dog.
5. When people introduce a new puppy into the family, the adult dog might not be so happy.
Some adult dogs handle puppies very well and can be the best teachers, but other dogs just don't have the temperament to deal with puppies in their face all day.
If one of your dogs constantly annoys the other dog, you have to keep this from happening again and teach them how to respectfully treat and measuredly correct each other in an appropriate way.
6. When you introduce a new rescue and he's all the rave, neighbors come over and pet him, he gets all the attention, then that may be great for him but much to your other dog's dislike.
Dogs can feel some form of jealousy and it's important to teach your first dog to handle jealousy but also make sure that both get attention equally.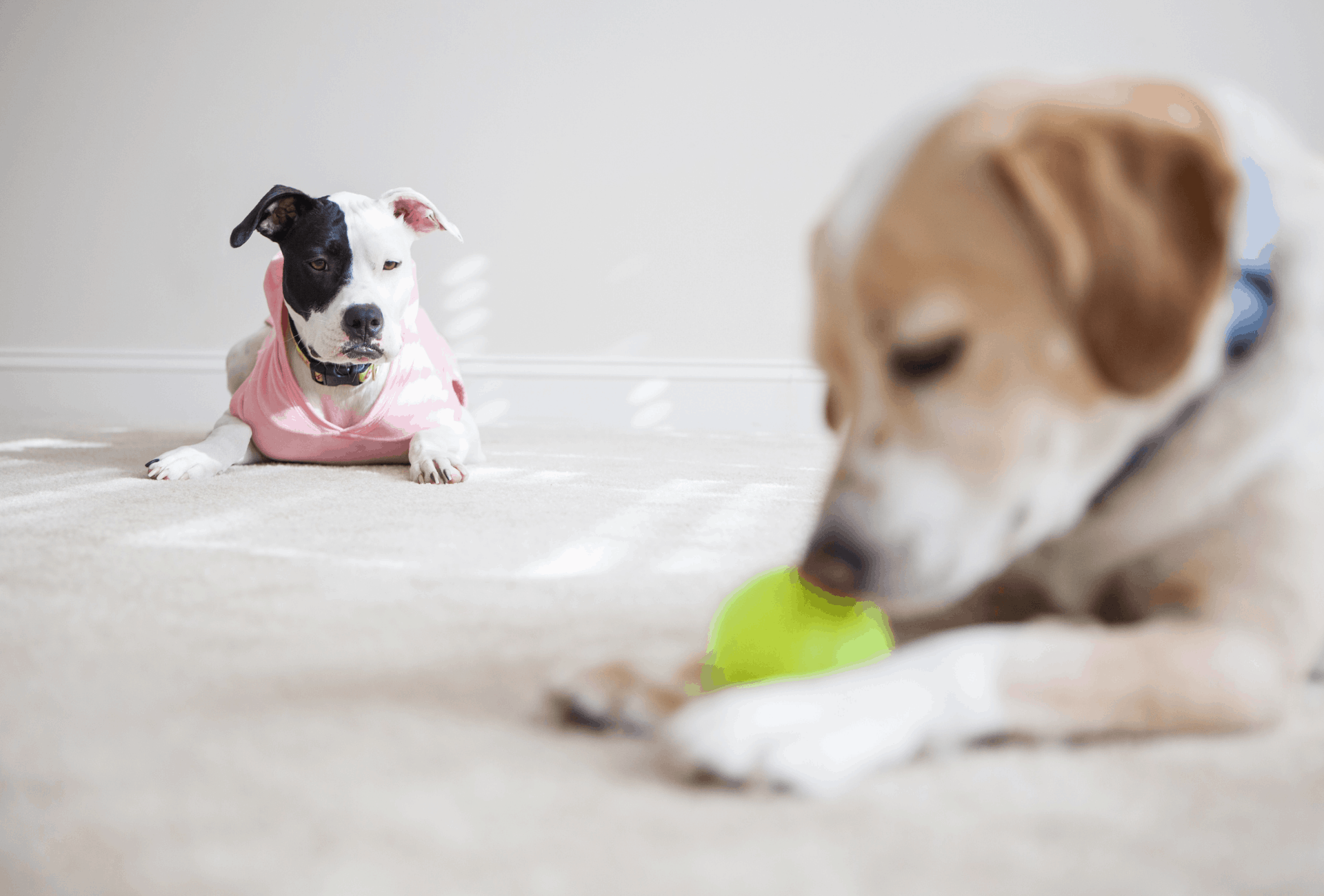 Go on bonding trips together, make sure they connect each other with positive things and not with negative experiences.
Visit a vet to rule out any physical injuries.
You can check simple things like foreign objects stuck in the paw yourself.
7. Injuries are often not discovered right away and the resulting change in mood might be perceived as aggression if there's another dog in the household.
8. I've decided not to include "dominance" since many people immediately connect that to the outdated dominance theory in dog training.
However, if you introduce a new dog, issues can happen if the introduction to each other was poor or even non-existent (see below).
Whether you believe in pack theory or not, it's important that your dogs listen to you and recognise you as the leader and guide in which case training will be far easier.
Dog on dog aggression can not only happen between males, but also between females or even male and female dogs (although this is the best combination in many cases if both dogs have the appropriate temperament).
If your new rescue has come with baggage in form of dog aggression, you can resolve the issues with the steps and articles outlined above that include socializing and desensitizing your dog to others in order to create a positive connection.
The assistance of a behaviorist may be necessary.
How To Tell If a Dog Fight Is Serious
If real attacks are happening, it's time to quickly intervene.
After this happened or even when you're just suspecting it, you should never leave your dogs alone if they're not separated (and if that's not possible, they should wear muzzles).
Muzzles are also mandatory if your dog is known to redirect any perceived aggression towards you, or other dogs and people.
I'd never recommend to anyone that they should let any dog fight "play out by itself". That's almost never the case.
While there certainly is a threshold when a dog attack gets really serious, you don't want to get to that point.
As discussed above, if you spot signs of aggression, intervene and separate the dogs until you have a clear plan of what to do now and how to resolve any issues that may have built up over a long time.
How To Discipline a Dog After Fighting
While dogs do learn with proper guidance, corrections, and counter-conditioning, there's nothing that you can immediately do that will resolve the issue.
Check out my ways of how to discipline your dog but keep in mind that a correction should always be clear, but measured as to not achieve the reverse effect of your dog losing respect for you too.
Separating the dogs is not a long-term solution, although it will work in the short term until you've figured out what the problem exactly is and how you can resolve the issue.
On the contrary, constant separation will put much stress on both dogs as well as yourself and other family members in which case a harmonic life isn't possible anymore.
If you go so far as to isolate one of the dogs, it might cause even more issues and resentment expressed as aggression than before.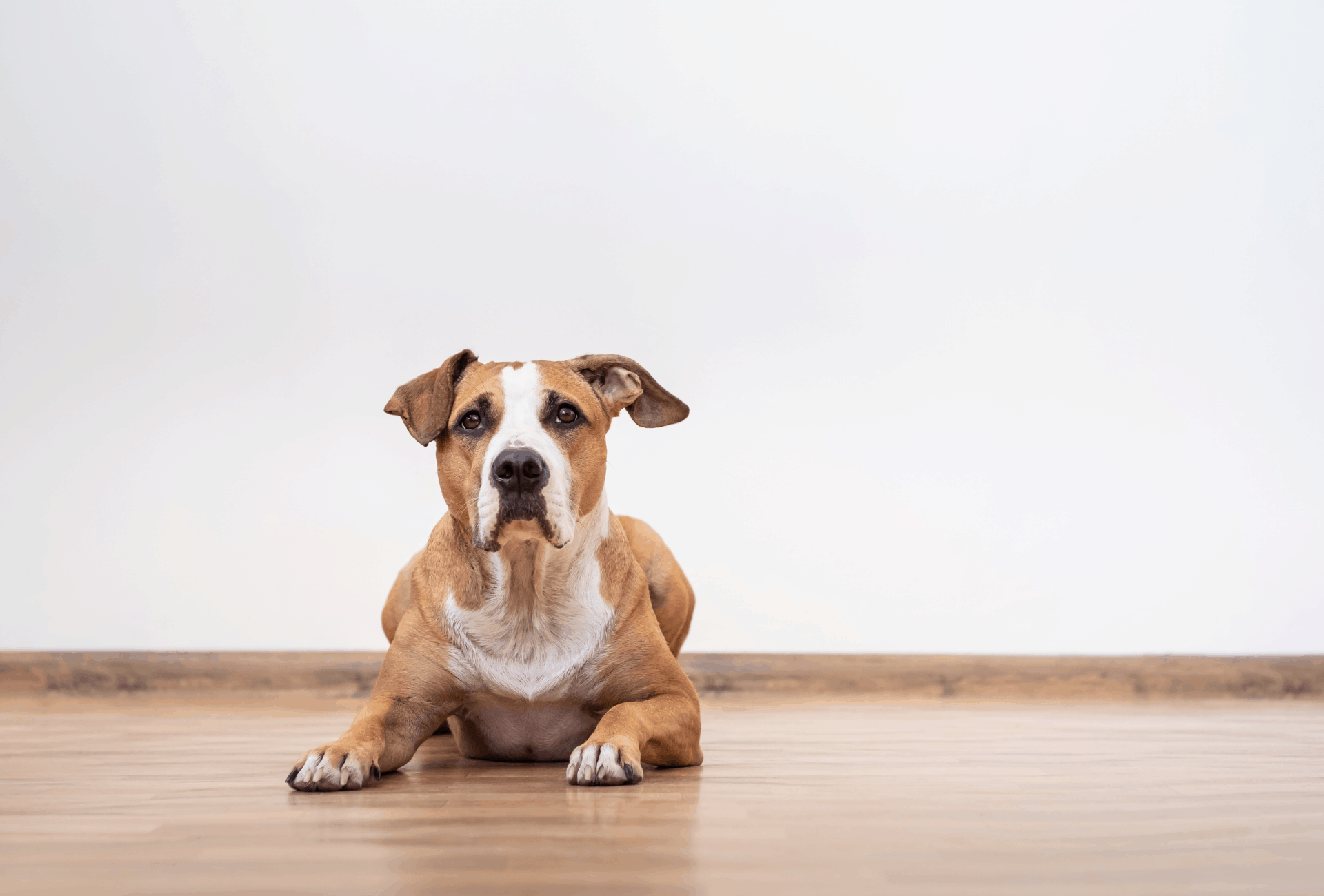 Reintroducing Dogs After a Fight
Reintroducing both your dogs in the same household is an important way for rehabilitation.
In some cases, poor introductions to the new family addition are the cause of the other dog's non-acceptance.
Some dog breeds defend their territory pretty harshly since that's what they're bred to do.
If you've just dropped a new dog into the other dog's territory, problems are bound to happen.
Make sure that any and all introductions to each other happen on neutral ground. Introductions shouldn't start with head-on meetings either since this can make one of your dogs uncomfortable.
Start by having somebody else lead the new dog towards you and then just start walking with you and your dog in the front.
Next, you can start with the meeting where they sniff each other more extensively.
Some dogs do not have any issues with dogs inside their territory (like my female Rottweiler), it's still good to take precautions to avoid any confusions.
My Dog Killed My Other Dog What Should I Do?
This is a question you'll find on Reddit more often than you'd probably like to.
It's a sad story, no matter what the circumstances were but it's important to not stick your head in the sand and start addressing this issue.
The advice that's spread by people that presumably never really read up about dog training and behavior can be really dangerous.
Next is the popular "just surrender that dog to a shelter" or even better "euthanize the dog".
Nearly no shelter will take a dog that killed another animal, much less another dog.
Even if they did, they probably couldn't train it and the dog would end up in the hands of a layman, without the slightest mention or explanation of the incident.
Euthanizing a dog for a mistake the owner made is also completely unacceptable in my personal opinion.
No matter how you look at this, falsely assessing your dog(s) and/or not taking security precautions like isolating one potentially aggressive dog from the other are mistakes.
We can't fix the past, but we can act differently in the future.
Start training with professional help.
And I don't just mean a certified trainer, I mean a really qualified behaviorist that has a proven track record and that you trust.
Be ready to put in lots of time, effort, and money.
If this is no option for you, it's completely understandable.
Sometimes, circumstances in life make it hard to deal with these kinds of situations but you should at the very least try to solve the issue yourself (with professional help if needed).
In case you want to surrender the dog to a shelter or another owner directly, do your research, explain everything in detail and do not downplay anything.
Try the hardest you can and don't blame anything on the dog.
A dog that has killed before can definitely be very dangerous and should only go out muzzled and not interact with other dogs unsupervised (or not at all, depending on what exactly happened during the attack).
To summarise this, dog on dog aggression inside your own home can be really sad to watch and if you feel helpless, remember that their is a way out to teach your beloved canines to accept each other.
Lots of problems are easy fixes with the right training and patience and if you have any questions along the way, feel free to ask them in the comments!