When I got my Rottweiler puppy, crate training her was the number one solution to a (relatively) stress-free night.
It seems simple – your puppy is in a warm, safe place, unable to wander around and wake everybody up.
But most importantly, it will keep him from peeing everywhere or starting a toy rampage.
Why a crate is actually positive for your dog: Dogs are den animals.
They are comfortable with being in a confined space for a short period of time which also provides them with enough safety when they sleep.
Why your dog probably won't pee or poo in his crate: Dogs are very clean animals.
Even if this seems counterintuitive when you're watching your dog eat stones, they preach cleanliness for confined places they associate with sleep, food, or play.
Nobody wants to sleep the whole night covered in their own feces.
Especially when you just brought your new puppy home he will be very stressed and without the right preparation, accidents will happen.
So why not get a good night's sleep to save some energy for the rest of the day?
The crate is also perfect for transportation in your car and if he learns to be comfortable in the crate early on, you won't have to deal with these problems in the future.
Although I prefer to transport my Rottweiler on the backseat with all the space and just a seatbelt clipped to her harness, it's nice to know other transports are possible too.
Benefits of Crate-Training Your Dog
A safe haven for your dog to calm down
No toy craziness, running or jumping on bed at night
Less pee/poo accidents with your puppy
Gets your dog used to small spaces for transporting
Structured start of the day (routine!)
1. The Right Set-Up
Every crate training starts with buying a high-quality crate.
Material (plastic vs. metal)
Toys, blanket, and puppy pads
Size (to avoid accidents, will the adult dog still need the crate?)
Extras (I recommend a doubled door crate with a dividing door)
There are two different materials that are used for crates: plastic (usually used for flight kennels) and collapsible metal pens.
For my Rottweiler, I bought a simple foldable metal dog crate with a double door.
I decided to go with the double-door because it provides you with easier access and a big door that you can leave open throughout the day if your dog likes sleeping in his crate.
I had to go for the biggest size since it was clear from the get-go how big my Rottweiler puppy would eventually be.
However, crates are available in all sizes.
To choose the right one, calculate how much your puppy will grow and how long you are planning to use the crate.
Most crates will have dividing doors, so you can limit the available space until your puppy gets bigger.
This is very important because otherwise, your puppy will have the chance to relieve himself on one side and sleep on the other end.
Prepare the crate with blankets, puppy pads (I couldn't use them because she chewed on it), and a chew toy (Kong for Puppies) so your puppy won't get bored at night when he wakes up.
Here is a little graphic that augments the above points:

2. Introducing The Crate
Take time to introduce the crate to your dog.
This part is crucial in every crate training as we want to associate the crate with a pleasant experience.
If you simply take your puppy and force him into the crate, don't expect him to just fall asleep – he won't.
For the first time you want to place the crate in a room with the most activity, like the living room, so your dog won't feel alone.
After your pup has settled down from arriving at his new home, walk to the crate with him and let him sniff for a while.
Let him sniff and explore the crate.
Puppies are naturally very curious and we want to reinforce that behavior by comforting him and talking in a happy and soft tone of voice.
At this step, you can introduce treats and feed him every time he investigates the crate.
That will create a good association with the crate.
You can lure him through the doors and place a couple of treats inside.
If your dog is too scared or excited to accept treats, try to ignite a proper game of tug or fetch near the crate and toss some toys into it.
The best permanent place to set up the crate is next to your bed.
Not only can you hear him when he wakes up to take him outside, but he will also be much more comfortable and will be much less likely to cry at night.
Give him time.
A few sessions each day just for a couple of minutes each time will suffice.
You can extend the periods gradually to make the crate as pleasant as possible.
3. Crating Process
Now that you have properly and successfully introduced the crate, it is time to learn more about the crate training process and which steps you need to take.
Should I Feed My Puppy in His Crate?
One of the best ways I can recommend is feeding your puppy every meal inside or near the crate.
Teach him a command associated with going into the crate now.
I simply used the very creative word "crate".
Start with repeating the word when the puppy enters the crate and praise him for that.
Slowly increase the distance (only 1 step first), say your chosen word, and wait for the puppy to step inside.
If your puppy doesn't accept food in the crate at his point you can also feed him beside the crate and decrease the distance until he can eat inside.
Once he is comfortable with getting his meals inside the crate, close the door until he has finished.
Slowly increase the time your puppy is inside the crate after his meals, so he will get used to it.
At 5 months of age, we still did this with our puppy. Every time I prepared her food, she was running around so excited for me to say the command.
Food and play release endorphins and your puppy will love to jump inside the crate every time.
UPDATE: She is still very excited about her food at nearly 2 years old.
Never free-feed your puppy in different spots, establish routines and your dog will love it!
Crating Your Puppy Throughout the Day
To get your puppy even more comfortable with being in the crate, you should try to crate him a few times a day only for a couple of minutes.
This will later set him up for an anxiety-free experience when you leave him alone at home.
Start by saying the command your puppy has already learned in the other step and wait for him to go inside.
Close the door and quietly sit beside the crate. After a short time open the door again and let him outside.
Repeat this process a couple of times until he is completely comfortable with that.
Then you can get up and start moving a bit.
Just walk around, do some things and when your puppy is silently lying there, praise him and give him lots of treats.
Let him outside for a few minutes and then put him back in.
Once you have mastered that for a couple of days and your puppy hasn't started whining you can start with leaving the room just for a minute.
If your puppy has started whining, take a step back and train him more slowly.
If he starts it while you are in the room, do not let him out until he has stopped.
If he starts once you have left the room, do not go back inside until he has stopped.
That way we do not give him any attention and you show him that this whining will get him nowhere.
Set up a daily routine.
For example 10 minutes crate time after breakfast, 15 minutes after lunch walk and 10 minutes after dinner.
Puppies thrive on routines and he will quickly get used to it.
Crating Your Puppy When Leaving the House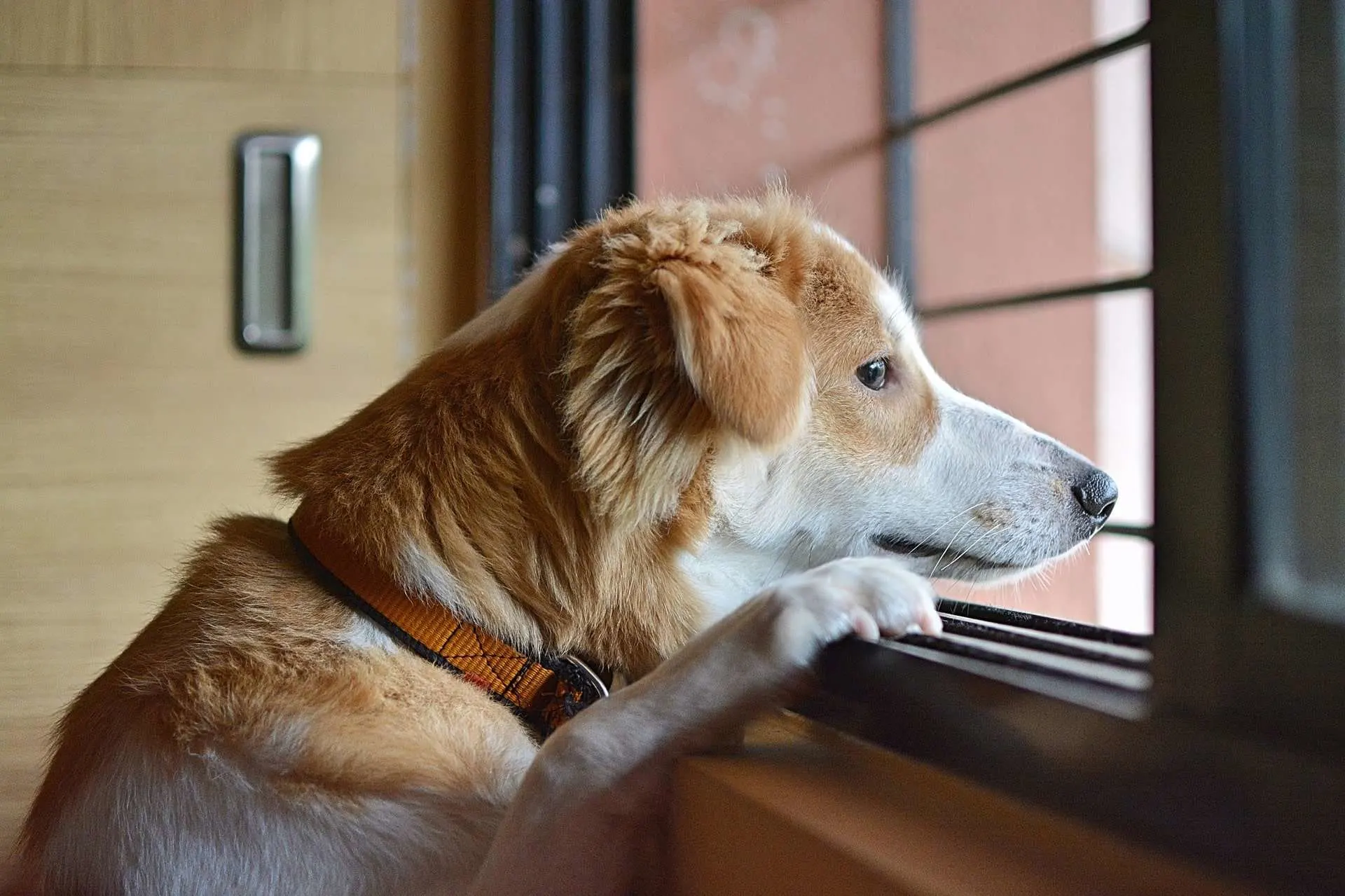 Once he can successfully be in the crate for like 30 minutes, you can start leaving him alone for short periods at a time.
This can take up to several weeks of training.
If you have to leave him alone for longer, ask a friend or neighbor to bring him outside and play with him, so he won't feel alone.
You can also hire a dog sitter for a couple of hours a day.
Prior to leaving, ensure that the crate is comfortable and has some chew toys in it.
You can crate your puppy a few minutes before you leave by using your chosen command that you have taught him above.
When you are ready to leave the house, just leave.
Do not say goodbye to your puppy and do not make it emotional as this will only increase potential anxiety.
When you come back, ignore him for a few minutes as he will probably be excited but we do not want to reinforce that excitement.
4. The First Night
If you have followed all of these steps, your puppy should be less likely to throw a party at night.
Before bringing him to bed, try to play or take him outside in the evening, so he will be tired when you put him in. Tired puppy = good puppy.
He will probably have to go outside a few times per night in order to eliminate.
Reality check: I don't want to scare you with my experience but I worked towards the perfect evening, exercised her more than enough and everything else on top.
Still, the first couple of nights weren't great. At all. So do not get discouraged if not everything is working perfectly the first night.
If you want to make it as best as possible, you can read my blog post on your puppy's first night at home.
Potential Behavior Issues
In this crate training process, you will probably stumble over some issues that can be solved, you just have to be patient and consistent.
Separation Anxiety
Separation anxiety comes in various forms and stages. It can cause excessive chewing, barking, whining and urinating.
The main objective here is to make the experience a positive one. Before you leave, make sure that your dog is tired, has relieved himself and has something to do.
Do not make leaving something special. Just get out the door and do not say "goodbye".
When coming home, ignore your dog for the first few minutes and do not act excited yourself.
When training, start with short periods of time (like 5 minutes) and increase them slowly.
There's a whole lot more to this behavioral issue and its prevention, that's why I tackled separation anxiety in this article.
Whining and Howling
Whining or howling in the crate is totally normal early on.
It also happens if you have rushed one of the steps above and your puppy didn't have enough time to adjust.
If your puppy has just relieved himself before, try to ignore the whining at night as we do not want to reward him for that.
Also, do not try to correct him even though it can be very frustrating but negative attention is also a form of attention.
If this is the normal time when your puppy has to pee at night, take him outside and make it as boring as possible.
Do not talk to him and quietly put him back into the crate to avoid continued whining.
This Youtube video is a great resource to learn how to deal with that crying at night. It's super simple but so effective! It gifted us something special: sleep.
How Long Can I Crate My Dog?
Never leave your puppy inside the crate for long periods at a time.
There is a rule of thumb on how long dogs can hold their bladder which is one hour per month.
So if your dog is 3 months old, you can let him there for 3 hours max ONLY if he has been trained several days or weeks on being left alone and he's tired prior to entering the crate.
Try not to leave your dog in his crate for more than 4 hours and never leave him alone at all for more than 8 hours at a time no matter the age (after the 4-hour mark you need somebody to walk him anyway).
The crate is not a dog sitter and should be never used as such.
Do not use the crate as punishment, your puppy will start to fear it and will refuse to enter it.
How Long Should I Use Crates?
You do not have to keep the crate for the rest of his life.
Once you can trust your dog that he won't destroy the house when you leave, the crate should be left open all day.
I have an article for How to Transition Your Dog Out of the Crate.
We disposed of the crate entirely once our dog was reliable enough to be left at home for a max of 4 hours, this happened around 5 months of age.
We were surprised how relaxed she was once she had access to the whole house.
Never destroyed anything, you could even leave food on the table and she wouldn't snatch it (and she loves food).
If you want to know more about how we did this, check this article out for basic obedience.
Do not lose your temper. I know that this process can be frustrating but losing your patience and yelling at your puppy will only make things worse.
Let me know your experiences with crate training and how you got into the process.
Recommended Reading:
Pin This:
Disclaimer: This blog post does not substitute veterinary attention and does not intend to do so. I am not a veterinarian or pet nutritionist. If your dog shows any sign of illness, call your vet.