Camping is a great way to get outside and enjoy the fresh air.
And camping with your dog is the ultimate adventure. Bonding time!
Your pup will have a blast exploring new sights and smells and spending time with you in a new environment.
That being said, camping with dogs isn't always a piece of cake – there are some things you need to know before you go camping with your dog.
Not only have I compiled this list of tips for camping with your dog, but I've also made a list of things you should pack for a stress-free trip.
Taking Your Dog Camping For The First Time (Checklist)
If you're taking your dog camping for the first time, your to-do list includes a thorough vet check-up with up-to-date shots as well as having emergency plans and the right gear (that includes a tent that accommodates your dog).
The routine vet visit is just to rule out any medical issue that you might not know of (heart, hip, and eye issues are pretty common).
A visit is even more crucial when your dog currently has symptoms that might exclude him from tagging along.
Your dog's not the fittest but you don't wanna leave pooch alone?
That's great and there are some workarounds ranging from the right car bed to make the trip comfortable as well as shorter walks instead of long hikes if you really want to take your dog with you.
However, ask your vet to make sure there's no medical condition that completely excludes your dog from physical exertion.
Getting your pup's shots: If he was already vaccinated several times as a puppy, you should be fine.
However, some camping grounds require you to have up-to-date rabies shots or some other type of shots.
Research local guidelines and laws in the places you're intending to visit.
Here's a little checklist of what you need before you go camping. I'll go into more detail below on the exact gear recommendations.
Vet Check-Up
Emergency Plans
Pack All Dog Gear (list below)
Water is Important
Introduce Your Dog To The Tent
Don't Leave Your Dog In the Tent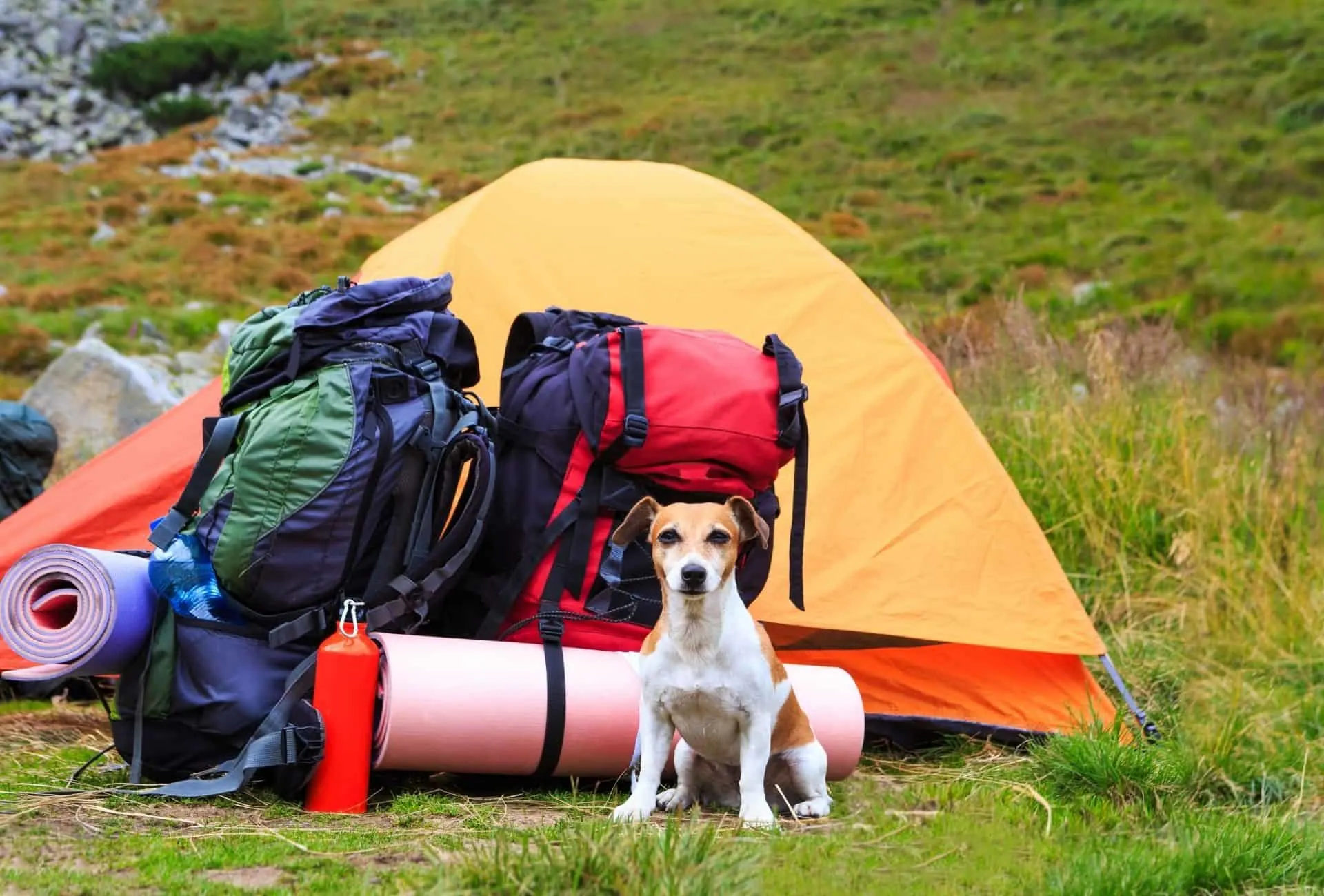 Emergency plans include knowledge of canine first aid as well as what you'll do when your dog gets lost or attacked by a wild animal.
Thinking of all the essential gear sounds easy, but wait until you see the list below.
Do not forget something essential like a leash or a LED collar when walking at night.
Also, that towel and brush will come in handy when your dog has rolled in the mud (or something even worse like dead animals).
Bring water. Not only for yourself but also for your dog. Sounds obvious but it often isn't.
If it's hot or a lot of physical exercise, plan to bring even more to keep your dog hydrated.
Lakes are not the go-to water source. Dogs may like drinking it, but it can actually dehydrate not to mention the bacteria that thrive in stagnant water.
Next we want to cover one of the most crucial camping gear – the tent.
First off, make sure that the tent you're buying is big enough for both of you and made of sturdy material!
This way he won't feel claustrophobic or crowded in his own space.
Introduce the tent properly to your dog because otherwise, he might not want to join in, especially not when he needs to sleep in a strange place for the first time.
You can set up the tent and home and lure your dog in with some treats.
This will also get you accustomed to setting it up.
If your dog is really reluctant just spend some time with him playing around the tent and gradually get him closer.
Wiggle the tent from side to side to show your dog that it can make some noise and finally lay down inside and see if your dog will join you.
Lastly, don't leave your dog alone in the tent. I'll cover that in more detail below.
Camp Hacks: What To Bring When Camping With Dogs
There are a couple of things you should bring when going out and about on nature's trail with your canine.
Here's a little list with stuff that might prove helpful.
Proper Harness & Leash
Doggy coat & boots
First Aid Kit
You should always have a first aid kit for your dog.
Also, carry a tool to remove ticks (think Lyme disease) and avoid areas with parasites or insects like mosquitos and fleas for 3 reasons:
they love targeting dogs
it's harder to protect dogs
these pests can transmit diseases as well
Pro tip: Coconut oil can help against fleas and other nasty insects while potentially benefitting your dog's whole body.
It's important to be prepared with the right tools before camping out in nature so that you are ready if anything happens.
That includes knowing what the heck you should actually do in case first aid is necessary.
You also need to be able to treat smaller wounds, cuts in the paws (moisturize them before and clean paw injuries), and so on.
Of course, if any medical conditions are known, you need to pack your dog's medication.
LED Collar
Many dog owners don't know how to keep their dogs safe at night.
A common solution for this problem are led collars or lights that attach to your pet's collar.
Never again search for your pooch after dark.
Setting up camp at dusk or even night is not uncommon and the LED light will also help other campers see your dog.
It's also handy that it illuminates your dog's immediate surroundings.
Foldable Water Bowl
It's simple but saves some space in your car or backpack and the material is easy to clean.
Did you know that many dogs get little pimples on their chin?
That can actually be an allergy caused by metal dog bowls, so the rubbery material these foldable bowls come in (if not chemically treated) is more skin-friendly for your dog.
Proper Harness & Leash
If you know that your dog is pulling a lot, don't go with a collar but a harness instead (and consistently leash-train your dog).
You have a big dog?
Well, tactical vests are great to give your dog a task and save you some carry load at the same time.
Grab a proper leash that's sturdy and not just the most stylish one.
Toys
Your dog needs mental exercise so pack a couple of his favorite dog toys.
I actually have an article on the most durable dog toys.
Not only will this prevent the toys from breaking quickly, but your dog is also safe because there's no stuffing that can be ingested.
Brush, Towel, Wipes
Sounds like simple grooming supplies but they can be game changers.
A good brush made from sustainable resources helps if anything gets entangled in your dog's coat.
You can use any towel and simple tissues but dedicating a towel to your dog makes it easier to differentiate them and they're often made just for our furry friends.
The wipes I've linked are soaked in coconut oil and work wonders, especially for drooling dogs.
Doggy Coat & Boots
If it's very cold where you are, you might need to think about a dog coat and boots.
While it's mostly smaller breeds that need these, very lean large breeds might also need tools to warm up.
Here's a list of all the doggy boots I've reviewed.
GPS Tracker
If your dog is prone to running away, use a GPS tracker. It'll help you ease up and makes sure your dog is safe.
Of course, it should still be avoided and you should always supervise your dog to avoid encounters with other dogs or even wild animals.
At the very least, your dog should have a microchip and maybe a name tag with all the important information.
Most new GPS trackers also track your dog's health which is a definite plus.
Can Dogs Sleep in Tents?
Yes, dogs can definitely sleep in tents but not all camping tents are suitable and big enough.
The best dog-friendly backpacking tent is one with a spacious area to accommodate your pet's measurements and also has an overhang or rainfly that will keep them dry when it rains.
It's important to have plenty of ventilation and choose a tent made of a sturdy material that won't break just because your dog paws the outer wall.
Is It Safe To Take Dogs Camping?
Yes, camping is safe for dogs as long as you take precautions.
If you pack all the essential stuff and don't leave your dog unsupervised, you should be just fine.
Of course, it also needs to be safe for other people and animals so make sure your pet is under control.
Nobody likes to see an untrained animal roam around the camping grounds or on the hiking trail.
It's also helpful to keep in mind that a dog's skin and coat can be quite sensitive and need proper care.
If it's cold and your dog doesn't have a double coat, you might want to think about weather protection.
Leaving Dog in Tent While Camping
No, you can't leave your dog in the tent while camping.
It may seem like a good idea on the surface to let your pooch relax and go explore places your dog might not be a perfect fit for but it's actually quite dangerous for your pup.
Your dog can't go potty or regulate the heat, he might get anxious and escape, or get attacked by other dogs or wild animals inside the tent.
Dogs are natural explorers. They love to sniff and hike around so being stuck in a tent definitely isn't their idea of fun.
In addition to that, your dog doesn't have the same options as you do when it comes to going out for a break or getting some fresh air.
Overheating can be a real issue too.
Dogs are stuck in the tent with all the sounds and smells that might make them nervous.
When left alone in an enclosed space without any breaks for water or food, pets can become anxious, which often leads to destructive behaviors such as chewing through tent material.
What if your dog escapes into the wilderness?
Furthermore, being attacked by a wild animal or having your dog stolen by other campers or passerby's are both possibilities too.
Do Dogs Get Cold Camping?
One of the most important things to remember when camping with a dog in colder climates (or just very sensitive dogs) is that they can get cold.
As mentioned above, let your pooch sleep with you in the tent and not outside, especially if it gets cold at night.
Try not to leave your dog in the tent.
If Fido must stay behind, make sure to provide plenty of blankets and heat up the tent if possible (turn off any heat source when leaving though).
Recommended Reading: How Cold Is Too Cold For Dogs?
Is Your Dog Anxious, Barking, or Lazy?
Dogs are not what you'd call natural campers.
They don't know how to set up their own tent, they don't know their way around a camping stove and they might try to chew on the tent poles (definitely a no-go).
So what do you do when you have a special case of a dog who's anxious around new place or barking all the time?
Naturally, we want to be with our furry friends all the time and every dog enjoys outdoor time in some way, shape, or form.
There a few things you can do to go camping successfully.
Camping with an Anxious Dog
Maybe your dog is anxious in an unfamiliar environment or around unfamiliar people.
Maybe your dog is startled by all the sounds from nature.
Maybe your dog just doesn't like the car ride to begin with.
Working on anxiety generally starts with desensitization and counter-conditioning.
Depending on the cause of the fear and how deeply it runs, it might take some time to train before you're going camping.
Check what's your dog's fear trigger and the response (loud sound connects to tail tucked between legs, head down, tight posture, hackles, etc. for example).
Make sure your dog is in a safe training environment. Pick a new place near you for training instead of immediately jumping into the cold water.
Lastly, the best thing to avoid canine anxiety is a strong bond with your dog.
If he trusts you, he'll be able to relax and achieve so much more he otherwise wouldn't dare to try.
How Do I Stop My Dog from Barking When Camping?
Your pup is a bundle of energy and the excitement increases when you embark on your outdoor adventure.
You want to make sure that they're having the best time possible, but one thing you may not have considered is how your dog will react to new surroundings or noises.
Maybe you already knew your dog is a barker but haven't thought anything of it.
And now it's disturbing other campers or even wildlife.
Check out this post on how to get your dog to stop barking because they won't get tired.
Best Camping Dog Breeds
There is no special dog breed that's best for camping, but there are a few that might fit the bill better than others.
In general, puppies and seniors might not be the best hiking companions because they can't walk for too long (obviously for different reasons).
While large dog breeds are better suited for hiking and everything that comes with it, it's absolutely not true that smaller dogs can't make great hiking companions.
Small dogs can more easily sleep in your tent due to their smaller body size, they won't annoy other campers or upset wildlife as much (debatable) and you don't need to pack as much food and other supplies.
But what do you do with a small dog if he can't walk very long distances? Dog backpacks to the rescue.
All I can say is that Rottweilers make a pretty good companion.
My Rottie loves hiking and is always up to the task.
Other working breeds like German Shepherds can definitely keep up with you too.
Boxers, Border Collies, Labs – all these breeds will certainly enjoy the exercise.
Make sure you choose places with birds to watch if you have a breed like the German Shorthaired Pointer.
And if you've got a dog with a heavily developed prey drive, do not let them off-leash if wildlife is around.
Watch out for fellow campers and nature in general and camping with your dog in a tent will be an awesome experience!
Disclaimer: This blog post does not substitute veterinary attention and does not intend to do so. I am not a veterinarian or pet nutritionist. If your dog shows any sign of illness, call your vet.