Two of the strongest muscles in your dog's body are in their jaws and in their neck. While that makes dogs excellent at some of their jobs, it also means that many dogs are tough on toys!
Some dogs are power chewers and will be even more inclined to destroy dog toys.
Toys are a necessity in the life of a happy dog.
They can provide an outlet for a dog's need to chew, chase, run, and more. If you're looking for the strongest, toughest, and most durable toy for your dog, you've come to the right place.
I've compiled lists of the most durable and toughest dog toys, including plush toys, balls, and chew toys, so you can stop spending money on toys that only last a few minutes. Your tough chewing dog will love giving his new toys a try!
What Is The Strongest Dog Toy?
The strongest dog toy I've tested is the WestPaw Zogoflex Qwizl Dog Puzzle Toy which is FDA approved, non-toxic, made in the USA, and comes with a replacement guarantee.
If you're looking for a nearly indestructible ball, the overall winner would be the Jolly Ball for Horses. Especially suited for bigger dogs (or the ones with big attitudes).
Looking for a squeaker toy with a softer texture? The Invincibles Squeaky Dog Toy is your best bet.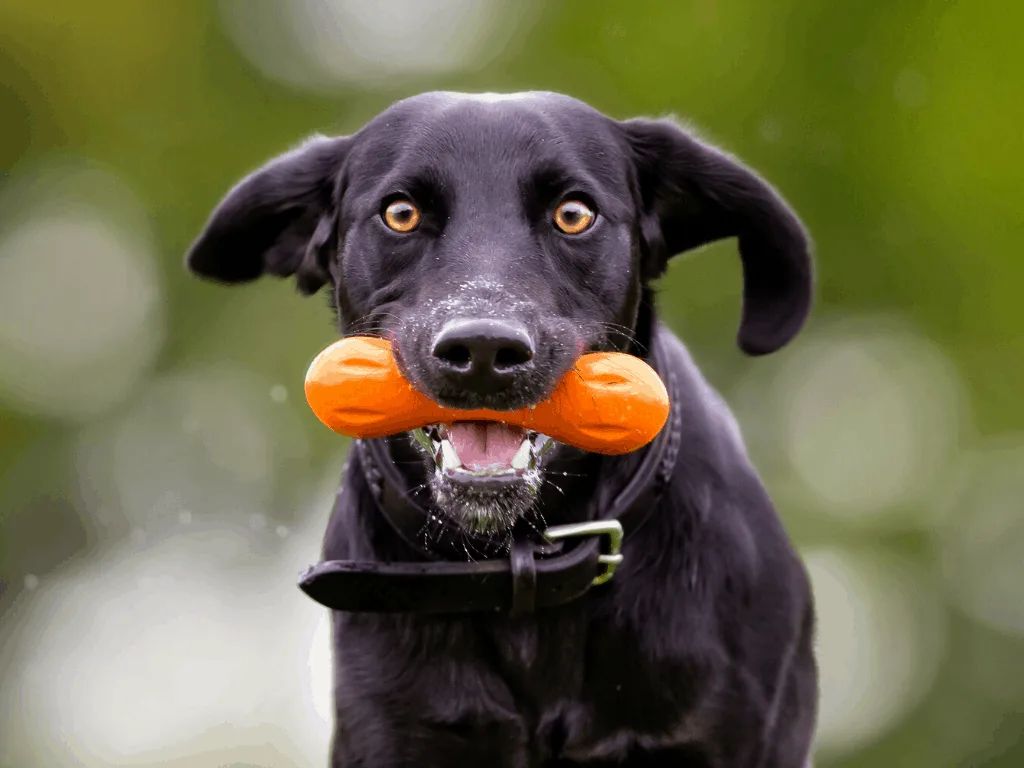 Durable Dog Toy Materials for Tough Chewers
There are a variety of tough materials that can be used to make dog toys that withstand some extra hard play. Because there is no one single toy that is best for every single dog, the variety is a blessing so you can find one perfect for your individual dog.
A few of the materials that can best for tough chewers are:
Rubber
Nylon
Rope
Durable Fabric
Rubber is extremely ideal since it's harder to destroy. Rubber is also usually really easy to clean. Some of the rubberized products featured in today's collection are even safe to put in the dishwasher, so there's no need to spend extra time in your day cleaning your dog's toys.
There are different levels of toughness when it comes to rubber toys, so still check to make sure the toy is designed for dogs that are aggressive chewers.
Nylon is one of the best chewable options for dogs that are hard on their toys. The popular brand, Nylabone, makes their toys with tough nylon material that provides hours of chew time for your dog.
While these toys might feel like plastic, nylon is actually a fiber that is much safer for dogs and less likely to break and snap, cutting your dog's mouth as they chew, than plastic counterparts.
Rope is also a great choice for dogs that are tough on toys. While rope options are not ideal for letting your dog chew unsupervised, since they can potentially ingest pieces of the string, they are excellent options for supervised playtime or tug of war games.
Not all dogs like to tug on toys as tough as rubber or nylon, so rope is the perfect compromise since games of tug of war with fabric are more likely to end up with ripped fabric and broken toys.
Durable fabrics are also a great option for dogs that like the plush and squishy feeling of toys. One option is firehose material since it's obviously super strong and tough. Thickly woven corduroy is another fabric that tends to hold up to dogs better than some.
Otherwise, some brands have their own special blend of fabric fibers designed to create a toy that is long-lasting and safe for power chewers, such as K9 Tough Guard.
When choosing materials for a dog that is an aggressive chewer, there are also a few that you should avoid. Toys that have stuffing should be carefully considered since your dog can cause a mess with stuffing or even ingest some of it if they destroy the outside of the toy.
While some dogs enjoy de-stuffing toys, they are not the best option to give your dog unsupervised.
You should also avoid toys that have small pieces that can be broken off and swallowed if your dog chews them apart. A more solid toy, with minimal parts, is more likely to last longer for dogs that chew aggressively. The toy is also going to be safer for your dog!
Indestructible Plush Toys For Dogs
Plush toys consisting of varying combinations of fabric, stuffing, rope, and squeakers have long been a favorite type of toy for dogs. Unfortunately, many of these toys are easily destroyed or eaten by dogs that are strong chewers.
What's a dog owner to do when their dog's favorite toy is something soft and squishy, but they can't afford to purchase an unlimited supply of toys or their dog is prone to ingesting stuffing?
We've compiled a list of our favorite plush toys for dogs that are aggressive, powerful, chewers. Our collection provides suggestions for toys of a variety of sizes, materials, and strengths to make sure you can find the one best for your dog.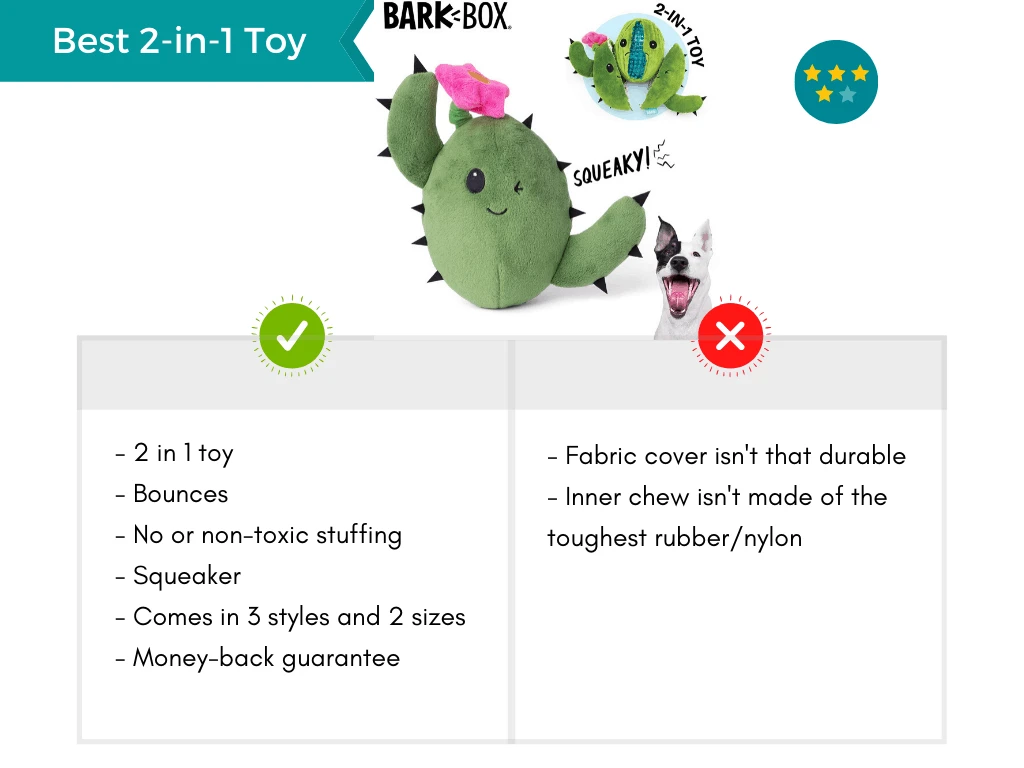 The 2-in-1 BarkBox Toy is fun for dogs that love toys within toys, or dogs that enjoy the actual destruction of toys. The outer shell is designed to be destroyed, giving your dog a second toy once they reach the inside.
Coming in two different sizes and 3 different styles, this toy also includes a squeaker and will bounce, enticing your dog further into play.
Because the outer fabric cover is designed to be destroyed so your dog can get the second toy inside, it's not extremely durable. The inner toy is tougher but is still not made of the strongest material.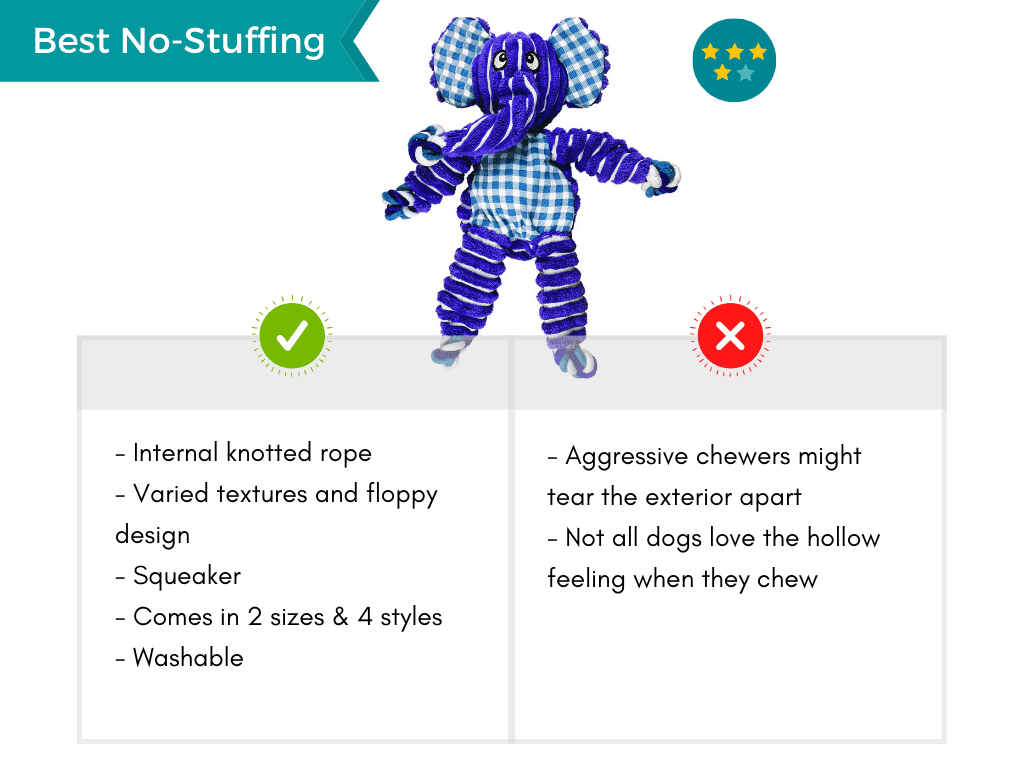 The best part about this plush, durable dog toy is that it is stuffed with knotted rope rather than stuffing. Even if your dog destroys the outer cover, there won't be any fluffy white stuffing to find around your home, or for your dog to ingest.
It provides a lot of textures for playing and also includes a squeaker inside of the toy.
With 2 sizes and 4 styles, there are plenty of options to choose from. This toy also earns points for being washable – a large bonus if you have dogs that are going to enjoy durable toys for a while, and encrust them with slobber in the process.
However, the exterior fabric covering is not the most durable and the rope inside doesn't give dogs the same feeling as chewing on a toy stuffed with a softer material.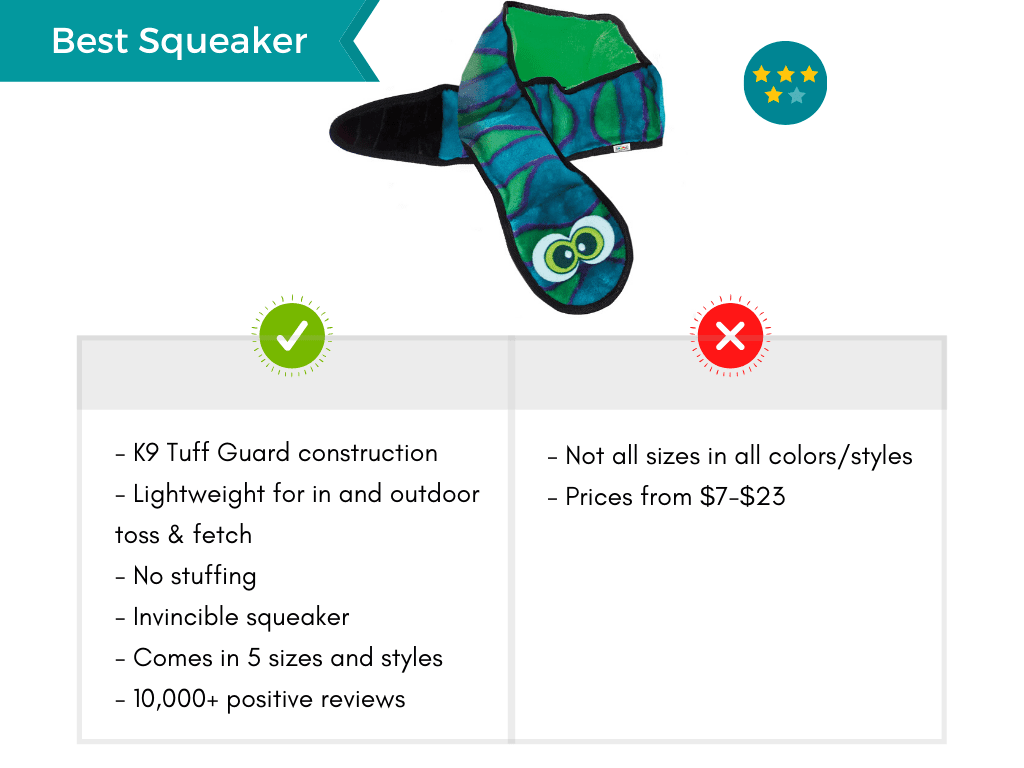 If your dog goes crazy over squeaky toys but too often is destroying them with their enthusiastic squeaking, this toy is the one for your pup!
The toy is made with K9 Tuff Guard and the squeakers are invincible. Their design means you won't need to sacrifice this toy to the box of "dead" squeaky toys.
In addition, the toy is lightweight and has no additional stuffing. Over 10,000 positive reviews prove that this is a favorite of many dogs and owners alike.
While the toy does come in 5 different sizes and styles, not all the sizes come in all the varying colors. It can also be a more expensive toy, ranging from $7-$23.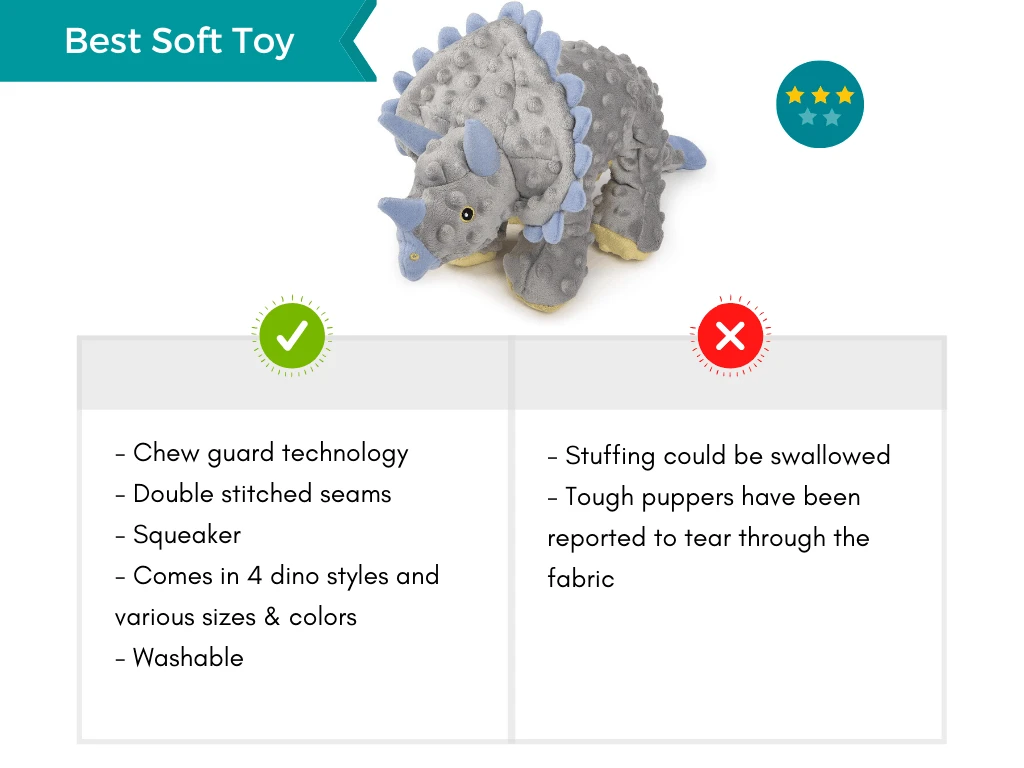 The Chew Guard technology and double-stitched seams help to make this toy strong and durable for aggressive chewers.
As with the previously mentioned plush toys, this one also includes a squeaker! Another bonus is that this dinosaur-shaped toy is washable for easy cleaning.
While the toy comes in an adorable 4 styles of dinosaurs and a variety of sizes and colors, it does contain stuffing that could be swallowed if the dog gets inside of the toy.
Aggressive and determined chewers have been known to tear through the fabric, so this toy is best for dogs that might be hard on toys but don't spend time trying to chew on the inside.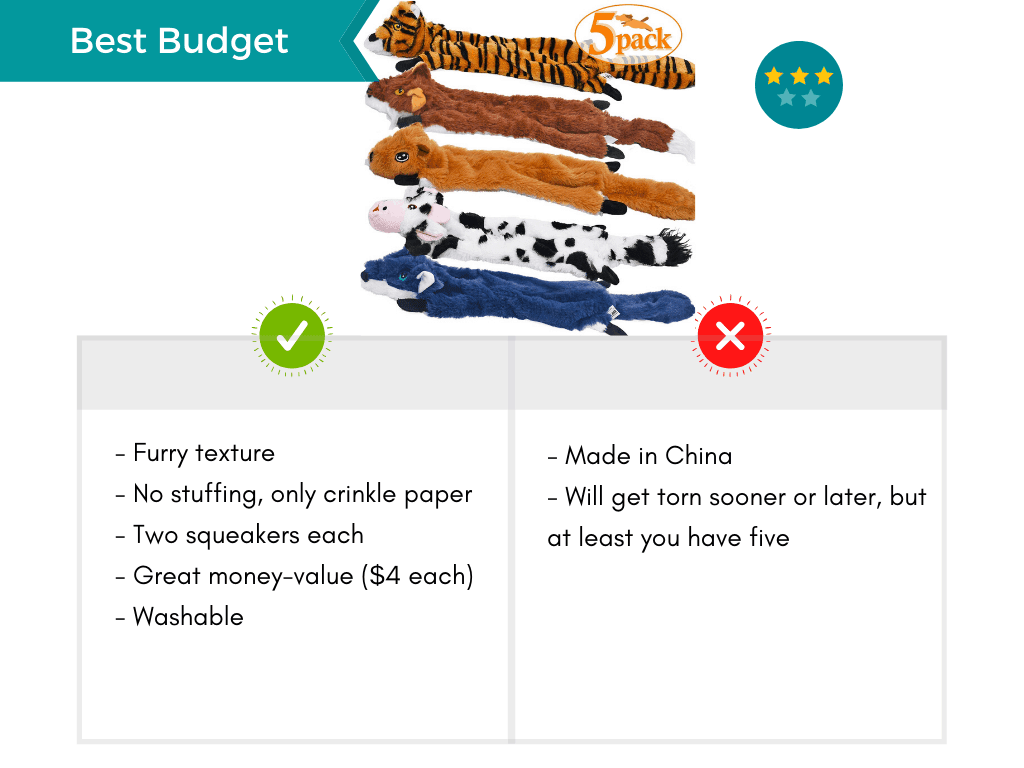 Our last option for the collection of the most indestructible plush dog toys is the no-stuffing crinkle dog toys by Sharlovy. Inside of these toys is crinkle paper and squeakers, providing dogs with a toy that has fun sounds in a plush format.
In addition, these toys are also washable and offer the best toy on a budget, since each toy is just four dollars.
The toys are made in China, which may play a role in your choice of dog toys. They are also not completely indestructible and will get ripped and torn at some point, but there are 5 so you have plenty to choose from and replace as your dog destroys one.
Indestructible Dog Balls
If you think of a classic dog toy and don't automatically think of tossing a ball around the yard for a game of fetch, you're in the minority. While not all dogs are retrievers, many still like to chase, herd, or catch balls.
Being a favorite dog toy of a dog that loves repetitive play means that dog ball toys take a beating. We've compiled a list of the most indestructible dog ball toys so your game of fetch can last even longer!
Even better yet, some of these toys are larger and perfect for kicking or rolling around a yard, or even bouncing erratically, for the dogs that prefer to chase a ball. One of them even doubles as an interactive food toy!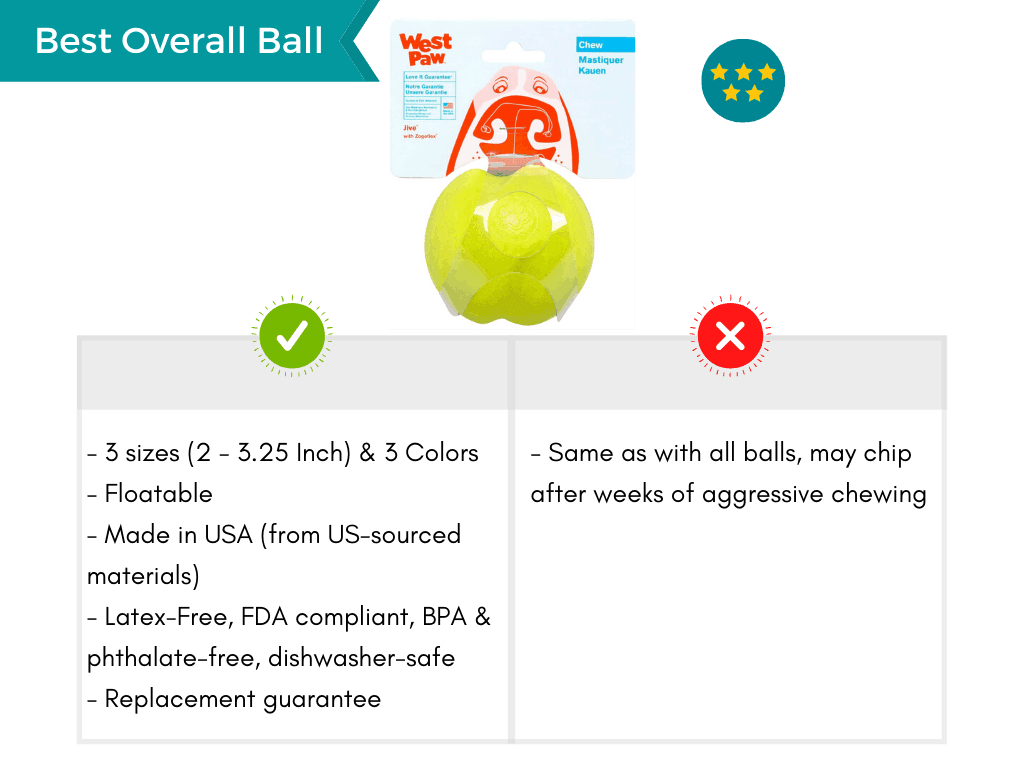 Overall, this ball by West Paw is an excellent choice of ball for dogs that are destructive or aggressive chewers. Coming in 3 sizes and colors, the materials of this toy make it one of the best.
The ball is constructed without latex, BPA or phthalate using all USA sourced materials and made in the USA. The ball is also dishwasher safe and FDA compliant.
If your dog does manage to destroy this toy, West Paw does have a replacement guarantee. It's also a great option for dogs that enjoy the water since the ball will float!
If your dog spends a lot of time heavily chewing on the ball, you may notice some distortions on the surface, but that is common to all toys of this texture.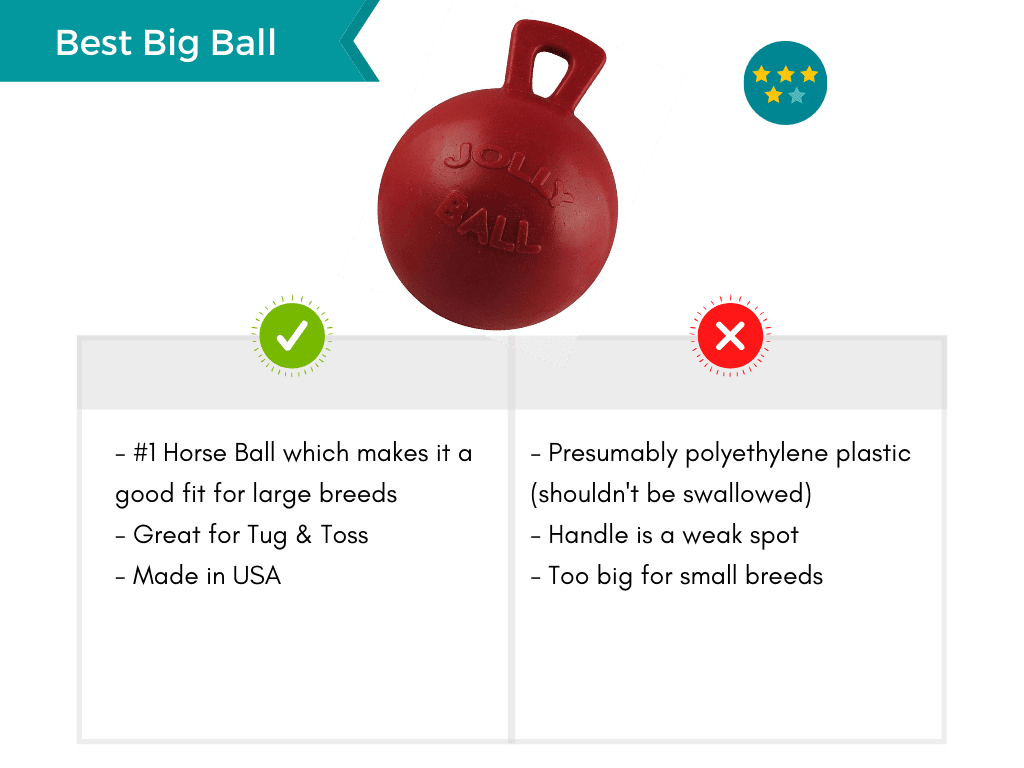 Since this toy is designed for horses, it makes an excellent choice for large and giant breeds of dogs that are tough on toys. Its large size is great for tugging, tossing, and chasing. In addition, this toy is made in the USA!
Unfortunately, though, the toy is made of polyethylene plastic, which shouldn't be swallowed. This means you should supervise your dog with this toy rather than letting them chew on it on their own.
The handle can also be a place where dogs can weaken the toy with their chewing and this toy isn't a good fit for smaller breeds.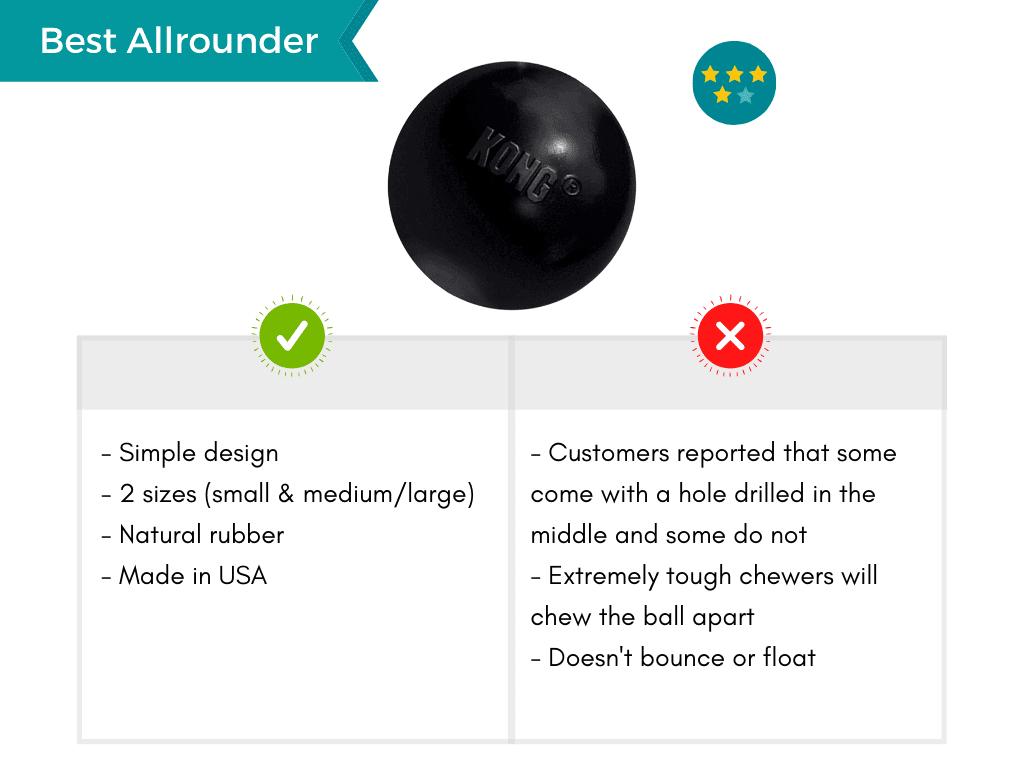 If your dog prefers a simple ball but is too hard on traditional tennis balls, the KONG Extreme Ball might be just what you need. This toy is made in the USA with natural rubber, coming in two different sizes to fit the needs of different breeds of dogs.
This durable, rubber ball also bounces for extra fun in a game of fetch, although it doesn't float.
Some owners have reported that their extra tough chewers have destroyed this ball, and some have a hole drilled in the middle while others do not, but it's still a great option for dogs that enjoy playing with balls but need something stronger than normal.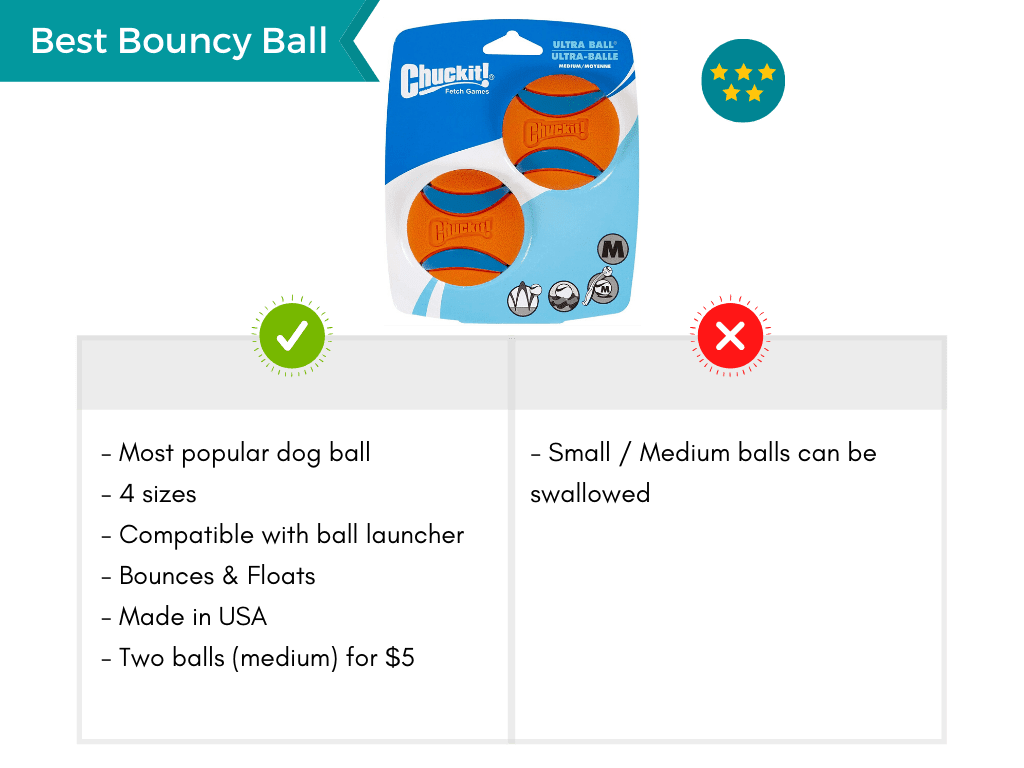 If your dog craves that fun bounce in a game of fetch, the Chuckit Ultra Ball is perfect! Bragging to be the most popular ball for dogs, not only does this ball bounce, but it floats as well.
It is constructed with durable rubber and is made in the USA. This ball will also fit into the Chuckit ball launchers for even longer games of fetch.
Coming in 4 different sizes, you can choose the ball that best fits the size of your dog. Make sure to choose carefully since the small and medium sizes have the potential to be swallowed by bigger dogs.
This toy is also affordable – you can find a set of two medium balls for just $5!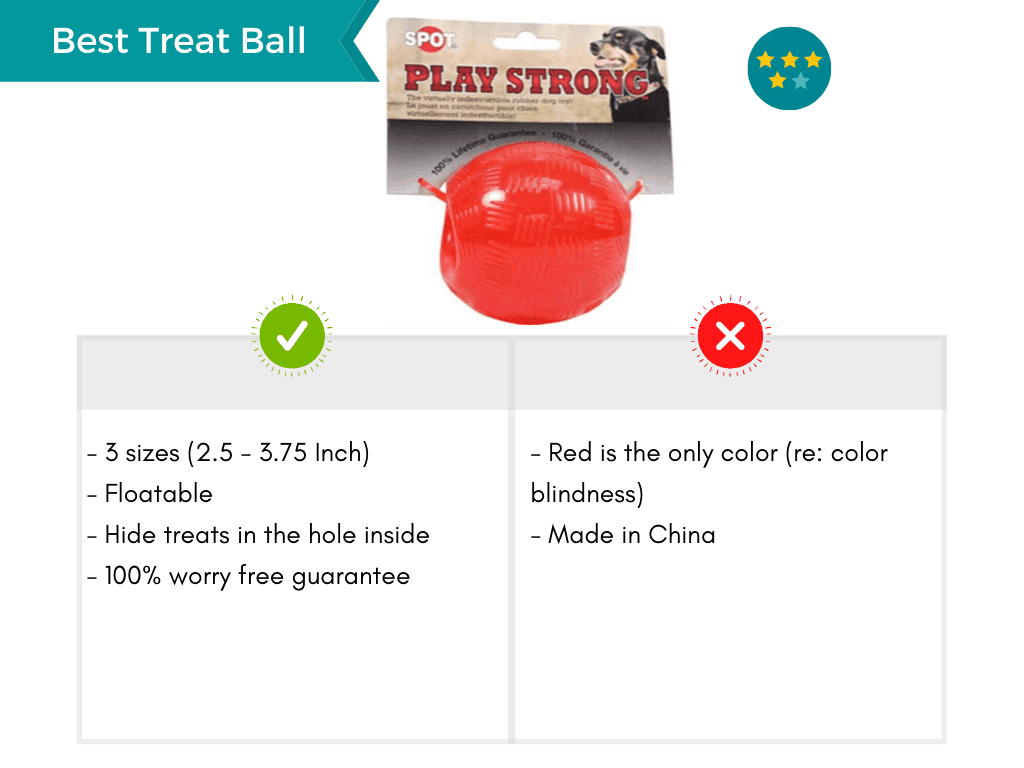 This ball boasts a 100% worry-free guarantee in addition to being able to be used for a wide variety of interactions. The ball is floatable, for dogs that love to play fetch in the water or splash around in backyard pools.
There is also a hole inside of it for treats, turning this ball into an interactive food-dispensing toy.
All 3 sizes only come in the color red, which makes it difficult for dogs to see. Dogs have red-green color blindness, so the solid red ball might get "lost" in a yard of grass more easily than toys of other colors. This toy is also made in China.
Dog Chew Toys For Aggressive Chewers
Sometimes, the hardest toy to find for dogs that are power chewers is a toy that they can actually sit down and chew.
Other toys can be used in more interactive games between humans and dogs, so the toys don't necessarily need to be as strong as toys that will be left for your dog to chew on at their leisure.
Some dogs have a natural need to chew – a lot. Rather than your dog making their own chewing games, usually involving your furniture or personal belongings, this list of dog chew toys for aggressive chewers will give you options for your dog to have a proper outlet for their needs.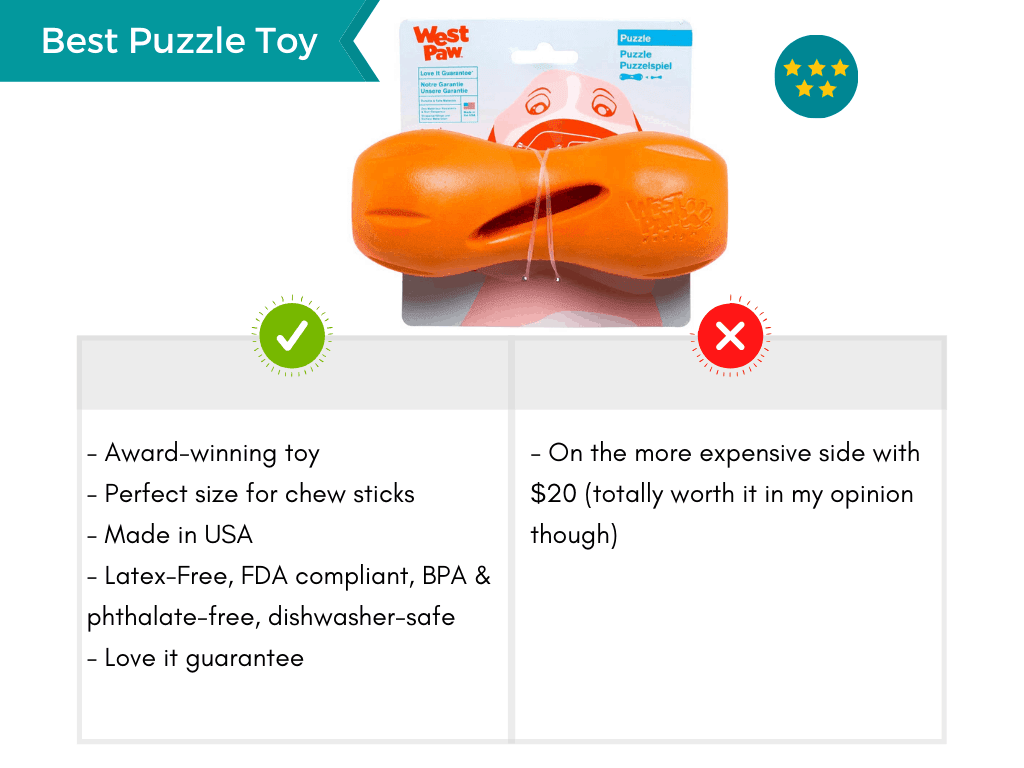 This award-winning toy also comes with a Love It guarantee, so you know you are choosing a toy that is ideal for power chewers.
The Qwizl is FDA compliant, dishwasher safe, and free of latex, BPA, and phthalates. In addition to being constructed with excellent materials, it's also made in the USA!
This toy can be used as an interactive food toy and is designed to be stuffed with chew sticks and treats to lengthen playtime.
It tips the scales of budget toys at $20, but when purchasing a toy as durable as this one, you can save money in the long run because you won't need to purchase more toys that are easily destroyed.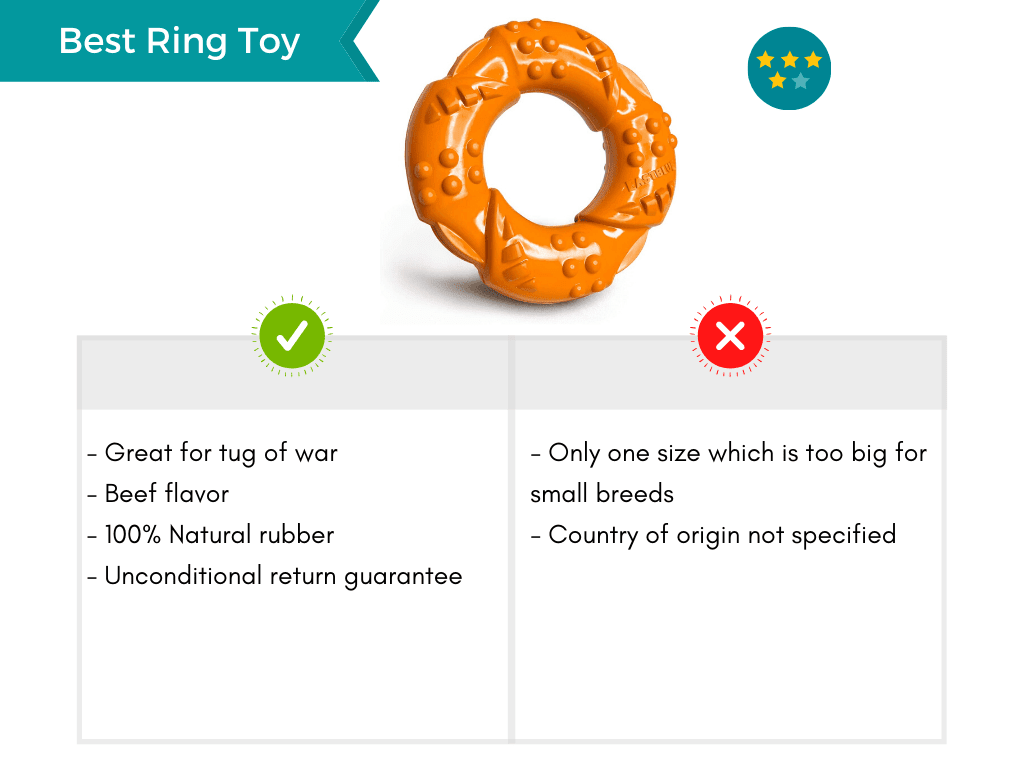 If your dog likes to engage with you in games of tug of war, this ring-shaped toy is the perfect addition to your dog's toybox.
There's no risk to try it out for your dog since there is an unconditional return guarantee. The toy is also beef-flavored, enticing your dog to spend time occupying themselves with chewing.
While the toy is made of 100% natural rubber, the country of origin is not listed. This toy also unfortunately only comes in one size, meaning it's too large for small dogs to enjoy. However, for the power chewers of larger breeds, this toy can be a great fit!
This dog toy is a great alternative and comes in two sizes, with the medium costing the same as the Eastblue ring toy and the version for large breeds costing around $20.
The Gucho dog chew toy comes with a lifetime replacement guarantee.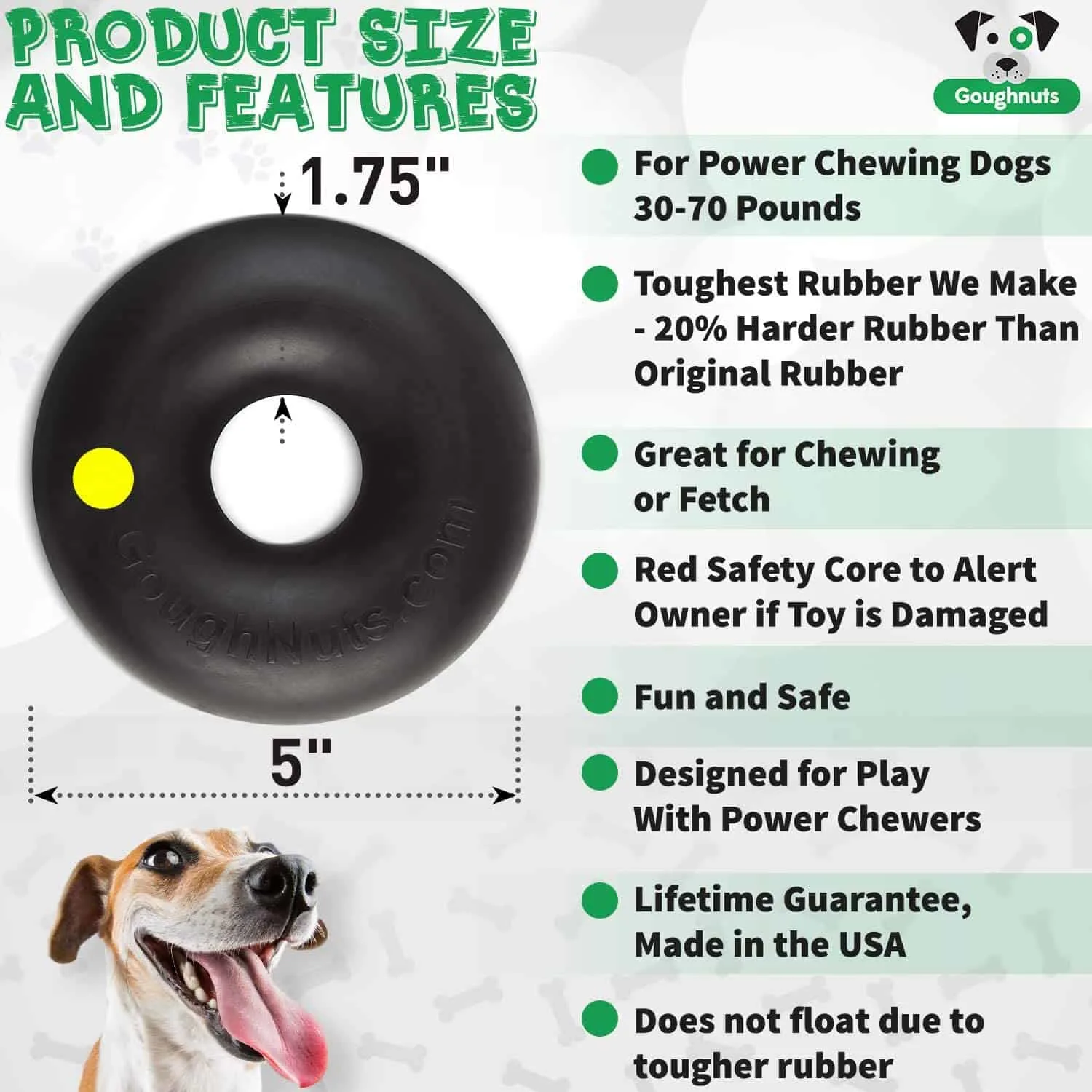 As you can see, the Goughnuts original chew toy is specifically made for aggressive chewers (if you buy the Pro 50 Black version).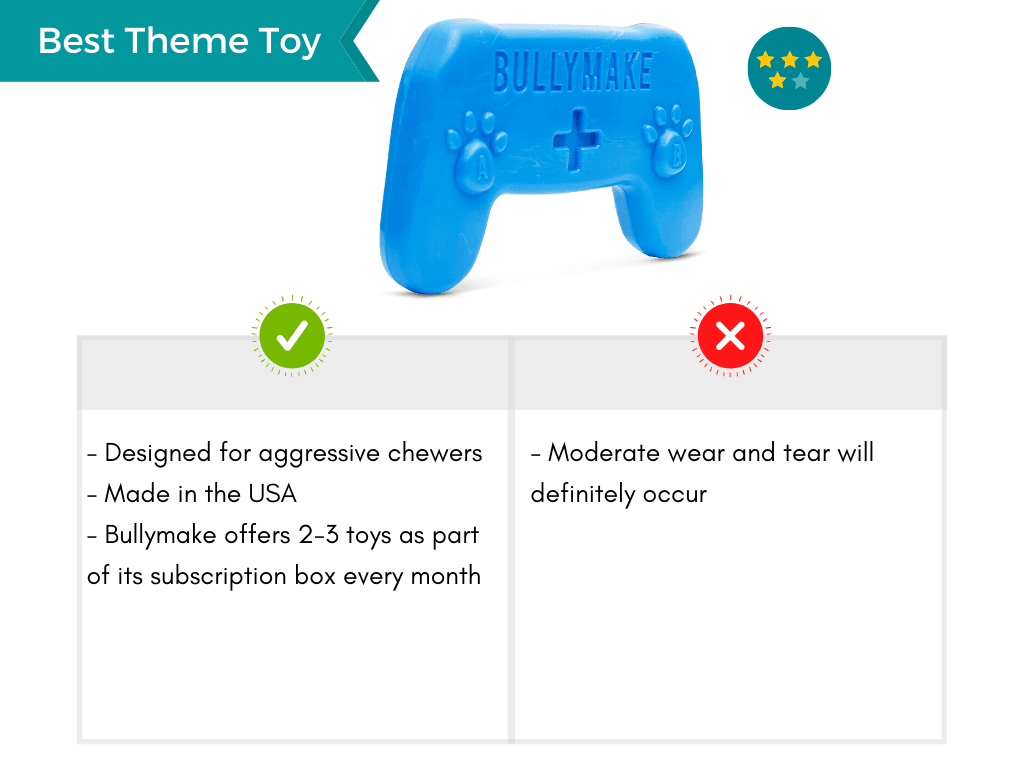 This brand is dedicated to making toys that are practically indestructible – as much as possible for dog toys! That means that this gaming controller shaped toy is specifically designed for aggressive and destructive chewers. This toy is also made in the USA!
If your dog loves the BULLYMAKE Controller, you can even consider a subscription to their monthly box, which comes with 2-3 difficult to destroy toys every month.
However, even though these toys and this company design toys specifically for power chewers, you can still expect some deterioration to the toy as your dog spends time chewing.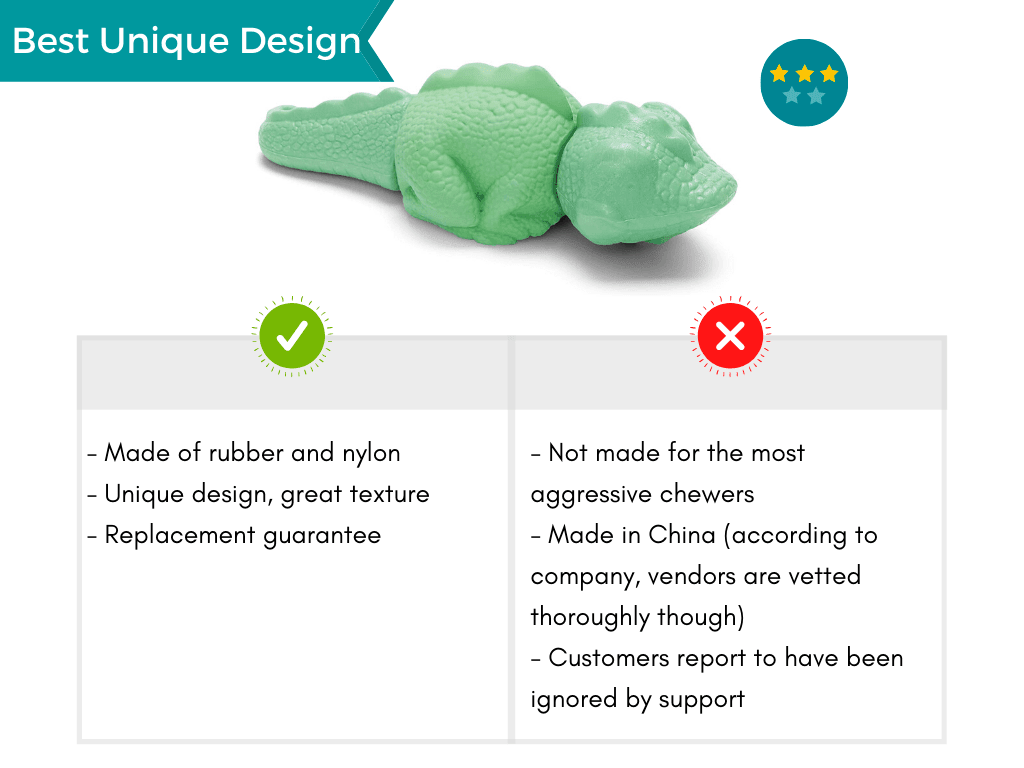 The unique and interesting shape of this toy offers your dog a lot of variety and fun textures to chew. The rubber and nylon combination toy also comes with a replacement guarantee!
However, the toy is not ideal for dogs that are true power chewers, although it's a great option for dogs that need something a little tougher than normal.
While the company does state that it thoroughly investigates all vendors, this toy is made in China. Some customers have also reported being ignored by support staff.
All in all, this toy is not the best for the most aggressive chewers, but it can still be a great option for dogs that enjoy the texture and shape.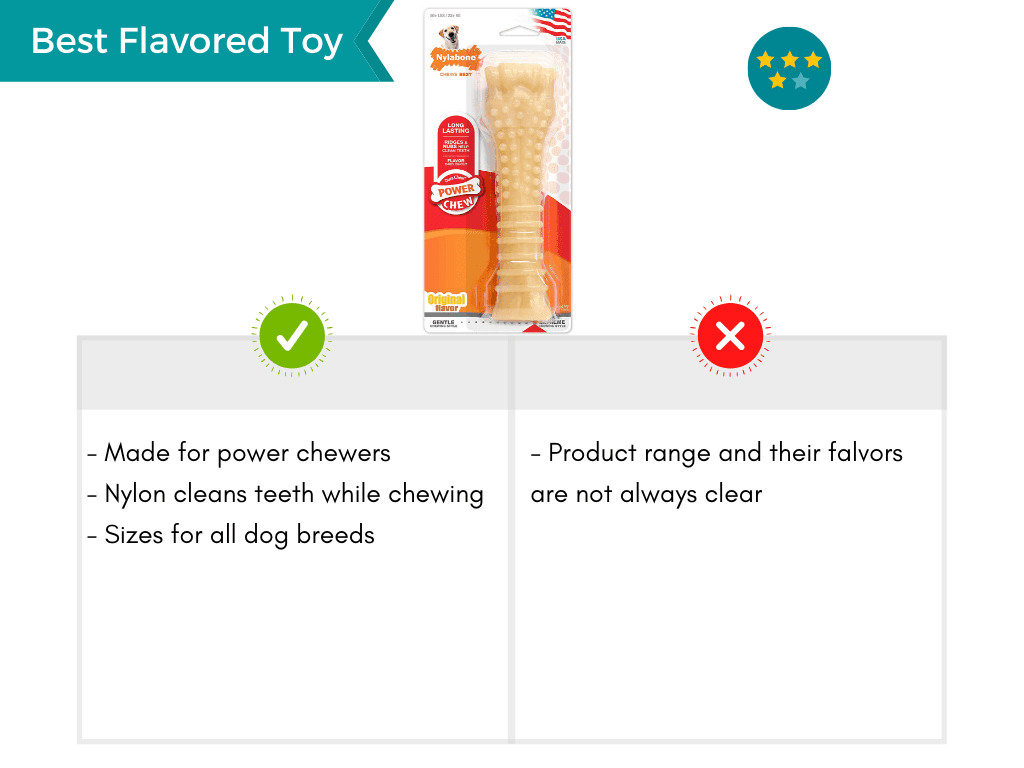 If your dog loves to chew, but needs a flavorful experience to entice them to chew on toys, the Nylabone brand provides a lot of options for flavored chew toys.
The Nylabone Original Dura Chew is specifically designed for dogs that are aggressive chewers, so you can trust that it will be longer lasting than other options from this brand.
The nylon material helps to clean teeth while your dog chews, and there are a wide variety of sizes so you can pick the perfect option for your dog.
However, because of the variety in the brand, it can be difficult to determine which products and flavors are available.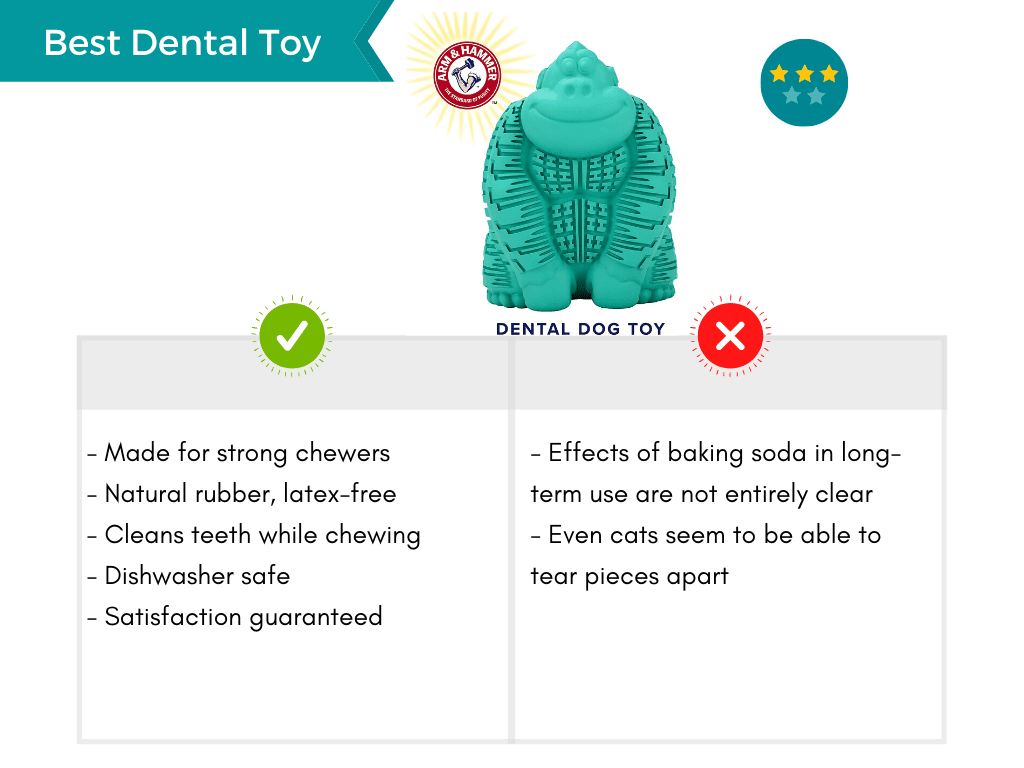 This latex-free toy is made with natural rubber and designed to clean teeth while chewing.
The structured surface of the toy, along with the baking soda in the toy, all aid in keeping your dog's teeth cleaner. However, it's unknown if the long-term use of baking soda would have any ill effects on a dog.
The toy is dishwasher safe and comes with a satisfaction guarantee. While the toy is designed for strong chewers, it's been reported that some cats can even tear pieces off of this toy.
This toy should be given to your dog when they can be supervised until you know how they will interact with this toy.
Indestructible Dog Toys Lifetime Guarantee
There are many companies that offer some sort of guarantee on the durability of their dog toys. If you've been spending a lot of money on toys, only to have them destroyed by your dog, then you should especially consider toys that have a guarantee.
Make sure to look at the details of the guarantee, to make sure it covers materials that have been chewed and that it lasts for a long time – even lifetime. You know that these companies are dedicated to making toys that last since they don't want to always be replacing toys for free if they break.
How Do You Stop Destructive Chewing?
Destructive chewing can occur for several different reasons. Determining the reason for a dog's chewing is imperative to figuring out how to stop the destructive chewing itself. Chewing can happen when dogs are bored, stressed, teething, or experiencing separation anxiety.
Puppies will be teething from about 4-6 months of age. During this time, keeping items your puppy shouldn't chew away from them as well as giving appropriate chew toys will help you get through their teething process with minimal damage to personal belongings.
Dogs that are bored will benefit from the addition of chew toys to their life, so they have an outlet for their need to chew that isn't furniture or walls!
Anxious and stressed dogs may benefit from keeping their environment as free from things that they shouldn't have as possible and supplementing with proper chew toys instead.
If your dog is still struggling with destructive chewing, especially that of an anxious or stressed dog, don't hesitate to contact a trainer or veterinarian for additional help as well.
Should I Let My Dog Destroy Toys?
If your dog loves to destroy things, it can actually be a great outlet to let them destroy their toys. While not all dogs are keen to pull the stuffing out of their toys, others think that the sole purpose of stuffed toys is so they can un-stuff them.
Your dog doesn't need to destroy toys frequently, and it's not necessarily a good option if your dog tends to eat pieces of the things they destroy. However, if you want to give your dog an extra fun surprise, it's OK to give them a toy for the purpose of destroying it.
With this goal in mind, you can spend extra money to buy some of the durable toys in this post while getting cheap plush toys for destruction, instead of trying to buy more-expensive-but-not-as-durable toys that get destroyed when that's not the intention.
Why Do Dogs Rip Stuffing out of Toys?
One thought on why dogs rip stuffing out of their toys is that it's an instinct going back to when they were hunting their own prey.
While domesticated dogs are scavengers today, and don't need to rely on hunting when they are kept as pets, there are some dogs and breeds that still have a strong prey drive and will hunt small animals.
Ripping stuffing out of a toy, especially to "kill" the squeaker, may stem from this prey drive. It's also more than possible that some dogs simply enjoy the process and it's a game they created for themselves.
Dogs that like to rip stuffing out of toys may also enjoy shredding newspapers or cardboard boxes.
Should I Leave My Dog's Toys Out?
If your dog is likely to eat pieces of their toys, you should not leave your dog's toys out when they aren't supervised. It's also always best to give your dog a new toy only when you can supervise them until you know whether or not they will accidentally eat pieces of it.
When you have toys that you know your dog won't easily eat, or you are in the room supervising your dog, it's more than OK to leave your dog's toys out for them to pick up and play with as they desire.
However, keeping many of their toys picked up also means you can rotate their current toy options.
Dogs may get bored when all of the toys are always available, so replacing some toys that have been out for a while with a few that were tucked away in the closet can give your dog some extra excitement!
What Dogs Are the Worst Chewers?
While all dogs can chew, there are a few breeds that are thought to be stronger chewers. German Shepherds, Labrador Retrievers, Bulldogs, Boxers, and Rottweilers are some of the breeds that are reported to need stronger and more durable toys.
In general, larger dogs will be able to chew harder than smaller dogs. Dogs that are bred for working jobs, like many of the breeds listed previously, are also dogs that are more prone to boredom and inventing their own chewing games.
Should Dogs Have Toys In Their Crate?
Dogs should only have toys in their crate if they have had them while supervised and they have proven safe for your individual dog. Giving dogs toys in their crate is not necessary, although it can help your dog stay occupied during the day.
Toys that can be stuffed with food are some of the best toys to leave in a crate. There isn't a lot of room in crates for dogs to run, toss, and roll their toys, but a stuffable food toy – or food-flavored toy – can be chewed while stationary.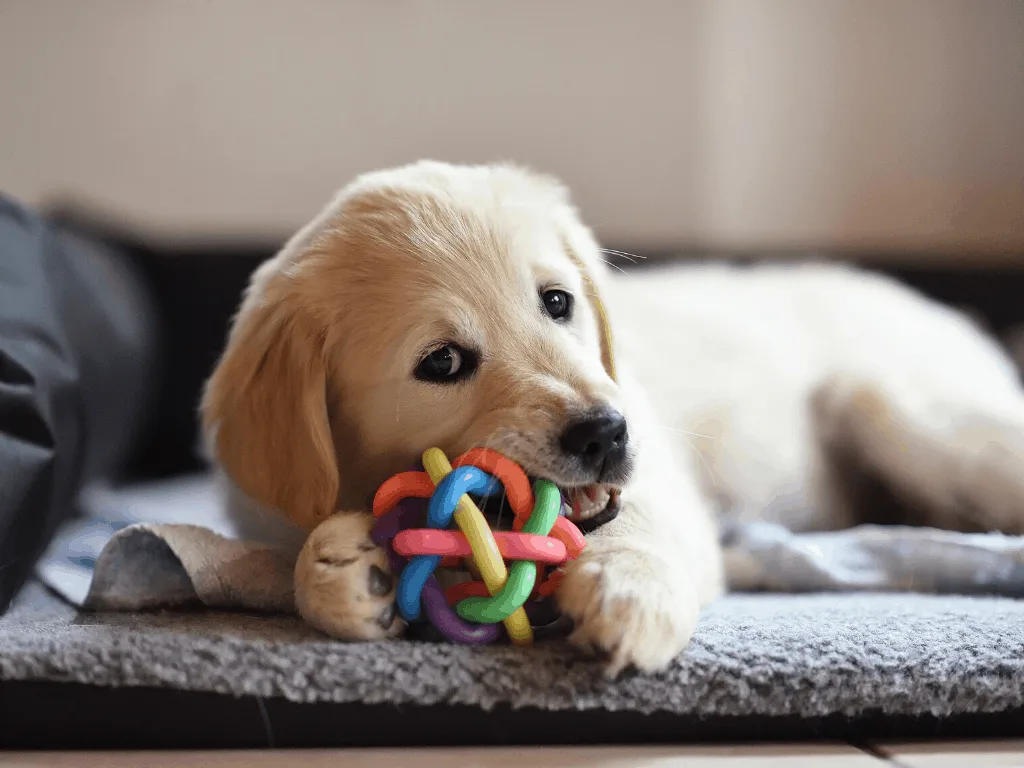 Should Puppies Have Chew Toys?
Puppies especially need chew toys! Not only are durable chew toys a great option to occupy your puppy when you're trying to get something done, but they are also lifesavers when your puppy is teething.
Puppies will likely have all their baby teeth by the time you bring them home. However, they will teeth again from about 4-6 months of age as they get their adult teeth.
If your puppy doesn't have proper chew toys, they are likely to chew on your furniture or personal belongings instead.
What Toys Should You Not Give a puppy?
Since puppies have extra sharp teeth, you should avoid giving your puppy anything that can easily be ripped apart. Their chewing strength can also change throughout their puppyhood into adulthood.
You should make sure that your puppy has toys that are appropriate for their size, to minimize the risk of choking. In addition, avoid giving your puppy toys that have small pieces that could be broken off of a toy and swallowed.
What Is the Best Color For a Dog Toy?
Dogs are red-green color blind. If a toy is red or green, the dog will see the toy in grayscale instead of color. The grass isn't greener on the other side for dogs.
This means that shades of yellow and blue are ideal colors for dog toys. While not necessarily an important consideration for toys that will only be used inside and easily seen on flat floors, you should consider using toys that can easily be seen when playing fetch in the grass.
Since the green grass doesn't appear in color for dogs, a red or green ball will also just blend into the background.
Let me know if you have one of these dog toys and are satisfied or if you have a suggestion for an indestructible dog toy that your dog just can't rip apart.
Pin This:
Disclaimer: This blog post does not substitute veterinary attention and does not intend to do so. I am not a veterinarian or pet nutritionist. If your dog shows any sign of illness, call your vet.