This post may contain affiliate links. Read more here.
If you're planning to go on a hiking trip in the rocky mountains, check out some beaches on hot days, or you're just looking to keep your dog dry on the rainy days – we have reviewed the 10 best waterproof dog boots so you can find the one that fits your dog perfectly.
Dog boots are a basic necessity for some dog breeds as well as the dogs that live or vacation in certain climates.
While going out in the rain or the winter season, dog boots will be a thing of extra comfort and protection for your beloved furry companion.
This article will guide you to the best waterproof dog boots for your pet. You will also find other information about dog shoes below.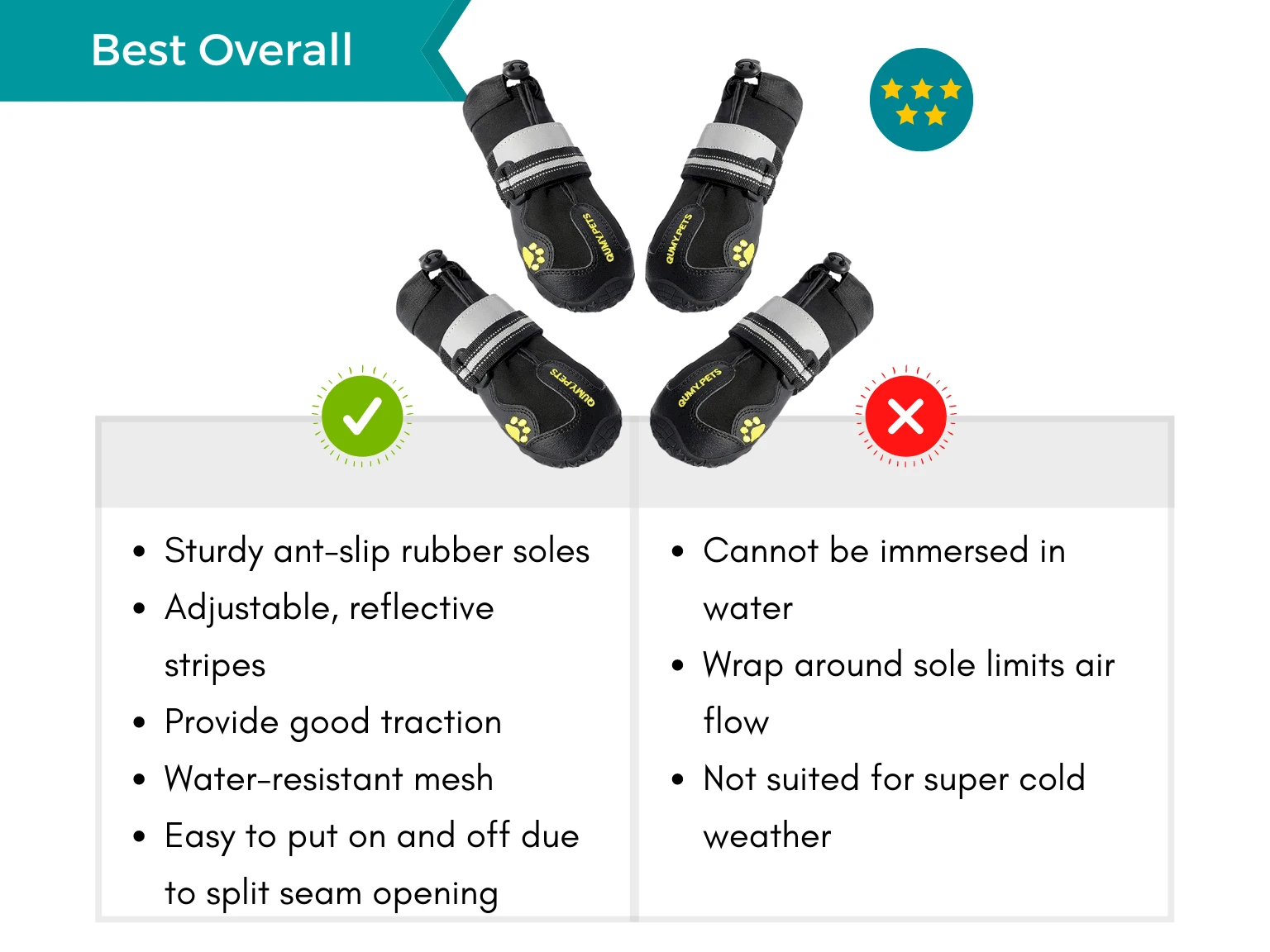 QUMY dog boots will provide decent support for your pet and shield his paws against hurt from walkways, rocky paths, and so on.
These boots have a tough sole and waterproof texture sewn on top to guarantee they are best for your companion.
These boots have an extra split design which makes it easy to fit the paw size.
Provided with two reflective strips, these dog shoes offer adjustable tightness and prevent slipping off.
Made of sturdy and waterproof material, the slip-proof and waterproof solid soles permit these boots to be utilized in wet, dry, hot, and cold conditions.
Best for older and heavier dogs because of its good quality and adjustable tightness feature. It is highly recommended and is the best waterproof dog boots in this list.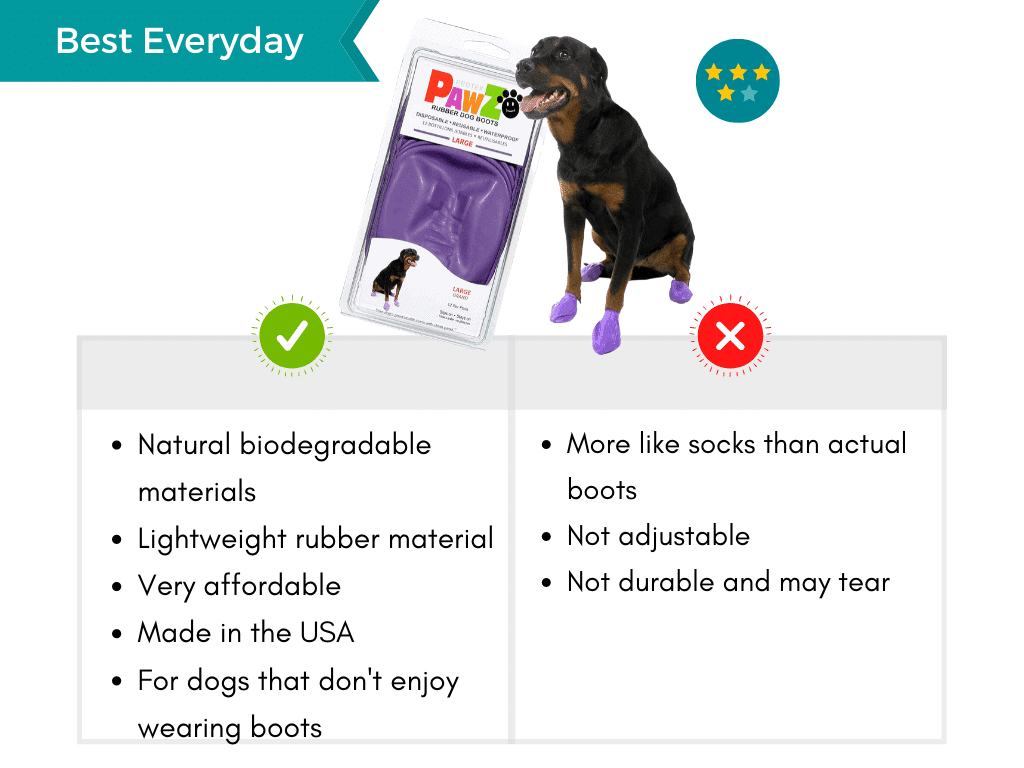 Pawz dog boots will provide a natural feeling for your dog.
The material used in making these dog shoes is so thin that your dog can sense the natural environment without the risk of hurt and infections.
These dog boots are disposable which sets it apart from the other shoes.
These boots are made from 100% natural rubber from rubber trees which means they can be easily cleaned after a walk and last multiple uses.
As they are made of rubber, it is easy to put them on.
These shoes protect your dog from the snow, mud, and hot pavements. Moreover, these dog shoes are available in purple color which will make your dog look stylish.
Best for small dogs because of thin material and rubber composition. Rubber makes these boots soft and small dogs love to wear them while being outside.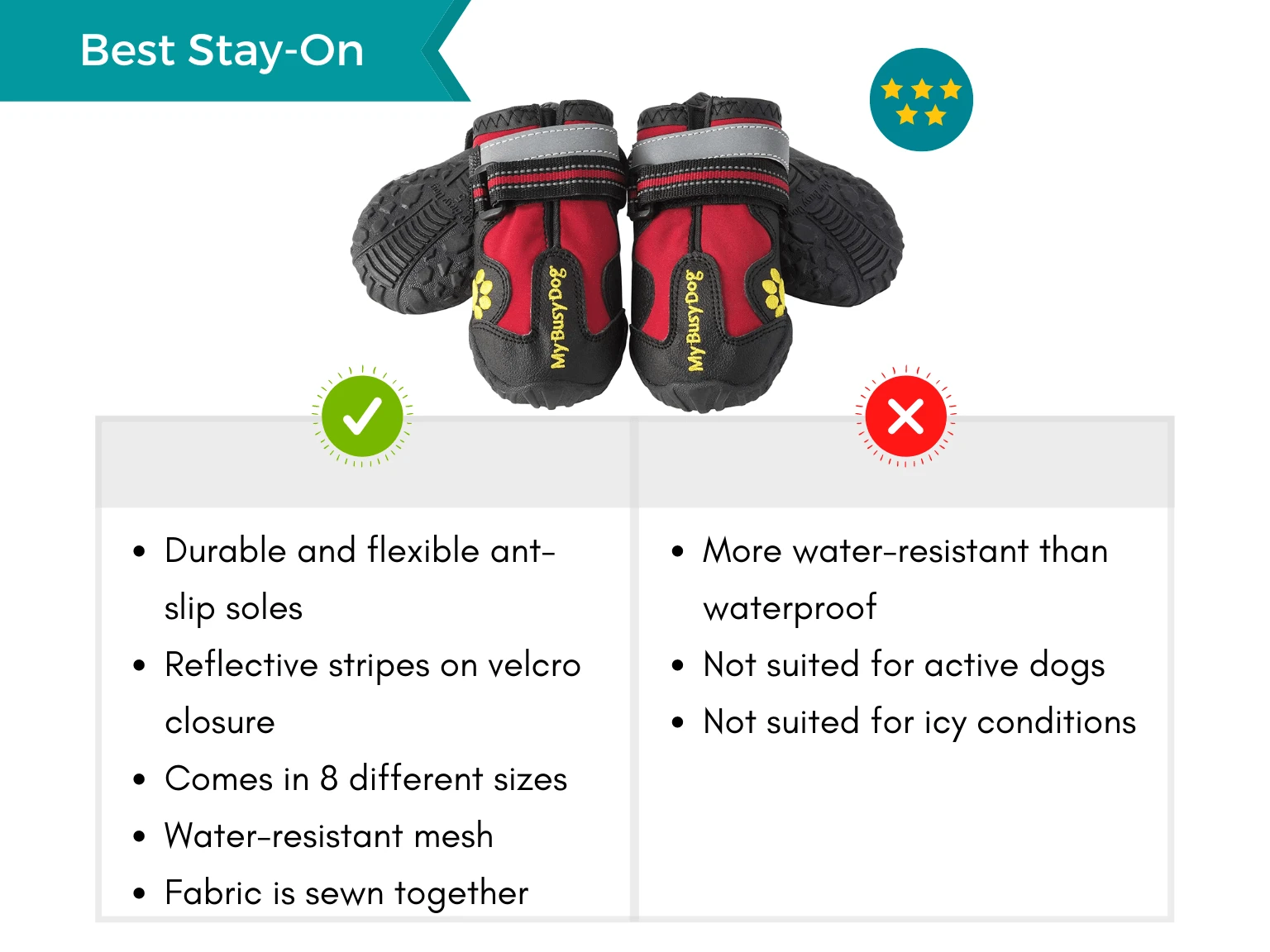 The though waterproof anti-slip sole of these dog shoes gives strength and protection to your buddy from sharp thorns, hot pavements, salt and rain during the winter months.
These shoes have a top-notch texture and tough sole to guarantee they are prepared to provide the best experience to your pet.
Waterproof dog boots that will stay on and are still easy to put on and off!
The shoe comes with a wide part crease opening and two adjustable straps to guarantee a tight and secure fit.
These waterproof dog boots keep your dog's paws dry and warm. No more cleaning sloppy or sandy paws after the walk.
Additionally, it helps dogs with mobility and solidness on tile and hardwood floors.
Best stay-on dog boots for slippery floors and surfaces and suitable for all sizes. Your dog's very active in the snow? Better opt for another waterproof dog shoe.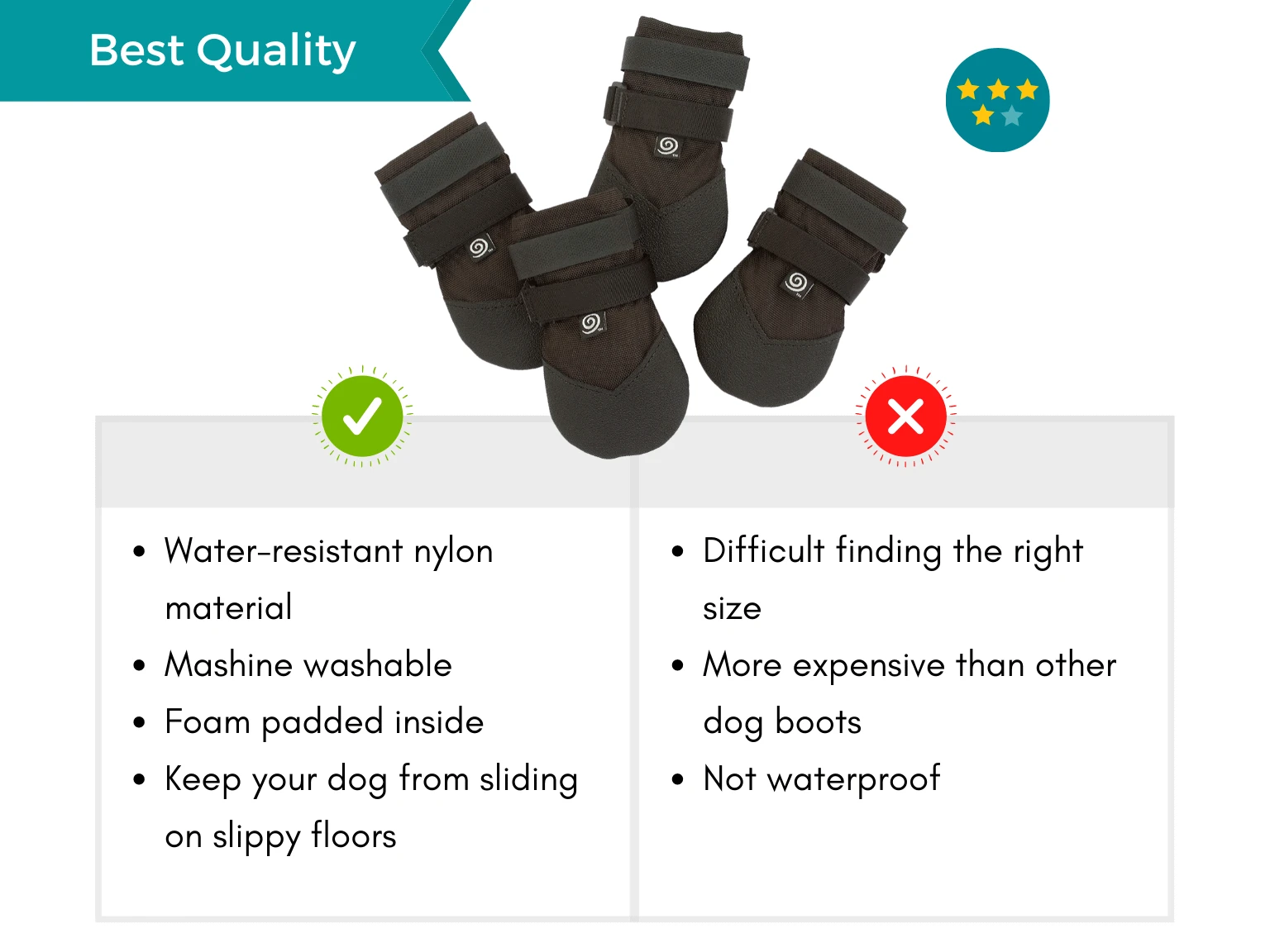 These dog boots are made of water-resistant nylon with the head of the toe and sole enveloped by an adaptable, slide safe and sturdy material.
The sole gives traction to avoid slipping on floors.
In addition to that, they remain firm on your dog's paws. These boots are simple to put on with wide split crease top opening and hard to sneak off.
These dog boots are available to buy in various sizes. You can select the size according to the paw of your pet.
The Durable Boot offers the best assurance to the senior dogs who experience difficulty and often end up slipping on hardwood or tile floors.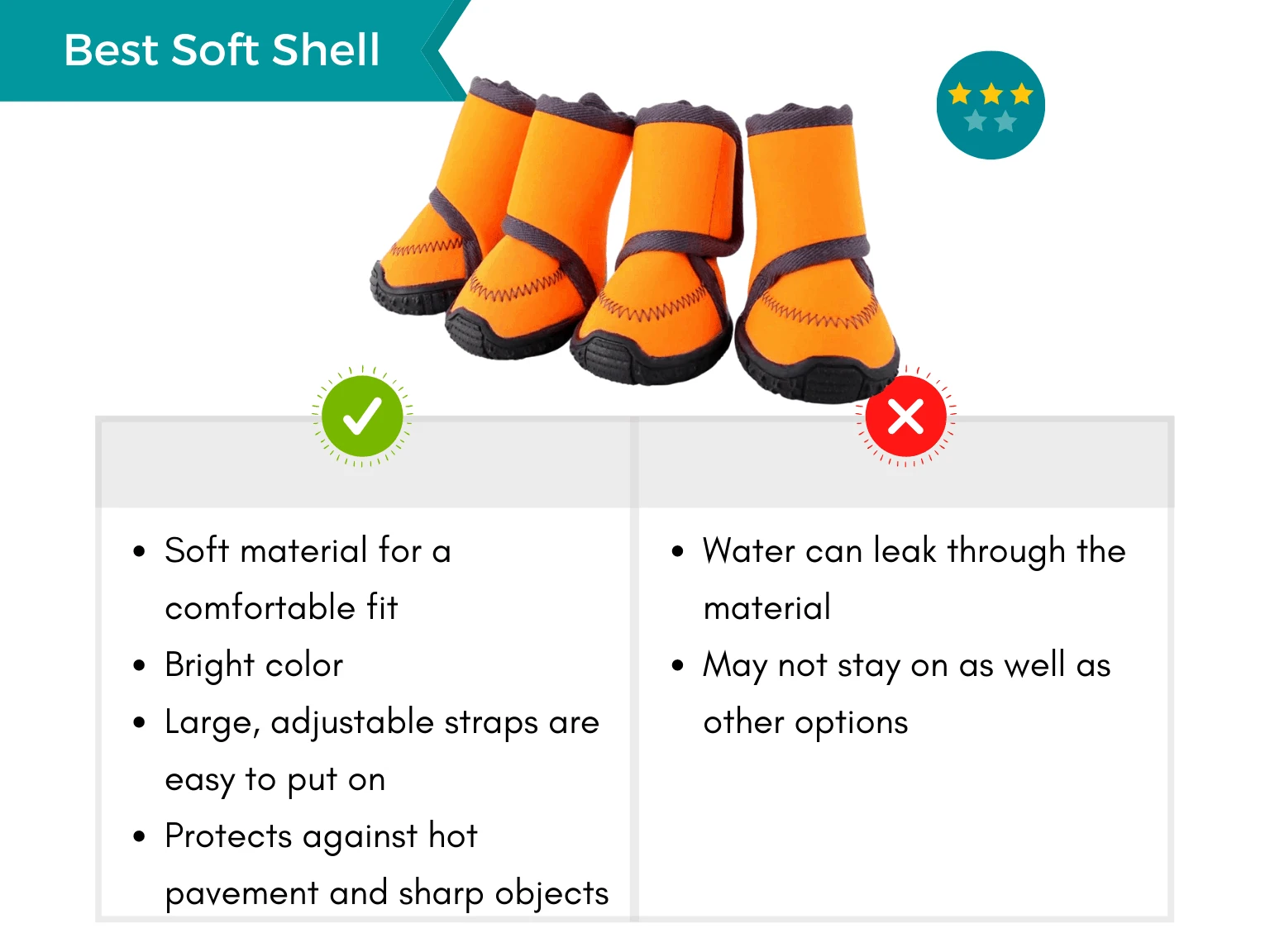 These dog boots keep your dog's paws dry and warm. With these, your pet can walk in cold weather easily.
The tough anti-slip sole gives steadiness and traction to guarantee no more slipping. It shields the paws from sharp thistles, hot asphalt, and snow during winters.
It is easy to put on/take off. Many puppies are prone to digging aggressively with their paws. These dog boots lessen the danger of harming their feet while doing so.
The material is very soft on the paws which makes these lightweight dog boots well suited for swimming, even though water may leak through.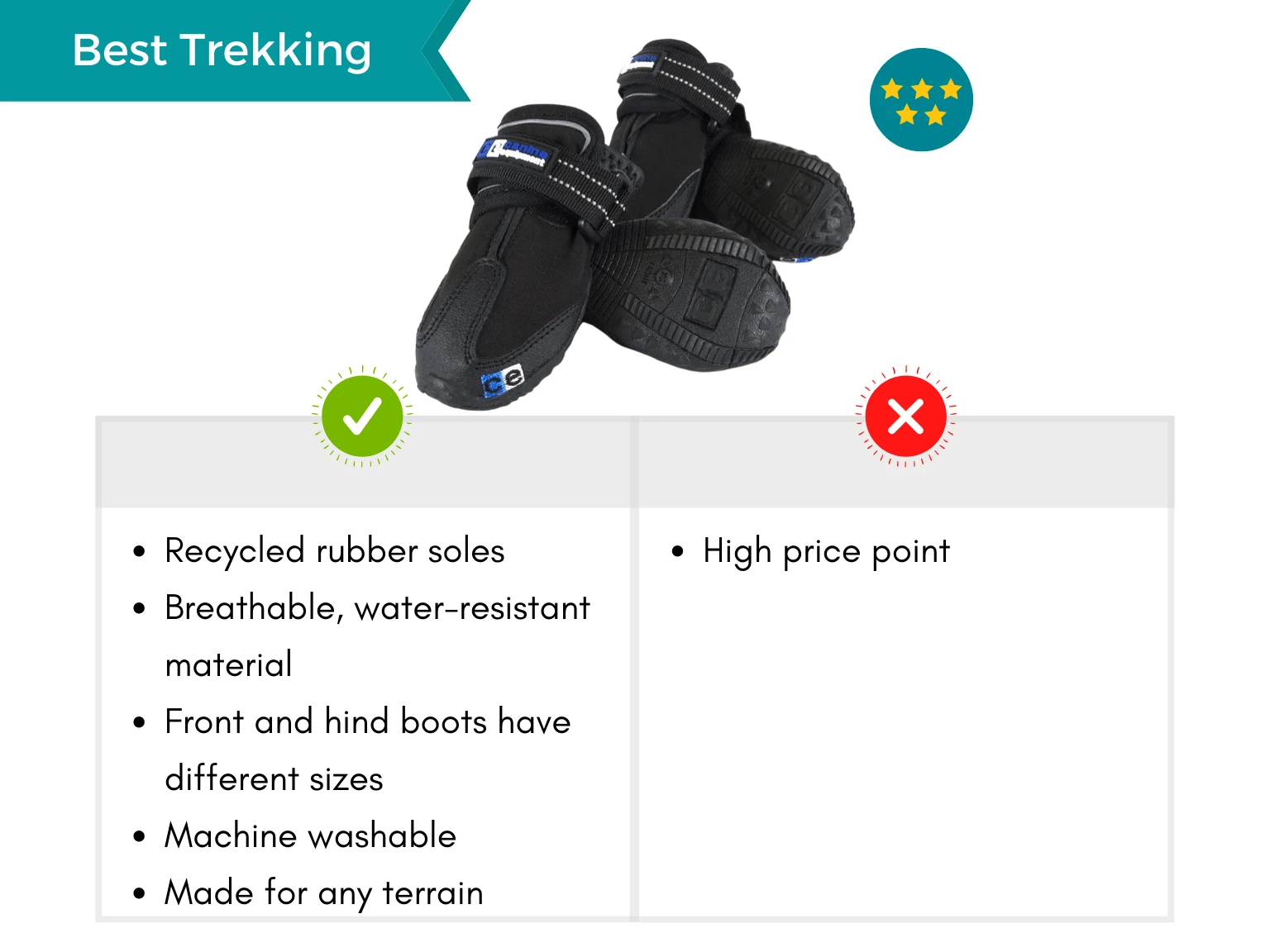 These dog shoes are extraordinary for a walk in the park or a climb in forested areas.
Giving the much-needed protection against sharp spikes, branches and hot asphalt, these shoes provide comfort to your pet as well.
These boots are produced using a water-safe breathable delicate material and reused elastic soles that improve traction.
The front and rear boots are designed to fit the front and rear paws accurately and the reinforced toes of these boots offer extra security. These boots are best for daily use.
Best for all types of dogs because of the different sizes of the front and rear paws. The flexible sole and material used in these boots provide traction to your pet.
Even though they're a bit more expensive, you get more bang for your buck.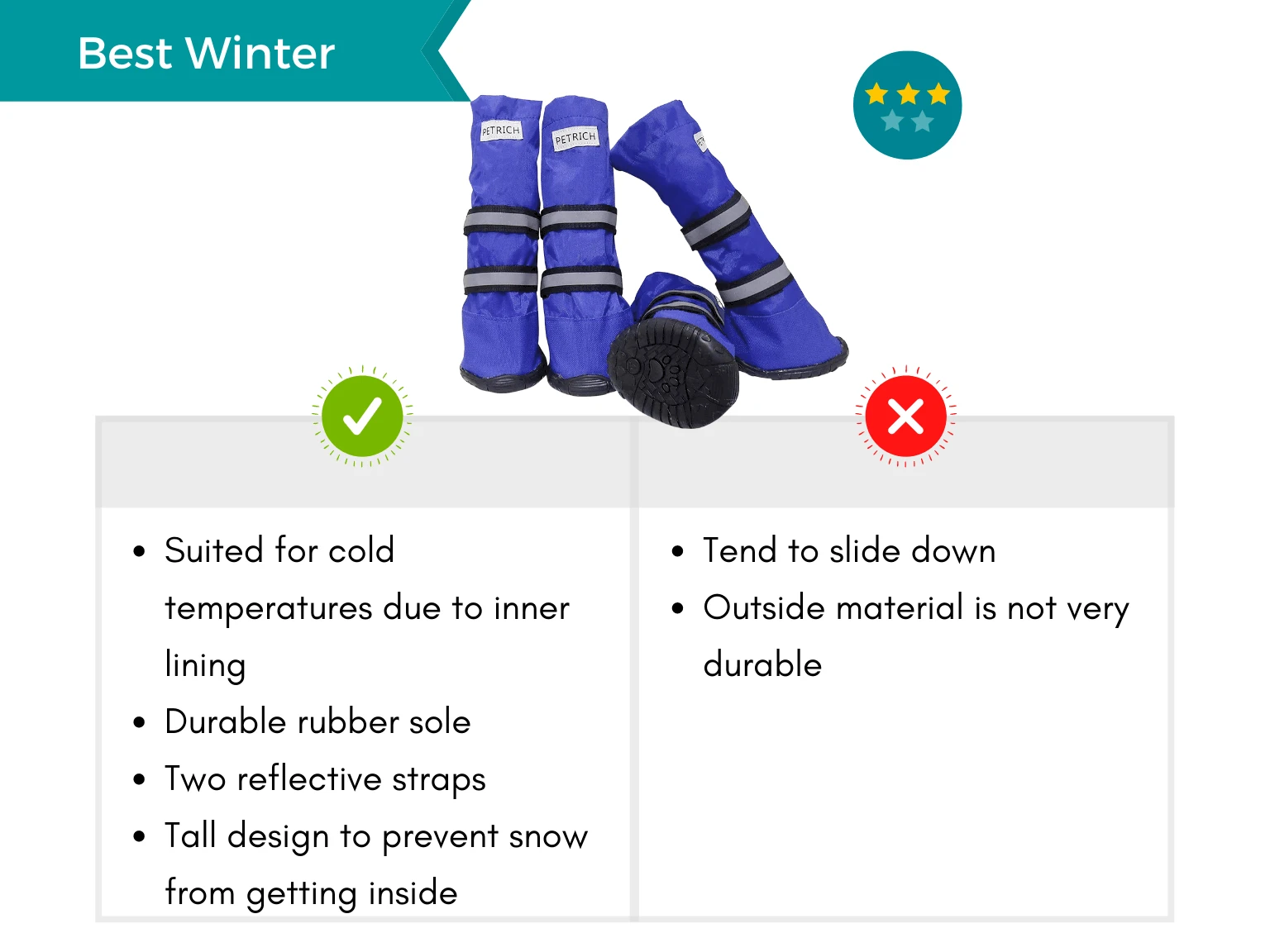 The Urbest dog shoes are perfectly designed to be worn by your dog in the winter season.
These boots are equipped with a warm inner lining that protects your pet from snow, rain mud, and so on. These shoes are easy to put on or take off.
There is a buckle on the back of the shoe which is adjustable. The buckle provides ease in controlling the tightness.
The two unique reflective stripes on the shoes provide visibility in the dark.
The rubber sole is great for outdoors. It is extremely durable as well as comfortable. The paws of your pet will be totally safe while wearing these shoes.
Best for medium or large dogs to enable them to walk outdoors in the snowy or rainy season.
These boots are waterproof and prevent your pet's paws from getting wet or dirty.
As durable as the rubber sole is, the outside material is not so durable and may experience wear and tear.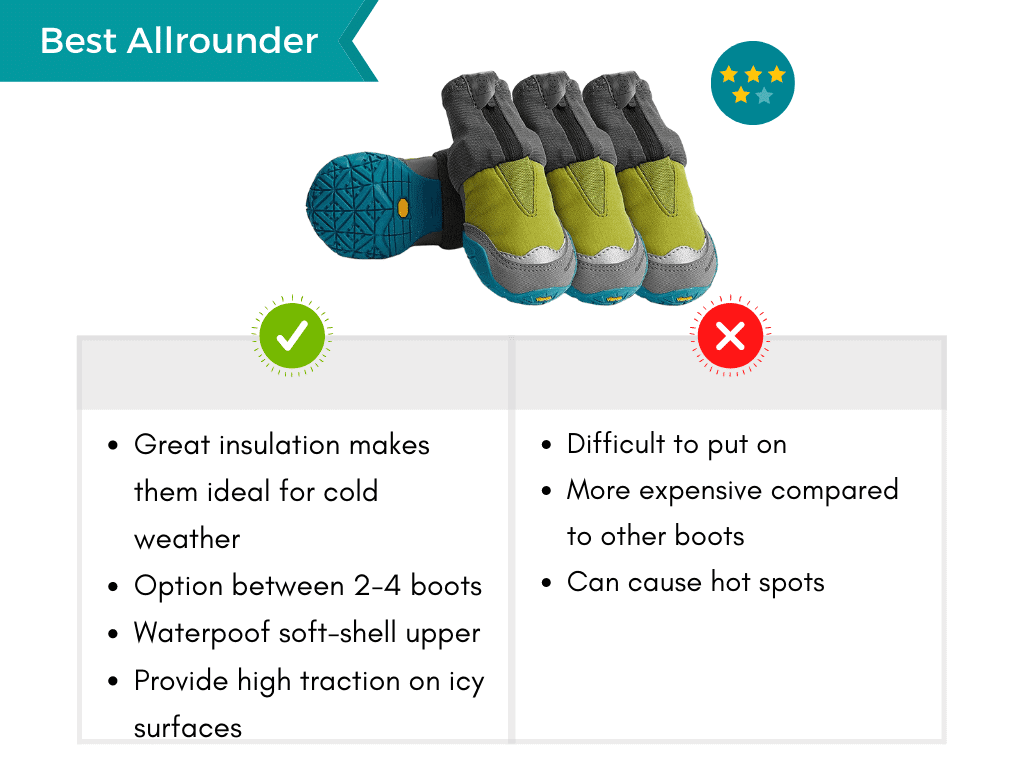 The Ruffwear Polar Trex dog boots are intended to provide the much-needed warmth, traction, and security in winter conditions.
The protected upper soft-shell texture of these boots makes them breathable and provides warmth in extraordinary cold and harsh climates.
The special Ruffwear structured Vibram outsole gives brilliant footing to your dog on solidified or cold surfaces.
These dog boots are three-layered. Hence, your buddy can perform all the outdoor activities easily and you do not have to worry about the shoe being torn.
These boots are also quite stylish.
Best for dogs who love to do a lot of outdoor activities in the snow and owners who might have to be a tad more patient since putting them on isn't as easy as it is with the other waterproof dog boots here.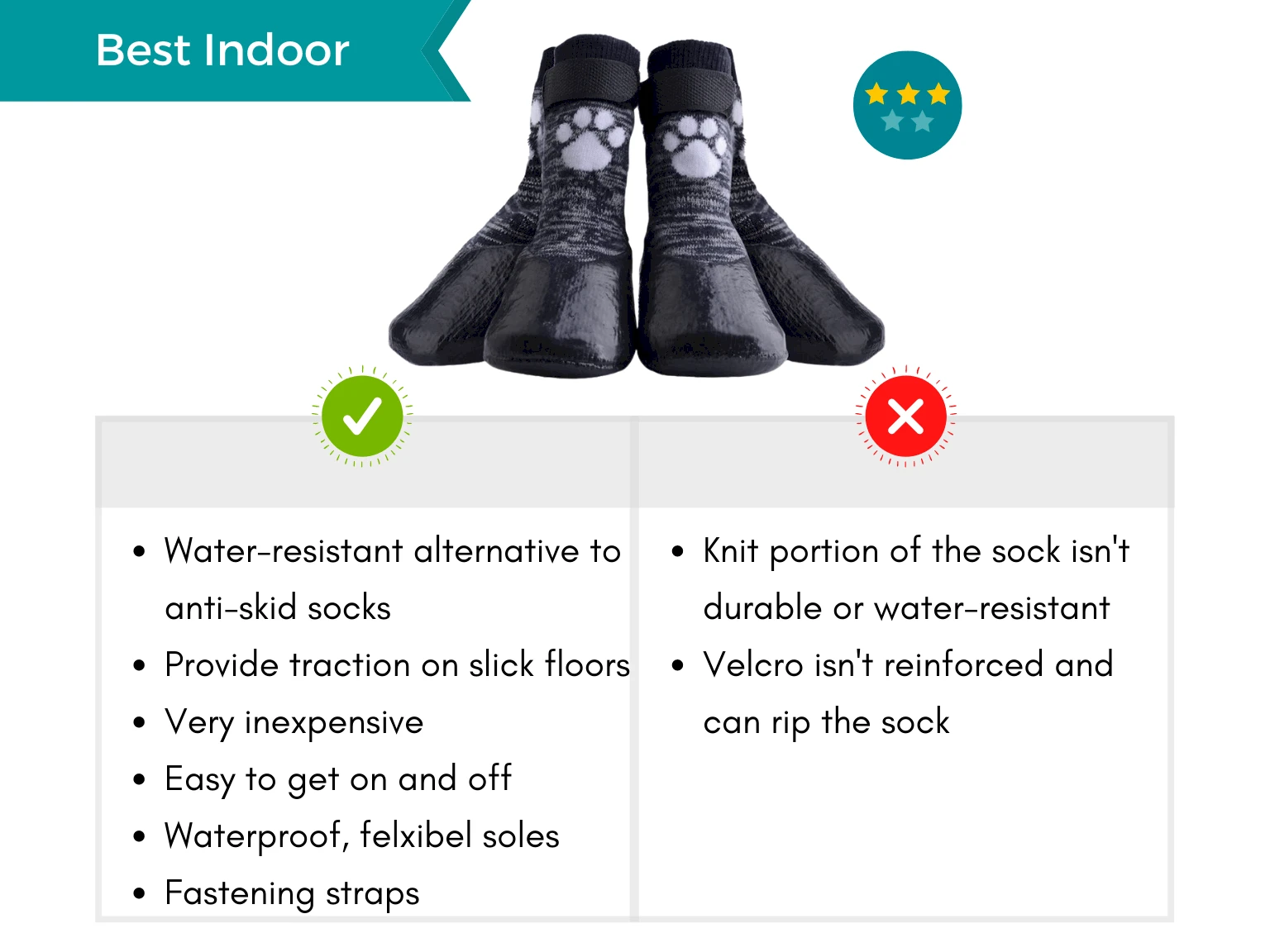 The rubber treated region of the Kooltail dog socks is enormous and gives supportive traction to pooches when it was difficult for him/her to stand up and retain balance.
These boots guarantee no slipping and will allow your dog to stroll around with certainty.
Senior pooches experience difficulty standing up and strolling on hard surfaces, so these socks can help them retain their grasp.
With the Kooltail socks, there is no need to put protective covers all over the house to prevent your furry friend from slipping.
Mobility has a key impact for keeping it from tumbling off. It doesn't make a difference even if your canine is very agile because the Velcro ties will keep the socks on the dog's feet.
Best for dogs who live in houses with hardwood floors. Along with traction, these socks also provide comfort and warmth.
They're easy to adjust, inexpensive and easy to put on and off but sadly, the Velcro might rip the sock.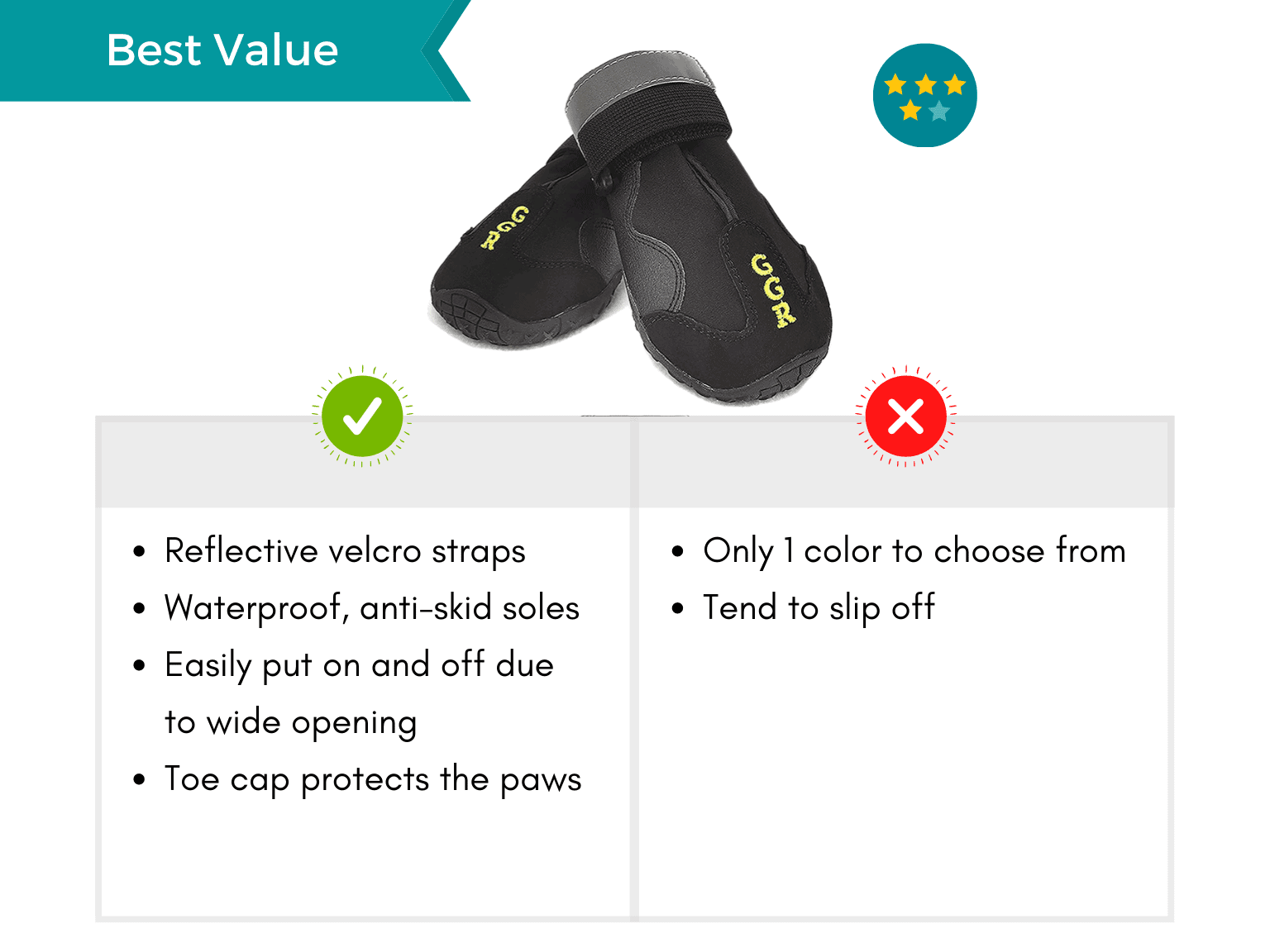 The GGR dog boots will protect your canine's paws from being harmed. These shoes are waterproof, anti-skidding and wear-resistant.
With these boots, you won't need to wash your dog's paws each day after a walk to keep them clean.
Fixed by nylon clasps, these boots are easy to wear and take off. These boots will give a feeling of comfort to your pet.
This pair of pet shoes will make sure your canine stand apart from the other dogs. Available in different sizes and black-colored.
Adjustable straps are provided with the shoes to make it anti-slip and guarantee a perfect fit.
Best for dogs who like running a lot as the fit is perfect on the paws and the cap provides safety for the toes. However, they do tend to slip off.
How to Choose the Right Waterproof Dog Boots?
There are many dog boots available in the market to buy for your companion in 2020.
However, there are several factors to consider when deciding on the best waterproof dog boot for your dog:
How waterproof do they really need to be for your purpose?
The material of the sole ought to be finished, with a decent hold for traction.

The sole must be flexible so that your pooch can walk normally

.
Choose a boot with flexible Velcro ties.
Most dogs throw a tantrum when wearing dog boots for the first time. I'd suggest you get him all ready to wear boots by first practicing at home with a few different types of boots for a short period of time.
Always check the seller's sizing guide and measure your dog's paws carefully before you buy.
Do Dogs Really Need Boots?
Dog boots should keep your dog's feet dry and create a protecting layer around it.
With dry foot cushions, your dog will have the option to endure the chilly climate for longer periods and will be increasingly open to strolling outside in the winters.
The best waterproof dog boots mentioned above also shield your pooch's foot cushions from the issues brought about by synthetics and salt (think about all the dreadful stuff we put on our garages and walkways to evacuate ice).
Tired of cleaning your canine's paws after an outdoor walk? Then you definitely should go for dog boots as they keep the earth, mud, and snow from accumulating on your pet's paws.
Or do you have hardwood floors? Then dog boots are essential as they will prevent your pet from slipping and falling on the floor.
Canine footwear can shield your floors from scratches as well.
There are numerous kinds of boots to look for, so evaluate a couple to find the best fit for your pooch.
To sum it up, yeah dogs need boots and there are many benefits of wearing boots as well. But, the most important thing is to select the right style and size for your pet.
How To Get Your Dog to Wear Boots?
If your canine experiences difficulty wearing boots, try a model that is more flexible instead of the pre-formed boots. Many dogs hate boots since they can't feel the ground while wearing them.
If this is your dog, then I would suggest you go for slim rain boots.
However, these boots will not provide much protection, but they will still keep your canine's foot cushions dry, which is the most significant aspect of buying winter boots for dogs.
But, the final mantra is to try various waterproof dog boots. Canine boots come in a large number of styles and materials as you can see from this list.
Keep on trying and ultimately you'll discover one that works best for your dog. Try each paw in turn.
Even let your pooch go outside with only one couple of boots on, especially when it is very rainy.
When he feels the distinction on his paws, he might be additionally ready to wear them.
When your canine appears to be happy with keeping the boots on during play, go for a walk with the boots on.
It's ideal to begin with walks around your area. Begin with a short walk and check your canine's feet for any indications of scraping or bruises afterwards.
Increment the lengths of the walks until you see your canine is prepared to even climb with the boots on.
How Do I Get My Dog's Boots to Stay On?
In order to get your dog's boots to stay on longer, the most important factor to consider is selecting the right size. Try to select a shoe model with which your dog is also happy.
Also remember if it is too tight, it can hurt your pet's delicate paws.
After selecting the right shoes, the next step in order to make the boots stay on is to put them on correctly without hurting your pet.
Choosing the right size of the dog boots and putting them in the right way will definitely make them stay on.
Let me know what experiences you had with waterproof dog boots and how you're using them (hiking, swimming, hot climates).
Pin This:
Disclaimer: This blog post does not substitute veterinary attention and does not intend to do so. I am not a veterinarian or pet nutritionist. If your dog shows any sign of illness, call your vet.