This post may contain affiliate links. Read more here.
We've compiled a list of the top 15 dog backpacks – the kind for humans to wear and carry their dogs – so you can enjoy hiking, traveling, walking, camping, or biking with your pup, no matter their physical ability to keep up with you.
If you want to bring your dog on more adventures, but are limited by their stamina, old injuries, or an elderly companion, you'll want to consider one of these dog carrier backpacks for humans so you don't have to leave your dog behind.
Not only will you feel better being able to share more of your life with your pup, but your dog will love the extra time spent with you as well!
Keep reading to find our reviews of the 15 best backpacks for carrying your dog, as well as considerations you should make when choosing a backpack for your dog and you.
Our Best Dog Backpack Reviews
1. K9 Sport Sack (currently not available)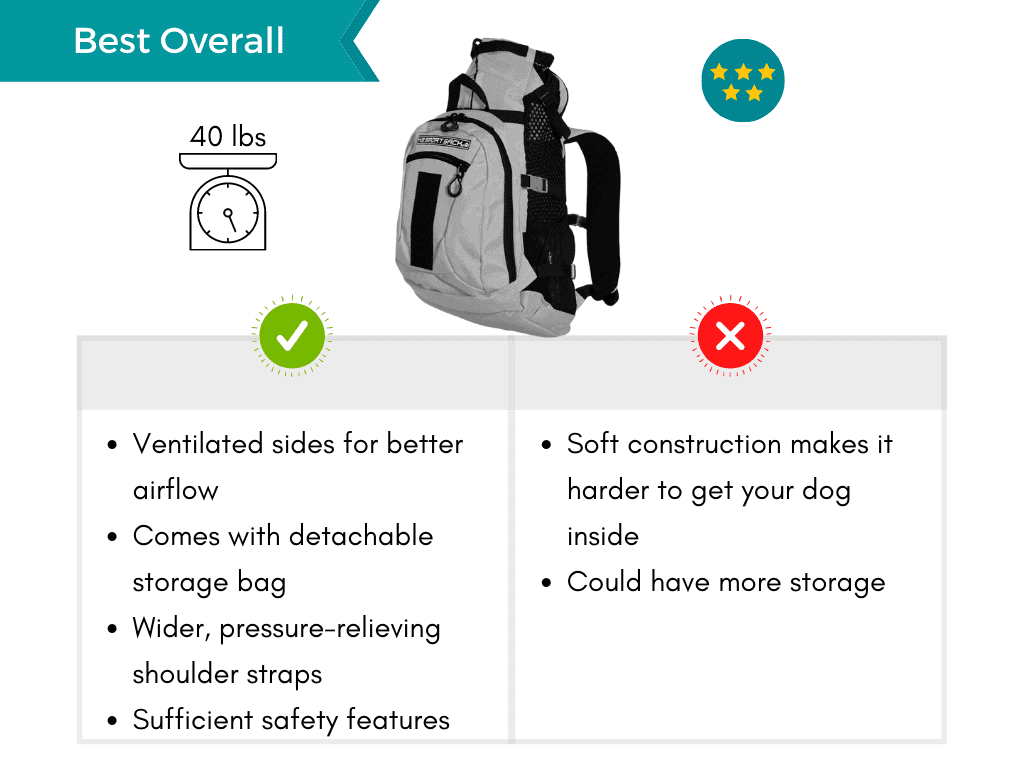 This dog hiking backpack is the perfect large dog backpack carrier, holding dogs up to 40lbs.
Not only is it ideal for carrying larger dogs, but the airflow is better than other options due to the ventilated sides. This makes it ideal for warmer weather!
As one of the backpacks that can carry larger dogs, the K9 Sport Sack also includes wide straps to take the pressure off your shoulders as you carry your dog.
However, there is not a lot of storage compared to other packs, and the construction is not rigid which can make it harder to put your dog inside.
2. Kurgo Dog Backpack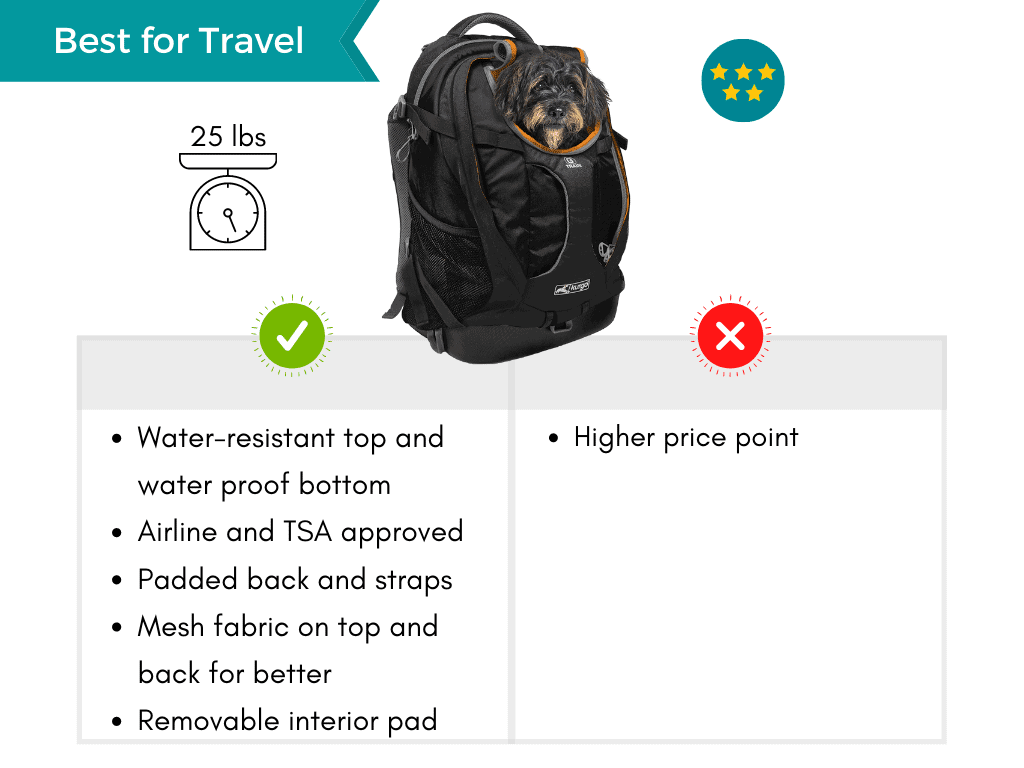 While the Kurgo brand is more expensive than other options, some of the features may make it a worthwhile dog travel backpack for you.
This dog carrier backpack can hold dogs up to 25 lbs and is airline- and TSA-approved so it is easy to use on your travels.
The Kurgo dog backpack also contains water-resistant and waterproof components, along with a removable interior pad, making it easy to clean up any messes that happen while your dog is inside.
The padded back and straps, along with mesh fabric, make it breathable and comfortable for both you and your dog as well.
3. PetAmi Deluxe Pet Carrier Backpack
Because of the 18lbs limit for dogs, the PetAmi Deluxe Pet Carrier Backpack is ideal for puppies or the smallest of dogs.
The safety features of this backpack are also great for dogs and young puppies new to being carried in a backpack since the safety strap and 3 safety buckles help keep your puppy contained.
The fabric consists of sturdy polyester, and there is a structured frame to help the backpack keep its shape, although some reviewers have noted that the frame is not as stable as it could be.
The bottom of the backpack has padding for your dog, but that can also end up uncomfortably pushing into your own back in some cases.
4. Pawaboo Pet Carrier Backpack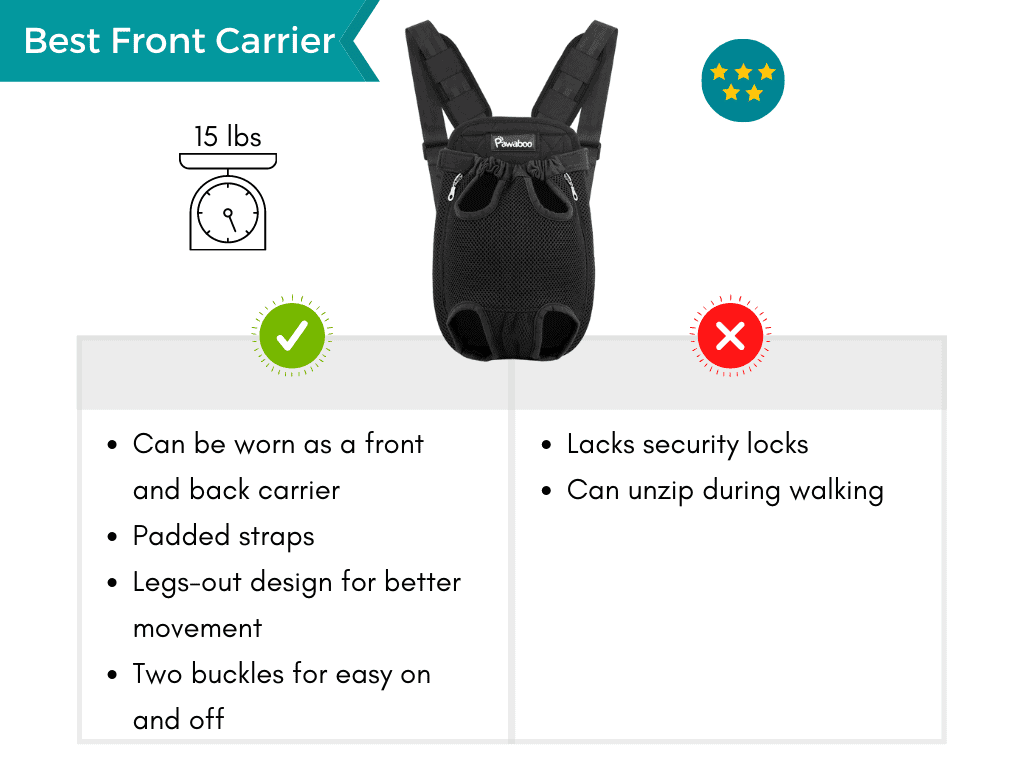 If you want to see your dog while hiking, the Pawaboo Pet Carrier Backpack is our top choice for a front-carrying dog pack.
In addition, this pack is versatile and can be worn on your back if you need to change the way you are carrying your dog.
The pack also has a design where your dog's legs are out of the pack itself, which can help keep your dog more secure, although it does lack security locks and can unzip while in use.
The padded straps and two buckles make it easy and comfortable to carry and use from the human perspective, though!
5. Mogoko Dog Backpack Carrier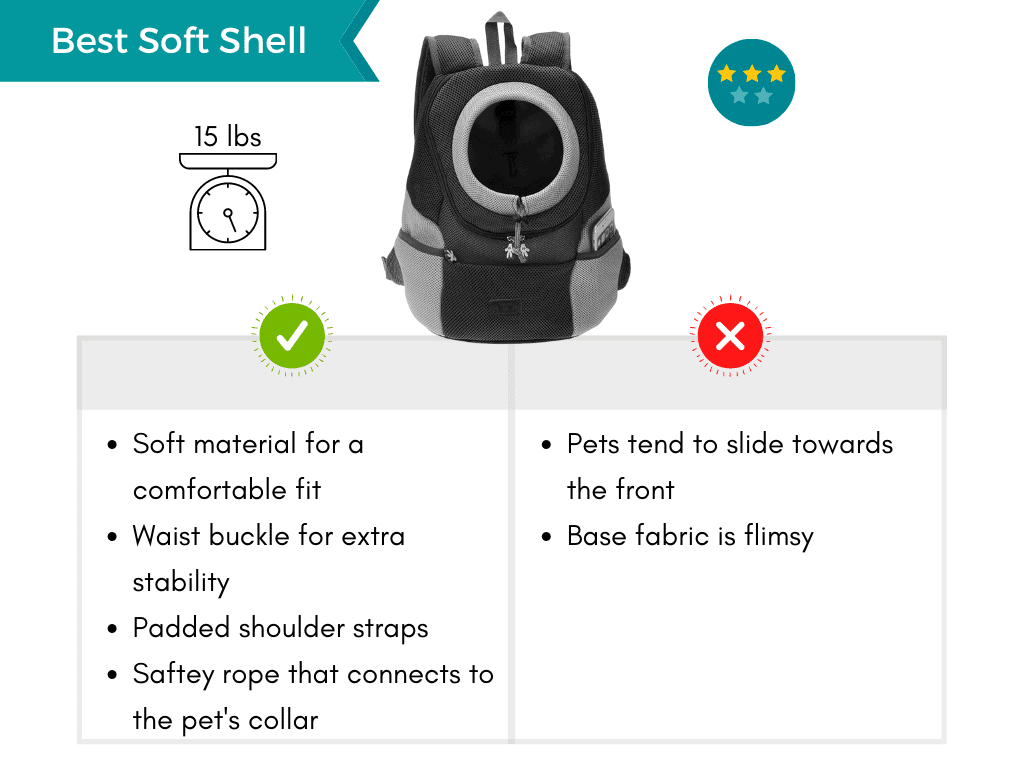 If you're looking for a soft shell backpack carrier for your dog, we recommend the Mogoko dog backpack carrier.
The backpack is constructed of soft material with padded shoulder straps to fit the wearer comfortably. There is also a waist buckle to add stability, especially due to the soft container.
In addition, there is a safety connection to keep your pet inside, although the fabric and soft shell design do have some drawbacks.
At its core, the fabric is flimsy and it's hard for your dog to remain in place, often sliding towards the front of the pack. In addition, this pack only holds dogs up to 15lbs.
6. Proplums Dog Carrier Backpack (currently not available)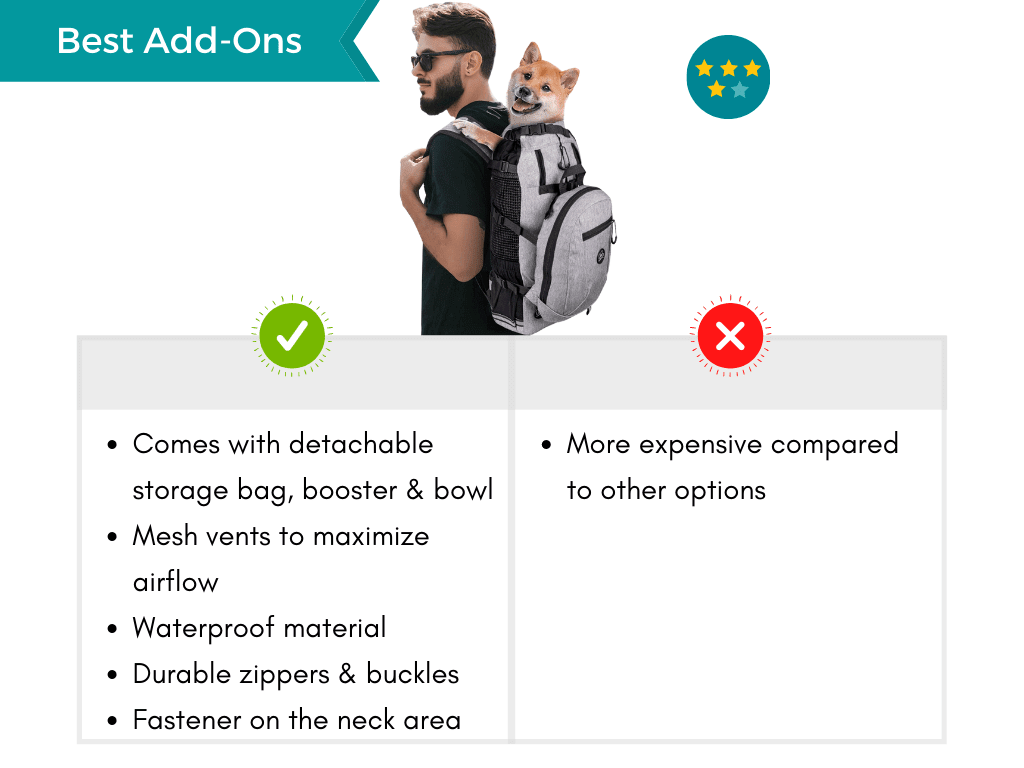 When you need a dog carrier backpack that has additional room and add-ons available to carry more than just your dog, the Proplums dog carrier backpack is our recommended option.
Not only is this pack able to carry your pup, but there is a detachable storage bag along with a booster to help your dog see and a travel bowl.
Airflow is ideal with the mesh vents, and the buckles and zippers are quite durable. The backpack is also made of waterproof material, so it is strong enough to hold up to a variety of adventures.
All this comes at a cost, however, as the Proplums pack is more expensive than other dog carrier backpacks on the market.
7. Outward Hound Dog Front Carrier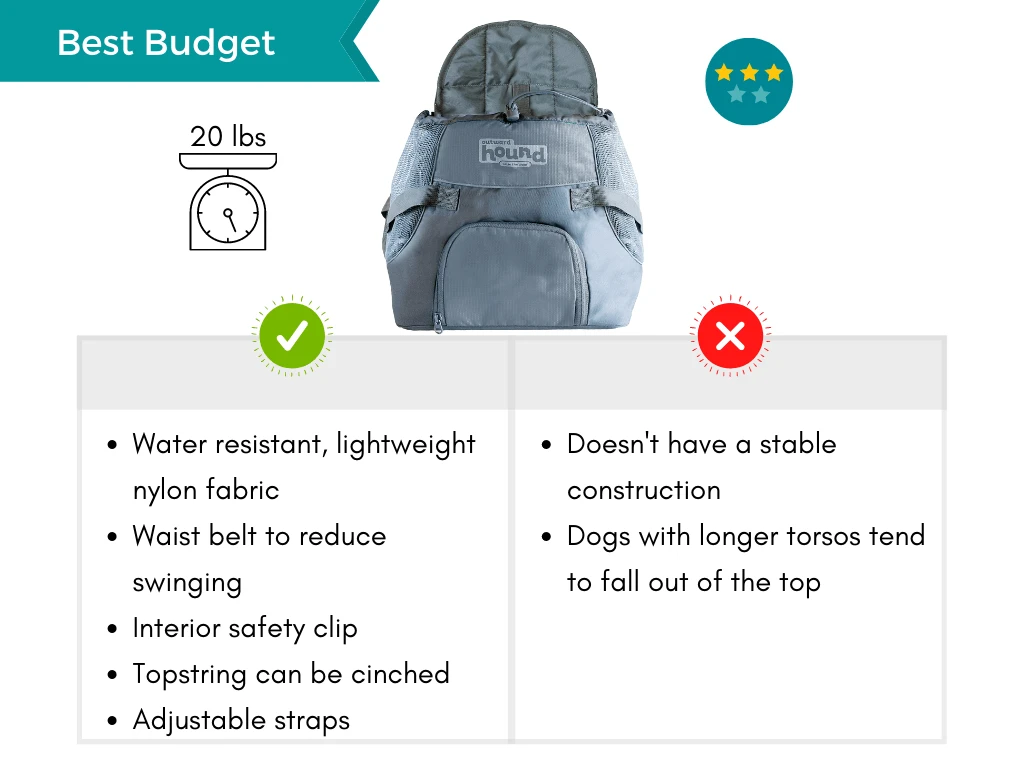 For those of us on a budget, the Outward Hound Dog Front Carrier is our top pick. Not only is this pack budget-friendly, but it is constructed of water-resistant material and can be adjusted to fit.
A waist belt, cinching top string, and interior safety clip are all included to keep your dog stable and inside of the backpack carrier.
However, the budget materials don't add up to great overall construction, and other packs are much more stable.
The pack is also not very long in comparison to others, so if your dog has a longer torso, they might fall out the top easily.
8. Guay Pet Carrier Backpack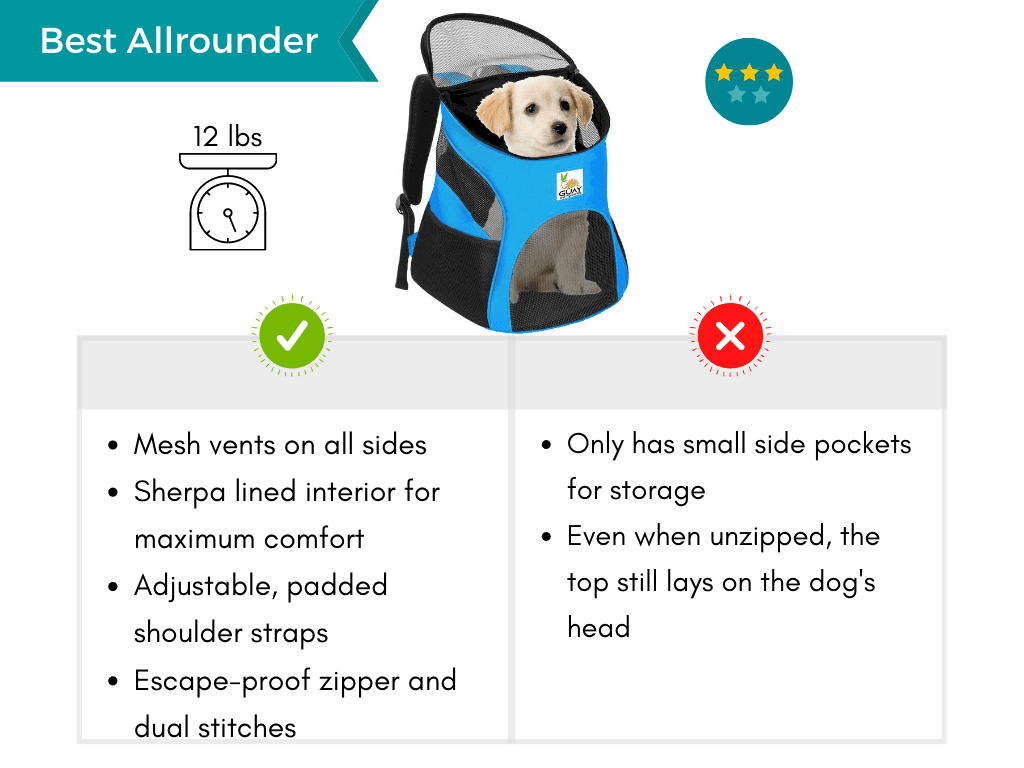 The Guay pet carrier backpack is one option for the smallest of dogs, holding dogs 12lbs or less.
If you have a small dog and are looking for a hiking backpack, this is one you should consider! The pack is also vented with mesh and has a zipper top to keep your small dog securely inside.
However, only small side pockets are available for storage. You also can't let your dog ride in the backpack with the top unzipped, because there isn't a way to keep the flap off of your dog's head. For some dogs, this confined feeling might not be a great option.
9. Coppthinktu Dog Carrier Backpack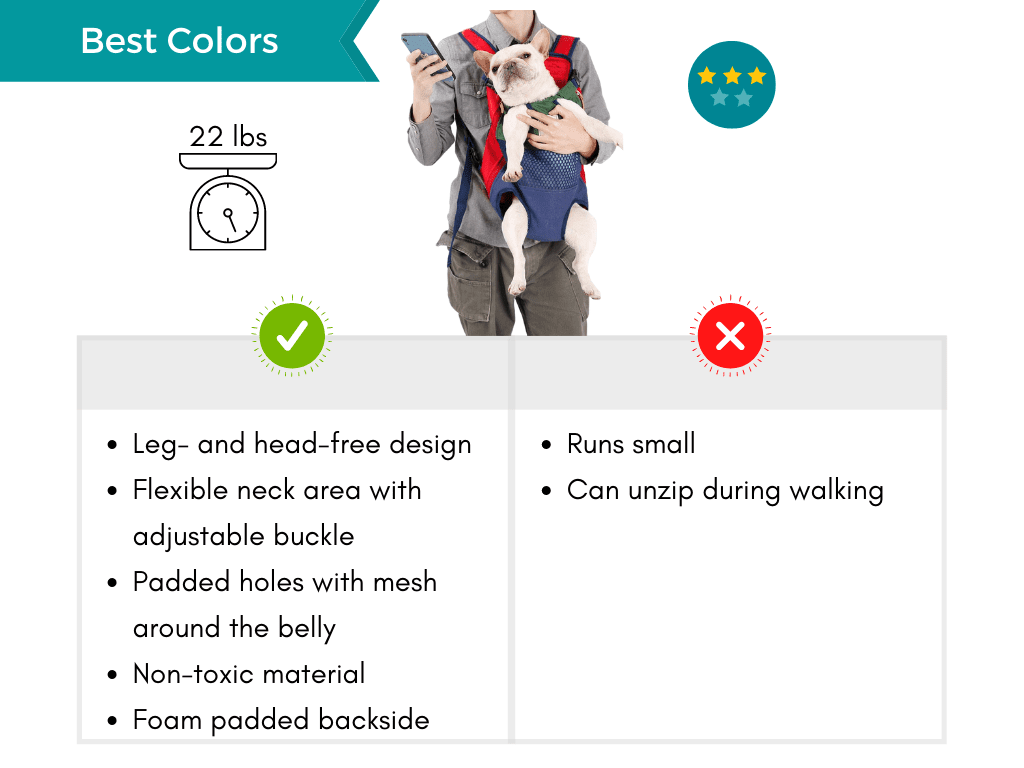 If you're looking for a colorful front-facing dog carrier, you should consider the Coppthinktu dog carrier backpack.
This design keeps your dog's legs and head outside of the pack, and adjusts the neck area with a buckle, so you can make sure it fits your pet comfortably.
It's also made of non-toxic material and has padded areas for comfort when in use. However, the Coppthinktu front-facing dog carrier can run small.
It also has been found to unzip when walking, so you'll need to pay attention to make sure the pack remains secure the entire time on your walk.
10. Lollimeow Pet Carrier Backpack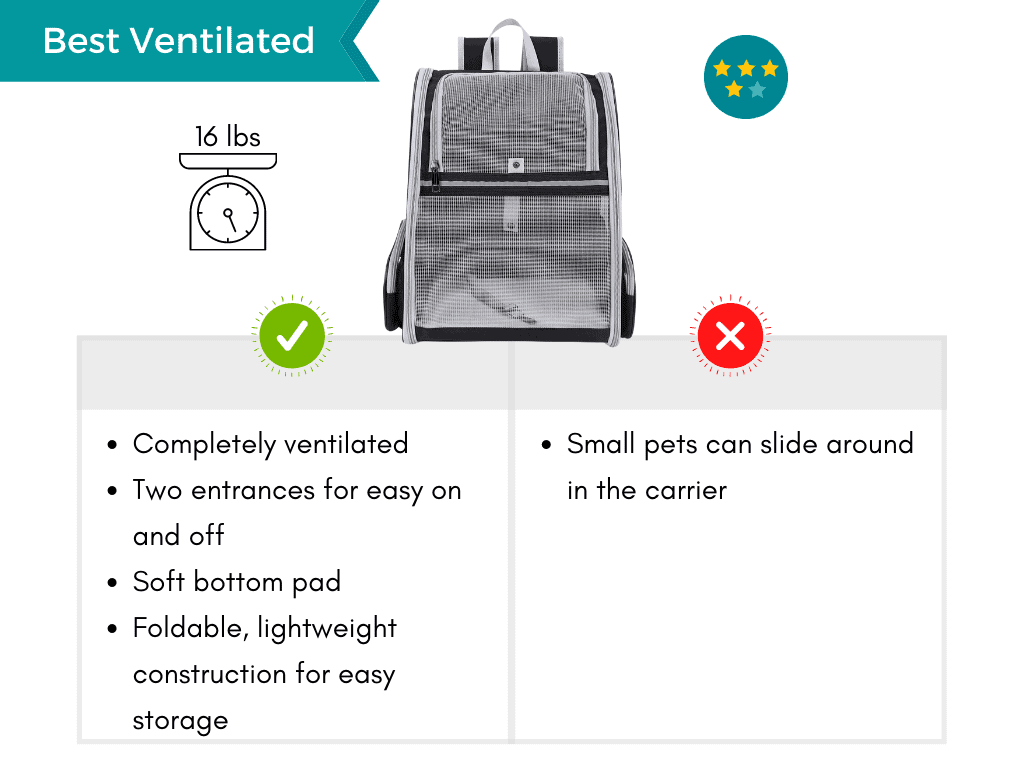 This dog carrier backpack is highly ventilated, as all sides use mesh to ensure the airflow is ideal when your pet is riding inside.
There are also multiple ways to put your pet in the carrier, to make it easier on you to get your pet inside, on or off of your back.
In addition, the lightweight and foldable pack is great for storage. It also has a soft bottom that is comfortable for your pets when they are snuggled inside.
However, small pets may be prone to sliding around inside, and this pack only holds dogs up to 16lbs.
11. SlowTon Pet Carrier Backpack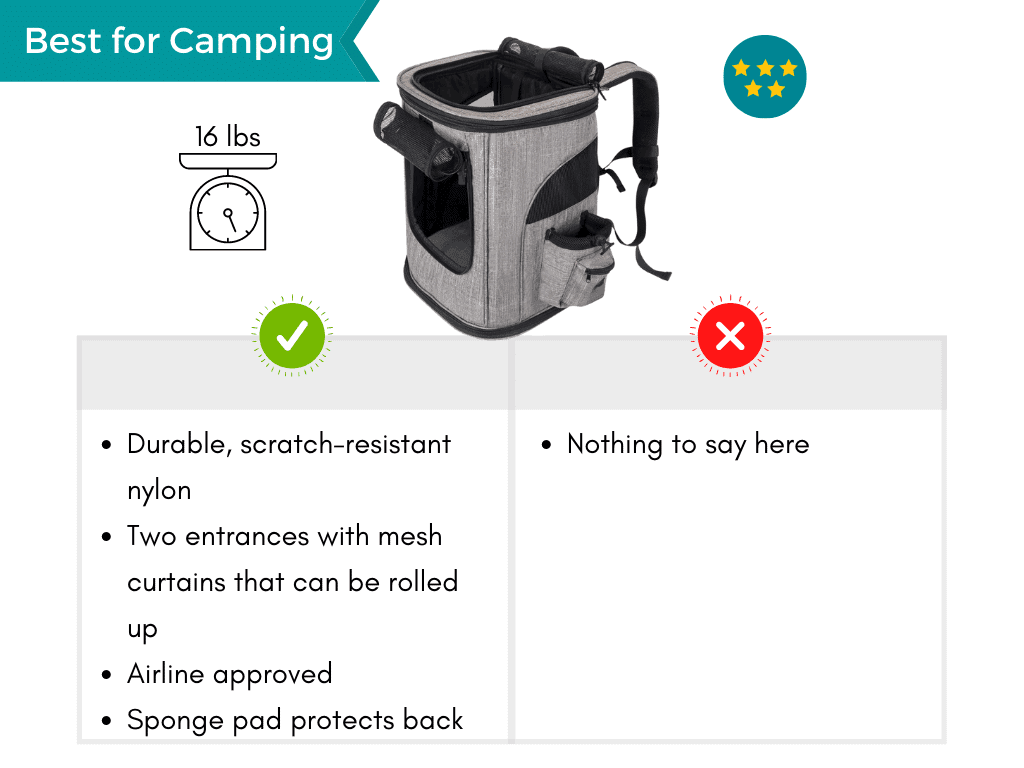 Another airline-approved dog backpack carrier, the SlowTon is a wonderful option when camping or traveling with your dog.
The construction is wonderful, using durable nylon that is scratch-resistant, and also containing a pad to keep your back comfortable while carrying your pet.
There are two separate entrances, and the mesh curtains can be rolled up if you'd like to let your pet out to explore or to allow them to stick their head out of the carrier.
We love the SlowTon pet carrier backpack so much that we gave it 5 stars and have nothing negative to say about it!
12. Coodia Legs Out Front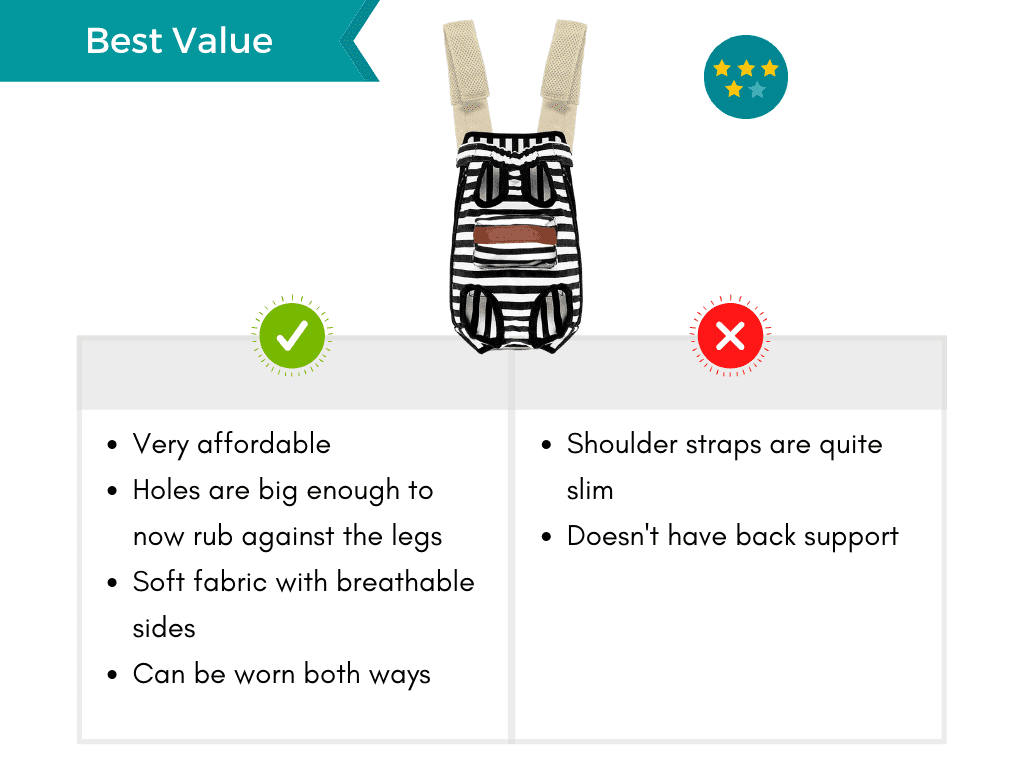 The Coodia Legs Out front-carrying dog backpack provides a great option for a front-facing backpack while providing great value for the cost.
This affordable dog-carrying backpack can also be worn on the back if needed and has soft fabric and breathable sides to keep your dog comfortable.
It also has larger holes for your dog's legs, to make sure they won't rub tightly against them.
However, it seems as though this pack was designed with more comfort for the dog in mind than the human, as it's lacking back support and has thinner shoulder straps than others.
13. Pecute Dog Carrier Backpack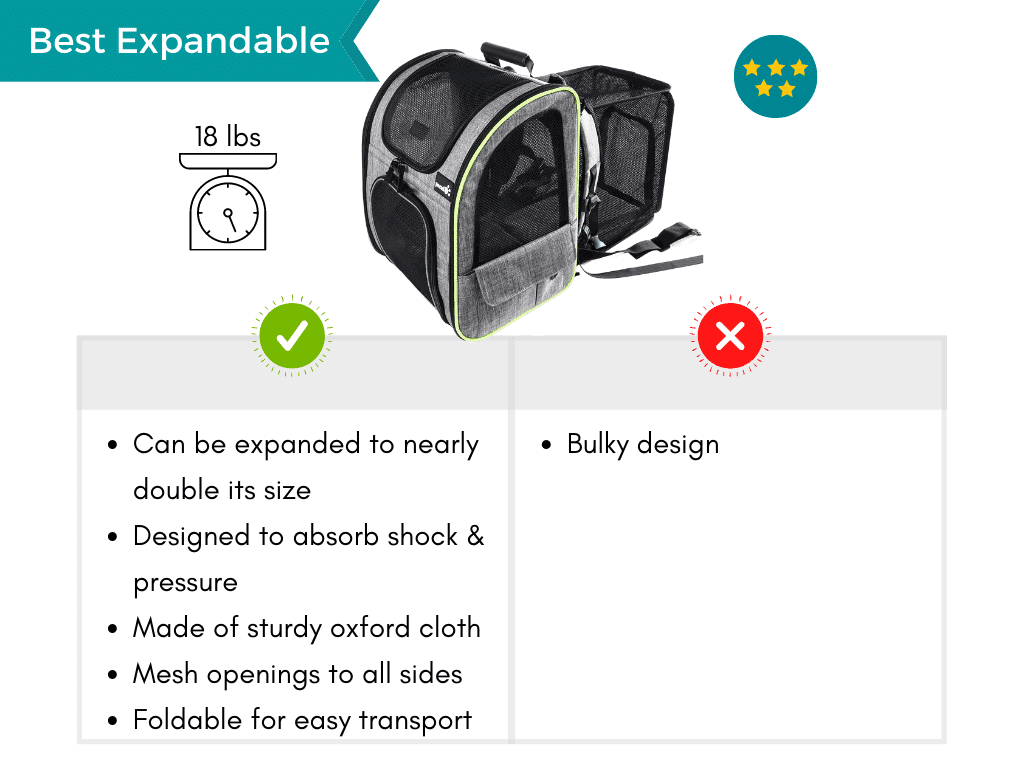 The Pecute dog carrier backpack can hold dogs up to 18 lbs and has a sturdy design that was created to absorb shock and pressure.
Not only are there mesh openings on all sides for ventilation, but the pack is constructed with sturdy oxford cloth.
There's no question that this pack is durable and can hold up to carrying your dog.
In addition, it's foldable for easy transport and storage between use. It can also be expanded to almost double the size if needed.
The only drawback we see to the Pecute backpack for carrying your dogs is that the design is somewhat bulky in comparison to other dog carrier backpacks.
14. Whizzotech Adjustable Pet Carrier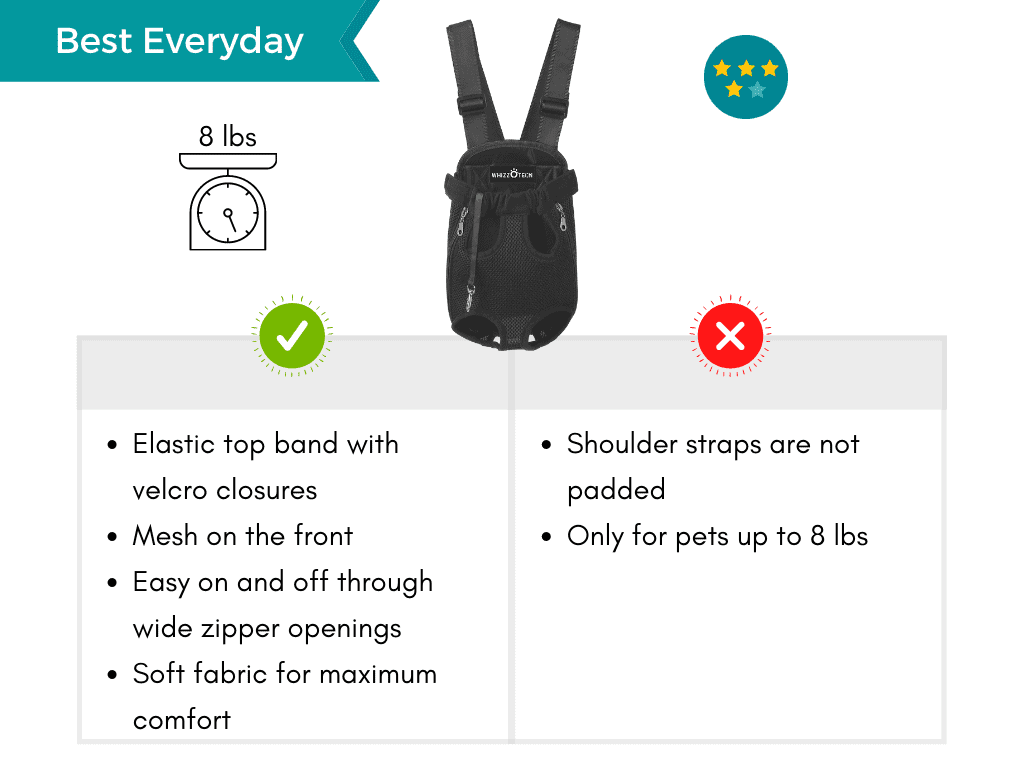 If you find yourself needing a small pet carrier backpack for everyday use, we'd recommend checking out the Whizzotech adjustable pet carrier option.
This pack allows your dog's legs and head to remain outside of the pack and contains some mesh to keep it breathable.
Soft fabric, elastic, velcro, and wide zipper openings make this pack easy to take on and off and make sure it securely and comfortably fits your pet.
The shoulder straps are not padded, but this pack can only be used for pets up to 8lbs, so padding is not as necessary as it is in carrier backpacks that will hold dogs that are heavier.
15. Apollo Walker Dog Carrier Backpack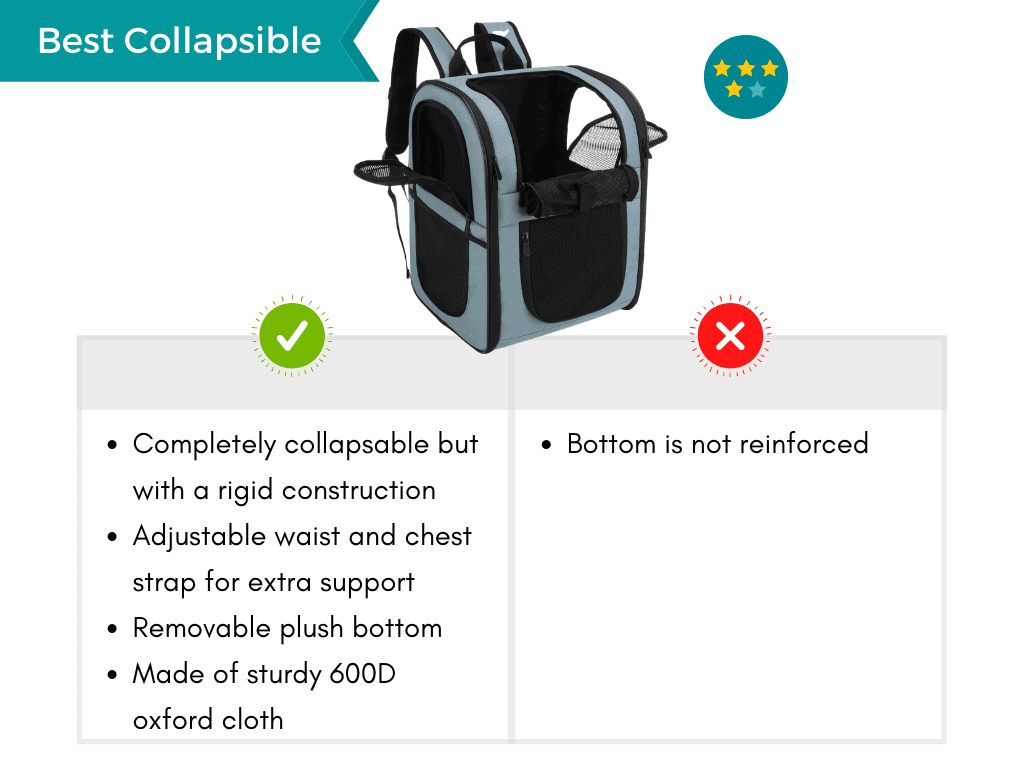 We love the Apollo dog carrier backpack for the support and overall great construction. This dog backpack carrier is made of a sturdy 600D oxford cloth and has a rigid construction. Even better, it has a completely collapsible design to make it easy to store when it isn't being used.
The waist and chest straps are also available and adjustable for extra support and comfort when in use.
The bottom is plush and removable, but it isn't reinforced. This means your dog won't feel like they're standing on a solid surface, enough though the rest of the backpack is quite rigid.
The Best Pet Backpack Bubble
If you're looking for a backpack that you can use to carry your dog that acts like a bubble, allowing them to remain inside with more freedom of movement while you hike, the Lillimeow ventilated pet carrier backpack is our top recommendation.
This pack is fully ventilated, so unlike other bubble backpacks that may contain a hard plastic shell, your pet will be able to breathe easily and smell the fresh air of adventure.
The pack is also great because it can hold dogs up to 16lbs, has a soft bottom pad, and multiple entrances. The foldable and lightweight design makes it easy to use as well as store.
If your goal is to give your pet a safe bubble from which they can enjoy the world as you take them on shared adventures, the Lollimeow carrier should definitely be on your list of options.
The Best Front Facing Dog Carrier
Our favorite front-facing carrier backpack for dogs is the Pawaboo brand option. The design is great overall, and it's padded for comfort as you carry your dog on adventures.
One of the only drawbacks of this front-facing dog carrier is the lack of security options and the risk of the pack unzipping while on your walk.
However, with the legs out design and a front-facing carrier allowing you to keep a close eye on your pet, it's likely you'll still be able to take your pet out in it safely.
Back vs Front Carrier
Whether you choose a back or front carrier for your dog is often a matter of personal preference.
In the front, you'll be able to easily see your dog and make sure they are comfortable and enjoying their outing.
This is especially something you should give consideration to if you will be taking your dog on solo adventures and won't easily be able to ask another person to check on your dog in a rear facing backpack.
However, sometimes your hiking plans themselves may play a role in choosing a back vs a front carrier for your dog.
When hiking up hills or mountains, having extra weight in the front can make your hiking more difficult.
A sturdy pack on your back might make more sense in those situations so you can easily lean forwards and lean into your hike without worry. However, you may also need to carry your own supplies on such a hike.
In those cases, if your pack doesn't have enough room for your own water, snacks, first aid kit, and any other supplies as well as your dog, you may want to consider wearing a rear backpack with gear, and a front backpack for your dog.
If a front or rear backpack both make logistical sense for you, you can also consider your dog's preferences.
Some dogs will prefer to be close and in front, while other dogs may prefer to be in back and able to see more of the environment.
One way you can help determine your dog's preferences is to consider how they'd react to being carried vs not.
If they enjoy being carried, they might prefer the similar feel of a front facing backpack. Otherwise, consider the rear backpack options for your dog instead.
Backpack vs Legs Out
Being confined in a backpack compared to being comfortable with their legs hanging out is likely going to be a very individual preference for each dog.
The good news is that unless you are hiking through thick woods where it makes sense to safely confine your dog inside a pack, either design is a viable option.
Dogs who enjoy being carried and are used to being carried are often just fine with the legs out design, because it mimics how we often carry our smaller dogs.
However, the legs out design may not be ideal for longer trips, because it's more restrictive on your dog's movement.
A container backpack design for carrying your dog often makes more sense if your pet wants to move around, because unlike a front carrier, your pet can shift their weight to settle in a different position. They are also able to often see more of their environment this way.
Some of the backpack options also contain more storage than the legs out design. In general, the legs out design is likely most useful for short trips around town, while the backpack will be ideal for hiking and camping trips or trips on an airplane.
The Best Dog Carrier Backpack for 60lbs
For dogs over 30lbs, there are much fewer options if they need to be carried on a trip. However, we don't want to leave our large dogs at home just because of an injury or old age making it more difficult for them to keep up with us.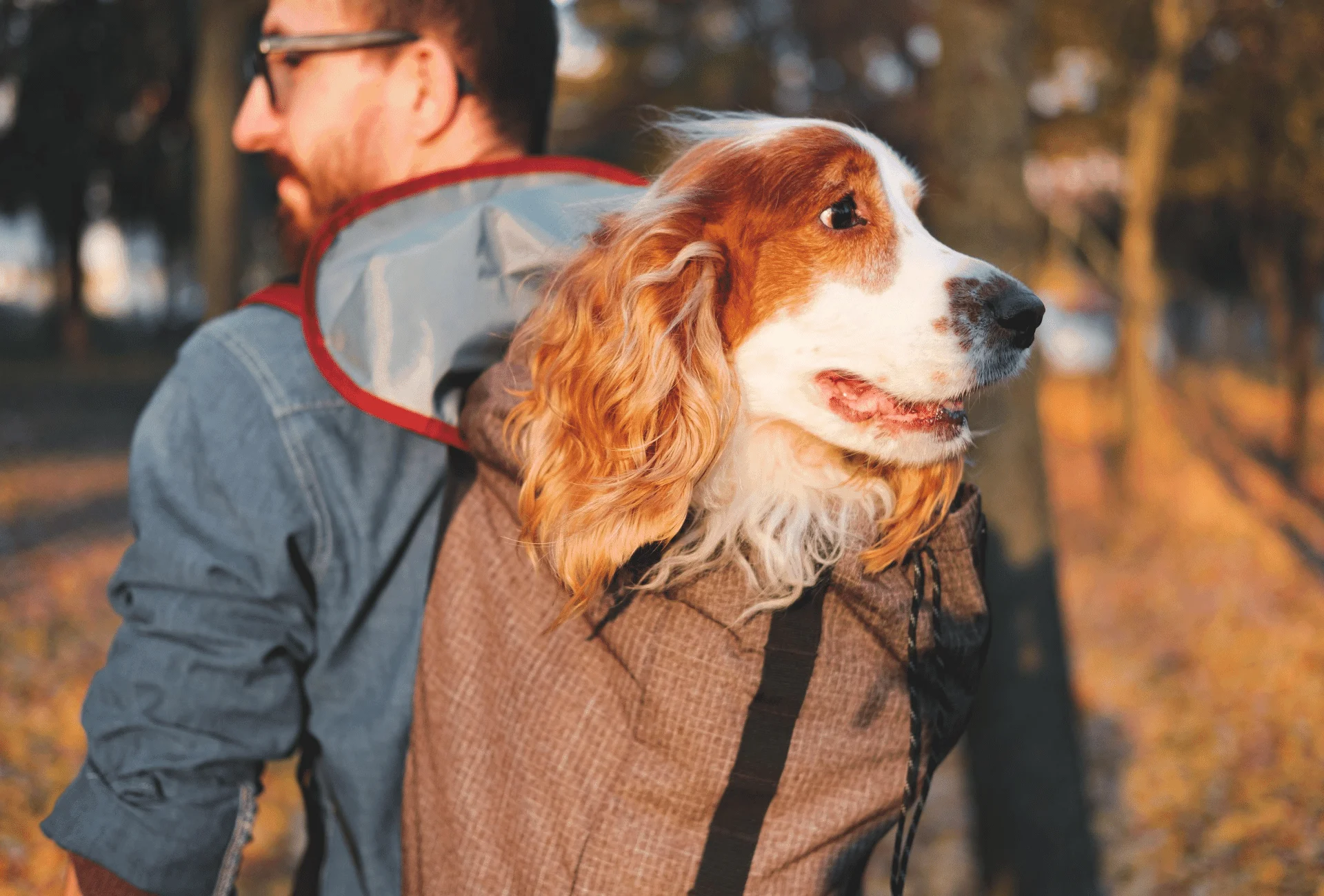 For dogs 30-80lbs, we recommend the K9 Sport Sack Rover, the largest dog backpack on the market today. After all, large dogs deserve a backpack carrier that works for them, too.
The K9 Sport Sack Rover has temperature regulating fabric, vents and a padded back to promote airflow, and a waist belt and weight distribution straps to make it as comfortable as possible for you to carry your larger dog.
There are also pockets for storage, a hydro port, lumbar support straps for your dog, and a sun/rain hood to protect your pooch.
Many dog professionals and product engineers spent hours designing this pack to make it as safe, strong, and ergonomic as possible – for the dogs and owners alike!
How to Choose the Best Dog Carrier Backpack
When choosing a dog carrier backpack, you should consider the types of outings you want to use your backpack for carrying your dog.
If you plan to mostly travel around the city for short periods of time, wanting to avoid your dog picking up germs on the sidewalks or being stepped on because of crowds, you don't need a backpack that has tons of storage or space, or even durability.
However, if you want to use your backpack to carry your dog on a hiking trip, or even overnight camping, you'll want something that is more sturdy and durable, as well as something that has storage for the items you need on your trip.
If traveling by airplane is a consideration, you will also be better off choosing a pack for carrying your dog that is airline and TSA approved.
After all, it's much easier to bring one carrier on your trip instead of multiple options to fit the situation.
Finally, you'll also want to consider your comfort as well as your dog's comfort. If you plan to wear the pack long term, or have shoulders or a back that's sore in general, you'll want something that is padded and fits you comfortably so it doesn't add extra stress to your own body.
DIY Dog Carrier Backpack
If you don't have the funds to spend on one of the backpacks we've reviewed, or you simply enjoy DIY projects, there are a few tips we have for making the best DIY dog carrier backpack.
Depending on your pack, you may need to do some cutting and sewing to get the design right.
This is especially true if you need to add mesh for air flow, rather than letting your dog stick their head or upper body outside the top of the pack.
Second hand stores are a great place to check for older or used backpacks that can be modified into a backpack to carry your dog.
You'll want to make sure the pack is sturdy enough to hold your pet, as well as large enough for them to comfortably fit inside.
Modifications to consider making include:
Mesh for proper airflow and visibility
Adjusting the height of the pack so your dog can stick their head out or remain fully inside, depending on your preference
Safety features such as tethers to make sure your dog remains inside
Padding for your dog inside, as well as to make the pack comfortable for you
Additional material that is able to withstand the nails of your dog
Water-resistant or waterproof components to make the pack more durable and easier to clean
There's no one size fits all DIY dog backpack, since the modifications that are needed will vary with the size of your dog, type of pack, and your goal outcome.
However, if you give careful consideration to the features we've listed, and are handy with a sewing machine, you'll be able to create a DIY pack that's functional and comfortable for both you and your dog.
Are Dog Backpacks Cruel?
No. Dog backpacks are not cruel.
In fact, it's hard to imagine a situation where a dog would be subject to such pain and suffering that a dog backpack could meet the definition of cruel.
While it might not be a favorite of all dogs, there are many dogs that would rather go on an adventure with their human in a backpack than stay alone at home.
Almost all dogs that ride in a backpack are tolerant of the activity, if not outright loving it. Most owners will respect their dog's behavior if they'd rather avoid the backpack and stay home.
Instead, dog backpacks allow those dogs who are too small to keep up with their owners, too elderly and arthritic to enjoy hiking like they used to, or those dogs recovering from an injury to safely participate in an outing with their humans.
Do Dogs Like Being Carried?
Different dogs have different feelings on being carried. It's not universal for dogs to prefer being carried one way or another. Learn more about how to carry dogs here.
However, many dogs do enjoy their backpack, especially because it means they get to go on an adventure and spend time with their owners.
A dog that doesn't like being carried in a backpack is rarely going to be put in one because it simply wouldn't be enjoyable for the dog or owner!
Even if a dog is apprehensive at first, they can often learn to love the activity with time and training.
Dogs see their world through smells, so they don't miss out on much if they take breaks from walking for their health and safety.
Pin This:
Disclaimer: This blog post does not substitute veterinary attention and does not intend to do so. I am not a veterinarian or pet nutritionist. If your dog shows any sign of illness, call your vet.