Our Rottweiler-approved Great Britain road trip reached its pinnacle of excitement as we set paws on renowned Lake District soil.
After all, the Lake District is made out to be a hiking paradise for our four-legged friends.
I can say it did not disappoint.
Whereas we found our other destinations to be reasonably dog-friendly (such as the Cotswolds, Snowdonia, and North York Moors), the Lake District takes the cake.
Wherever you look, you'll see (not rarely soaking wet) canines.
We only had a four-day stay here but I just wanted to do a little recap for other dog owners so you can make the best out of your trip with your doggo.
All hiking routes will be linked for super easy access.
I'll also throw in dog-friendly restaurant options and parking spots.
Thirlmere Circular
The Thirlmere Lake circular is a great route for enduring canines but you might want to cut it short to keep your dog fit for hikes with more astonishing views and variety.
Our room was pretty close to Thirlmere but after a 4-hour drive and with a packed plan for the next couple of days, we opted to only walk a part of this route.
After all, our Rottweiler was still pretty sore from climbing Snowdon two days earlier.
This way, we could relax at the lake and enjoy time away from the crowds (it was surprisingly empty for a sunny afternoon in early June).
It's a cool route with pretty views but there are more rewarding routes in the Lake District.
Parking: Free at the northern side of the lake near the dam, machine seemed to be out of order.
Derwentwater Circular
The dog-friendly Derwentwater circular is a variety-filled route ringed by awe-inspiring mountains and clocks in at 4 hours. A moderate challenge for fit canines.
Trailblazers beware that letting your dog off-leash during the summer will probably not work, at least not from the get-go.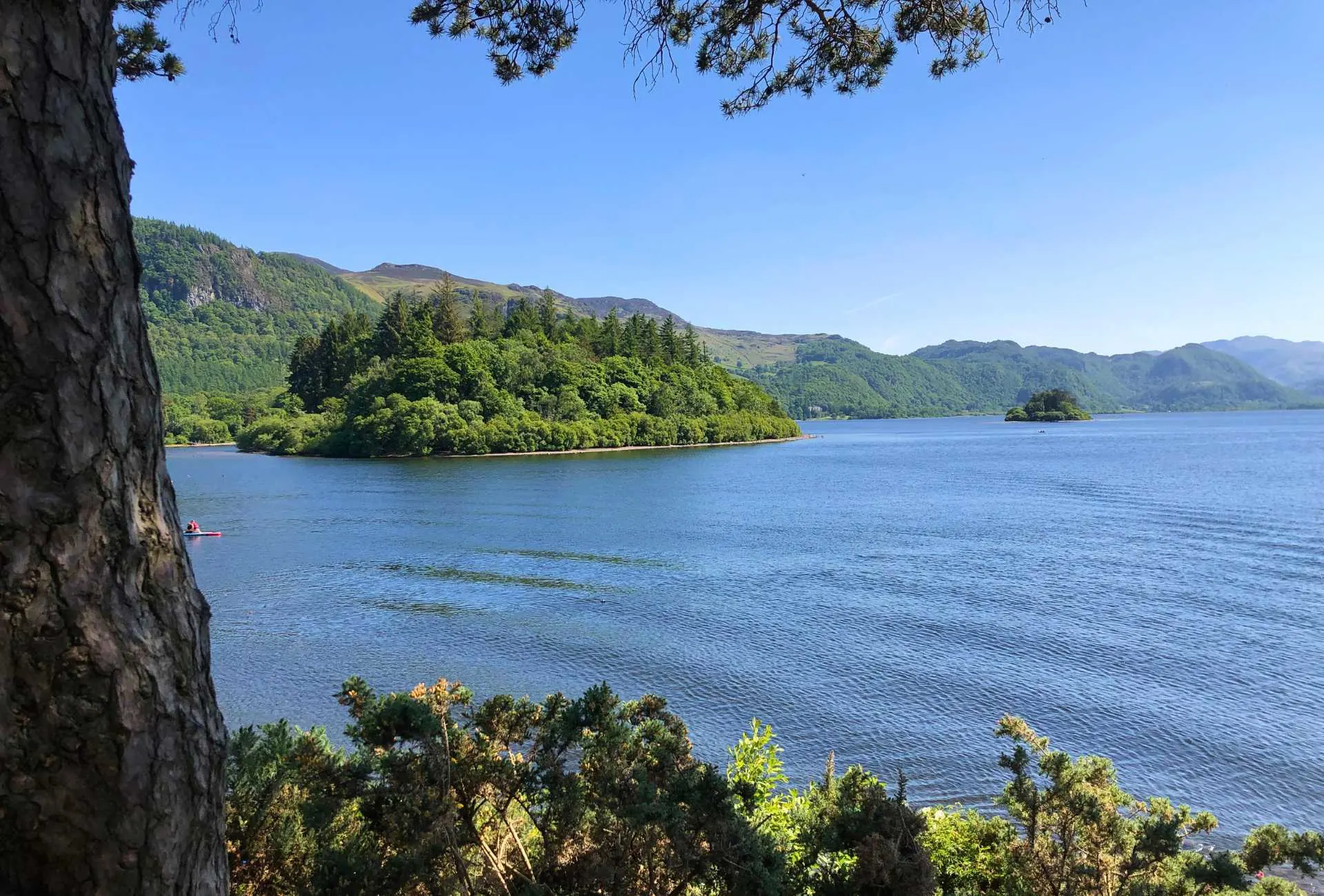 You'll encounter fewer and fewer visitors as you walk.
Crow Park, Friars Crag, Surprise View – there's something for everybody on this walk.
Should your pup need a break, there are plenty of places with water access.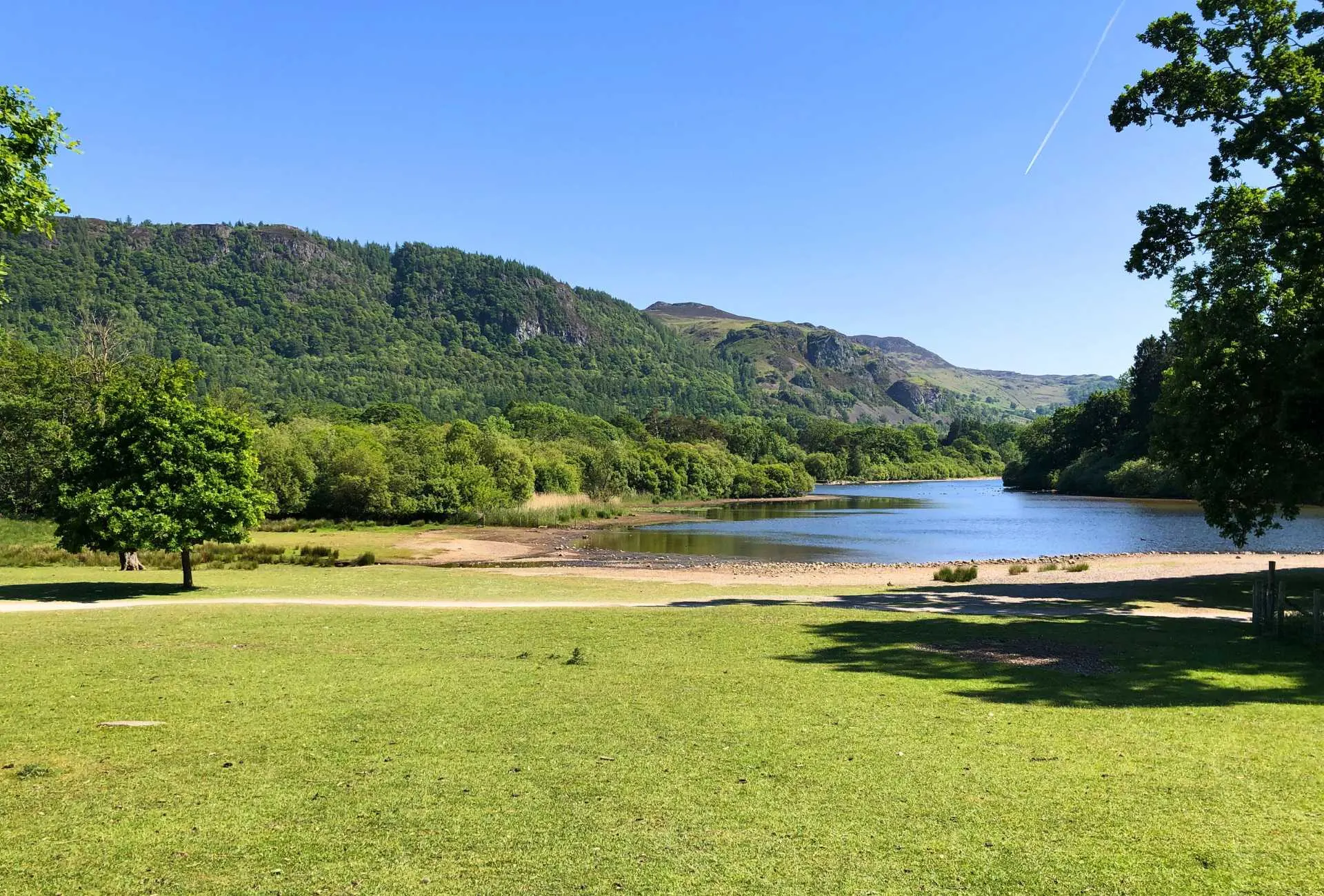 You might have to rely on your pup's sniffing sense to find that spot though as the place fills up quickly in the summer.
Unfortunately, my pup was on antibiotics for her ear infection, so no swimming – I'm sure she would've loved to though.
We headed to the Keswick a couple of times to grab a bite.
Dog-friendly restaurants I liked include The Round (super friendly to our Rottweiler even though the place filled up quickly, their partner restaurant is the Fellpack), Kats Kitchen, and The Wild Strawberry.
Keswick is pretty little town and has everything you'd need.
We actually stocked up on paw bandages at a local store and charged our EV at the nearest Booths – very convenient.
Parking: The Lakeside Car Park north of the lake has around 250 spaces and was £3.50 for 2 hours or £5.90 for 3 hours. Pretty packed when we arrived around 11 am in early June. There are options at other sections of the lake though.
Grasmere
Grasmere is worth visiting with your dog as the proximity of all the sights makes for an accessible walk even with a puppy or senior dog.
In 10 minutes you can browse the Beatrix Potter shop, grab a bite in a dog-friendly café, experience the famous gingerbread, and stroll through the Wordsworth Daffodil Garden.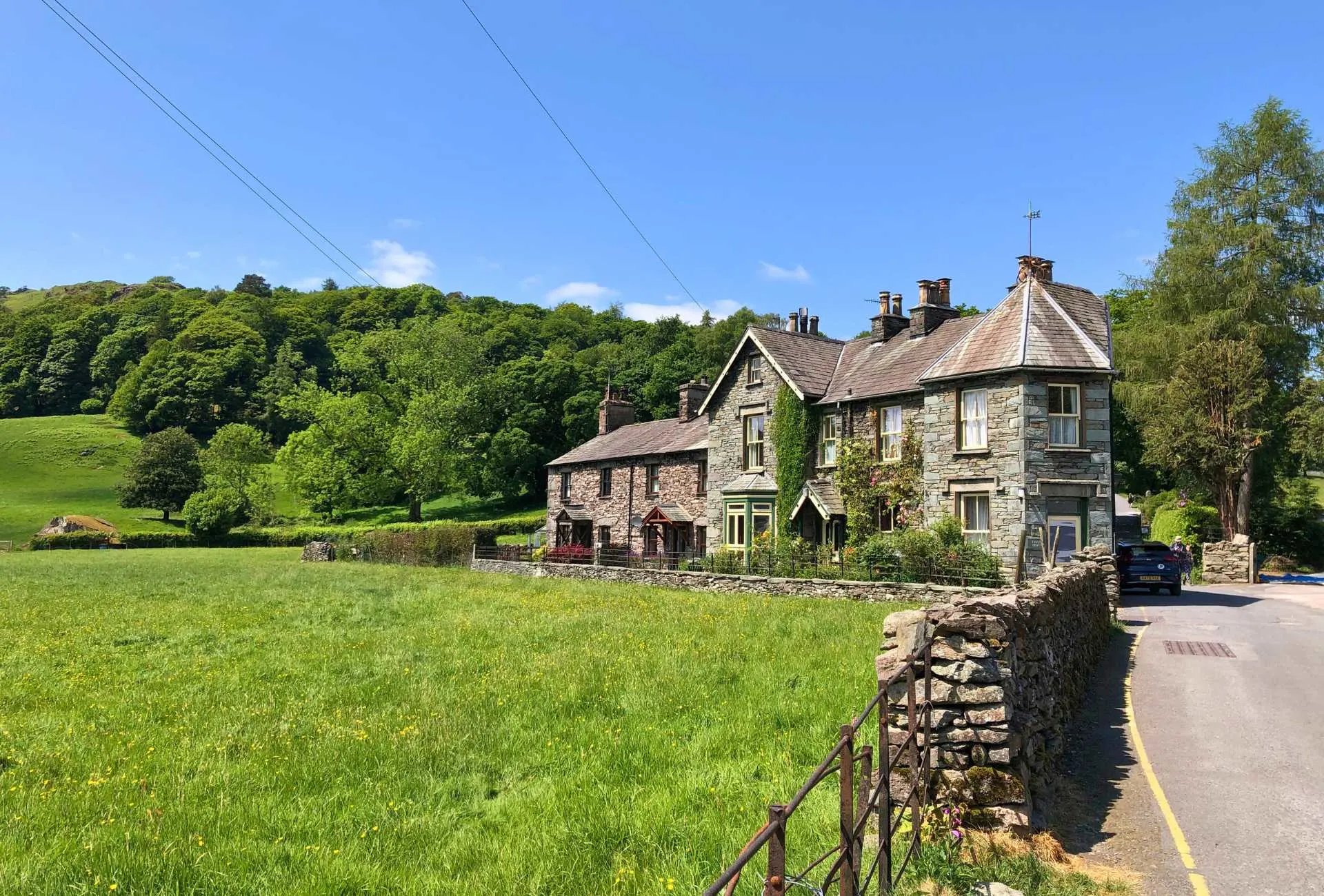 That's exactly what we did with our Rottweiler.
We stopped at Emma's Dell for breakfast crêpes (dry dogs are allowed – very pleasant visit).
But keep in mind that during the summer (June-August), it can get pretty busy and the streets are very narrow.
Does your dog have issues in crowds?
I'd recommend desensitization and training beforehand. Arrive early, take your time, and pack a short leash and treats.
If you're so inclined, you could also visit Allan Bank situated a short 10-minute walk away from the village center. They do allow dogs but there's an entry fee of £7.
Fit dogs and their two-legged slaves can add a stop at Grasmere's lake (about 30 minutes one-way from our parking spot/village center).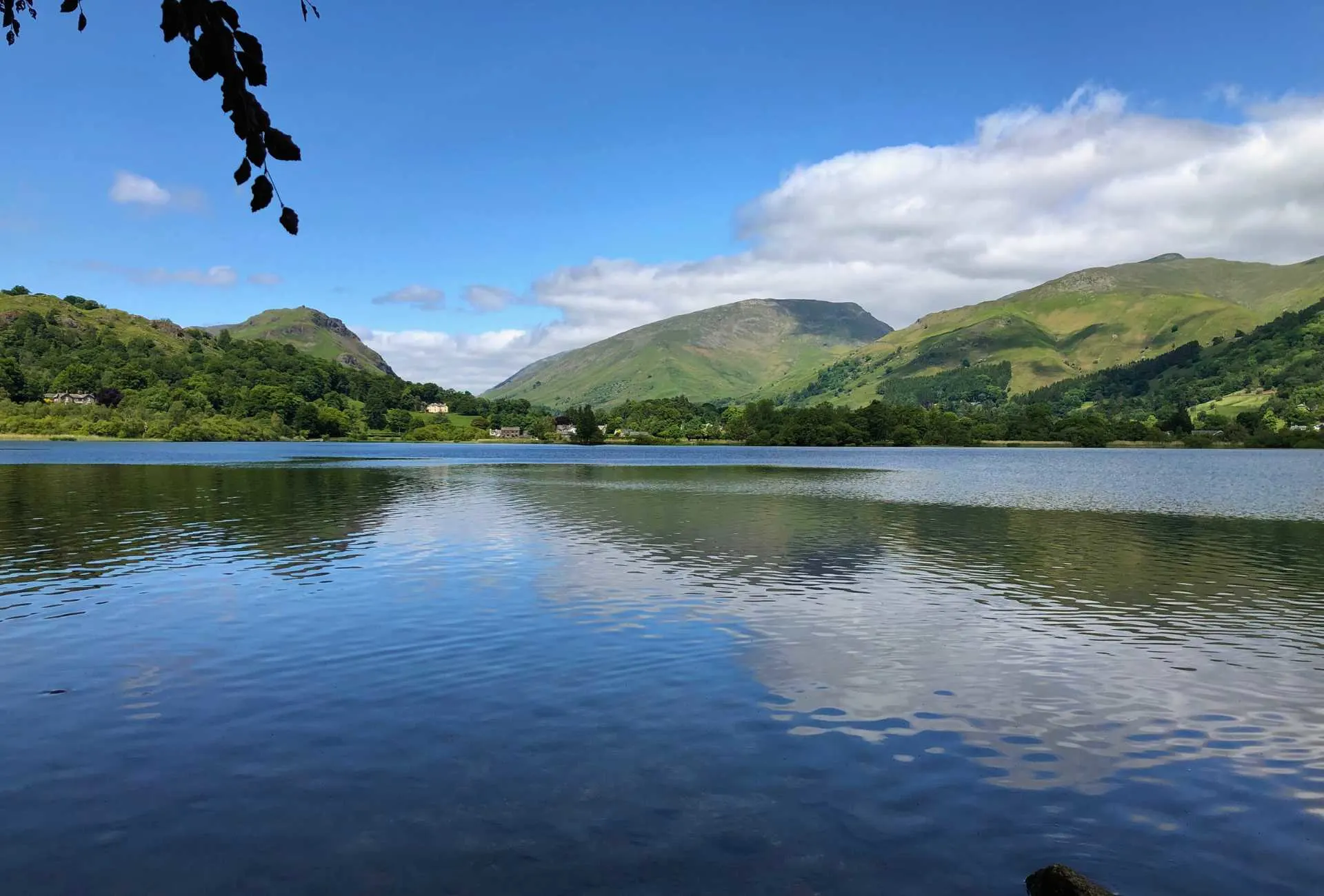 The road leading to this lake is paved, but the final stretch is a bit downhill on a rocky dirt path.
Shouldn't be an issue for most dogs. Super fit canines might opt for the circular route.
Parking: We parked at the Grasmere School, pricing was fair but the parking machine was broken. A larger parking lot is available down the street.
Aira Force Waterfall
The Aira Force Waterfall is a great destination for dogs in the summer due to the flowing water, shaded woody area, and soft trail ground. However, the waterfall itself was a bit of a let down in my opinion.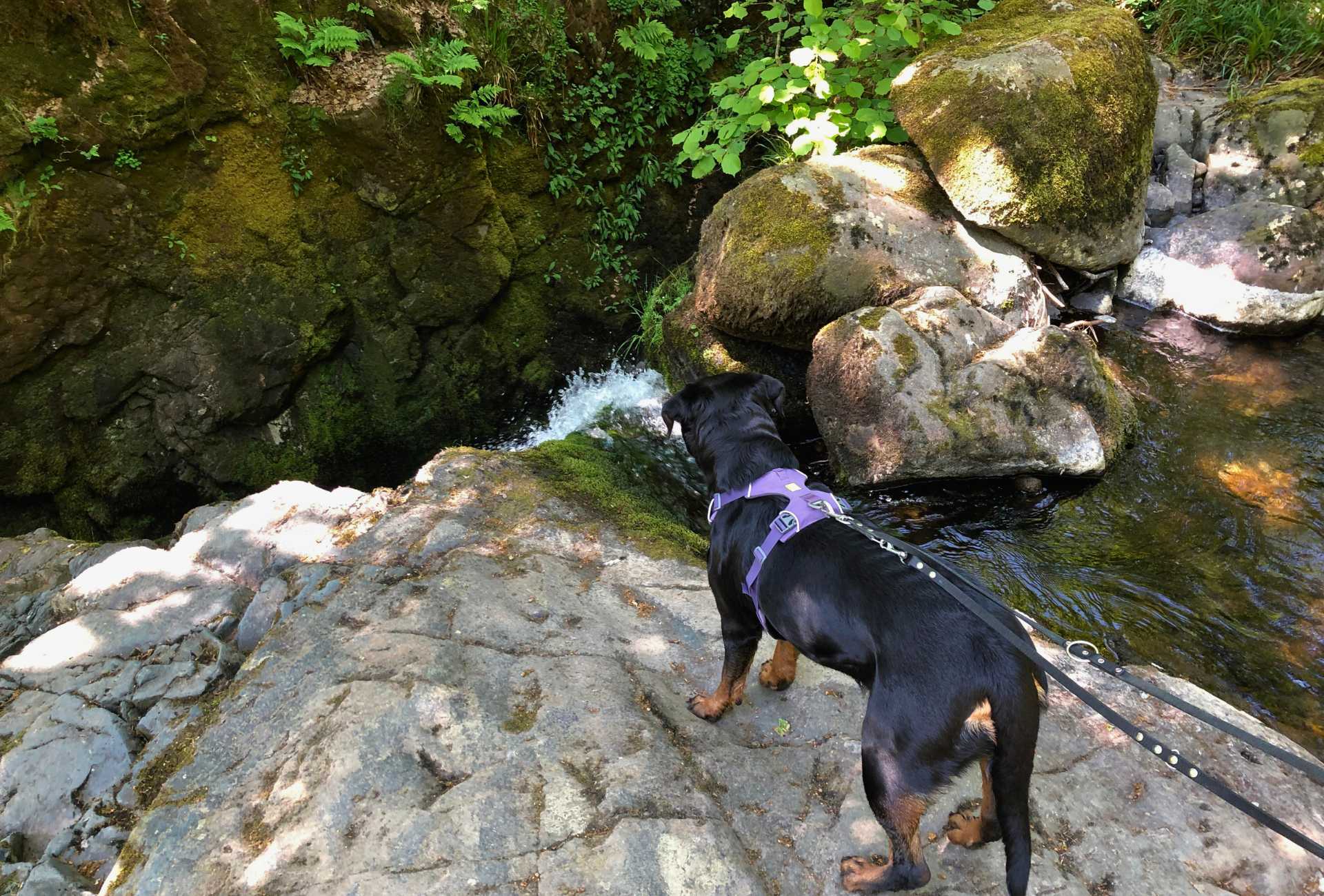 My advice would be to just view the waterfall as a bonus, not the main attraction.
It fills up pretty quickly. We actually had to circle for 30 minutes to find a parking spot.
Naturally, most of these people will crowd around the waterfall to take a picture but there's a great forested area around it and also a hike up the Gowbarrow Fell.
This circular hiking trail combines Aira Force and Gowbarrow Park.
The peak of the Gowbarrow Fell offers great views if visibility is high, it's a nice little extra.
Put simply, this is a great walk in the shade leading to a smaller mountain top with great views and an opportunity to cool off in the flowing water.
We visited here on our last day at the Lake District since it was on the way to Yorkshire.
Please keep in mind to pick up after your dog even if that means carrying the bag around for quite some time as there's sadly no way to dispose of them on the trail.
Parking: The National Trust's car park is the closest and costs £7.5 for 4 hours which is fair, considering that part of the proceeds is supposed to go towards maintaining the trail.
Is Lake District Worth Visiting With a Dog?
In my opinion, Lake District is among the top destinations in the U.K. for dog owners who are seeking dog-friendly hiking routes as well as plenty of dog-friendly restaurant options.
Dogs can cool off in one of the many lakes (who would've guessed), have access to most places, and you know what?
Seeing dogs all around you just makes you more comfortable.
Compare that to being the only dog owner when out and about visiting some places.
Always makes me feel a bit out of place with my large dog even though she's very well-behaved.
Keep in mind that other dogs may approach you and while empirical data tells me dog owners in the Lake District seem to be mindful of leashing their pups, you might still encounter unruly four-leggers.
We crossed paths with unleashed dogs way more when climbing Snowdon or at the beaches in Wales but that may just be an outlier experience.
Bring a safety kit on adventures, look out for signs of ear infection if your dog swims a lot, and be mindful of others and you'll have a great time visiting the Lakes.
Disclaimer: This blog post does not substitute veterinary attention and does not intend to do so. I am not a veterinarian or pet nutritionist. If your dog shows any sign of illness, call your vet.