Snowdon is a popular target for hikers in the UK. No surprise there as the 1.085m summit is the highest point in the British Isles (excuse me, Scottish Highlands).
Millions of people visit Snowdonia with a large portion of those visitors tackling Snowdon.
If you're anything like me, you probably read up all about it but now you're left wondering…
Can I actually climb Snowdon with my dog?
At least that was my #1 question, considering we've only gone through the hassle of traveling from Germany to the U.K. via the Eurotunnel so we could bring our 100-pound Rottweiler.
I've read walls of text, some stating Snowdon would be easy peasy with dogs and others saying it's impossible.
Now that I've finally tackled the summit with my pup, I feel prepared to help you experience this beautiful hike.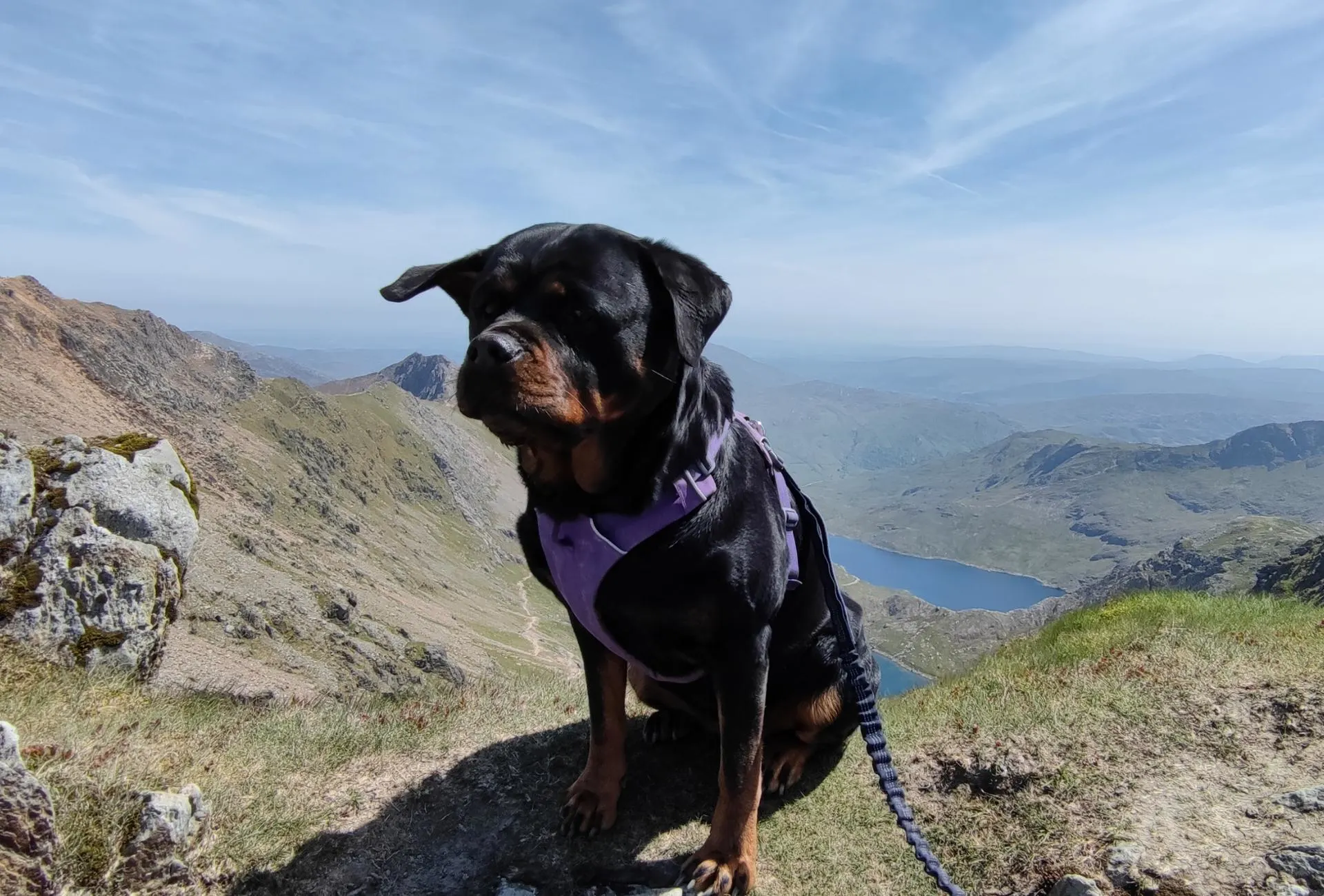 Let's dive into how you can figure out what route to take, if your dog can make it, what you need to bring, and what you need to watch out for.
Plus, I have a sheep-chasing story for you, take it as a cautionary tale.
Can You Climb Snowdon With a Dog?
Yes, it is possible to climb Snowdon with a dog in peak physical shape but not all routes are suitable for all dogs. If you have a puppy, senior, or handicapped dog, climbing Snowdon will pose an unnecessary risk.
You can opt for bringing a puppy or (smaller) senior in a doggy backpack but that's about it.
Even the easiest route will be too strenuous for these vulnerable groups.
Best Route To Climb Snowdon With a Dog
The easiest route to climb Snowdon is the Llanberis path, followed by the Ranger Path, and lastly the challenging but also wildly popular combination Pyg/Miners' Track.
Personally, I chose the Pyg track up & Miners' track down but it's not suitable for every dog as there are a couple of tricky scrambling spots on the Pyg track and a steep descent on the Miners'.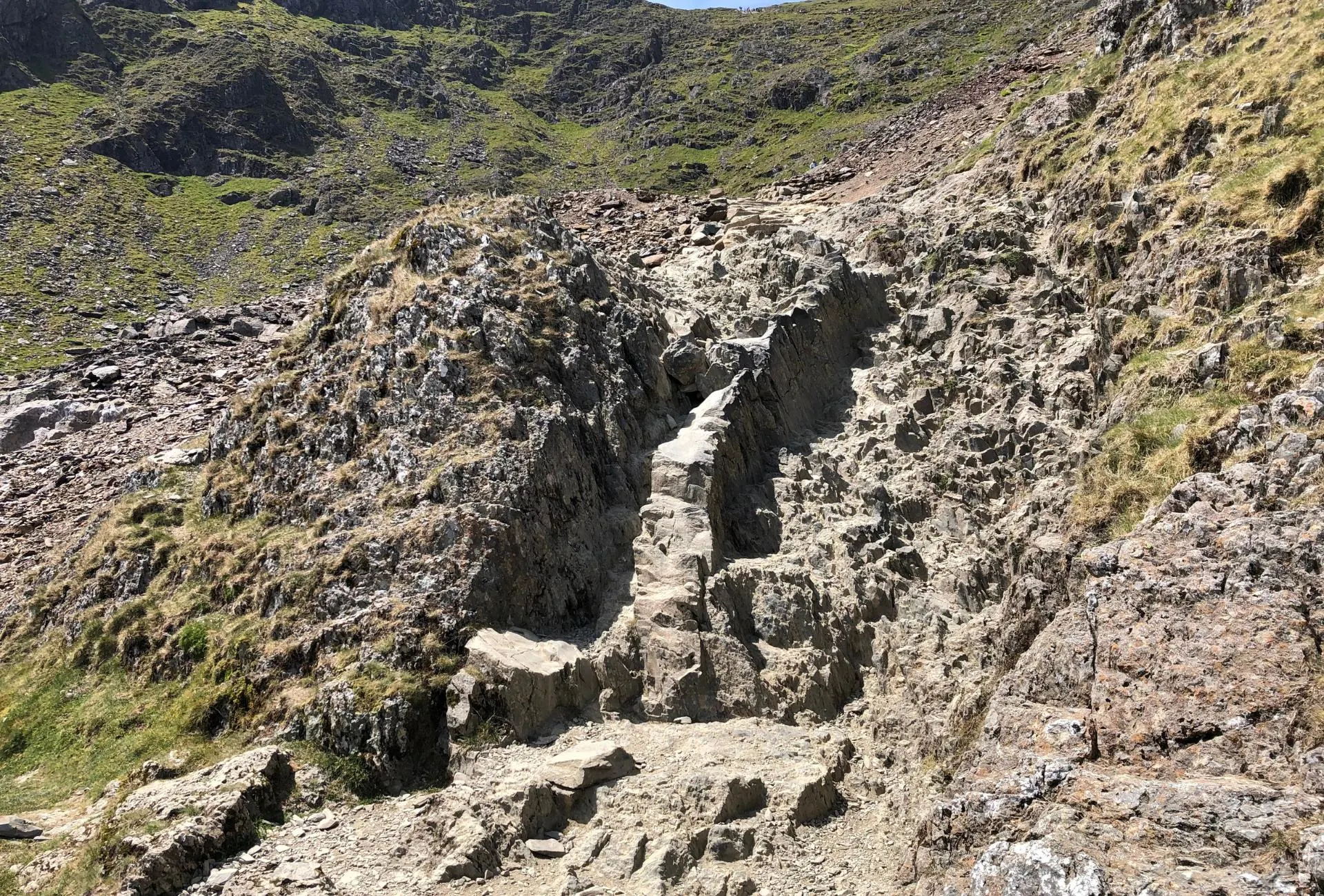 This spot does not look as steep and rugged in the photo as it did in person, we had to take a little detour over the green field to the right.
A huge bonus on the Miners' track down: You pass a lake which is an amazing cooling opportunity for your four-legged.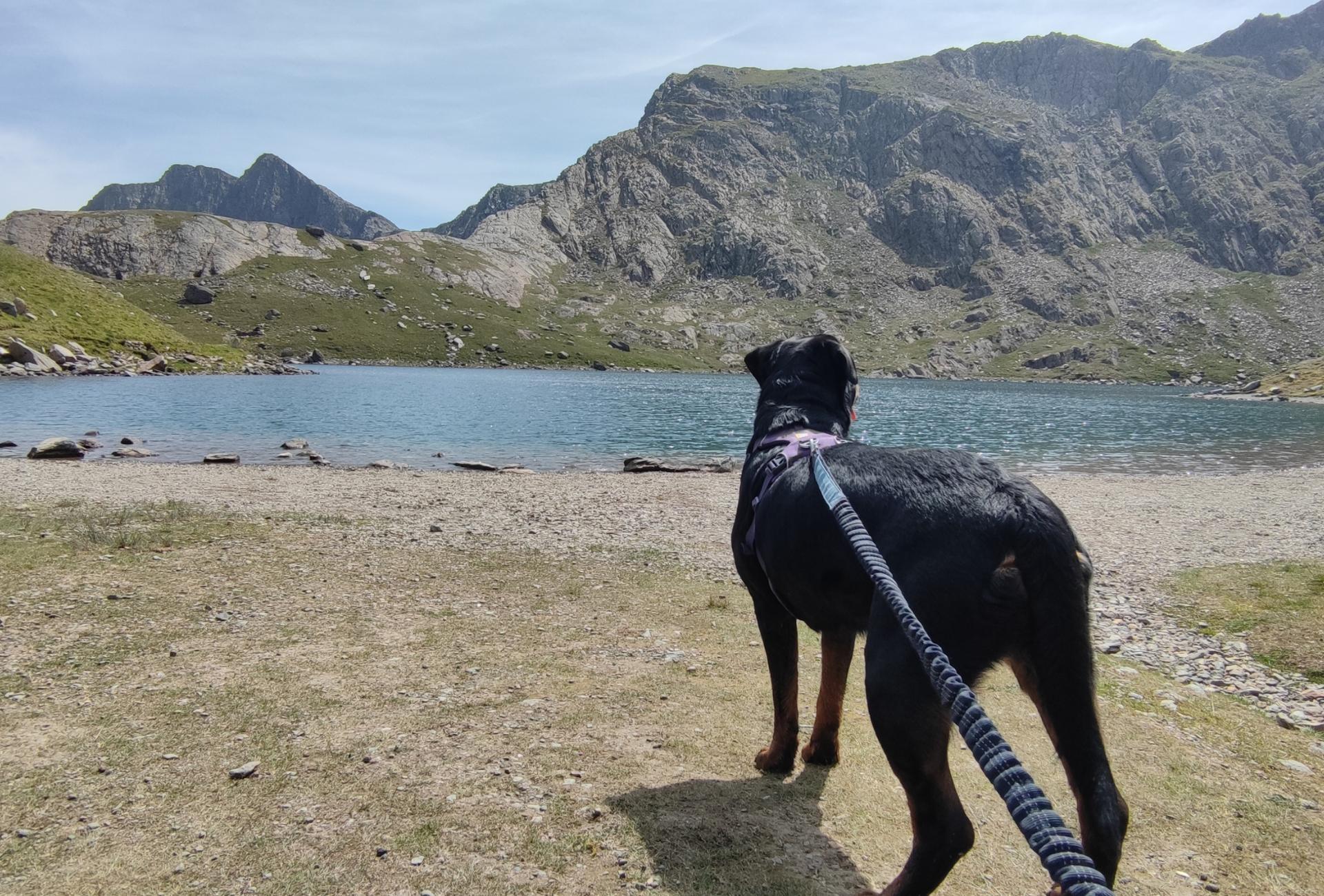 There are a couple of paths I would not recommend with canines:
Crib Goch (nuh-uh, scrambling & exposed ridge)
Rhyd Ddu (very narrow ridge)
Watkins path (possible but there are better options).
It's worth it to read up about each path individually but from what I gather, there are 5 factors to choosing the correct route:
Capability and size of your dog
How used your dog is to fell-walking
Popularity of the path / time of year
Off-leash manners and strength of recall
Behavior around livestock
Let me explain.
Capability
Capability matters because if your dog performs better at walking long distances than jumping and technical bits, the Llanberis path might be the correct route.
Also, smaller dogs can ideally be carried in a doggy backpack which means there shouldn't be an insurmountable part on any of these routes.
Even if your pup is used to walking long distances, jumping, and more challenging routes, the rough terrain might finish your dog's paws quickly.
Rough Path = Raw Paws
Raw paw pads are no joke to the point where they might start bleeding (which actually happened to our Rottie).
Luckily it was on the way down the Miners' path and we were prepared with flexible doggy bandages and something to clean the paws.
The number one prevention method is using paw balm.
If your dog's paws arrive dry and cracked at the start of the walk, chances are they'll rip open or get scrapes and cuts more easily.
Dogs whose paws are used to walking on extremely rocky paths over long distances might be used to it and experience fewer issues.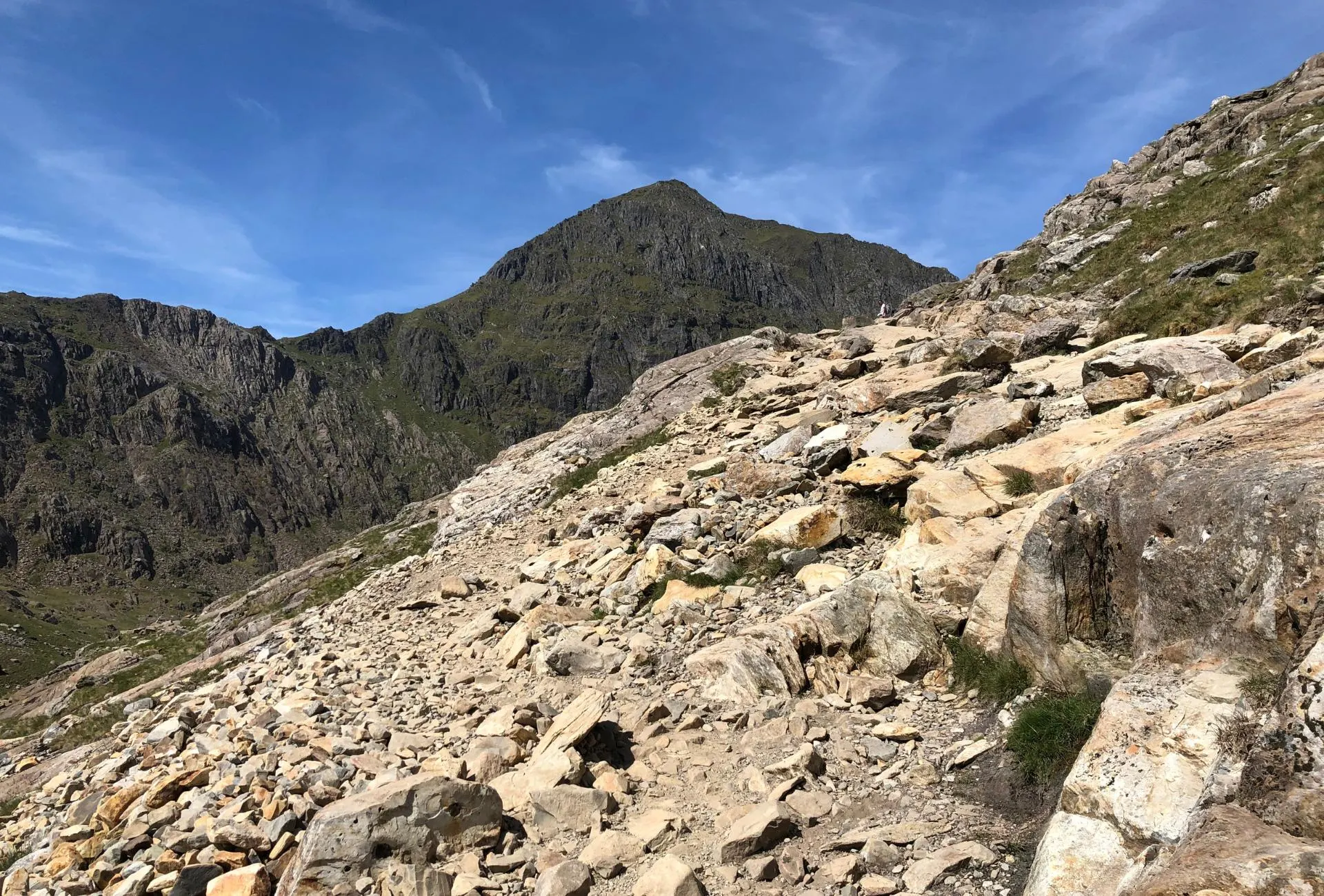 Cuts are always possible on sharp sections for every dog though.
Don't assume it's a breed thing. The Rottweiler is among the sturdiest breeds out there and yet her paw pads are her Achilles heel in that regard.
Popular Path During Busy Season – No Bueno
The Llanberis Path is the easiest and most-walked route but that also means it'll fill up with people, especially during the summer months June to August.
The Snowdon Ranger path in its prime months is attracting around as many visitors as the Llanberis path does in the rainy winter season.
Official resources cite the following numbers for June to August 2021:
Llanberis path: 44-56k visitors per month
PYG track: 18-20k visitors per month
Snowdon Ranger path: 3-4k visitors per month
I wouldn't dare to climb Snowdon on a sunny bank holiday weekend in August as all paths meet at the summit.
If you absolutely have to go in July or August, I'd strongly recommend dog owners consider the Snowdon Ranger Path.
Also, the temperatures rise in August and the rocks might get too hot for dog paws.
To counter this, you could arrive very early (6-7 am) and pick the coldest possible day to ascent.
Seeking something less busy?
I'd recommend April, May, and September but they're still packed compared to the winter months.
I personally picked the end of May for the Pyg & Miners' path as a perfect mix of business and sunny weather.
Unfortunately, it ended up being a bank holiday weekend (very busy usually) but it was enjoyable nonetheless.
April or September are alternatives if your furry friend is not a sun lover.
Start early if you pick a popular path (6-9 am).
I would not recommend tackling Snowdon in the colder months as the weather at the summit can be pretty unpredictable (i.e. rain, low visibility, snow, heavy wind).
If you do pick a colder month, read up on the weather forecast, pack for the worst case, and pick a safer route (i.e. Llanberis or Ranger path).
Off-Leash Manners
If your dog does not have a good recall or is used to running ahead too far or falling behind, then paths that require some type of scrambling might not be a good option and you could choose the Llanberis Path.
Even though it was a busy day, we let our Rottweiler off the leash at some technical and less busy sections.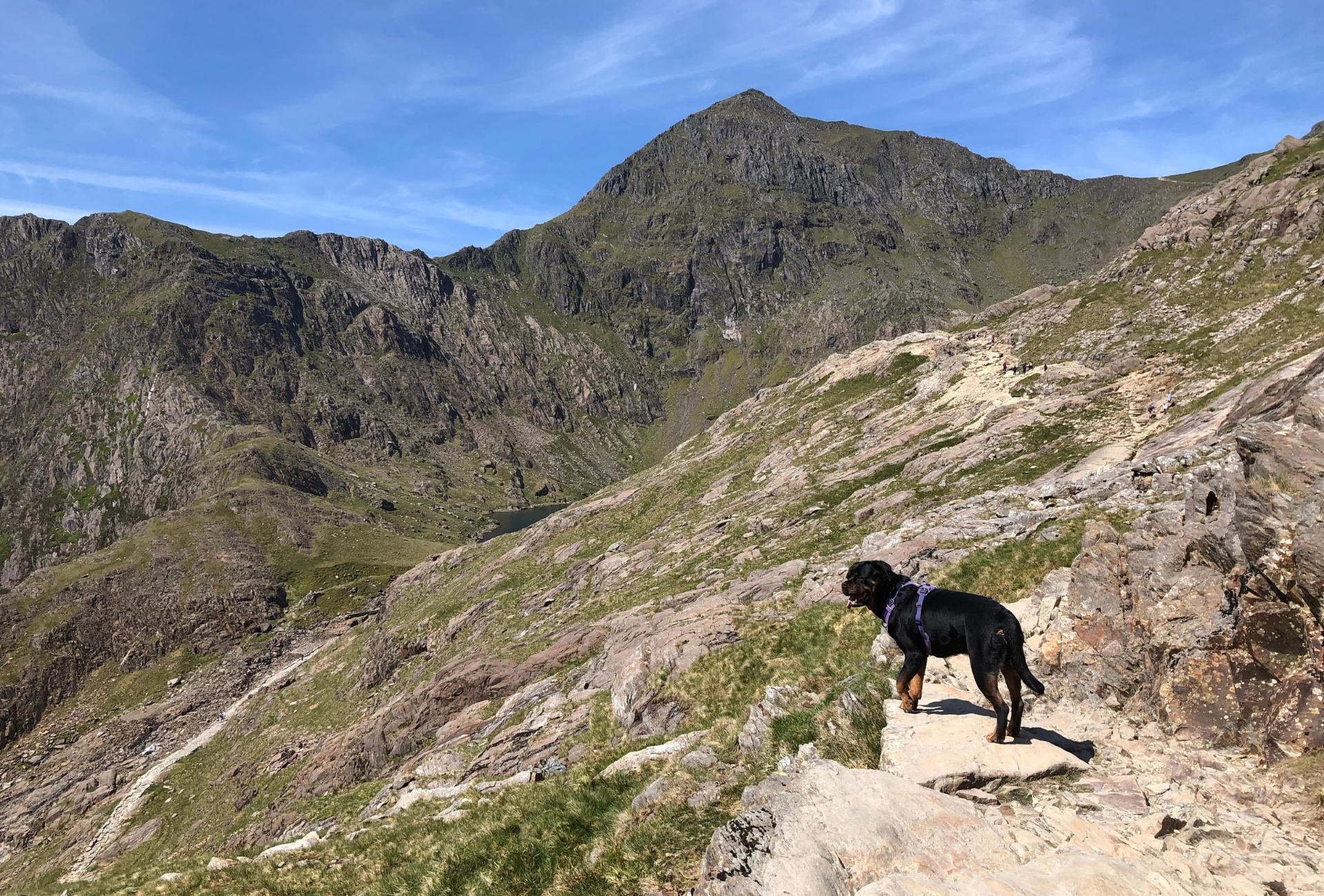 She stays extremely close to us and generally doesn't bother anyone in crowds.
Plus, if other hikers do want to interact with her, she's more than happy to do so.
You just can't do some sections of the Pyg track on a short leash and you can't use a long leash as it might get tangled on rocks.
On the Miners' track, the steep section down made leashing our dog more dangerous but luckily, this one was a breather from the crowds which might be different for you.
Oh, and if your dog is interested in sheep, keep the leash on 100% of the time.
Leash Your Dog When Around Sheep
When climbing Snowdon, it's essential to leash your dog if he is interested in a sheep in any way, even when they're not around. Dogs who behave well around sheep with an extremely low prey drive should still be leashed when around livestock.
If you're unsure, just keep your dog on a bungee leash 100% of the time.
As I climbed up with my dog, we encountered a stressed-out sheep racing down the mountain, chased by a growling… black Labrador.
Yep, your friendly family pooch can induce extreme anxiety in another animal if their prey drive is triggered.
That black Lab actually strayed from the trodden path as it was in such a frenzy to catch the sheep, you'd think he'd stop before he hurts himself but nope.
Unless your dog has experience with livestock and you are absolutely confident in their training, it's never worth the chance so keep them leashed all the time with a safety harness and sturdy leash.
Even if you do have confidence in your dog, just leash them when sheep are in sight.
And I mean it when I say a safety harness + sturdy leash.
Not a shabby old harness that barely fits and your dog can slip out of paired with a flexible leash.
Gear For Climbing Snowdon With a Dog
To climb Snowdon successfully with your dog, I recommend packing a sturdy (safety) harness, short leash, hands-free bungee leash, foldable bowl, lots of water, and a doggy first-aid kit.
These are the essentials for a safe and successful climb in my opinion.
You can opt to bring a safety harness if your dog is an escape artist or struggles around livestock or other people in any way.
Otherwise, a regular sturdy hiking harness will do the trick.
A short leash helps when people, dogs, and livestock are around.
Most of the time, we've been using a hands-free running leash where the bungee provides your dog with some room to navigate.
Safety for your dog and others is the top priority but letting your dog find their own paths at some tricky spots where you can supervise and support makes the climb safer too.
Any chemical-free foldable bowl will be fine.
I've bought a larger foldable bowl for this trip that came with a clip to attach to your backpack.
When calculating your water needs, keep your doggo in mind as their water intake will increase during this strenuous climb.
A doggy first-aid kit is an absolute essential.
Pack something to treat cuts and scrapes and bandage any potential wounds.
That includes disinfecting doggy wipes or spray, as well as flexible bandages.
Conclusion: Hiking Snowdon With Your Pup Can Be Amazing!
Being able to bring your pup along is awesome but please treasure this privilege by leashing your dog when needed, especially when livestock is around and ensure the safety of your dog and other hikers.
Oh, and please pick up your dog's poop.
I know, carrying that stinky bag for a couple of hours isn't glamorous but it's what I did.
This way, you keep the National Park clean, hikers happy, as well as other dogs and sheep healthy.
Evaluate whether your dog has a strong recall or if he might be struggling around crowds or livestock and take appropriate measures.
Quickly summarizing all the best routes for dog owners:
Somewhat shy, anxious, or reactive dogs are generally advised to use less traveled routes such as the Snowdon Ranger Path, especially in the summer months when this is the least-visited dog-friendly route.
Going up via more popular paths should also be okay in April, May, or September if you rise early.
During the busy season (June-August), you should only choose the Pyg/Miners' or Llanberis path if crowds don't scare your pooch.
Whatever you do, keep the gear list in mind and plan for any potential issue.
Don't overestimate your dog's ability.
This terrain is incredibly difficult for your dog's paws if he's not used to it and the four legs make jumping a prerequisite whereas you'll get by without lifting your leg higher than 90 degrees.
Whatever route you take, come early and be prepared.
Wish you lots of fun with your furry pal!
Disclaimer: This blog post does not substitute veterinary attention and does not intend to do so. I am not a veterinarian or pet nutritionist. If your dog shows any sign of illness, call your vet.