The Cotswolds is a must-visit on everyone's England itinerary.
With its picturesque villages and rolling hills, there is no wonder why the Cotswolds welcomes over 25 million visitors each year.
You may have already seen pictures of the stunning limestone houses and historic thatched cottages that were built in the 18th century.
When we visited there in May 2023 we were greeted with endless sunshine and lots of dogs that were also enjoying the countryside.
Like most of England, the Cotswolds are very dog friendly and we had no issues finding places to eat or to stay with our Rottweiler Amalia.
Out of our two-week vacation in England, we stayed four days in the Cotswolds and chose the best activities we could do with our dog.
If you are interested in staying in the Cotswolds yourself, feel free to follow our itinerary and get ready for all the tips, hikes, and recommendations I am about to share.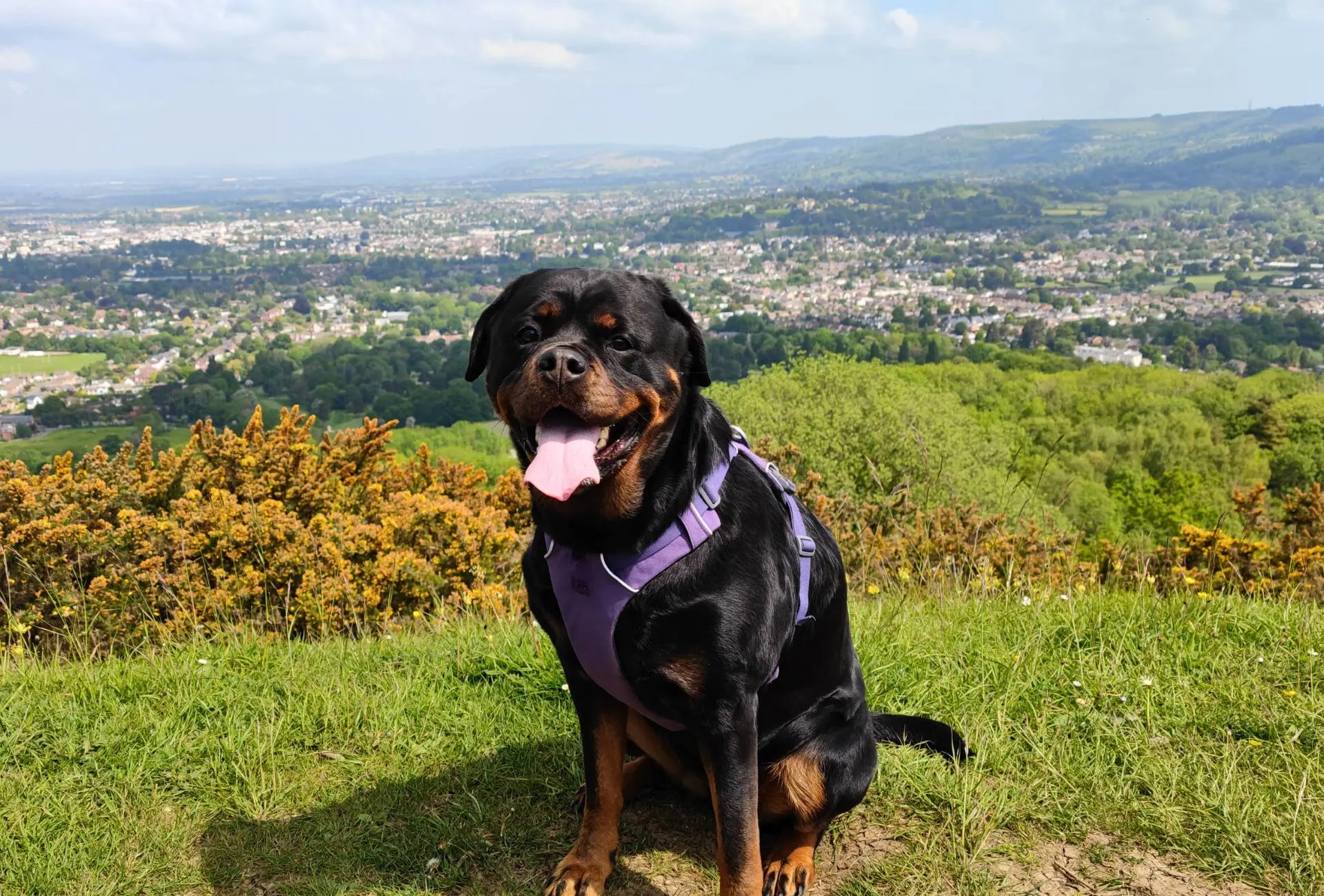 Driving to the Cotswolds
Since the Cotswolds were our first destination, we spent the whole day driving from Germany to our hotel.
As dog owners, we relish the opportunity to spend every vacation with our dog.
Consequently, flying becomes an impossible choice, leading us to opt for road trips on every journey.
Thankfully there are numerous options available for traveling from France to England without using any planes.
Ferries are the first option that comes to mind and they are probably the most cost-effective option.
However, we personally decided against it since most ferries either require your dog to stay in a kennel or be left alone in the car throughout the whole journey.
So we opted for the Eurotunnel that conveniently connects Calais, France to Folkestone, England.
It is the shortest route with only 30 minutes but does come with a hefty price tag especially when you travel during the summer season.
You will stay with your dog in your car for the whole duration which, in my opinion, makes it the most comfortable option.
If you want to learn more about our experience with the Eurotunnel check out the article on our blog.
When we arrived in the Cotswolds we were immediately baffled by the incredibly small, winding roads that somehow are supposed to fit lanes.
Almost all roads in and around the Cotswolds were so narrow that you had to back up for a good portion to let an oncoming vehicle pass.
If you come with a camper or other big vehicle, be aware of that.
Personally, we didn't have any problems with driving on the left side of the road although entering the roundabouts from the "wrong" side was a bit confusing.
In total, we were in the car for 13 hours and arrived at our hotel in Cowley very late and exhausted after such a journey.
Our hotel had a late check-in until 10 pm and we arrived just a minute before that.
Exploring Cheltenham with a Dog
We started our first real day in the Cotswolds with an iconic hiking route that took us from the hamlet of Seven Springs over Leckhampton Hill.
It was steep in parts but nothing too strenuous and although we took the wrong turn a few times, the hike took us only 3 hours.
I would highly recommend this route which had the best views over the beautiful Cotswold hills as well as Cheltenham.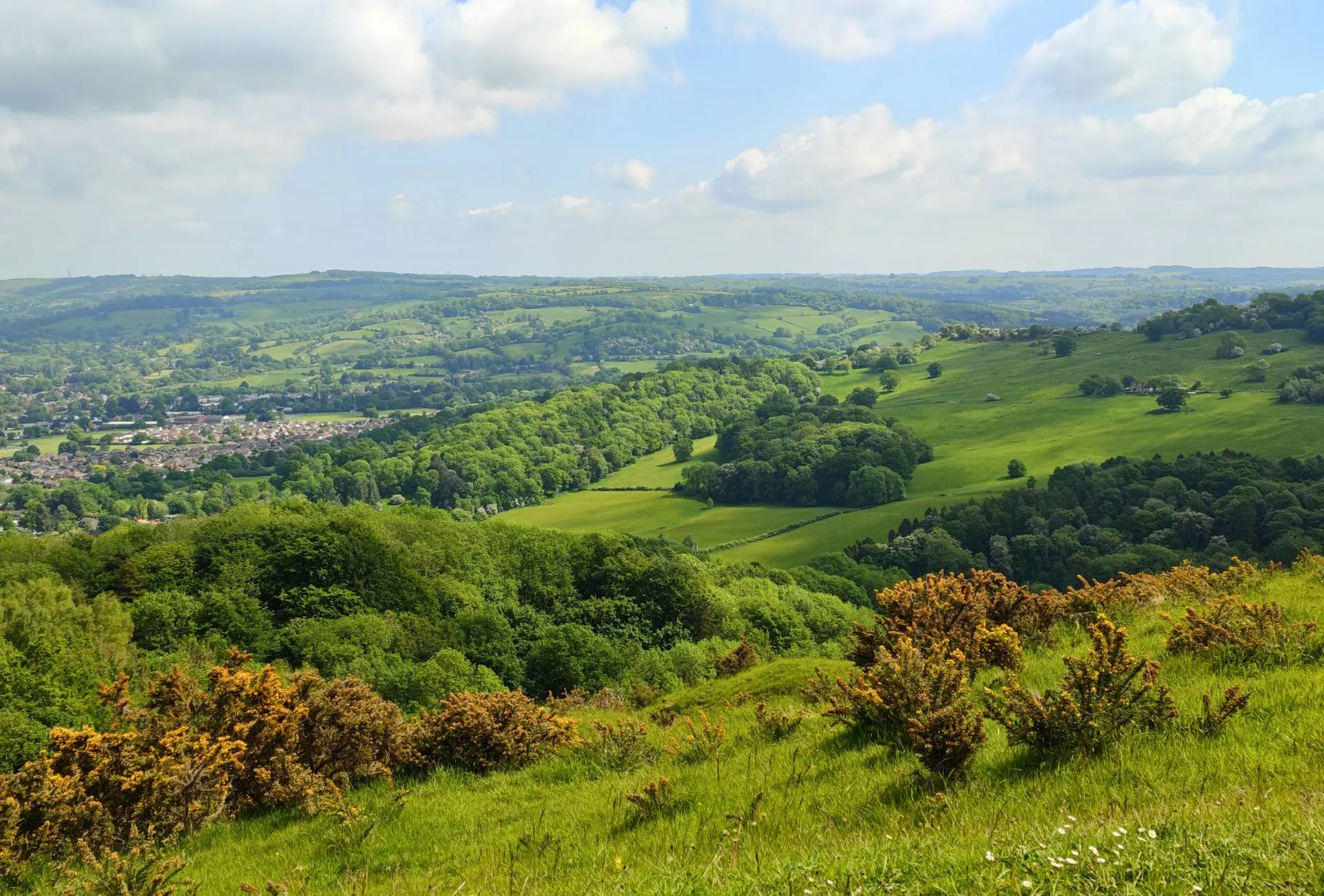 The closer we got to the top of Leckhampton Hill, the more dogs we met and were passed several times by joggers with their furry companions.
Nearly every dog was off leash which was not a problem for Amalia but be aware of that when you visit.
After the hike, we cooled down for a bit and then made our way to Cheltenham or also called "the Garden Town of England".
This town is brimming with history and we had a nice stroll along the promenade.
For lunch, we headed to The Find Coffee House which provided a nice selection of food and drinks.
Bourton on the Water with a Dog
On the third day of our stay, we paid a visit to the popular Cotswold destination Bourton on the Water.
To get the most out of this day trip, we decided on the Bourton on the Water loop that took us through the village as well as Upper Slaughter and Lower Slaughter.
Nestled in the heart of the Cotswolds, Bourton on the Water is often referred to as the "Venice of the Cotswolds" due to its charming bridges that span the tranquil River Windrush.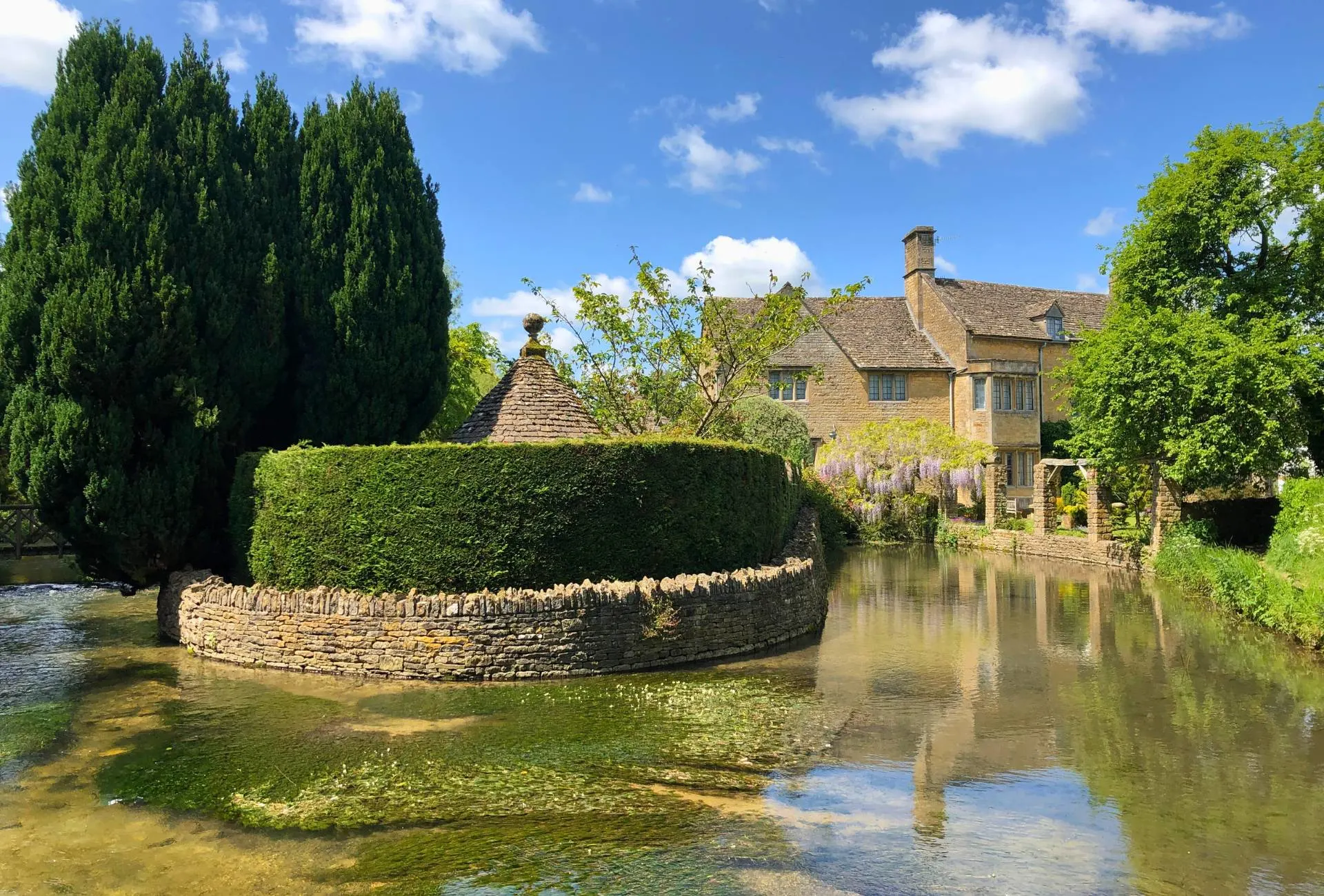 Strolling along the picturesque streets lined with honey-colored stone buildings, you'll find quaint shops, delightful tea rooms, and the famous Model Village, a meticulously crafted miniature replica of the village itself.
Sadly, dogs were not allowed to enter the Bourton Model village so we had to skip it.
Known for its idyllic setting, Lower Slaughter captivates visitors with its perfectly preserved traditional cottages adorned with blooming flowers, the glistening River Eye meandering through its center, and the iconic water mill that adds to its postcard-worthy charm.
It's definitely a great spot for pictures!
Just a short stroll away from its sister village, Upper Slaughter boasts a tranquil and secluded atmosphere.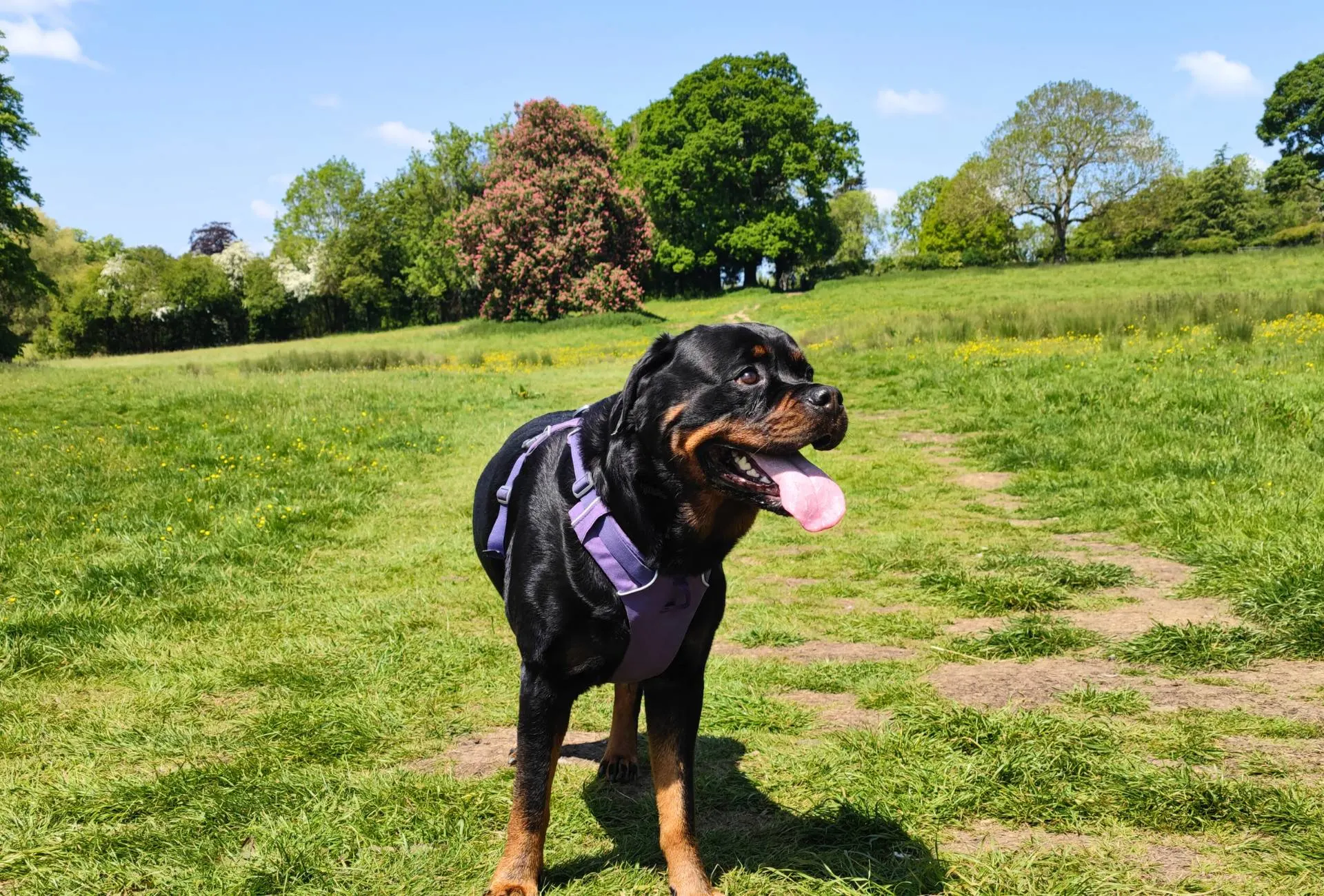 At the end of the loop, you are rewarded with a sight of the famous River Windrush with its iconic bridges.
If you want to have that area more for yourself definitely visit early as it gets pretty busy.
Because the trip took us only two and a half hours, we drove a bit further north to visit Stow on the Wold.
It is a historic market town that offers a delightful blend of old-world charm and lively atmosphere.
As one of the highest towns in the Cotswolds, it provides breathtaking views of the surrounding countryside.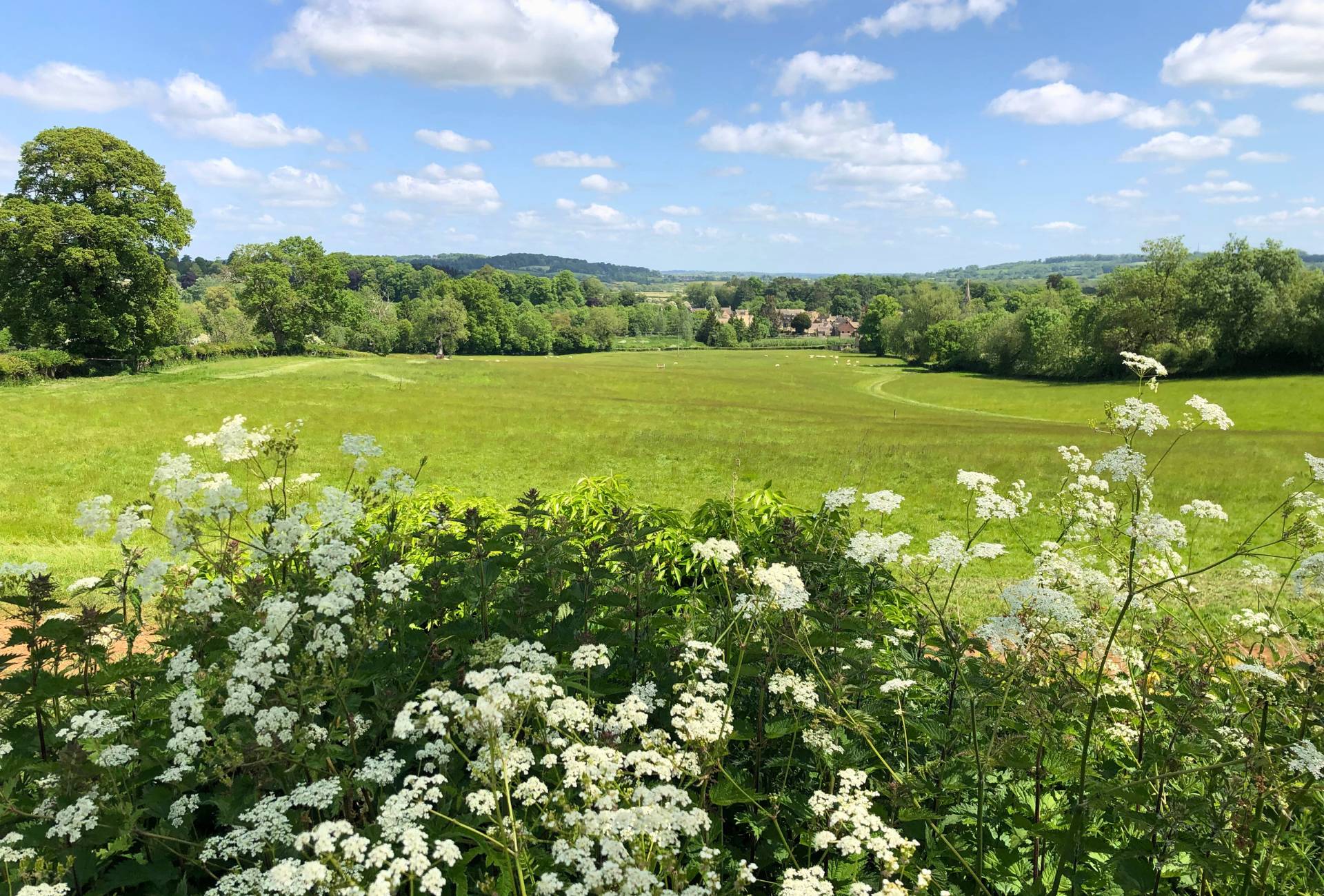 Visitors can explore a variety of independent shops, antique stores, art galleries, and cozy pubs that line the charming streets.
Before we continued walking, we had a quick break at The Hive which gladly welcomed our dog.
At Stow on the Wold, we were engaged in conversation several times by the mere presence of our Rottweiler.
Overall, she was very popular during our trip and was pet by dozens of very friendly people that cherished her pure excitement.
They were always open to share many things about themselves and their history with dogs which is something we are not quite as accustomed to coming from Germany.
Back at the hotel, we decided to visit Cheltenham again without our dog and have dinner at a place called Kibou, which served us the best food we had on our whole England trip.
Leaving the Cotswolds and Driving to Snowdonia
After leaving the hotel, we continued driving to our next destination which was Snowdonia (Eryri National Park).
I was very much looking forward to this as we planned to climb Mount Snowdon during our stay.
Mount Snowdon, also known as Yr Wyddfa in Welsh, is the highest mountain in Wales and one of the most popular natural attractions in the United Kingdom.
We did a lot of research beforehand and found the perfect route that would also be manageable for our dog.
We also visited the most special place I have ever been to that was completely empty and was not mentioned in any travel guide we read.
If you want to continue on with this journey and read more about our experience in Snowdonia, make sure to check out our Snowdon guide.
Disclaimer: This blog post does not substitute veterinary attention and does not intend to do so. I am not a veterinarian or pet nutritionist. If your dog shows any sign of illness, call your vet.