This post may contain affiliate links. Read more here.
Let's face it, most dog beds look extremely comfortable, have a pretty design but just can't stand any chewing, scratching, or digging.
As a Rottweiler owner myself, I definitely understand the struggle.
If you are tired of replacing bed after bed then consider investing in a durable, high-quality dog bed.
In this dog bed guide, we have researched dozens of beds to find the 10 best chew proof dog beds on the market currently. The most important factors include:
Material
Durability
Comfort
Warranty
Washability
Affordability
And while no dog bed is 100% indestructible and chew-proof, we have come to the conclusion that there is one that outshines them all in that aspect.
My personal choice: Bully Beds
Not the cheapest, but healthier joints are worth it. Not for the chewiest chewers who literally need steel though.
Good choice for extreme chewers: Kuranda Aluminum Chewproof Dog Bed
But definitely keep on reading to look at other comfortable and affordable options.
Unfortunately for us, dogs love to chew because it combats teething pain, boredom, anxiety, and frustration.
If your dog is showing real destructive behavior, buying a sturdy dog bed will help but won't fix the underlying problem.
A chew-resistant dog bed along with a training program is the only way to keep the bed in one piece and your dog happy.
At the end of this post, you will find everything you need to stop your dog from chewing on his dog bed once and for all.
Best Orthopedic Chew Proof Dog Bed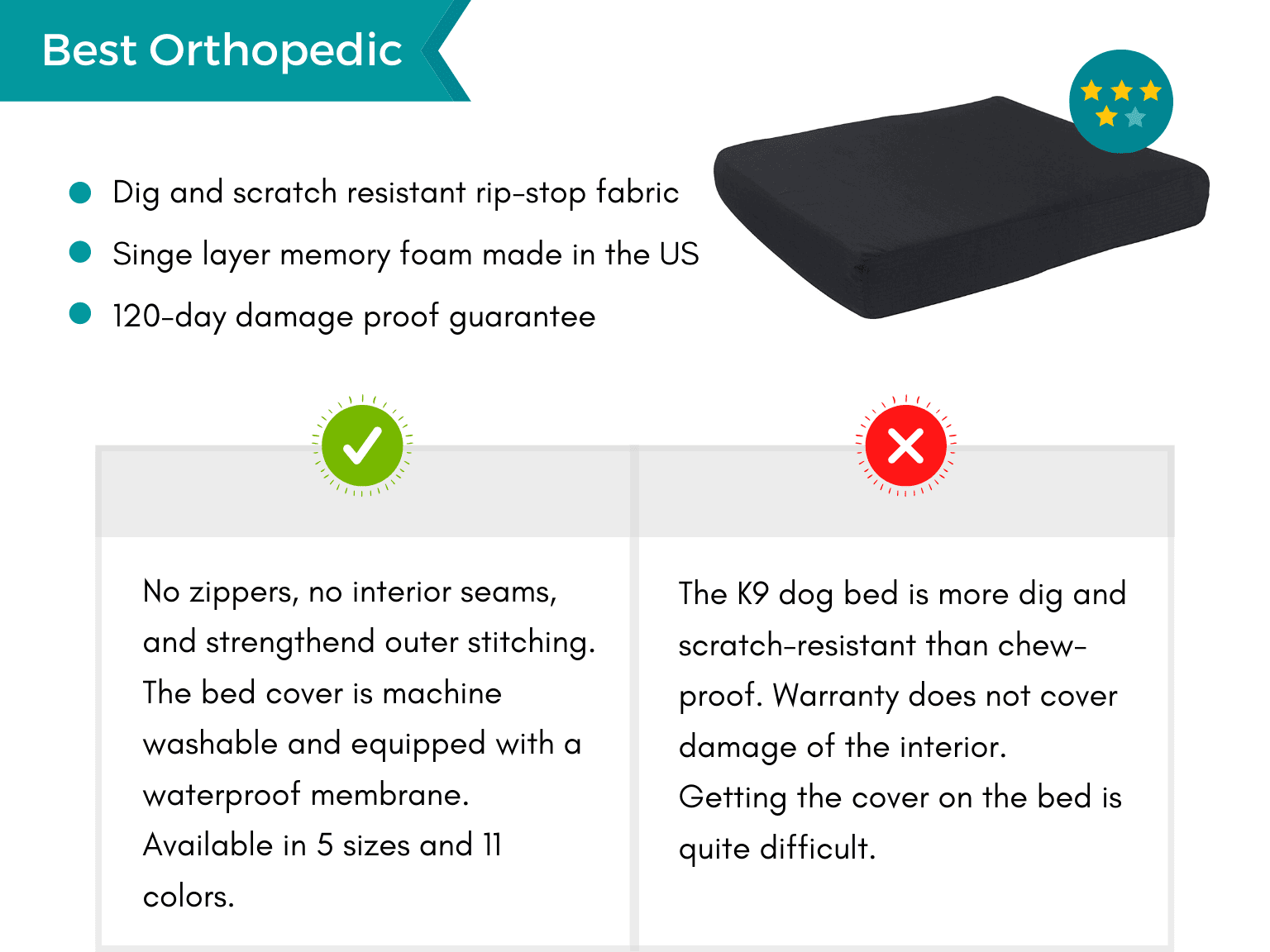 The K9 Ballistics dog bed is a great choice for owners that are looking for a durable, orthopedic bed with a solid memory foam insert.
It has no zippers, no interior seams, and is covered with a rip-stop nylon fabric that prevents your dog from digging his claws into the material.
Due to the single-layer medium-density foam mattress, large breeds won't sink into the floor and small dogs still find it comfortable.
Make sure to choose the right size carefully which ranges from Small (24″x18″x5″) to XX-Large (68″x40″x5″).
The bed cover is completely machine washable and equipped with a waterproof membrane in case of potty accidents.
For regular cleans, just grab a damp cloth and wipe over the water-resistant fabric.
If your dog is a real shredder, I would suggest you keep reading and opt for the Kuranda dog bed that I have featured below.
The K9 dog bed is more dig and scratch-resistant than chew proof but they offer a 120-day store credit guarantee if your dog manages to destroy the bed (except the interior material).
Rating: Best for medium to strong chewers due to its chew-resistant rip-stop fabric.
Best Overall Chew Proof Dog Bed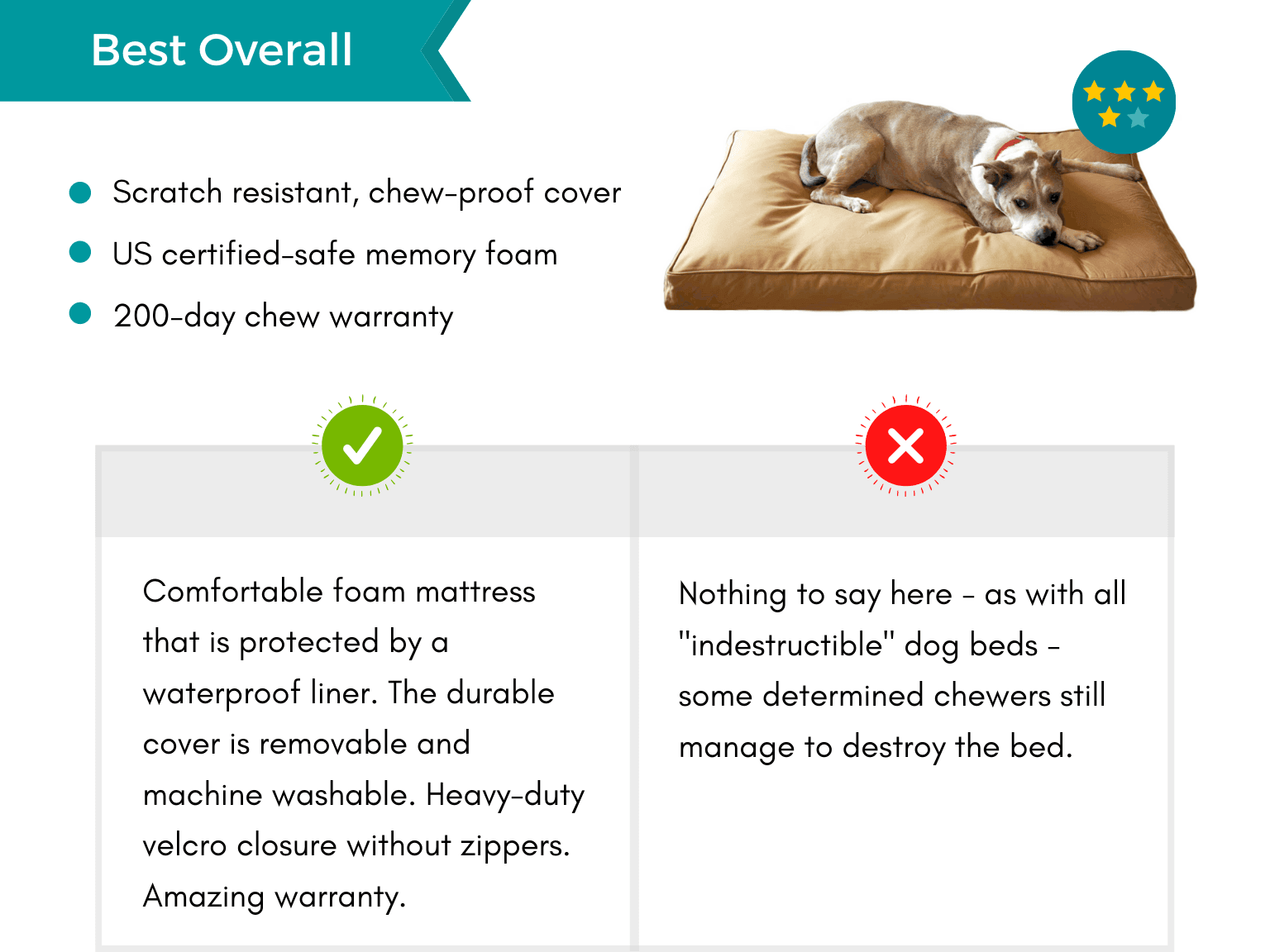 Bully Beds has made it its mission to provide large and giant breeds with high-quality, orthopedic dog beds.
Now we all know that big dogs can be hard on beds, so they designed this chew-proof and very resistant dog bed.
The Certipur-US certified-safe memory foam is protected by its own cover material that resists any digging, scratching, and pet hair.
It can also be removed and washed.
A waterproof liner protects the material from moisture and potty accidents.
All materials used are non-toxic and hypoallergenic. The closures are made of heavy-duty velcro and no zippers are used.
An unbeatable 200-day chew warranty will guarantee you a complete replacement in case your dog has managed to chew through the sturdy material.
This bed is a great durable option that can definitely withstand your dog's destructive behavior, plus it's very comfortable.
Rating: Best for large and giant dogs that like to rip their beds apart and benefit from the joint-supporting memory foam.
Best Elevated Chew Proof Dog Bed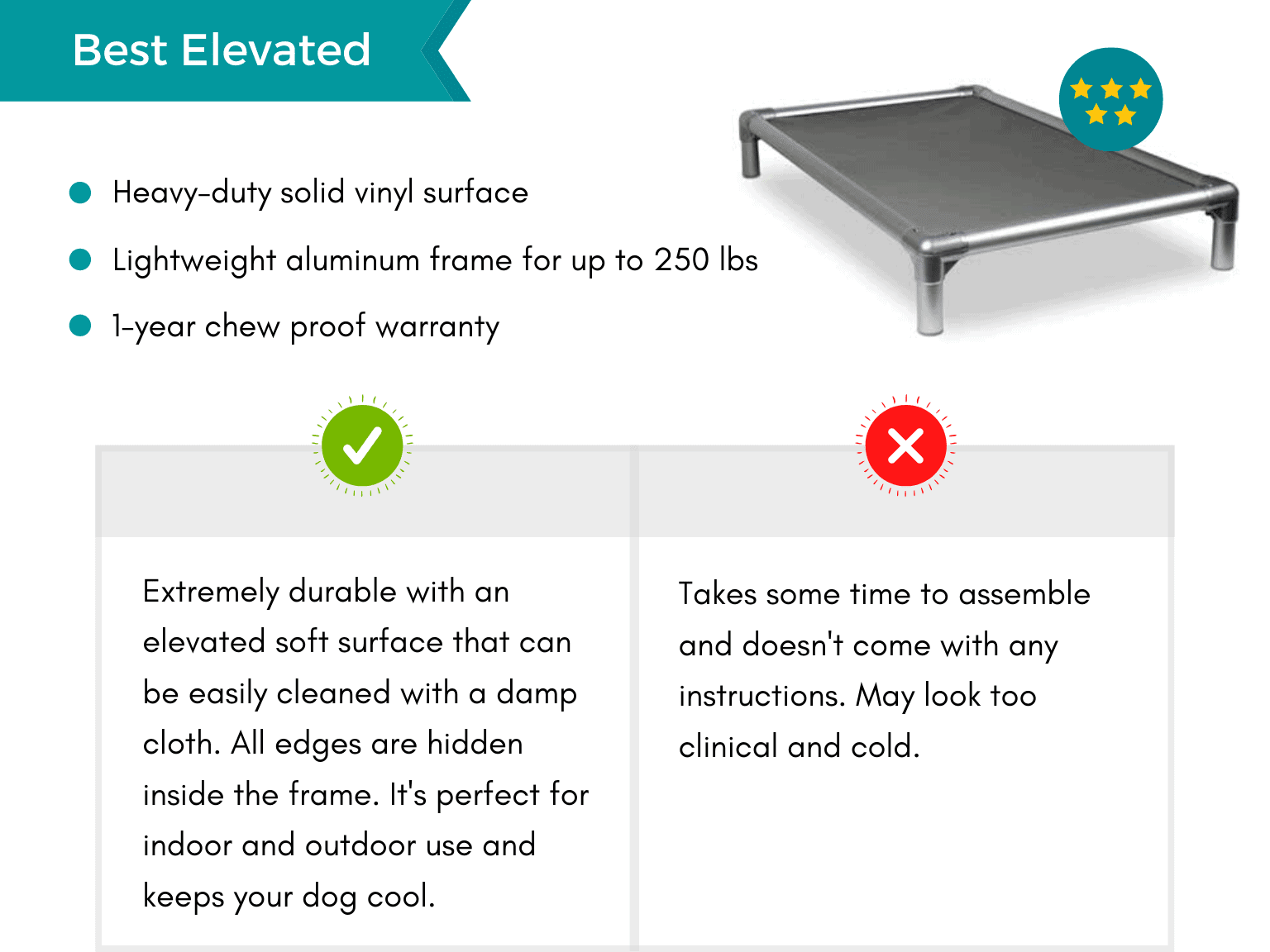 This bite-proof, elevated dog bed is one of the best choices for aggressive chewers.
It consists of a heavy-duty 40oz solid vinyl surface that is clamped in a lightweight aluminum frame that supports up to 250 lbs.
When you have tried it all, this is the bed you should go for.
It may not look that aesthetically pleasing or comfortable but that can be changed with a soft pad or blanket.
It's mostly used by veterinary clinics, kennels, and shelters that benefit from its high durability and simplicity.
All the edges are hidden inside the frame which makes it nearly impossible for your dog to chew on them.
The vinyl surface is elevated, smooth, and easy to clean, making it a perfect choice for both indoor and outdoor use where it keeps your dog cool at all times.
All fasteners are stainless steel and won't rust.
If you don't like the aluminum frame, you can also go for the Kuranda Dog Bed PVC version that is only suited for indoor use and supports up to 100 lbs.
It comes with a 1-year chew-proof warranty. The bed will require a bit of assembly and doesn't come with any instructions.
This may seem like a daunting task and many owners were tempted to simply return it.
You can follow the instruction video below and the assembly will take about 15 minutes of your time.
Rating: Best for strong chewers that usually give beds a hard time.
Best Value Chew Proof Dog Bed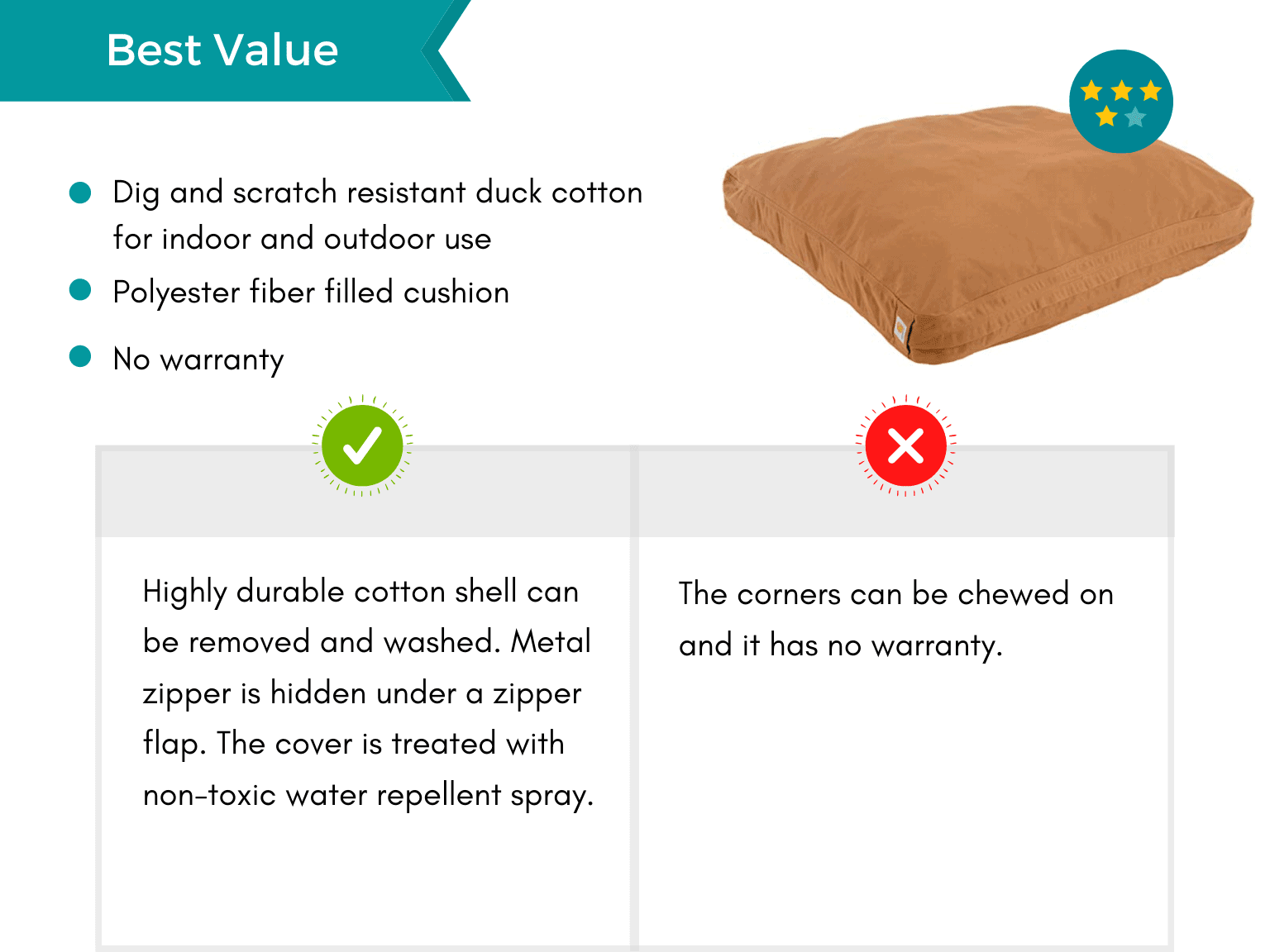 This bed is made from the same sturdy duck cotton material that is used for the well-known Carhartt jackets, making it perfect for indoor and outdoor use.
Its highly durable shell protects the baffled polyester fiber-filled cushion.
The cover can be removed and washed to get rid of any dirt.
A non-toxic spray is used to create a water-repellent coating on the exterior shell.
The extra wide metal zipper is concealed under a zipper flap to keep your dog from chewing on it.
Unfortunately, there is no warranty except for initial product defects.
Fabric-wise and quality-wise, I would give this bed the best value rating because it's a nice combination of durability and comfiness at an affordable price.
Remember that no dog bed is indestructible and if your dog really tries to target the corners, paired with a strong desire to chew then you probably won't get around buying the Kuranda dog bed.
Rating: Best for medium to strong chewers that enjoy a comfortable, sturdy bed.
K&H Pet Products K-9 Ruff n' Tuff Indoor/Outdoor Pillow Dog Bed (CURRENTLY UNAVAILABLE)
Best Pillow-Style Chew Proof Dog Bed
The K&H Pet Products dog bed is designed to be a durable indoor and outdoor resting place for medium and large breeds.
Made from an extra durable 1260 denier polyester fabric, the bed can handle some wear and tear from regular outdoor use.
Polyfill stuffing is kept in place by an inner liner to avoid uncomfortable lumps and keep it fluffed up.
Although the bed is not waterproof, it resists moisture from the ground.
Zippers and hooks are hidden inside the bed but there are some visible seams that can be frayed.
The cover is removable and machine washable and it is easy to slip over the bed again.
Chew-resistant is definitely the more fitting term here and you will have to be careful with the polypill stuffing if your dog tends to rip his beds apart.
K&H Pet Products offers a 1-year limited warranty if your dog manages to damage the bed.
Overall, the bed is a soft pillow alternative for light chewers and scratchers.
Rating: Best for light chewers and diggers that are not trying to rip apart everything and love to sleep on a pillow-style bed.
Best Budget Chew Proof Dog Bed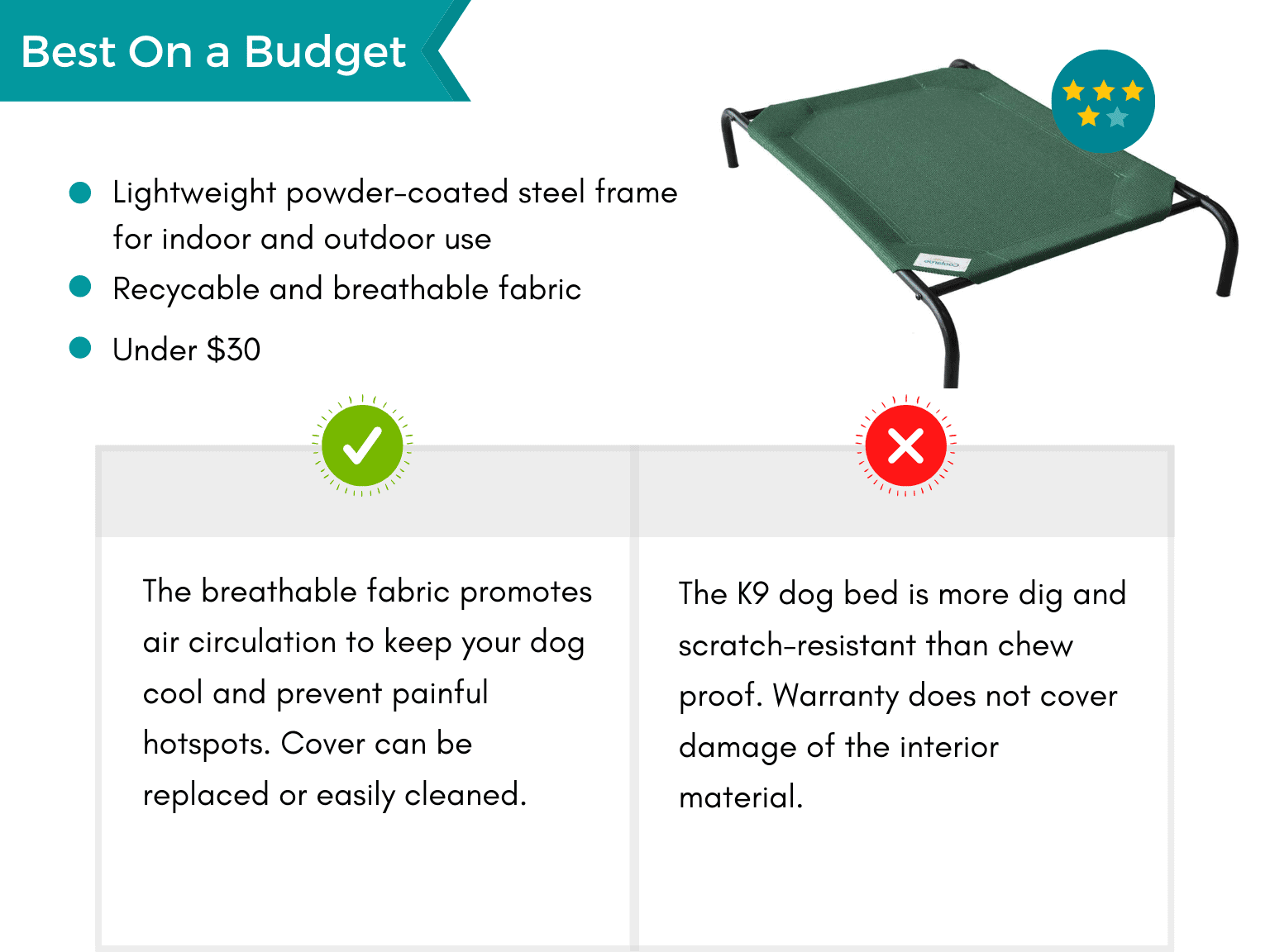 This dog bed is the most affordable choice for dog owners that are on a budget and just tired of spending so much money on beds.
Dogs that weigh up to 100 lbs can enjoy a nice nap on this lightweight powder-coated steel frame which lives long in outdoor environments.
The lead- and phthalate-free fabric is stretched over the sturdy frame and is supposed to resist mites, fleas, and mold.
It's completely breathable and promotes air circulation to prevent painful hotspots.
After an extensive play session in the yard, the increased elevated design will help your canine companion cool down in a matter of minutes.
For easy cleaning, just use your garden hose and spray it down with water.
As a Rottweiler owner, I know the importance of joint health, and the flexible and suspended platform really reduce the pressure points that would usually strain the hips, knees and elbows and cause stiffness.
The cover probably can't withstand a power chewer and is better suited for a dog that likes to scratch vigorously.
However, you can buy a replacement cover which only costs about $12.
Rating: Best for medium chewers that are usually tempted by pillow-style beds.
Best Comfort Chew Proof Dog Bed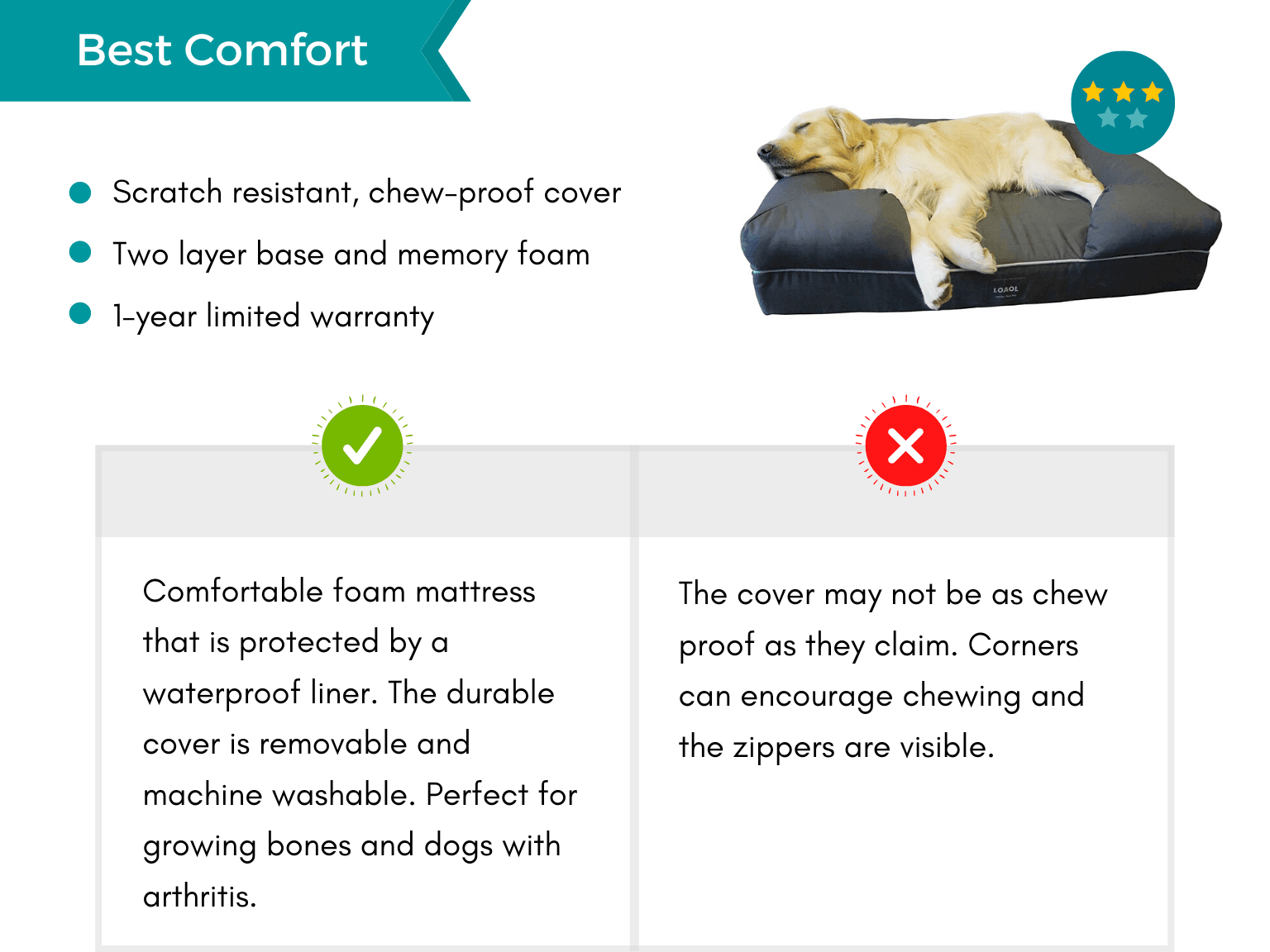 LOAOL has done a great job of creating a durable, couch-like dog bed that will provide your dog with the best comfort.
If your dog, just like my Rottweiler, enjoys resting his head on elevated side cushions then this is the perfect choice for you.
Most durable beds are either completely flat or consist of a single mesh surface.
A high-density 4-inch foam base paired with temperature-intensive memory foam promotes healthy sleeping positions and reduces pressure points and stress on the joints.
It's protected by a waterproof liner that keeps out moisture and a claimed chew-proof cover that prevents scratches from affecting the mattress.
To keep the bed from sliding across slippy floors, it comes equipped with a non-skid bottom that really comes in handy if your dog has a position-finding ritual.
The outer cotton cover can be removed and machine-washed.
When unpacking the bed, give it at least 48 hours for the memory foam to fully expand.
Rating: Best for puppies, senior pets, or dogs that like to relax on their beds and occasionally try to chew on them.
K9 Ballistics Chew Proof Elevated Dog Bed
Update 09/22: This one is currently not available, but this option from Bedsure is a suitable alternative.
Best Cot-Style Chew Proof Dog Bed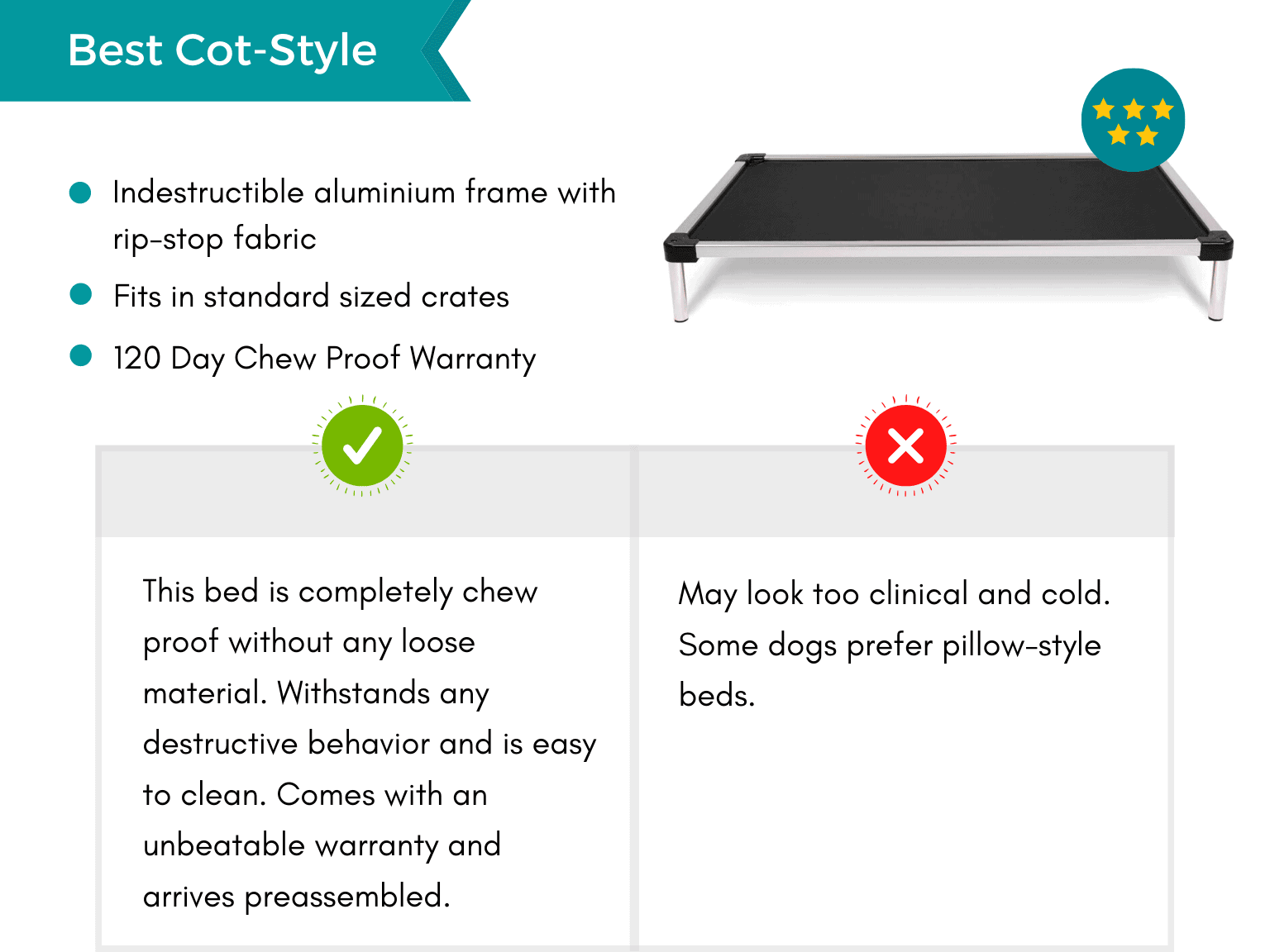 Similar to the Kuranda, this bed is durable, chew-proof, and probably the closest you will get to indestructible.
Cot-style is a really popular choice for dogs who have made it their life's mission to tear up beds.
It is designed to withstand any destructive behavior that your dog is throwing at it, including digging, scratching, chewing, biting, and nesting.
The frame is made of aluminum and a ripstop ballistic fabric is used for the laying surface.
All the edges are covered and no loose material is visible for your dog to chew on.
The chew-proof bed sling fabric in itself comes with a 180-day chew-proof warranty.
It also comes with an amazing 120-day chew-proof armored warranty that takes effect if your dog manages to chew through any part of the bed.
Small and giant breeds alike will see it as a cozy place to rest and it even fits into all standard-size dog crates.
For easy cleaning, just grab a brush or a damp cloth to get rid of any dirt, grime, and hair that has built up from outdoor and indoor use.
A great bonus point is that the bed is delivered preassembled so you won't have to deal with any screws and vague instructions.
Rating: Best for all-sized dogs that aggressively chew on their beds.
Best Design Chew Proof Dog Bed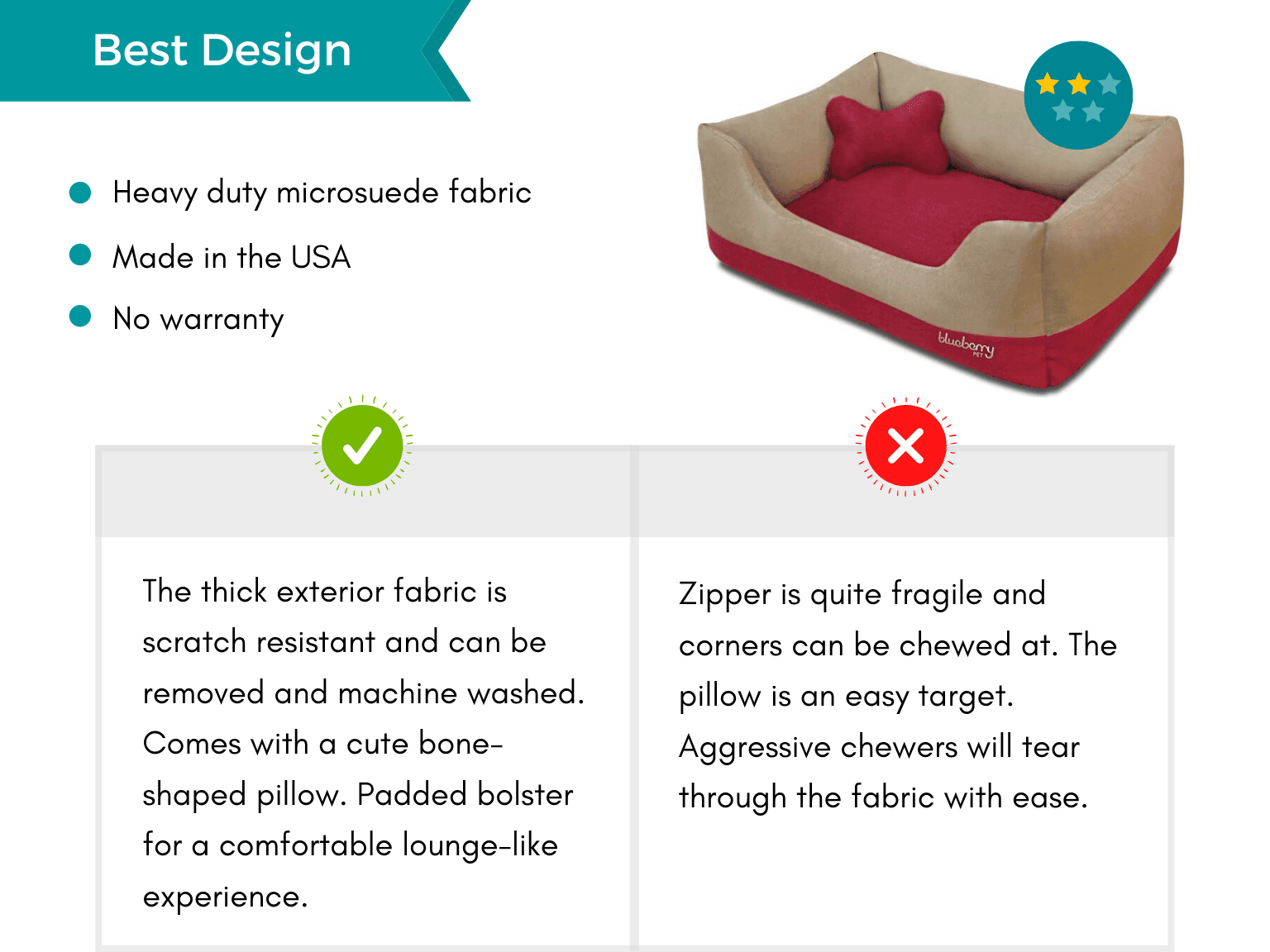 This bed is definitely an eye-catcher and has a unique lounge-like appearance.
As you have already seen in the picture, Blueberry's dog bed comes with a small bone-shaped pillow that is definitely loved by buyers but may be the first target point for a chewer.
Apart from that, the exterior microsuede fabric is said to be scratch resistant and withstands light chewers with ease.
Be aware that the zipper is quite fragile and visible.
The bed is heavily bolstered and filled with microfiber, giving it that extremely cozy look.
It's only available in the size small and medium but you can choose from 8 very cute design options.
Like most dog beds, it can be cleaned by simply removing the cover and throwing it into the washing machine.
Rating: Best for small and medium-sized dogs that tend to scratch and dig on their beds.
Best Bolster Cot Chew Proof Dog Bed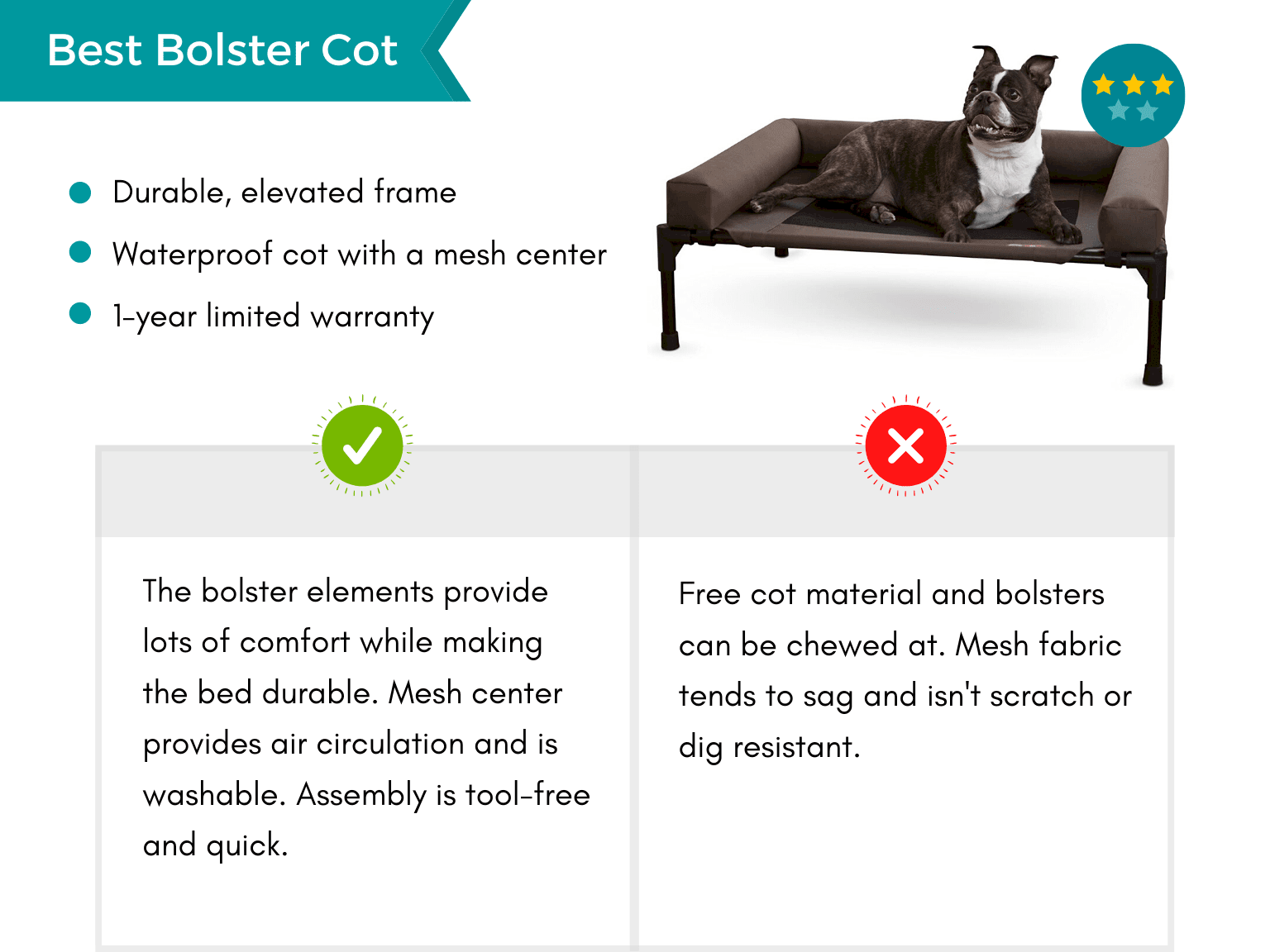 The last dog bed featured on our list is the elevated bolster cot dog bed from K&H Pet Products.
Their pillow dog bed didn't receive the best rating but this bed is better.
It's a unique mix of bolster elements paired with the robust look of a cot-style elevated bed.
This will provide you with enough durability while your dog can enjoy the soft side-neck pillows.
The waterproof cot has a mesh center that promotes air circulation and helps your dog stay cool on warmer days, for indoor as well as outdoor naps.
The cover and bolster can be removed and machine-washed.
If your dog really loves relaxing in the shade, then consider adding the K&H Pet Products Pet Cot Canopy to protect your dog from the harsh heat of the sun.
It's available in sizes small, medium, and larger and can hold up to 200 lbs.
Assembly is tool-free, quick, and can be done in four easy steps.
In case your dog damages the bed, there is a 1-year limited warranty and you have the option to buy replacement covers.
Rating: Best for light to medium chewers that don't tend to scratch a lot.
Indestructible Dog Bed Lifetime Guarantee
Nearly every dog bed comes with some type of warranty whether that's a limited manufactures warranty or even a 200-day chew-proof warranty.
Those warranties often provide full replacement of the bed or just single parts.
Finding a brand that would offer a lifetime guarantee is probably impossible as dog beds don't last a lifetime anyway.
Some pet brands like Gorilla Dog Beds offer a "Lifetime Won't Flatten Guarantee" on several of their beds.
Chew Proof Crate Pad
For those of you that have crate trained their dog and would like not to wake up to a destroyed crate pad, finding a durable option can be a head-wracking task.
Most of them are made of very weak material that looks super nice and plushy but just isn't suited for chewers.
Due to all the thin crate pad designs, dogs can easily get hold of edges, put them between their paws, and start chewing on them.
Especially puppies during their teething phase can be determined chewers and their tiny shark-like teeth can easily tear through any fabric.
Puppies or adult dogs choking on exposed material is a real health hazard and needs to be avoided.
But you probably won't fit a whole dog bed in the crate and just want the surface to be a little padded.
To be fair, nearly every dog crate pad has a disclaimer that it's not chew-proof or not suited for young dogs and puppies.
After a lot of research and comparison, I have found one single dog mat that at least looks like it can take some chewing.
Again, it says "not recommended for excessive chewers".
This mat is not specifically designed to be a crate pad but you can definitely use it as one.
It's made to be an outdoor blanket and therefore it's very durable.
You can easily fold it, slide it in the bag, and take it with you camping or you could just leave it in your dog's crate.
Anti-slip fabric is used at the bottom for safer outdoor use.
This also comes in handy when placing it in your dog's crate.
At the center, you will find a soft cotton material, which is protected by a polyester cover that is chew and scratch-resistant and suitable for all seasons.
It's also water-resistant and protects your dog from bacteria and parasites.
Small stains can be wiped off but you can also hand wash or machine wash the mat.
Although the dog pad is only available in one size, you can comfortably fit any small or large breed on it.
If you are very unsure about the durability of this product, you still have the choice to opt for the K9 Ballistics Chew Proof Elevated Dog Bed which fits in all standard-sized dog crates.
Chew Proof Dog Blanket
After doing all this research and testing, I can assure you there is no such thing as a chew-proof dog blanket.
When it comes to finding a dog blanket, you will want it to be warm and snuggly.
Those are attributes that simply contradict any durability.
That's why the most indestructible dog beds are made of heavy-duty aluminum frames.
Materials like fleece, cotton, or wool are just not created to withstand chewing.
Now you are left with two choices, either you skip the dog blanket or you get to the root of your dog's destructive behavior which I will talk more about below.
How to Choose the Best Chew-Proof Bed For Your Dog
First, think about what your dog's general needs are.
Depending on his age and health, he may need orthopedic support to help with his arthritis or joint stiffness.
Puppies can also benefit from beds that reduce stress on their growing joints.
Determine how destructive your dog generally is.
The strongest chewers will be best off with an indestructible dog bed.
Sturdier pillow-style beds may be sufficient for medium chewers.
The most common chew-proof dog beds you will find are either elevated cot-style beds, bolstered beds, pillow-style beds, or orthopedic beds.
Cot-style dog beds are definitely the strongest and can withstand the most destructive behavior.
They are typically made from PVC or metal.
The elevated construction promotes airflow to keep your pet cool even in the summer.
If your dog enjoys a comfortable nesting bed then this might not be the choice for you.
Bolstered beds are what my dog enjoys the most.
She loves resting her head against the walls and couldn't sleep without it. Most of them have removable covers that can be washed.
But all those edges may be extra tempting for chewers and seams can be easily frayed.
You won't find a more comfortable option.
In between, you will find pillow-style beds. Those can come with a sturdy, scratch-resistant exterior cover, combining comfort with durability.
Due to their design, they have far fewer edges and zippers can be nicely hidden. Look for a high-quality filling to prevent fast flattening of the bed.
Orthopedic beds are best for senior dogs and puppies.
They can also be a great option for large breeds that benefit from joint support.
Those beds can come with a rip-stop fabric that resits any scratches and digging.
Whatever bed you may choose, make sure to carefully measure it so your dog will be able to comfortably curl up as well as stretch over the bed without laying on the floor.
Why Do Dogs Chew On Their Beds?
Chewing is completely normal behavior and while every dog (and especially puppies) does a little bit of chewing here and there, continuously destroying dog beds and other items is a behavior problem that you will need to look into.
Destructive behavior can have plenty of causes and buying an indestructible dog bed is just trying to fix a symptom.
Excessive chewing always has an underlying issue that when treated, will eventually stop the behavior.
During the training process, however, it will be essential that you have a very sturdy bed on hand so your dog's chewing won't be further reinforced.
Dogs may chew on their beds for the following reasons:
Boredom
Separation anxiety
Stress
Lack of Exercise
Lack of Training
Teething
Hunger
How Do I Stop My Dog From Chewing His Bed?
Depending on the reasons why your dog tears his bed apart, you can fix this quite easily or not (namely if the problem at the root is much deeper).
1. Boredom: Dogs that are bored will always find a way to occupy themselves whether that's chewing, digging, or barking. Provide your dog will lots of chew toys like the Benebone.
Tired him out prior to leaving the house so he will be able to sleep most of the time.
Make your home chew-proof and remove any objects that can be swallowed or destroyed.
2. Separation Anxiety: Anxiety is a very common reason for destructive behavior.
You will come home from a long workday and find that your dog has shredded something again.
This is most likely due to the distress and anxiety your dog is feeling when being left alone.
To combat this and make your dog feel at ease, follow my comprehensive separation anxiety guide that will take you through the process.
Also, think about bringing him to doggy daycare or hiring a pet sitter. Imagine being at home by yourself for so many hours.
Your bladder will hurt and even if you're not feeling anxious, you will definitely be bored as hell.
3. Stress: Dogs can experience stress due to a multitude of causes like a change in routine, a deceased family member, or being crated for too long. Chewing eases this kind of stress.
Again, provide your dog with lots of chew toys and brain games plus enough physical exercise which also relieves stress.
4. Lack of Exercise: Insufficient exercise is probably the number one cause of any undesired behavior.
A dog that is not physically and mentally tired out every day, will eventually get into some trouble.
Provide your dog with lots of physical exercise outside which also strengthens your bond.
Research your breed to find out more about their daily exercise needs.
Furthermore, check out these boredom busters and dog tricks for beginners to tire out your dog mentally.
A tired dog = a good dog.
5. Lack of Training: If your dog hasn't been taught which item is appropriate to chew and which is not then he will definitely take out any curiosity or boredom on his bed.
Introduce a sharp "no!" if your dog starts chewing the bed. Remember that time you went through puppy biting?
It's just the same principle but applied to all the furniture in the house, as well as slippers and anything else.
Further steps to get your dog to stop chewing his bed include using positive reinforcement and counter-conditioning.
This can be as simple as giving your dog treats for not chewing and/or providing an alternative (another toy or a good game of tug-of-war).
Do your best to supervise your dog at all times so you will be there to intervene.
6. Teething: Puppy teething can be very painful and chewing eases that pain.
Fortunately, there are chew toys specifically designed for puppies like the Puppy Kong.
7. Hunger: A dog that is not provided with enough food or is on a calorie-restricted diet may try to get his nutrients from somewhere else. This can include rating trash cans or counter surfing.
Talk to your vet or dog nutritionist about an appropriate diet for your dog.
Pin This:
Disclaimer: This blog post does not substitute veterinary attention and does not intend to do so. I am not a veterinarian or pet nutritionist. If your dog shows any sign of illness, call your vet.