A limping puppy is very concerning, especially if it happens all of a sudden without any obvious reason.
I know what I talk about because our Rottweiler girl started limping around at around 6 months of age and we worried a lot about her health as Rotties are prone to hip issues.
We took her to the vet for a quick check-up, avoided any straining activity for a couple of weeks/months and it disappeared.
However, your case might be entirely different.
Why is your puppy limping?
A puppy that suddenly starts limping could indicate mild muscle sprains, whereas gradual onset limps indicate serious diseases like hip dysplasia, but keep in mind that asymmetrical growth in puppies is also possible and often causes lameness.
In this article, you'll also learn how to spot if your puppy's limping is serious and if you should take your limping dog to the vet.
Last but not least, you'll learn more about what you can do at home for your limping puppy.
7 Puppy Limping Causes
Puppy limping often happens due to trauma, asymmetrical growth, or other conditions which include luxating patella, hip or elbow dysplasia, or even bone disease.
"Luckily" the most common cause for limping in puppies is a muscle strain that can be treated with rest.
Try to disengage him from being active and running around too much.
Also, skip puppy class if you are enrolled in one.
Their young bones and joints are still growing and can cause a funny walk.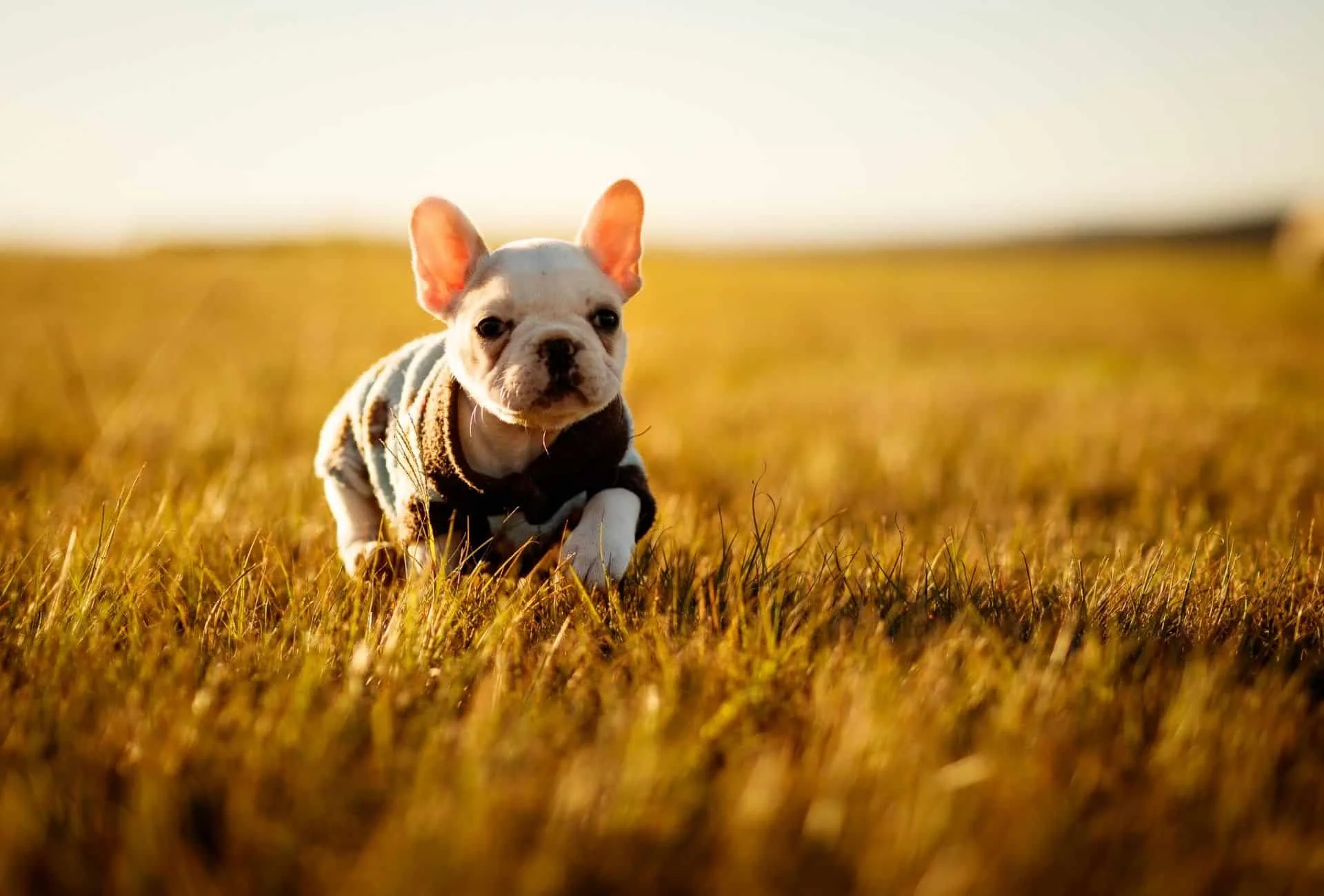 You have to differentiate between sudden limping and gradual onset.
Whereas sudden limps imply trauma or an injury, gradual onset limps are sometimes caused by an underlying chronic disease such as hip dysplasia.
Pay attention to how your puppy is handling the limping.
If he is in pain, he will only take small steps with the hurting leg and refuses to put weight on it.
Poor nutrition may cause him to shift the limping from one leg to another or might result in lameness in more than one leg at a time.
This disease is called osteodystrophy.
You should speak to your vet about how you can improve your pet's nutrition and read this if you want to feed a proper raw diet.
Puppies can quickly recover from limping, so if it doesn't improve after a short time, your puppy should be taken to the vet.
Let's discuss the causes step by step.
1. Trauma
Developing and soft bones are prone to even mild trauma that can quickly result in fractures or dislocations.
It can happen after a fall or in a car accident.
If he suddenly started limping, wait for 15 minutes and see if the problem resolves by itself.
He could have just tripped and fallen on the wrong paw.
Lameness that persists for a longer time should be checked by a veterinarian.
If your dog was involved in a car accident, take him to the vet immediately.
He could be suffering from fatal injuries resulting from inner bleeding and fractures.
2. Legg-Calvé-Perthes Disease
Legg-Calvé-Perthes, also called aseptic necrosis of the femoral head, is a condition in which the growing bone cannot be sufficiently supplied with blood, causing the head of the femur to deform.
Disrupted blood flow to the hip weakens the bone and it starts to deteriorate.
The lameness and limping often progress gradually over the course of several weeks until your dog's leg can no longer bear any weight.
Degeneration will cause the hip to collapse eventually and leads to arthritis.
The further the disease progresses, the more painful it will become for your dog.
Because the disease only affects one hip joint, he will lose muscle mass in the limping rear leg.
It's commonly seen in small and toy breeds under 20 lbs.
It mostly affects puppies between the age of 5 to 8 months but it may also start as early as 3 months.
Multiple x-rays will be necessary to monitor the disease as it progresses.
Surgery may be necessary to remove the head of the femur.
Therapy is then used to manage the pain.
3. Asymmetrical Growth
Usually, joints and bones grow simultaneously and if one leg is growing faster than others, it will result in limping.
It often happens to one leg, so the body moves around the growing leg which results in limping.
However, if your puppy doesn't grow out of this lameness, a vet visit will be necessary.
4. Luxating Patellas (aka Wobbly Kneecaps)
Luxating Patellas is a disease that causes the knee cap to dislocate, leading to sudden lameness in one leg that resolves after a few minutes.
The patellar ligament's purpose is to connect the large thigh muscles to the shin bone.
Small and toy breeds like the Bichon Frise or Maltese have a genetic predisposition for luxating patellas because the connection point of the ligament is not centered.
When your puppy starts moving, the ligament is pulled to the inside of the leg causing the groove in the femur to wear down.
The patella is then free to move out of location and can snap back at any time.
Despite what this dislocation may sound like, dogs often hardly feel any pain.
Depending on the severity of the condition, your dog may be able to tolerate this condition for the rest of his life but it can eventually lead to arthritis.
Grades II-IV patellar luxations can be surgically repaired, followed by post-operation pain management.
You can read more about the patellar luxation grades here.
5. Hip dysplasia
When the hip joint doesn't fit into the socket, it will cause limping. This condition can be treated by non-surgical interventions through medication and stem cell therapy or by hip modification surgeries.
6. Elbow dysplasia
Similar to hip dysplasia, elbow dysplasia is caused by an anatomical misalignment.
7. Bone disease
Large breeds are the most prone to bone diseases like bone cancer but it's not more prevalent in large puppies.
Your dog may experience walking as very painful and may refuse to put weight on the leg.
A fast diagnosis will get you the best treatment.
Dog Limping But No Pain When Touched
A dog that shows no pain but limps could indicate that your canine is either a pro at hiding the pain, it's a serious condition that doesn't continuously hurt, or your pup is not seriously injured.
A limping dog with a serious injury would be in great pain and would yelp or even get aggressive when you try to touch them.
If your pup refuses to put any weight on it then you should take him to the vet soon.
Do not give him any painkillers or medication intended for humans in the meantime.
Puppy Is Limping but Not Crying
If your puppy is limping but not crying, they may still be in pain and suffer from an underlying medical issue that can worsen over time.
Consider a person with an injured leg.
They may cry out when the initial injury happens, but do they walk around crying all the time afterward? Of course not. That would be a bit overdramatic, don't you think?
Similarly, your puppy may not cry even though he is limping. Limping is a sign that it hurts to put weight on the injured leg.
This could indicate a simple muscle sprain. Wondering if a dog's sprained leg will heal on its own?
Yes, a sprained leg should get better after a few days.
If not or if your pup experiences pain, you should consult your vet.
Puppies tend to get confused by the situation and are not as good at hiding the pain as adult dogs are, which simplifies a preliminary diagnosis.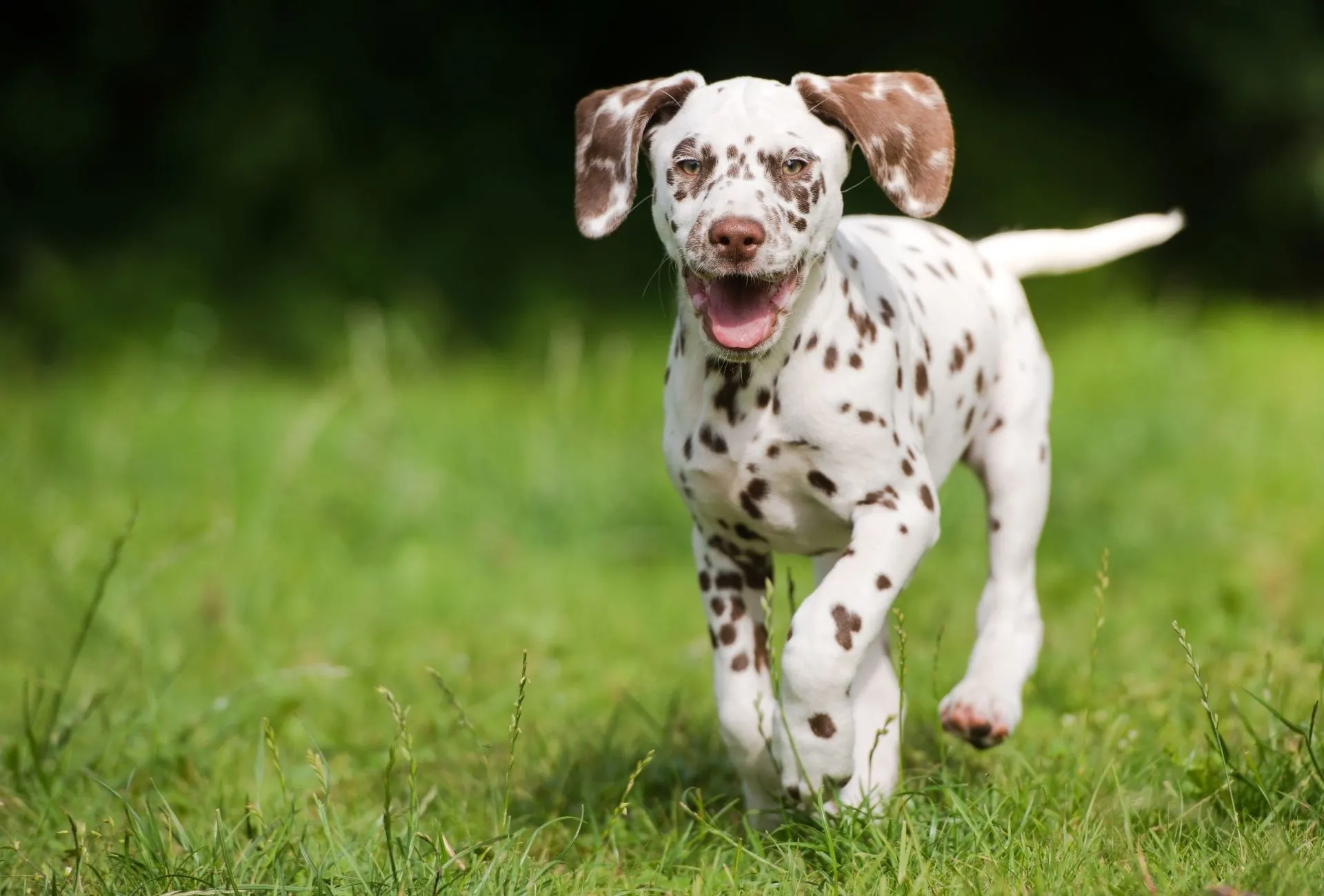 Should I Take My Dog to the Vet If He's Limping?
It's important to determine if the issue can wait for the next morning or if you have to call the vet right now.
If your dog acts normal, drinks, eats, and doesn't seem to be in abnormal pain, then you can probably wait for the next day.
Examine the leg. If it is either swollen, hot, dislocated, or cracked at another angle, then you will have to bring your dog to the emergency vet to avoid further complications such as infections or internal bleeding.
How Do I Know If My Dog's Limping Is Serious?
The vet will start by palpating the bones and joints to see if the dog experiences pain or swelling.
He will also examine if the paw is simply hurt or if something got stuck in it.
Nails can also be broken and cause pain and limping.
As I said, often the cause of limping cannot be found without some tests that need to be run by the veterinarian.
If bone and joint issues are assumed, an x-ray or even an MRI will help clarify things.
How Can I Help My Limping Dog at Home?
Give your puppy some rest, avoid encouraging your puppy to run or climb stairs, provide a healthy diet, and get an orthopedic dog bed.
A comfortable and chew-proof dog bed is not only super comfy but better for your puppy's joints.
Look if he has some visible injuries or something stuck in his paw.
Do not give your dog over-the-counter medicine or painkillers for humans as they are dangerous for your pet and will cause some serious side effects.
Your dog also won't be able to get some real medication from the vet before the painkillers are washed out.
If you notice that the limp is persistent, take a video of your dog limping, so your vet can easily see the issue.
Keep your dog calm to prevent further injuries.
Recommended Reading: Why your dog is twitching in his sleep + seizure risks
Pin This:
Disclaimer: This blog post does not substitute veterinary attention and does not intend to do so. I am not a veterinarian or pet nutritionist. If your dog shows any sign of illness, call your vet.