Taking your dog's diet into your own hands can be daunting and oftentimes you don't know where to start.
Although there are many homemade dog food recipes available online, few of them are targeted toward a raw diet.
Homemade dog food is usually processed in some way with cooked or boiled ingredients.
But once you have learned what a raw meal usually consists of, you will be crafting and preparing your own meals in no time that are specifically tailored to your dog.
If you are not 100% familiar with a raw diet for dogs, make sure to check out this article for in-depth tips and guidelines.
The following homemade raw dog food recipes are easy to make, balanced, and will definitely have your dog drooling in the kitchen.
I recommend buying organic variants for all ingredients, especially meat and fish. Also, health standards may vary so make sure any raw products you prepare are regulated and tested.
Homemade Dog Food Recipe by Rodney Habib
Homemade dog food doesn't have to be difficult and complicated. This recipe provides your dog with a balanced and tasty meal.
Ingredients
14 oz lean ground beef 90%
2 tsp hempseed oil or 3 oz hemp seeds
1/2 can sardines in water or 1/2 tsp cod liver oil
1/2 tsp ground ginger
1/2 tsp kelp powder
1 egg
1/2 eggshells
1 oz beef liver
1 oz broccoli
1 oz spinach
1 oz red bell pepper
Directions
Mix together the ground beef, eggs, kelp, ground ginger, hemp seed oil, and sardines until well combined. Save half of an eggshell for later.
Add the rest of the ingredients to a food processor and blend until smooth.
In a bowl, combine the blended ingredients with the beef mix.
This recipe makes about 1lb of food for an adult dog.
Store: Store the raw food for 3-4 days in an airtight container or ziplock bag in the fridge or freeze it.
A Homemade Raw Dog Recipe by Walkerville Vet
Walkerville Vet combines the best of both worlds, as it is based on the raw food diet of wolves but also takes into account the dietary changes in domesticated dogs.
Ingredients
250g chopped beef or lamb
1 cup chopped carrots
1 cup chopped apple
¼ cup frozen peas, defrosted
1½ cups chopped pumpkin or squash
⅔ cup brown or basmati rice (will cook to 3 cups)
4 teaspoons sunflower oil
4g fish oil
This recipe serves an 8kg dog for 3-4 days.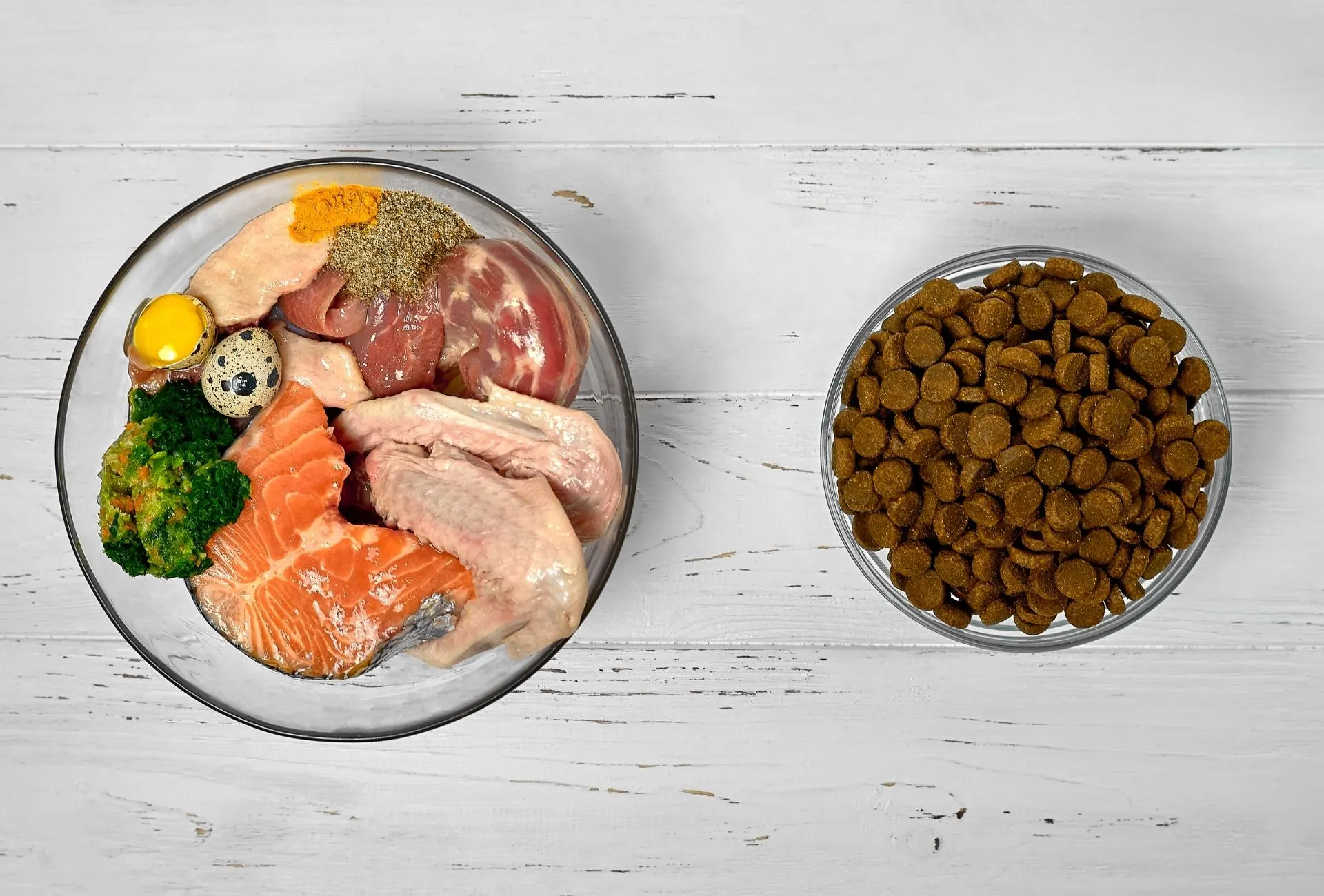 Zucchini Chicken Burgers by Rodney Habib
To mix it up, try these juicy chicken burgers that are flavorful and clearly mouth-watering.
Ingredients
1.5 lbs chicken wings
6 oz beef liver
6 oz chicken hearts
3 os blueberries
1 oz flaxseeds
1 oz pumpkin seeds
3 oz oyster
2 tsp dried basil
2 cans sardines
4 oz zucchini
1/2 tsp kelp
Easy Raw Dog Food by Topdogtips
With only 6 ingredients needed, this recipe is truly an easy and quick choice when meal prep has to go a little faster.
Ingredients
2 pounds boneless chicken (chopped)
1 cup red cabbage (shredded)
1 apple (cored, peeled, and chopped)
1 cup spinach (shredded)
2 eggs with shells
1 tbsp cod liver oil
The serving size for this recipe is 1/2 cup of food per 20 pounds of body weight.
Homemade Raw Dog Food by Running to the Kitchen
Another simple recipe that uses yogurt as a dairy source and some olive oil instead of the usual animal-based oils.
Ingredients
2 1/2 pounds ground beef
4 ounces chicken livers
1 carrot, chopped
1 small apple, cored
1/2 cup baby spinach
2 whole eggs (including shell)
1/2 cup plain yogurt
1 tablespoon ground flaxseed
1 tablespoon olive oil
Raw Rabbit, Chicken & Beef Dog Food by Dogs Naturally
For a well-balanced diet, it is important to switch out proteins regularly.
The following recipe uses rabbit as a protein source which my dog truly loves.
Ingredients
2.5 pounds rabbit (typical whole rabbit carcass)
1 pound chicken heart
1/4 pound beef liver
4 pasture-raised eggs without shells
8 ounces broccoli
1/2 ounce chopped spinach
2 grams green lipped mussel powder
Beef Bomb by Perfectly Pawsome
This recipe is designed as supplemental food for dogs that require lots of energy or are underweight.
Ingredients
7.9oz (224.5g) Beef, ground, 70% lean meat / 30% fat, raw
0.7oz (19g) Butter, without salt
0.5oz (15g) Almonds
1/3cup (91g) Coconut Water, liquid from coconuts
0.1oz (2g) Nutritional Yeast
0.1oz (1.5g) Seeds, chia seeds, dried
0.1oz (0.75g) Psyllium Husk Powder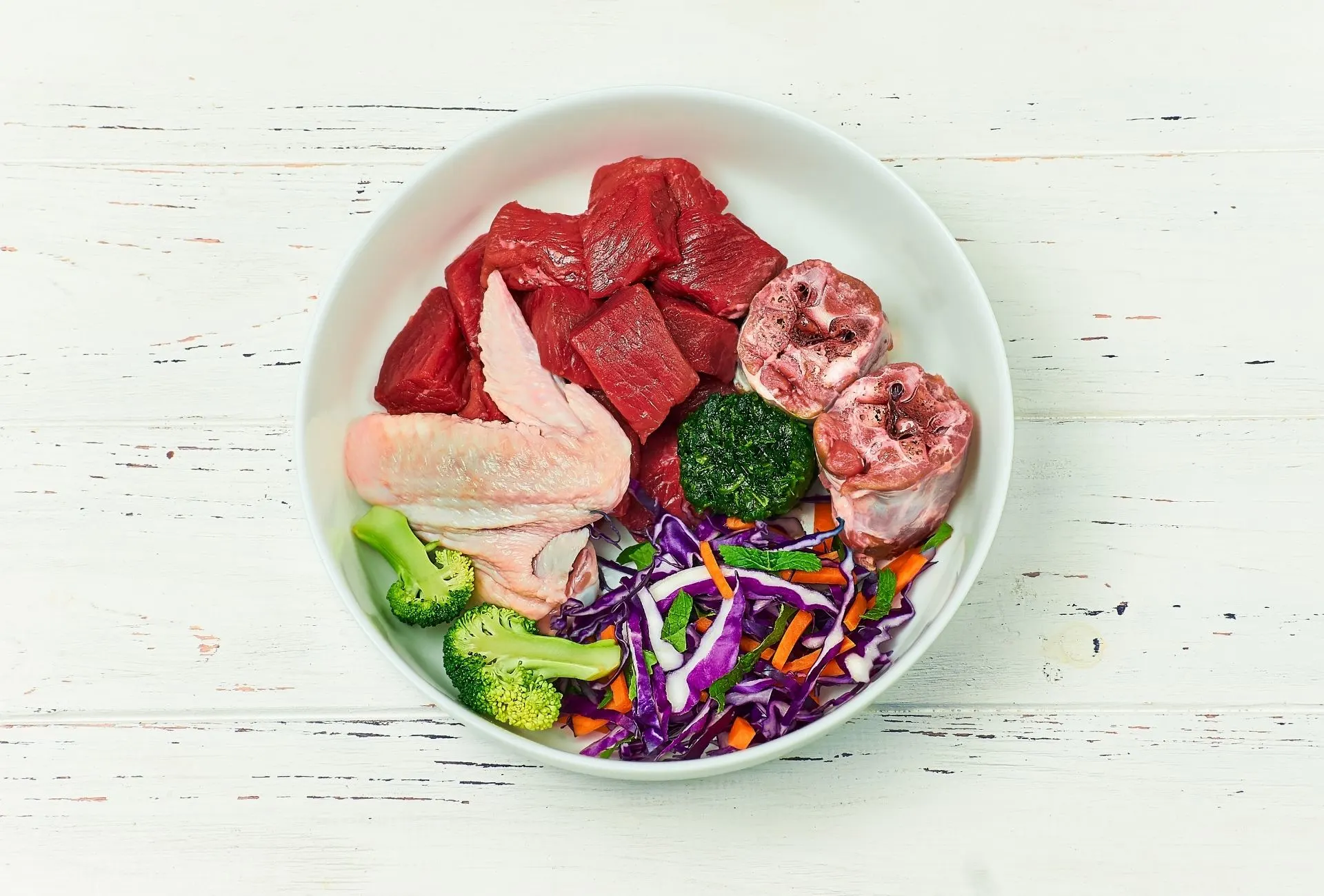 Homemade Dog Food by Rachel Fusaro
This is a nutritionally packed recipe designed specifically for Rachel's dog Fin so feel free to adjust the ingredients for your dog's unique dietary requirements which applies to every recipe.
Ingredients
5.5 oz ground beef
2 oz chicken wings
1 oz beef heart
1.5 oz beef liver
1 oz pork kidney
3.5 oz canned sardines
1 oz canned oyster
2 oz spinach
2 oz kale
1 medium egg
1 tsp fish oil
1/8 tsp flaxseed oil
1 drop vitamin E oil
1/2 scoop kelp powder
Fish and Meat Combo by Wamiz
To provide your dog with some healthy omega 3 salmon or herring are great options.
Most owners like to feed their raw fed dogs fish once a week.
Ingredients
150 g wild salmon (frozen)
100 g beef muscle meat
50 g beef lung
20 g omasum
20 g beef liver
30 g leaf lettuce, for example lollo rosso
30 g parsnip
40 g apple
1 tsp rapeseed oil
5 g bone meal
Directions
As this is a German recipe I will provide you with a short and simplified translation.
After defrosting, cut the salmon and meat into pieces and place them in your dog's bowl.
Finely puree the fruits and vegetables in a blender and add them to the bowl.
Now just add the canola oil and the bone meal over the meal.
Mixed Veggies by Wamiz
If one meatless day per week is part of your feeding plan, this vegetarian meal will be perfect for that.
Ingredients
100 g cream cheese
100 g sweet potatoes
100 g mixed leaf lettuce, for example iceberg lettuce and lollo rosso
50 g carrots
25 g berries, for example blueberries
25 g apple
1 tsp hemp oil
Disclaimer: We are not responsible for the outcome of any recipe you try from these sites. Consult your pet nutritionist before using any recipe if you have concerns.
Disclaimer: This blog post does not substitute veterinary attention and does not intend to do so. I am not a veterinarian or pet nutritionist. If your dog shows any sign of illness, call your vet.