Yes, diapers for dogs are a thing and they are an amazing tool especially for senior dogs.
Many older dogs struggle with incontinence and some can't even control their urge to poop.
Unfortunately, a lot of these dogs are being put down every year for something that can be easily managed with the right products.
Potty trained dogs don't have to feel like they did something wrong when peeing on the floor and you won't have to clean up after them.
Dog diapers are not only for senior dogs but also for females in heat or paralysed dogs that have lost their bladder control.
In this post, we will talk about the differences between female and male diapers, if you should choose disposable or washable diapers, what the best products are and how you should care for your dog when he is wearing one.
Dog Diapers for Females
Female dogs feel most comfortable in diapers that completely cover their backside.
They don't need excess material around the abdomen which would just bulk up and rub against their belly.
Full diapers also cover the anus which also makes them poop proof (check the unique product details for that).
When choosing a diaper for your female dog there are two main options which we will discuss further below: disposable vs. washable diapers.
The one you choose should be tailored to your dog's gender, size, weight and health needs.
We recommend going with the Pet Parents Washable Dog Diapers as the eco-friendly option or the Paw Inspired 32ct Disposable Dog Diapers if you somehow cannot buy washable ones.
If you are searching for cute prints for your puppy or younger dog, have a look at the vecomfy Washable Dog Diapers which are super absorbent.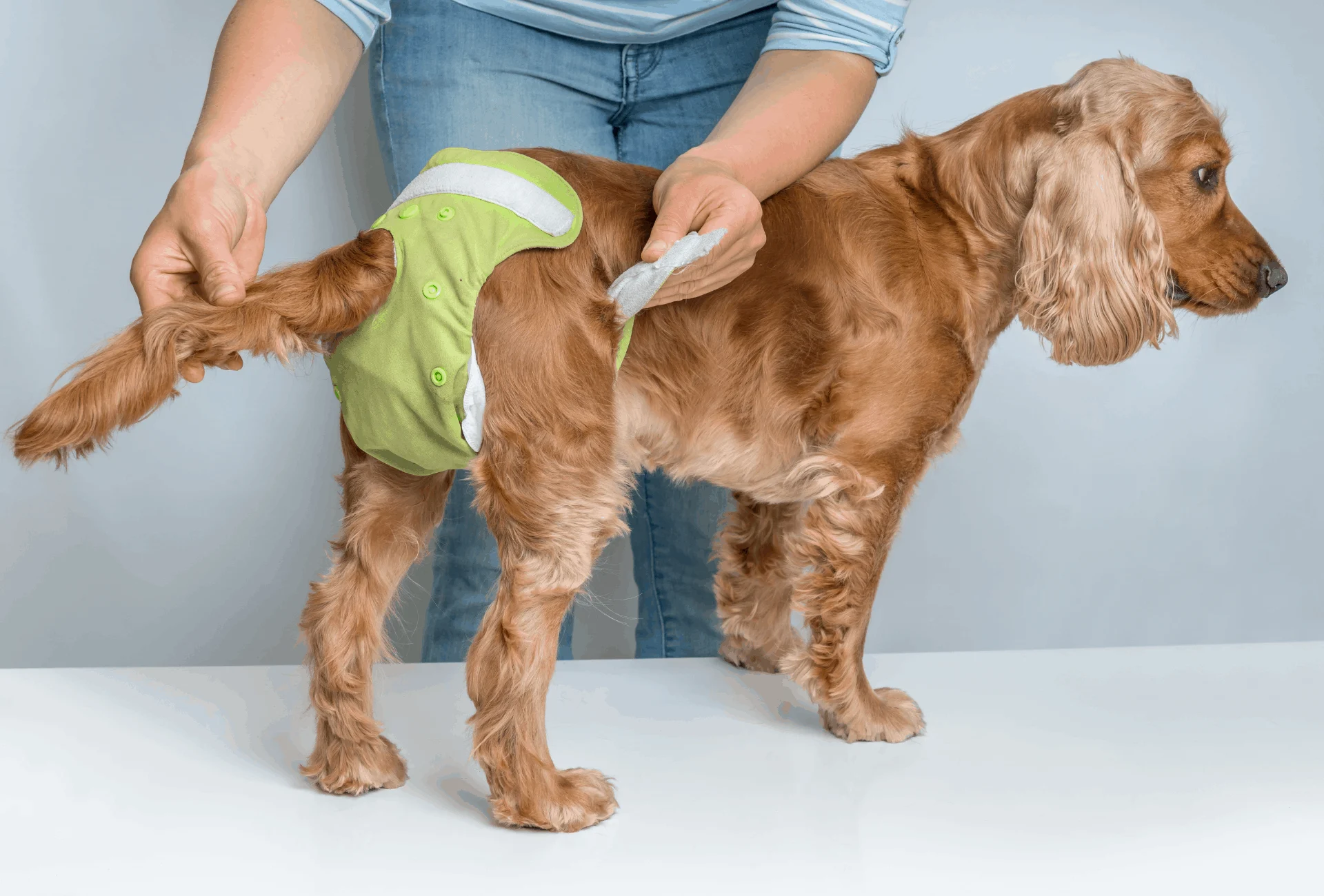 Dog Diapers for Males
Male dogs have quite a different anatomy which should definitely be taken into consideration when choosing diapers.
To make it the most comfortable for your male dog, choose a wrap or belly band instead of a diaper.
A male wrap is a long diaper that goes around the waist without covering the butt.
It's way more comfortable as it only covers the sheath and doesn't put pressure on the urethra.
The two best options we have found are the vecomfy Washable Belly Bands and the AmazonBasics Male Dog Wraps.
Keep in mind that the wraps don't cover your dog's anus. If your dog is struggling with fecal incontinence, opt for a full diaper that is long enough at the belly.
We will go further into this below.
Washable Dog Diapers
Often times during dog ownership you will be faced with the question of choosing the reusable option or the disposable one.
Whether that's pee pads or diapers, both options come with their benefits and disadvantages.
Washable dog diapers are reusable which makes them more cost effective and better for the environment by reducing waste.
Think about it, if you have a dog that suffers from incontinence you can easily go through two to three diapers a day depending on how many accidents your dog has inside the house.
This not only creates a lot of waste but it's also more expensive. You can buy 32 disposable, medium diapers for about $20.
Depending on your dog's peeing pattern those will last you about 15 days which amounts to $40 a month or $480 a year.
For the same price of $20, you will get three washable diapers that will last you many many months or even years if you only use them during your dog's heat.
Washable diapers are also far more comfortable with their soft fabric and rounded edges. They also don't give off that crinkling noise that you have with plastic diapers.
However disposable diapers are more handy when it comes to feral incontinence or gastrointestinal infection.
For my female Rottweiler, I opted for the environmentally friendly option and we are totally satisfied with it.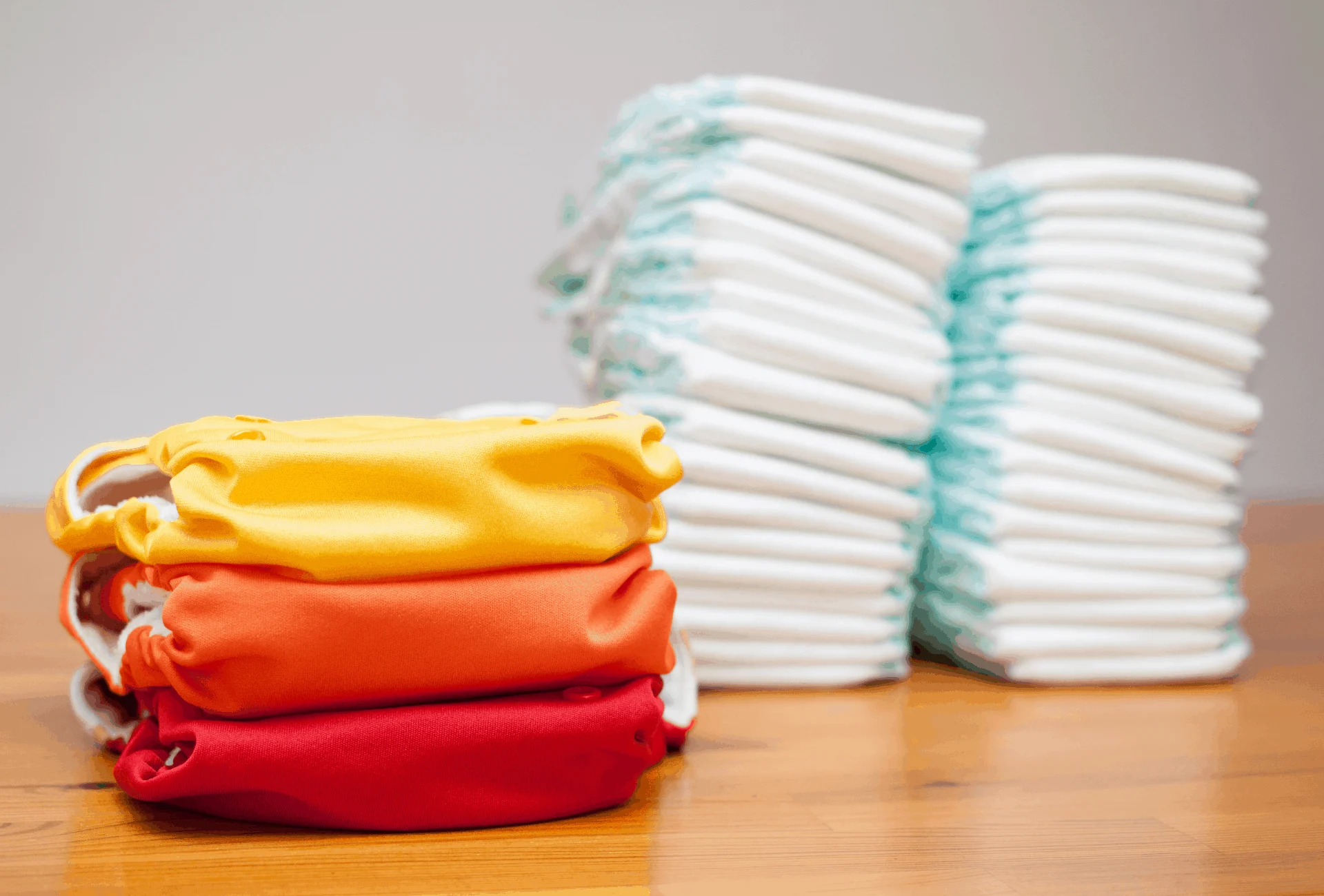 Dog Diapers for Poop
Senior dogs are most commonly affected by fecal incontinence but also dogs that are paralyzed in the hind legs or suffer from spinal injuries cannot control their urge to defecate.
Male dog wraps that only cover the genitals are not suitable for pooping as there is no material that could catch it.
So make sure that you are getting a full-on diaper that also covers the butt whether you have a female or male dog.
There are a few things to keep in mind when it comes to pooping. Washable diapers can be hard to clean if they are fecally soiled but swift changing and cleaning will keep the diaper hygenic.
Whether you are opting for a disposable or reusable diaper, carefully check the product description or packaging prior to purchasing and look for a special mention regarding pooping or fecal incontinence.
The Best Dog Diapers for 2021
We have researched a variety of dog diapers to find the three best ones you can buy online. Review factors were quality, material, value and price.
1. Pet Magasin Washable Dog Diapers
We have selected the Pet Magazin Diapers to be our winner for various reasons. They are made from a super soft fabric that is protected by multiple inner liners and a waterproof outer layer.
The diapers are machine washable and can even be put in the dryer on a low setting. You will receive 3 diapers in different colors that can be adjusted to your dog's girth size.
2. Pet Parents Premium Washable Dog Belly Bands
These super comfortable diapers for male dogs also come in a pack of 3 with different color options.
Owners that have chosen other brands often complain about the urine flowing right out at the belly fabric.
These, on the other hand, have elastics on both sides that ensure a secure fit.
The absorbent pad is sewn into the diaper and covered by a waterproof outer layer to prevent leaks.
3. All-Absorb A26 Male Dog Wraps
If you are looking for affordability, this is probably the best single-use option out there. They have a nice breathable outer layer with a highly absorbent core.
Unlike other disposable diapers, these have fasteners that can be re-adjusted multiple times and it's also fur safe.
A wetness indicator is built into the diaper which will alert you of urine by changing colors on the outside so you will know when to change.
How to Make Dog Diapers
You can make your own diapers in various ways. The first is to use boy's underwear or man's boxers if you have a large dog.
Those provide your dog with a secure fit and the elastic band can be taken out and adjusted.
Simply cut a hole wherever your dog's tail is and you are good to go.
It's best to use sanitary pads with the underwear which can be adjusted to the amount of blood or urine your dog produces.
Smaller dogs can wear baby diapers that would also need a hole for the tail. Stick to the weight guidelines on the packaging as a size reference.
Large Dog Diapers
Large dogs usually need more protection due to their bigger bladder or menstrual bleeding.
When I looked for a diaper for my female Rottweiler in heat, there were many options to choose from. We decided on a washable cloth diaper that has a removable pad.
However, this diaper could never hold a full bladder and sadly many reusable diapers don't. They are oftentimes made for smaller bladders.
Some diaper brands base their size on weight and others have measurement guides for girth so carefully check the descriptions.
For the sake of the environment, I would simply try out the Pet Parents Washable Dog Diapers and if urine is leaking you can opt for the AmazonBasics Male Dog Wraps or the Paw Inspired 32ct Disposable Dog Diapers for females.
Because diaper sizes cannot fit every unique dog, opt for one with a velcro strap or similar closure that provides you with sufficient adjustability.
Is It Bad for Dogs to Wear Diapers?
In general, wearing diapers isn't bad for dogs but there are a few risks and complications that you need to look out for.
First of all, a dog needs to be comfortable in his diaper. Just throwing it on may scare your dog as he doesn't understand why this cloth thing needs to be on him.
Every new situation should be slowly and positively introduced. You can use treats or toys to create a pleasant environment.
Start by showing your dog the diaper and let him examine it. You may stroke it around his back to show him what it feels like.
Depending on how your dog reacts you may need to go slower or you can skip a few steps.
The first few times wearing the diaper should be of short duration to give him a chance to get accustomed to it.
Just like babies, dogs can suffer from a diaper rash that is itchy and sore. It mostly occurs when the diaper is full and wet for a longer period of time without changing.
Bacteria build up can then travel to the urinary tract and can cause nasty infections, so change your dog's diaper frequently!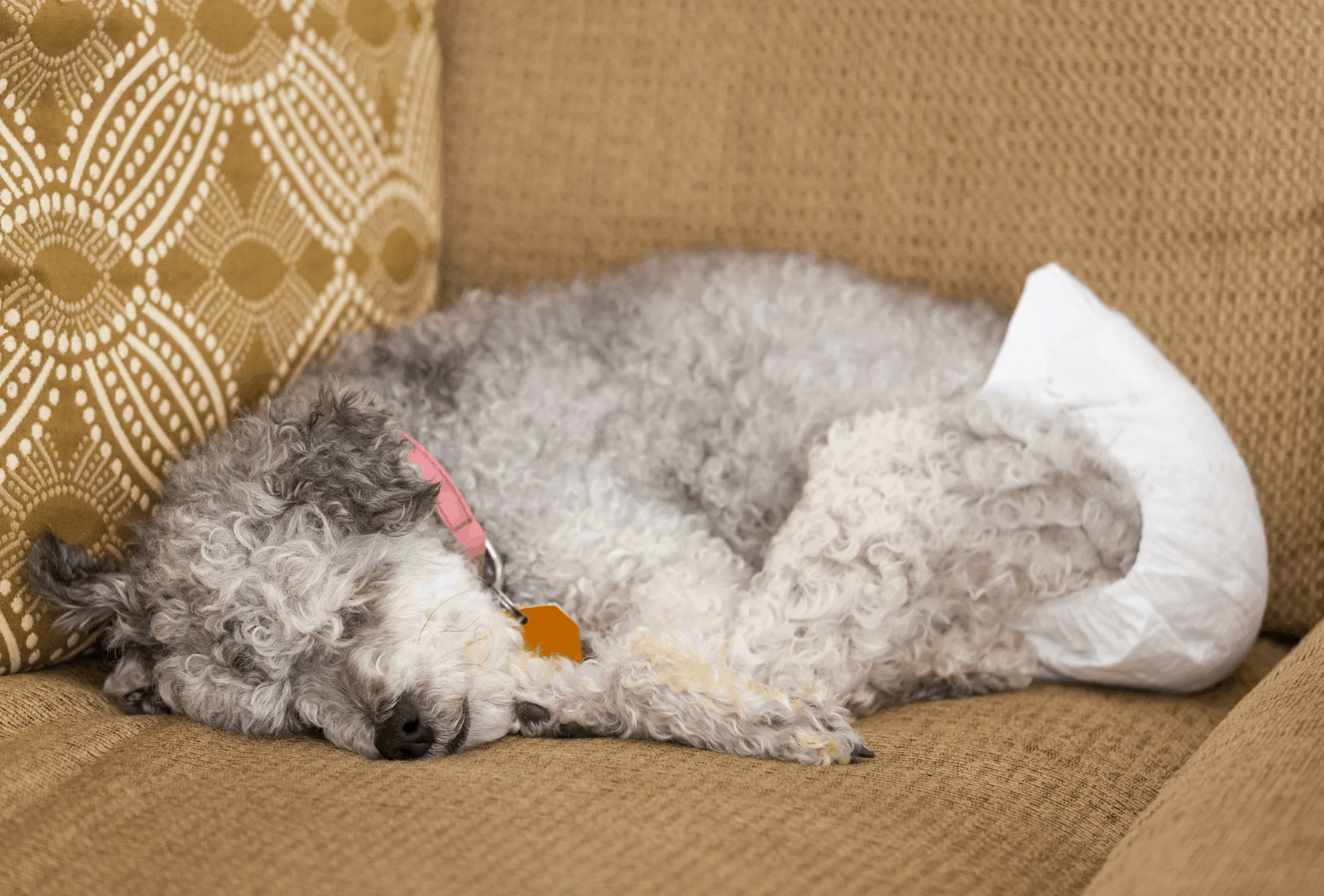 How Often Should You Change Dog Diapers?
Preferably you should change your dog's diapers whenever it's wet to avoid skin irritations.
Change it at least once a day and use baby wipes or pet wipes to clean the area. If your dog wears his diaper day and night, make sure to clean his genitals at least three times a day.
Depending on the quality and material of the diaper you may need to change it more or less often.
How Do You Get Dog Diapers to Stay On?
Shifting and slipping diapers can be super annoying. Luckily there are a few ways you can get your dog's diapers to stay on.
Firstly, make sure you bought the proper size. Most brands have a measuring guide on their website or on Amazon so check that first.
If you cannot find anything, measure your dog's waist about two inches in front of his back legs. If you have a larger, heavier dog go a size up if you are between two sizes.
The diaper should have a snug fit but shouldn't pierce into your dog's skin to avoid skin irritations and dislike.
You can also attach canine suspenders to the diaper like the one by FunnyDogClothes.
If you want to have full support, buy this Onesie Dog Diaper that will keep everything in place no matter what.
If you cannot seem to find any dog diaper product that stays on, you can also try boy's briefs or boxers and simply cut a hole for the tail.
Pin This:
Disclaimer: This blog post does not substitute veterinary attention and does not intend to do so. I am not a veterinarian or pet nutritionist. If your dog shows any sign of illness, call your vet.