The Border Collie is a beautiful and loving breed. They are known for their intelligence, eye-catching coat colors, and happy-go-lucky personality.
That being said, it can be a hassle going through all the possible coat colors of the Border Collie.
While the AKC accepts a wide range of colors, they don't accept each and every color and some are preferred over others.
So why can coat color matter? There are several points that the coat color can help with.
Identify breeders who use the wrong terminology
Avoid misunderstandings when you're describing the desired coat color to your breeder
Crucial when you want to compete in conformation
Knowledge about your dog's heritage
Do you know the most common Border Collie coat colors?
The most common Border Collie colors are black and white, blue merle, and red.
However, there are 16 color and marking variations in total.
Ready? Let's check them all out so you can make an informed decision!
AKC, UKC, FCI, Kennel Club on Border Collie Colors
Let's see what major kennels say about the Border Collie's color.
It's interesting that the kennel clubs have differing views on this and not all have equally extensive breed standards.
The Border Collie appears in all colors or combination of colors and/or markings. All colors are to be judged equally with no one color or pattern preferred over another. White markings may be clear white or ticked to any degree. Random white patches on the body are permissible but should not predominate. The predominant ear color should match the primary body color. Color and markings are always secondary to physical evaluation and gait.

AKC – Border Collie Breed Standard
The United Kennel Club mentions the following in their breed standard:
Black and red. Less predominant colors include gray, blue merle, red merle, lemon and sable. May have white trim only, and/or may be accompanied by tan points.

All colors or combination of colors and/or markings permissible. Solid color, bi-color, tri-color, merle and sable dogs are to be judged equally with no one color or pattern preferred over another. White markings may be clear white or ticked to any degree. Random white patches on the body and head are permissible but should not predominate. Color and markings always secondary to physical evaluation and gait.

Disqualification: Albinism

UKC – Border Collie
The FCI and The Kennel Club from the UK have the same statement on their websites.
Variety of colours permissible. White should never predominate.

The Kennel Club / FCI
Accepted Border Collie Colors
These are the accepted colors as per the AKC.
These colors should all be eligible to participate in conformation shows.
Not all of these colors are equally sought after, some are pretty rare.
While some so-called breed enthusiasts fall back on the argument that some of these colors are not possible to achieve with purebreds, they have all been seen and confirmed.
Side note: How that confirmation would hold up nowadays is hard to say, especially since there have been no DNA tests everybody can look up for each and every color.
However, just because all these colors are theoretically possible doesn't mean that there's no crossbreeding.
Some backyard breeders utilize other breeds in their program to achieve a desirable color that's rare for this specific breed.
Long story short, here are all the accepted colors as per the AKC:
Black
Blue
Blue Merle
Red
Red Merle
Lilac
Sable
Sable Merle
Saddleback
Brindle
White & Black
White & Blue
White & Blue Merle
White & Red
White & Red Merle
White Ticked
Black Border Collie
Contrary to popular belief, the black Border Collie is not 100% black.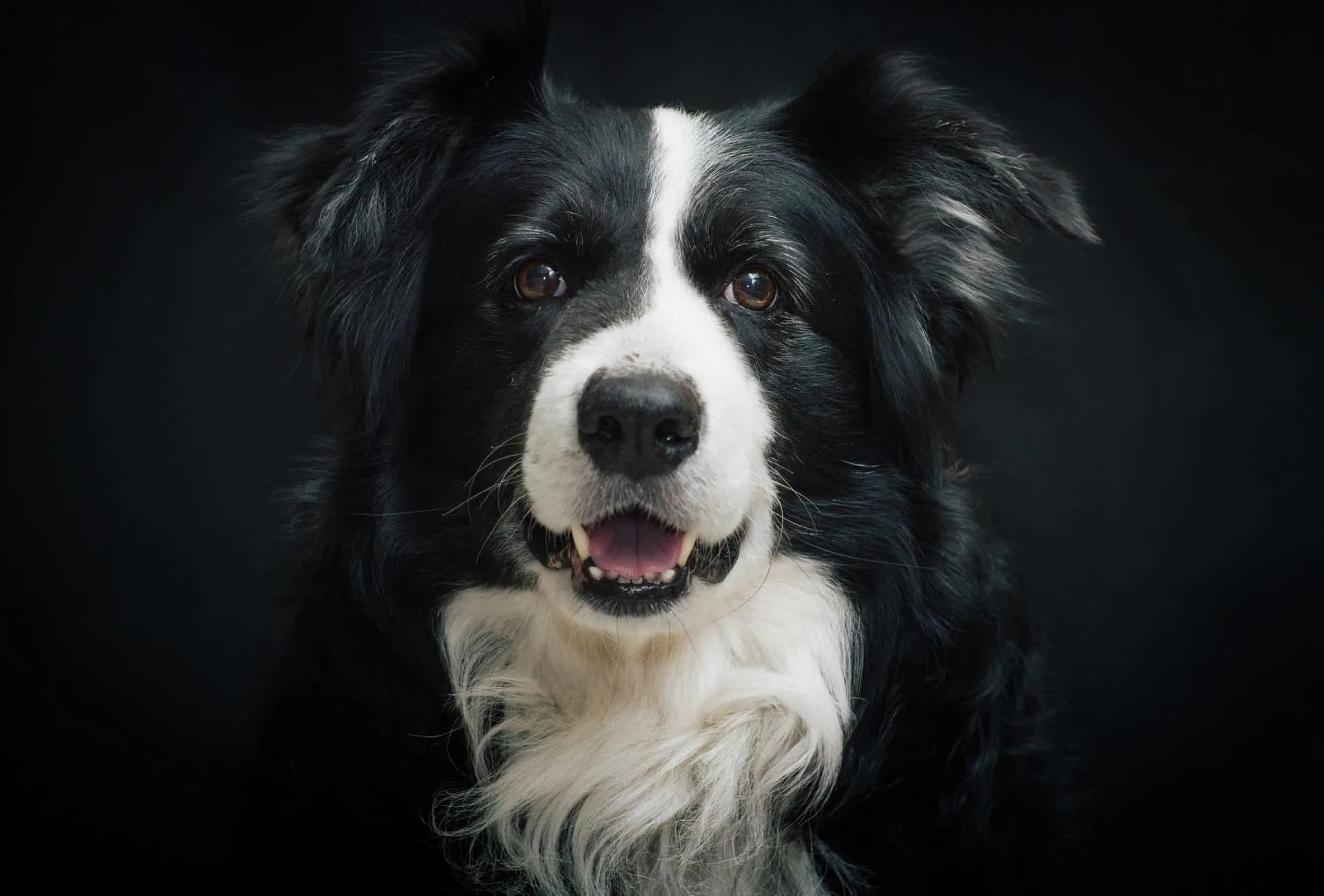 Instead, white patches are allowed but black is predominant.
This color type is very common and easy to find whereas fully black Border Collies are very rare.
They usually always have white patches on their tail, paws, neck, and head.
Blue Border Collie
The Blue Border Collie happens when a dog with a white base coat has the black ticking gene and is currently one of the rarest colors in Border Collies.
Blue Merle Border Collie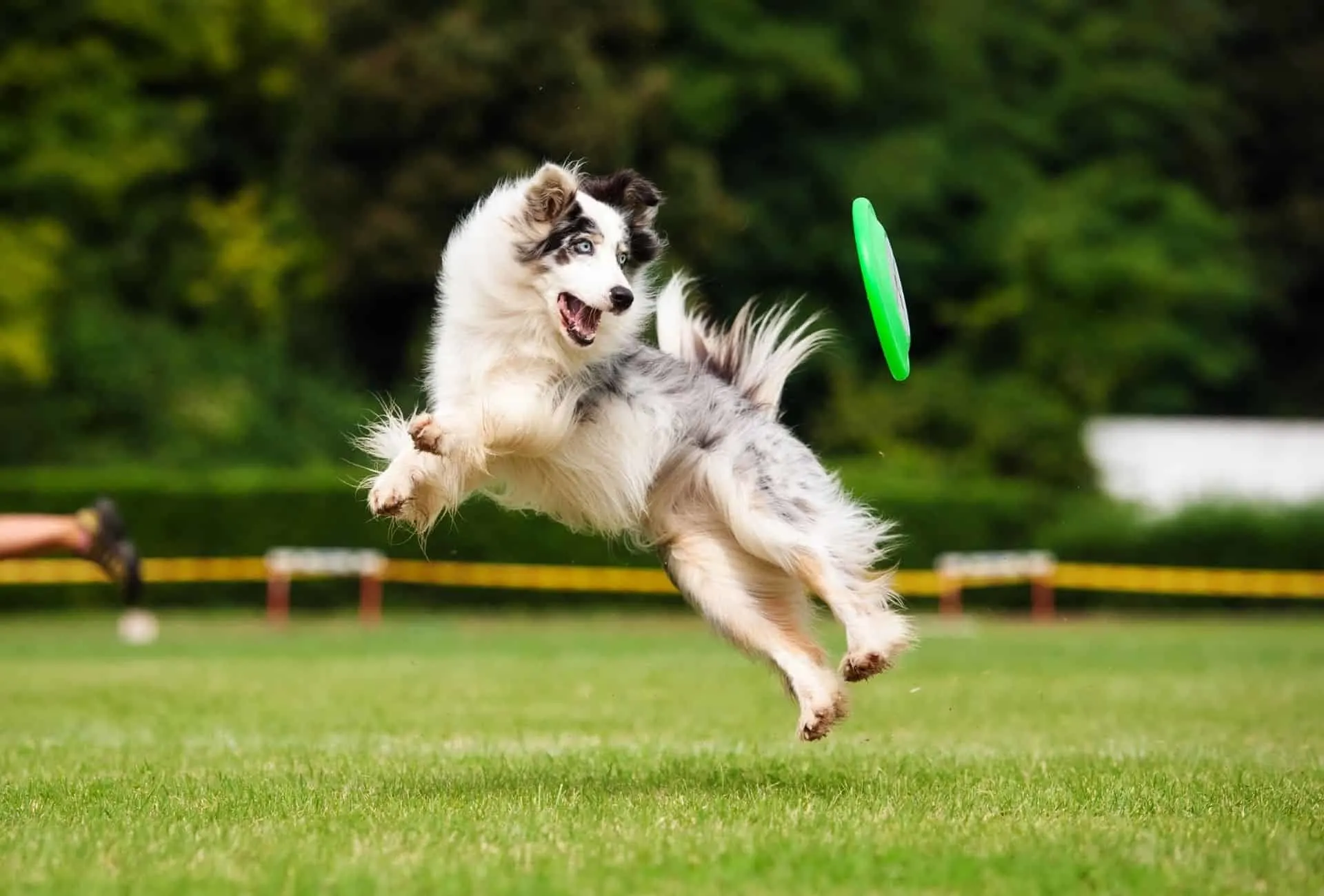 The Blue merle coloration comes about when two blue genes combine on an otherwise black & white or sable base coat to form this multi-shade hue.
Red Border Collie
Ever wondered how the Border Collie's red coloration came about?
There are two theories, that either the Border Collie was bred with a red Doberman or more likely they were originally mismarked black dogs.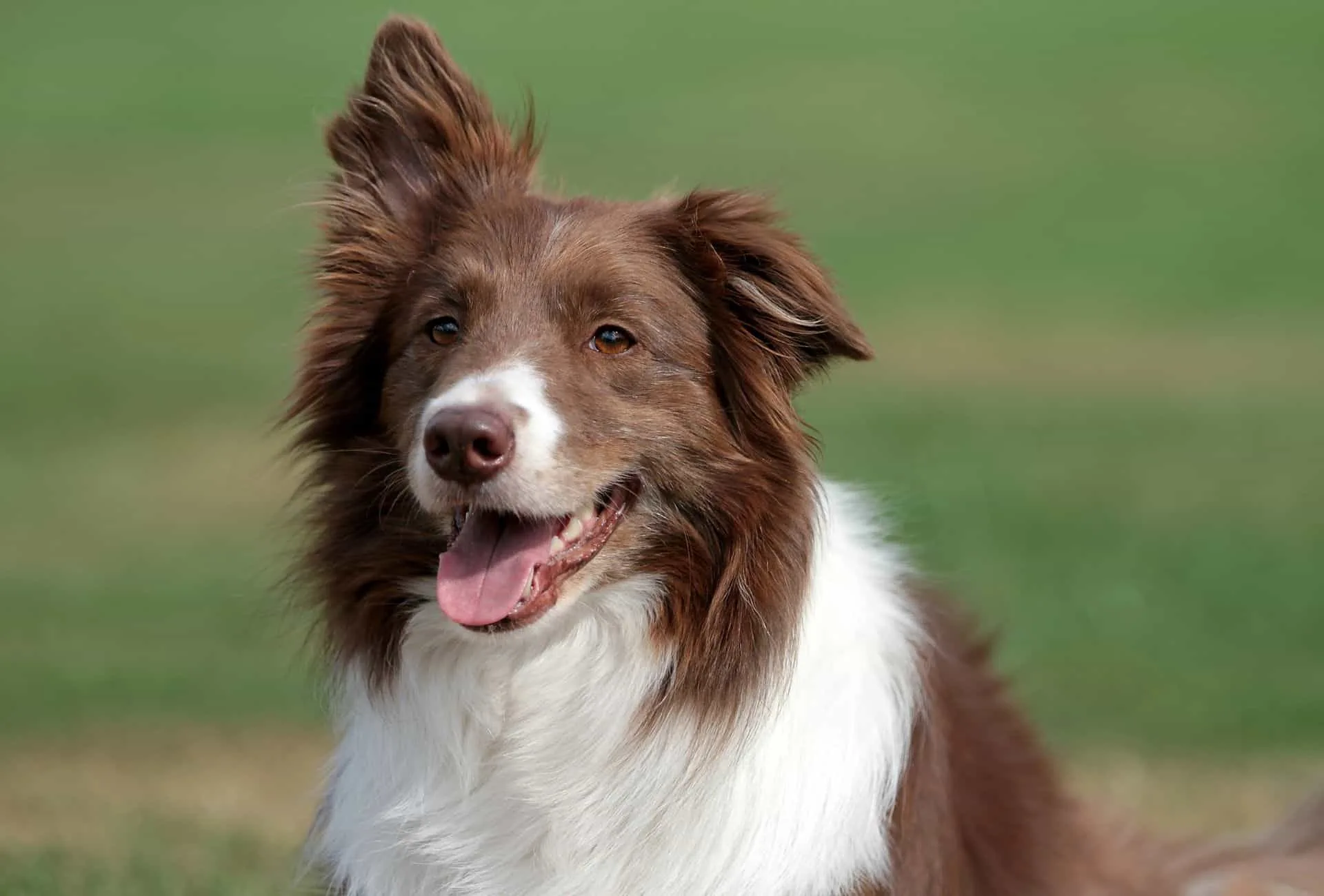 The color is not common and it's hard to tell for sure if you have one unless there are other family members who also show this coloring.
Red Merle Border Collie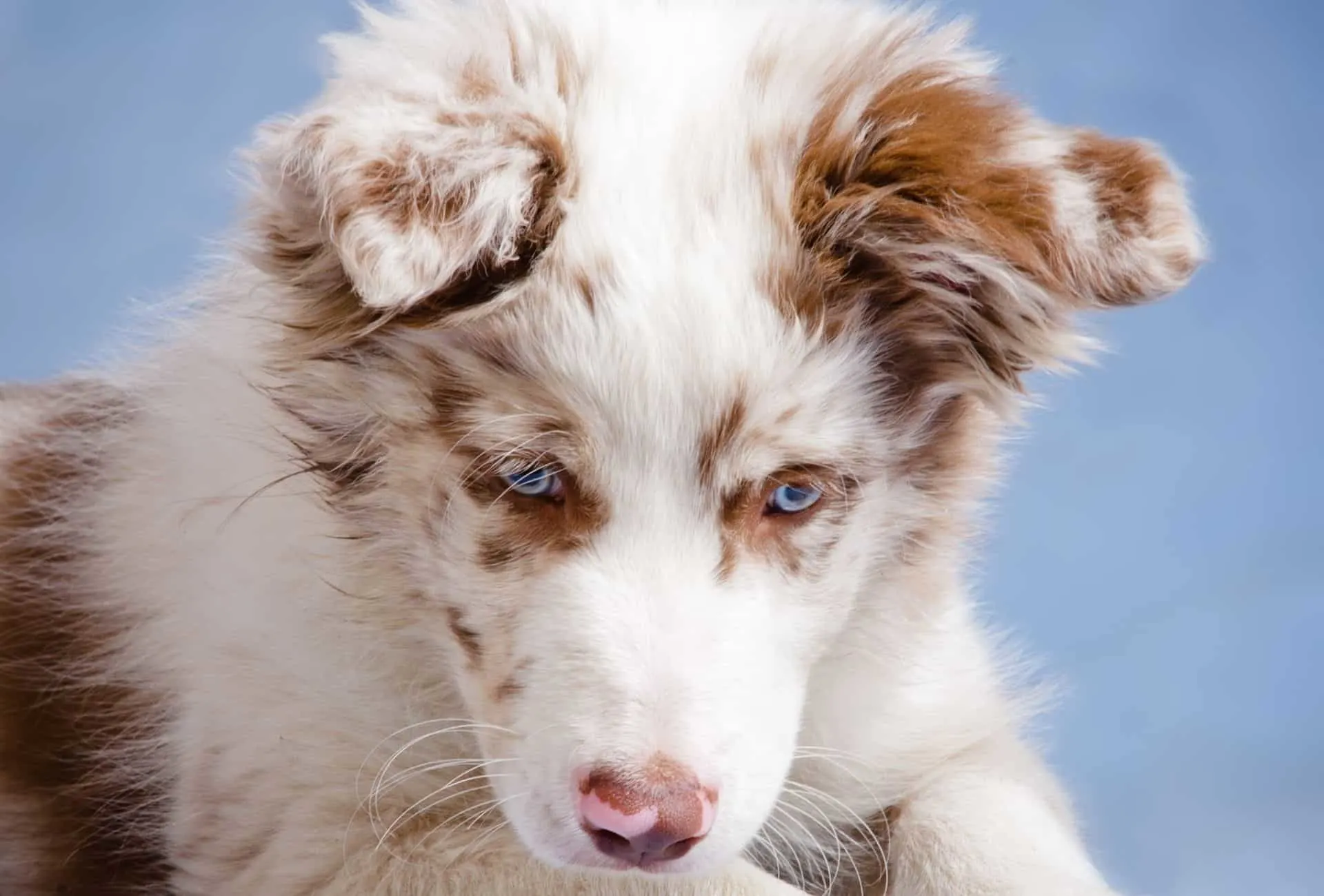 The Red Merle Border Collie is the result of a gene mutation that first occurred in Scotland at some point during the 1940s.
Gold Border Collie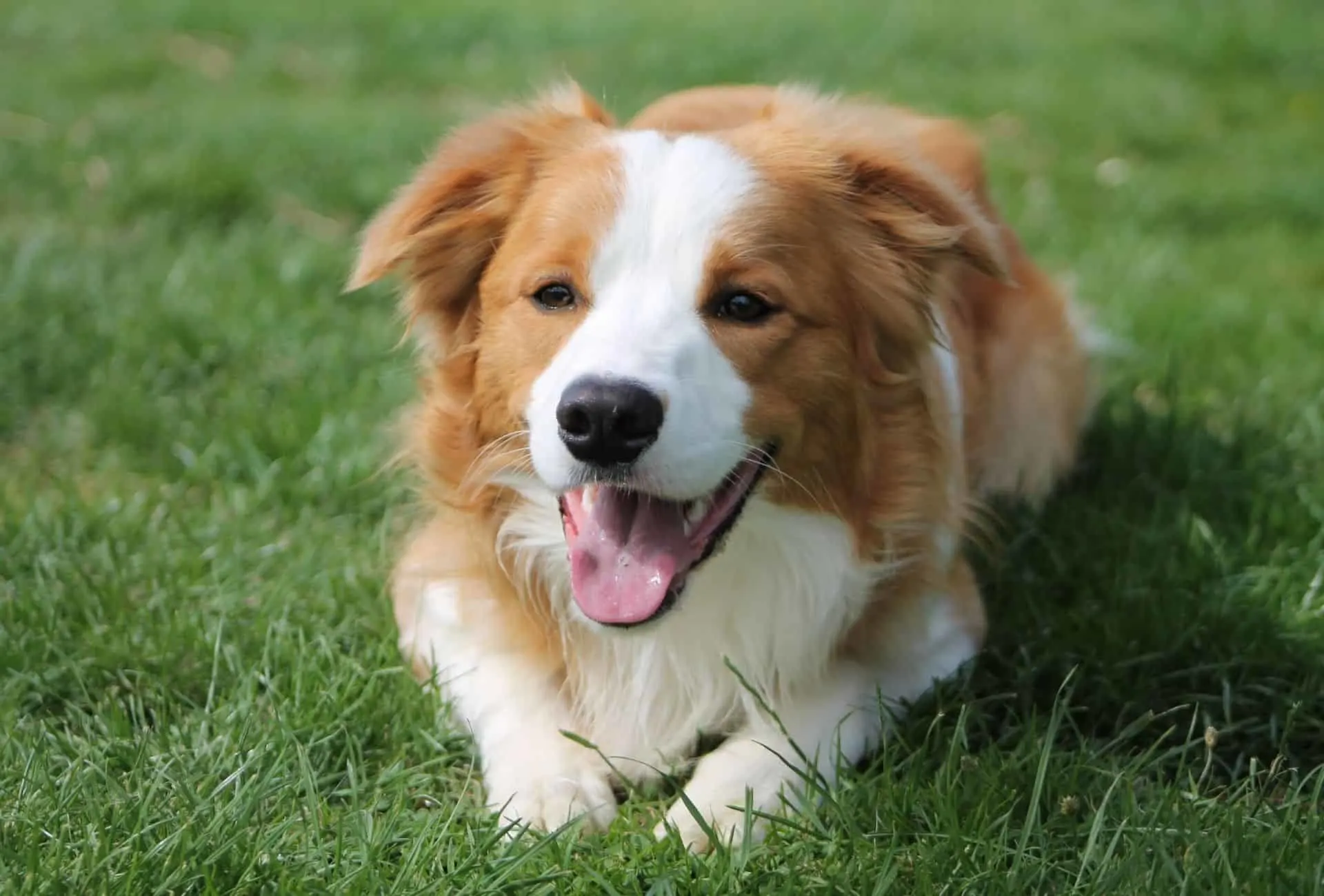 The Gold Border Collie also known as the Black Golden Retriever is a color variation that first surfaced in the 1990s.
Gold Border Collies are not registered with their own breed clubs, but they are recognized by AKC and UKC.
Lilac Border Collie
When it comes to dog coat genetics, everything seems to be connected.
Lilac emerges from a diluted brown or red gene.
Both parents must carry the chocolate and dilute gene in order to produce lilac offspring.
Lilac Border Collies can also be merle with diluted patches instead of black ones.
Sable Border Collie
Sable, just like merle, is a coat pattern with a very unique depth.
At the base, the fur is black, chocolate, or tan and the same strands can be white or black at the tips.
Sable Border Collies also have white markings on various parts of their bodies.
Sable Merle Border Collie
On the tan-colored parts of the body, a merle pattern can develop if your dog is a carrier of this gene.
With any merle, there is a high possibility that a few speckles of discoloration also happen on their noses and paw pads.
Saddleback Sable Border Collie
Saddleback Border Collies look a bit like tricolor and white sable and you can expect the main colors to be black (base) and tan.
Similar to the normal tricolor, there are three different colors on the fur which in this case are white, black, and tan.
You can differentiate the two by looking at how spread out the colors are.
Saddleback sable puppies are usually born with very small saddleback markings.
Over time, the distinction between the base color and the tan will increase as the tan continues to spread.
Brindle Border Collie
You may have never heard of a brindle Border Collie before as this coat pattern occurs most commonly in Bullterriers, Cane Corsos, and Boxers.
A brindle-colored Border Collie has a base coat of black or brown (not white) with dark "tiger" stripes that cover the body.
Brindle Border Collies are not to be mistaken as a mix between other breeds, instead, they have this color patterning genetically coded into them!
6 White Border Collie Colors
Yes, setting white in front of a color creates a whole different coat color.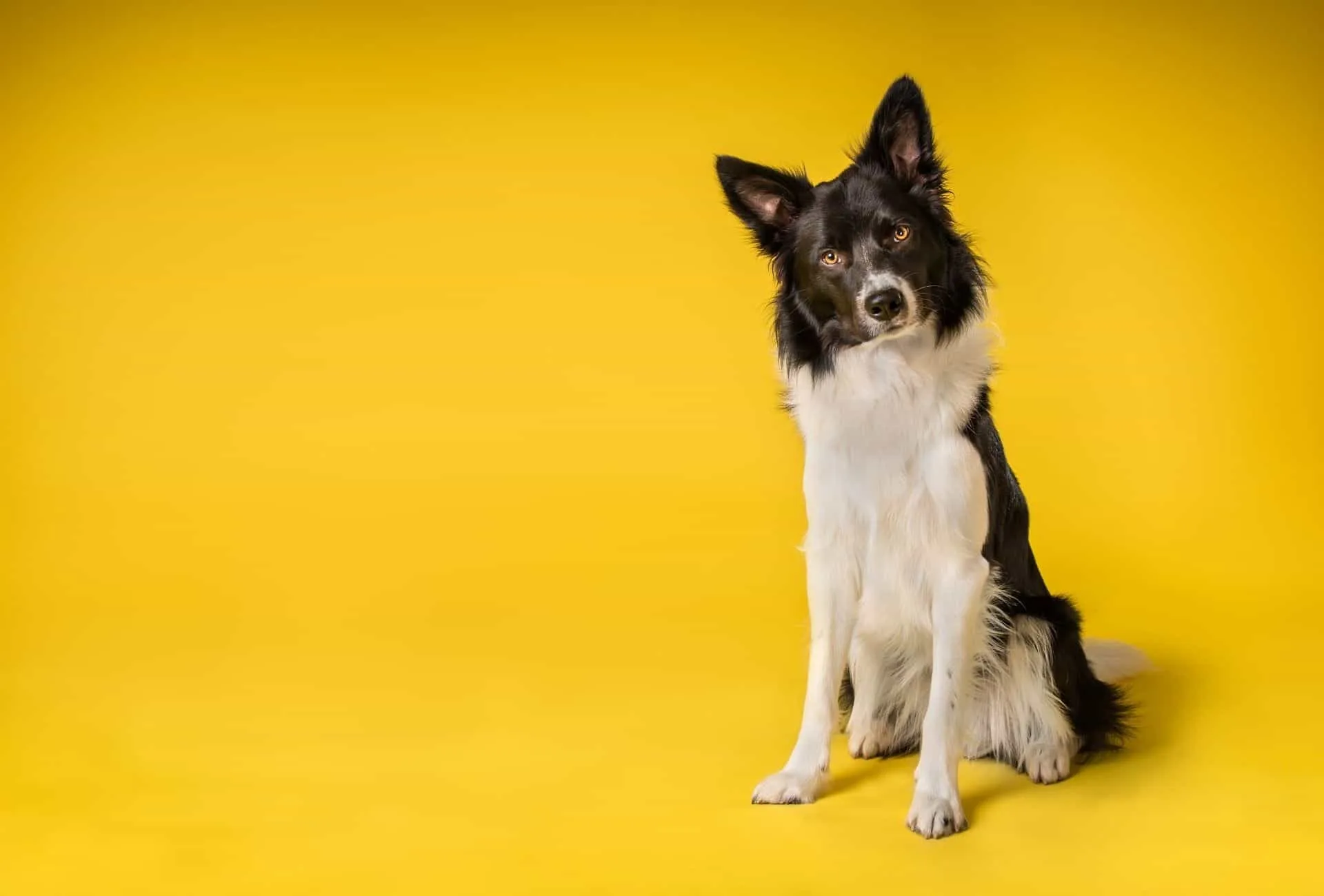 The main difference is that these dogs have a white base with the other color only being secondary and sometimes only covering little areas of their body.
White & Black
White & Blue
White & Blue Merle
White & Red
White & Red Merle
White Ticked
Recognized But Non-Accepted Colors
The AKC notes that these colors exist and mentions them in their directory for colors/markings but they will not be able to compete in all types of shows.
Let's check which colors or patterns are included in this category.
Seal
Slate
White & Gold
White & Seal
Let's start with the first one of these.
Seal Border Collie
Never heard of the color seal in Border Collies? It's deep black with brown or gray shading.
The reddish tint can be best observed when your dog is sunbathing outside.
The seal coat is often mistaken for mahogany-colored dogs by those who are not familiar with this color type.
Slate Border Collie
Slate Border Collies sure have a fancy name.
The slate coat is usually a mixture between silver and gray and appears a few shades lighter than the blue color.
The color can vary depending on how much white they have, with some dogs being grayer than others!
The silvery look shows up when there are heavy markings on the head or face.
White & Gold
As the name suggests, this coat color resembles the gold Collie, but it's predominantly white or cream.
Some areas of the body will be more white and gradually fade into a cream-gold.
White & Seal
Border Collies that have a white base color with a black seal coat that turns reddish in sunlight are called white and seal.
Sometimes only little daylight is required and you won't be able to see the black color at all.
Other Border Collie Colors
There are also a couple of other colors this remarkable dog can come in.
However, it's not always easy to distinguish what people mean when they refer to certain colors.
It can happen that two people have different ideas on what exactly a certain type of gold is and they call it something different, especially if they're registered in different kennel clubs.
Tri-Color
Chocolate (merle/sable)
Cream / Orange
Silver / Gray / Onyx Border Collie
Tri-color Border Collies can happen and while they're not common, they're not as rare as one might think.
Chocolate is often just another term for a deep red color (also referred to as "brown" by some).
Cream and orange describe certain lighter or richer versions of the gold Border Collie.
The Silver Border Collie coloration is generally titled as rare and was first seen in 1956. In 1959, this dog won Best-in-Show at an international show and not all judges have been aware of this dog's lineage.
Pin This:
Disclaimer: This blog post does not substitute veterinary attention and does not intend to do so. I am not a veterinarian or pet nutritionist. If your dog shows any sign of illness, call your vet.