Baking treats or even chews for your dog is not only a great way to cherish your pooch, it's also a way to spend some time with your little helper in the kitchen.
Okay, maybe the little helper is more like an impatient child wanting to stuff the cookie dough into his mouth.
Bright side: At the very least you'll get to see your dog drool while trying to transfer the cheese we're going to make from your pot into his mouth through sheer mental power.
Plus, you can actually make this 3-ingredient chew recipe pretty cheaply and quickly once you've got the details down.
Let's dive into what makes homemade Himalaya chews so great.
Disclaimer: Many recipes for this type of chew use lime juice, but since it may pose a health risk for dogs, I've decided to include vinegar. I've used very small amounts of lime juice in the past without issues but would advise against it. If you're unsure, consult your vet.
Are Homemade Himalayan Chews Good for Dogs?
I'm actually going so far as to say that making Himalaya chews at home for your dog is one of the best chews out there.
Why?
Well, maybe you've heard about the chemicals that come with other chewy treats like rawhide.
While rawhide is the go-to treat for many dog owners around the world, it can actually be toxic.
Depending on the origin of the rawhide, there may be no regulations in terms of food safety and to survive the long transport, they often contain unnatural chemicals.
Did you know rawhide also poses a choking hazard?
Apart from these two facts, the rawhide itself is a byproduct of the leather industry, not the meat industry.
So we'll delete rawhide from our shopping list, but what's the alternative?
Deer antlers? Puppies, smaller dogs, senior dogs, and even healthy large-breed adults can chip their teeth when chewing on these things.
Chews from major pet store chains? More stuff that just isn't made for dogs to provide a cheap low-quality product.
Chicken feet? Many things that are dried and from actual animals (without additives) might be a great fit for your dog.
But what makes Himalaya dog chews better?
Here are all the benefits:
You control how hard your dog's chew is
You control the chew's size, shape, and quantity
You know exactly what goes into your dog's body
Even though there might be a little learning curve in the beginning, once you've got this recipe down, it's pretty quick and fun.
How much it'll cost compared to stuff from your local shop depends heavily on how the ingredients are priced in your area.
How to Make Himalayan Dog Chews Safe
That's the great thing about these Himalaya chews, they're safe if done right.
When shopping for the ingredients, look for ethical-sourced products and try buying stuff with recycled packaging to leave the smallest carbon footprint possible.
So apart from having a healthy dog chew, we just have to make sure that it's the right texture for your dog.
If you have a small-breed dog, a puppy, senior, you'll probably want to go with a softer version of this chew.
If you have an aggressive chewer, provide them with a treat that they can chew on for some time (but make sure it's the right size to avoid them gulping it down).
After you've extracted the cheese (that's right, we're essentially making cheese), you have to squeeze it inside a cheesecloth or towel to get out the remaining moisture.
The harder your squeeze the cheesecloth or towel, the harder your chew will be after drying.
When it comes to the ingredients, it's important that you're using skim milk and not just regular milk because the recipe might not work.
To get the best possible result, you should make sure to stir and pause correctly in order for the cheese crusts to form.
In my first attempt, it was actually quite hard to get the cheese to form and definitely took longer than intended.
However, you can check out my Himalayan dog chews below.
No worries, your chews might not turn out in the perfect color or shape either and that's okay. Your dog won't complain as long as it tastes awesome.
Make sure to supervise your dog the first time you're giving him these chews.
If everything goes well, these chews are perfect to keep your dog occupied when guests are around, to reward him after a good training session, or to provide him with something to do when you're gone which can actually prevent stuff like separation anxiety.
In any case, you can sleep soundly knowing that you're fully controlling your dog's diet and banning any of the toxic chemicals that go into some dog treats and chews out there.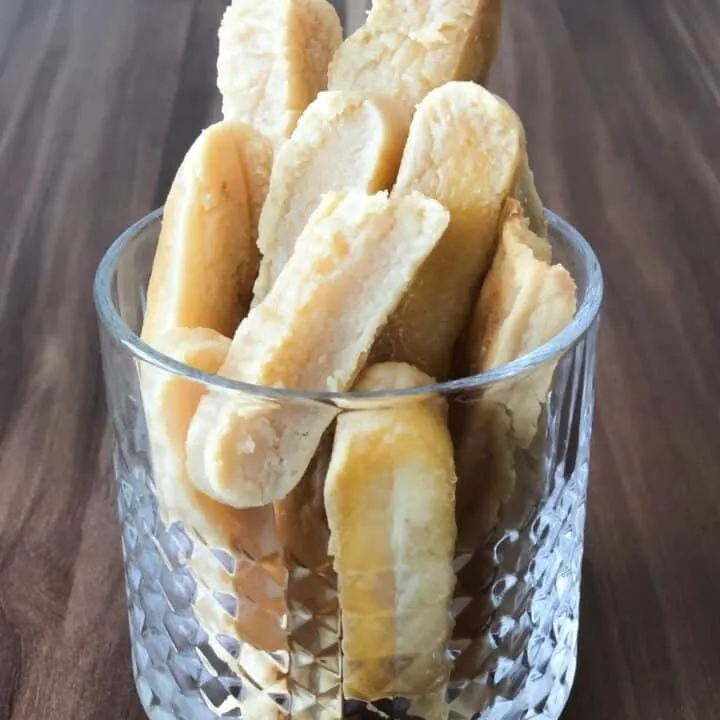 Himalayan Dog Chews
Total Time:
1 hour
5 minutes
Super chewy Himalayan dog treats that will be savoured by your dog.
Ingredients
1 gallon skim milk
1/2 cup vinegar
1 tsp Himalaya salt
Instructions
Start by pouring the skim milk into a large pot on low to medium heat.
Bring to a boil while stirring continuously.
Turn off the heat and add the vinegar as well as the Himalayan salt.
Stir gently for about 1-2 minutes or until the whey begins to separate from the curd.
Let the milk sit for 10-15 minutes without stirring.
Drape a cheesecloth or clean dish towel over a large bowl and drain the liquid out of the cheese leaving only the curds.
Twist the cheesecloth in your hand and squeeze to remove all the remaining moisture (the more you squeeze, the harder the treats will be).
Place the cheese with the cheesecloth between books or other weights that will continue applying pressure for at least 4-6 hours.
Remove the cheesecloth and cut it into desired-sized pieces.
Preheat the oven at 150°F and bake for 40 minutes.
Spread them out on a cooling rack and let them dry for at least 24 hours.
Notes
Vinegar: Recipe usually includes lime juice which can pose a health risk
Drying: If you have a dehydrator, you can speed up the drying process by placing the chews into the dehydrator at 150°F for 12-18 hours, turning them halfway through.
Storage: Store the chews in airtight containers in a cool, dry, dark place. If a lot of moisture is left in the chews, store them in the fridge for longer shelf life.
Shelf-life: The shelf-life completely depends on how much moisture is in the treats and they can last anywhere from 2 weeks to several years.
Recommended Products
This card may contain affiliate links.
Nutrition Information:
Yield:

20
Serving Size:

1
Amount Per Serving:
Calories:

68
Total Fat:

0g
Saturated Fat:

0g
Trans Fat:

0g
Unsaturated Fat:

0g
Cholesterol:

4mg
Sodium:

431mg
Carbohydrates:

10g
Fiber:

0g
Sugar:

10g
Protein:

7g
Disclaimer: This blog post does not substitute veterinary attention and does not intend to do so. I am not a veterinarian or pet nutritionist. If your dog shows any sign of illness, call your vet.