Ice cream has been an essential summer dessert since the 50s and for a good reason!
It's not only delicious and available in so many flavors, but it also provides a much-needed cooling effect that we would love to share with our dogs.
There is nothing tastier on a hot day than fruity, frozen treats that just melt in your mouth.
While there are some dog ice cream options that you can buy in a store, making your own frozen treats is a very healthy and inexpensive alternative!
Making homemade ice cream for your dog is incredibly easy (no ice cream maker needed) and I have created a short video that will guide you through the 5-minute process!
Is Ice Cream Okay for Dogs?
Ice cream that you can buy in a grocery store definitely isn't something that you would want to share with your dog.
Firstly, sugar is very harmful to dogs. It has the same effects on dogs that it has on people such as obesity, teeth problems, and diabetes.
Furthermore, many dogs don't digest milk or milk products very well. Symptoms of lactose intolerance may include diarrhea, vomiting, gas build-up, and abdominal pain.
If you take a look at your favorite store-bought ice cream, you may find some additives on the ingredients list.
Ice creams with polysorbate 80, xanthan gum, artificial flavors, and other unhealthy additives shouldn't be consumed by dogs or humans.
However, making your own homemade ice cream is a treat that you can definitely share with your dog.
You will know exactly what goes into it and you can easily stir away from potentially harmful ingredients.
Non Dairy Dog Ice Cream Recipe
The recipe I have attached below can easily be transformed into a non-dairy version.
Simply switch out the yogurt with whatever vegan substitute your dog is familiar with. There are yogurts made of coconut, almond, or soy.
Choosing a plant-based yogurt, however, doesn't mean that your dog will necessarily digest it well.
My personal favorite is coconut yogurt as many dogs love the taste of coconut flakes, milk, or oil.
The wrong brand or substitute can cause stomach upset so try giving your dog something new only in small doses at a time.
Even if your dog isn't lactose intolerant I would still suggest going with yogurt that is very low in lactose such as plain Greek yogurt.
Can Dogs Eat Yogurt?
Yogurt contains a lot of probiotics that promote a healthy gut with potential benefits for dogs that have recently taken antibiotics and now suffer from an insufficient amount of good gut bacteria.
Most dogs absolutely love yogurt so you can try giving your dog a small amount (about two teaspoons) either from a spoon or just by putting it on top of your dog's meals.
As I have said before, yogurt contains lactose, and some canines, just like humans, cannot digest it well.
Make sure to only buy yogurt that has nothing harmful or unnecessary added to it.
Plain, greek yogurt will be your best choice.
Fast & Easy Dog Ice Cream Recipe
Making these homemade frozen dog treats will only take you 5 minutes of preparation and no fancy equipment is needed.
You can easily personalize the recipe by switching out the banana and strawberries with your dog's favorite fruits or berries.
If you like you can also add a little bit of peanut butter or coconut flakes for a little extra flavor.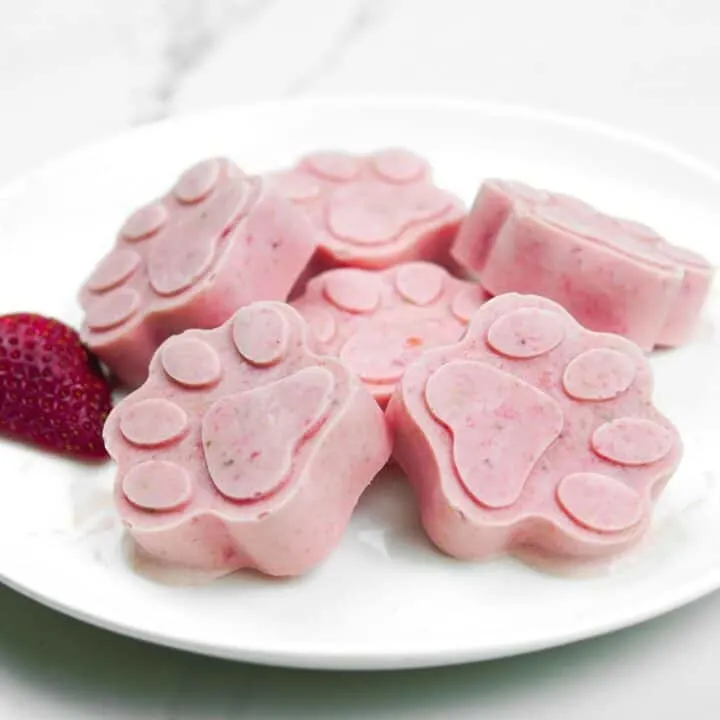 3 Ingredients Dog Ice Cream
Total Time:
3 hours
5 minutes
Delicious, fruity banana strawberry frozen dog treats that are great for extra hydration on hot days and only require 3 ingredients!
Ingredients
1 cup of plain or plant-based yogurt
1/2 cup of strawberry-banana frozen fruit blend
2 tbsp honey
Instructions
Combine all the ingredients in a blender and pureé until smooth.
Transfer the mixture into your desired freezer-safe molds (I used these).
Freeze for at least 3 hours or until solid.
Gently release the treats out of the molds and watch your dog enjoying them!
Notes
If your dog doesn't do well with lactose I would recommend greek yogurt which is low in lactose or a plant-based yogurt of your choice (I personally use coconut yogurt).
There should be no sweetener added to it and make sure to choose a dairy substitute that your dog has digested well in the past.
Recommended Products
This card may contain affiliate links.
Nutrition Information:
Yield:

20
Serving Size:

1
Amount Per Serving:
Calories:

24
Total Fat:

0g
Saturated Fat:

0g
Trans Fat:

0g
Unsaturated Fat:

0g
Cholesterol:

1mg
Sodium:

8mg
Carbohydrates:

5g
Fiber:

0g
Sugar:

4g
Protein:

1g
Disclaimer: This blog post does not substitute veterinary attention and does not intend to do so. I am not a veterinarian or pet nutritionist. If your dog shows any sign of illness, call your vet.