If you're on the hunt for the best type of harness for your dog, you're at the right address.
While dozens of articles cover the best overall dog harnesses or no-pull dog harnesses, I wanted to dive deeper into whether you really need one and what kind of options are out there for your pup.
Before deciding on the right size, material, and lastly design or color, you need to find the right type of dog harness for your dog.
There are 7 main types of dog harnesses and some of them are suited for specific purposes and breeds only:
Padded chest harness
Dual strap harness
Step-in vest harness
Safety dog harness
Halti front pull harness
Weight pulling harness
Tactical dog harness
What Is The Best Harness For a Dog?
Personally, my favorite harness for everyday use with my Rottweiler is the padded chest harness that acts as a no-pull dog harness due to the ring in front of the chest.
The padded chest harness is the most comfortable dog harness and is suited for hiking or riding a bike.
However, the best harness for your specific dog might be entirely different. Here are a couple of factors to help you decide which harness type is right for your dog:
If you have a small-breed dog, the vest harness might be entirely fine for you while you'll struggle to even find the right size for a larger dog since they're just not made for them and often provide little adjustability.
Has your dog been leash-trained? If so, you can easily opt for a regular harness but if not, you might want to think about no-pull options until your dog's training foundation is solid.
A padded chest harness is perfect for jogging, not so much for swimming. If you're planning to go for a swim, a lightweight but secure dual strap harness is best. For hikes with large dogs, you might choose the tactical vest.
This one is among the most popular harnesses on the market since it's designed for a wide variety of activities. A lot of people (including myself) are very happy with the Rabbitgoo no pull dog harness.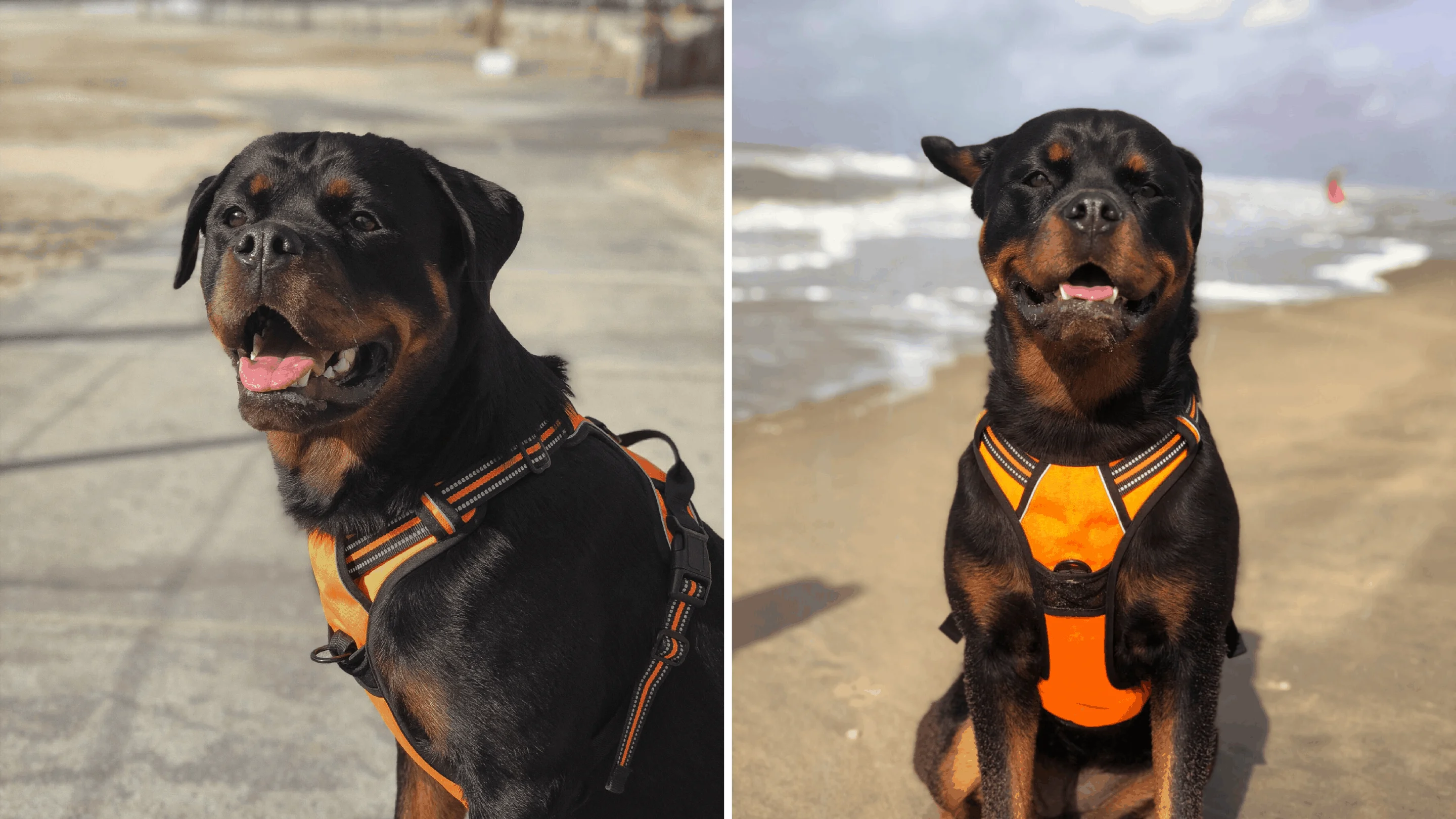 The padded construction reduces pressure points on your dog's joints because the pulling force is evenly spread over the chest and nothing blocks the shoulders (if fitted properly).
Back-clip harness: The leash attachment ring is located on the dog's back, making it the most comfortable option. Only suited for dogs that are calm and leash trained otherwise you will get much more pulling compared to a collar.
Front-clip harness: This is the best option for puppies that are still being leash-trained as well as adult rescues that have yet to learn to stop pulling. You will have much more control over your dog's body and can easily redirect it.
If you're not into the variety of colors this harness provides you with or the sizes just aren't taking the build of your pooch into account, you can check out this harness by Embark.
Or this padded chest harness by ThinkPet.
This would be my go-to choice for all kinds of dog breeds as as well as everyday use. With the padded chest harness, you really can't go wrong and avoid doing any damage to your puppy's joints.
The dual strap harness is pretty similar to the one mentioned above with the difference that it's much lighter on the dog's back and in front of the chest.
If my Rottweiler goes swimming in the ocean, I always opt for the dual strap harness as the light straps don't soak up as much water and are easier to clean.
For everyday use, this is also a great harness for casual walks because it has everything the padded chest harness has (the one I mentioned even has the same no pull ring for the front which most dual strap harnesses don't have).
In case your dog's very strong and/or not completely leash-trained, I'd opt for the padded chest harness instead of this one as it just doesn't provide as much control and a powerful dog can break free quite easily.
For anxious dogs, I wouldn't recommend the dual strap harness either as it's certainly not escape-proof, at least not if it has no additional safety straps.
The step-in harness and the vest harness are actually two different kinds of harnesses but in reality, they're one and the same in most cases.
One of the advantages of step-in harnesses is that you don't have to pull the harness over your dog's head. This is great for rescues that don't like being touched in the face or dogs that are temporarily injured around the head or neck region.
However, you do have to teach your dog to cooperate when you want him to wear the step-in harness and it's best to introduce a command for your dog to make it easier for both of you.
The major disadvantage of vest harnesses is that they can't be adjusted really well and should fit right out of the gate.
Step-in vest harnesses are great for small-breed dogs since they're comfortable to wear and stylish.
For my 100 lbs Rottweiler, the XL option is still more than 50% less than what she'd need for the chest, so make sure to check the sizing guide.
The safety harness for dogs is just an extra step to make sure your dog can't escape.
This comes in especially handy when you're bringing home a rescue dog and some animal rescues in Germany (where I live) won't leave the dog with you if you're not bringing a safety harness.
Until you've established a trust relationship and have a strong bond in addition to a strong recall, you can discard this harness as the additional straps and length just become a burden.
However, for some dog breeds like wolfdogs or just overall shy and jumpy or very independent dogs, the safety harness might be worth a look.
You might wonder why I'm including the Halti on this list as it's just a head halter that should train your dog against pulling, right?
What if your dog breaks free of his collar? Generally speaking, the Halti should provide your dog with a safe training environment and that's why it makes sense to buy a Halti that you can attach to the harness as a safety measure.
The weight pulling harness is only suited for working dogs like sled dogs or powerful breeds that are involved in sports.
Make sure to properly desensitize your dog to this harness if you're planning to do some lightweight training. If you're unsure about over-exercising, always stop too early instead of too late and make sure your pooch is in a healthy condition that allows him to pull any weight in the first place.
The rings on the other end of the weight pulling harness can be attached to some kind of object or a sled. Additionally, sled dogs are secured with each other in most cases and can reach astonishing speeds as a team with the right type of harness.
The tactical dog harness is for large breeds on extreme hiking trips or sports.
It provides the most coverage compared to the aforementioned other options and the sturdy material protects your dog when pacing through the woods or doing fieldwork.
Various patches can be attached to it to inform others that you have a service dog, a dog with special needs or just some fun phrases. Small pouches can also be hung on the sides.
How To Choose The Right Dog Harness Type
Choosing the right harness type will ensure sure that your dog's harness will be comfortable while also being durable.
Size: Every right buying decision for dog harnesses starts with the right size. If your dog's harness doesn't fit properly, he will most likely feel uncomfortable or even get in danger when he manages to slip out of it.
Carefully measure your dog's ribcage on the broadest point and stick to the size instructions. Keep in mind that different styles have different fits and depending on your dog's body type, certain harnesses might not be suited.
Fabric: Most harnesses are made from nylon or other synthetic fabric which is easily adjustable and suited for wet weather. Leather alternatives have a higher price point, uncomfortable, and are difficult to clean.
Padding: Padding or no padding is simply a personal choice. Padded chest harnesses are often more expensive and soak up more water so it greatly depends on the intended use.
Features: Late night walks demand for safety features such as reflective stripes which provide more visibility to cars and other people. A handle on the back of the harness also comes in handy when restraining or lifting your dog.
Tested: If you frequently travel with your dog in the car, make sure that your chosen harness is crash-tested or buy an additional one only for that purpose. Don't forget an elastic seatbelt!
Fitting: Once the harness has arrived you will probably need to adjust some straps. You should be able to comfortably fit two fingers between the straps and your dog. If access material chaffs or it wiggles around when your dog walks, the harness might be too big.
Pin This:
Disclaimer: This blog post does not substitute veterinary attention and does not intend to do so. I am not a veterinarian or pet nutritionist. If your dog shows any sign of illness, call your vet.