A lot of people who want to get their dog trained choose a board and train program because it seems like the easy way out.
However, before sending your pup away for training, there are some things that you should know about!
What do you need to know before sending your dog off for a board and train program?
Do you have all of the supplies they will need? Is it time to start crate training them?
How long should they be in this type of program before coming home again?
We'll talk about what to expect from these programs, as well as the research you should be doing beforehand.
Does Board and Train Work for Dogs?
Board and Train programs are becoming more popular for people who want to have their dogs trained by professionals for a certain period of time to then receive a much better behaved dog.
The idea sounds great and easy but there are a few obstacles that may come with this.
In general, board and trains can work for dogs as they provide the trainer with lots of one on one time where she/he can evaluate the behavior problems and solutions.
This is something private sessions won't be able to accomplish which brings us to the first issue.
Only one or several trainer will be working with your dog, not you.
Without proper owner involvement, the dog will only learn to listen to their primary caregiver during this time.
We will talk more about that below.
Every dog is different and in order to know if a board and train program is right for your pup, you should first do some research on the subject.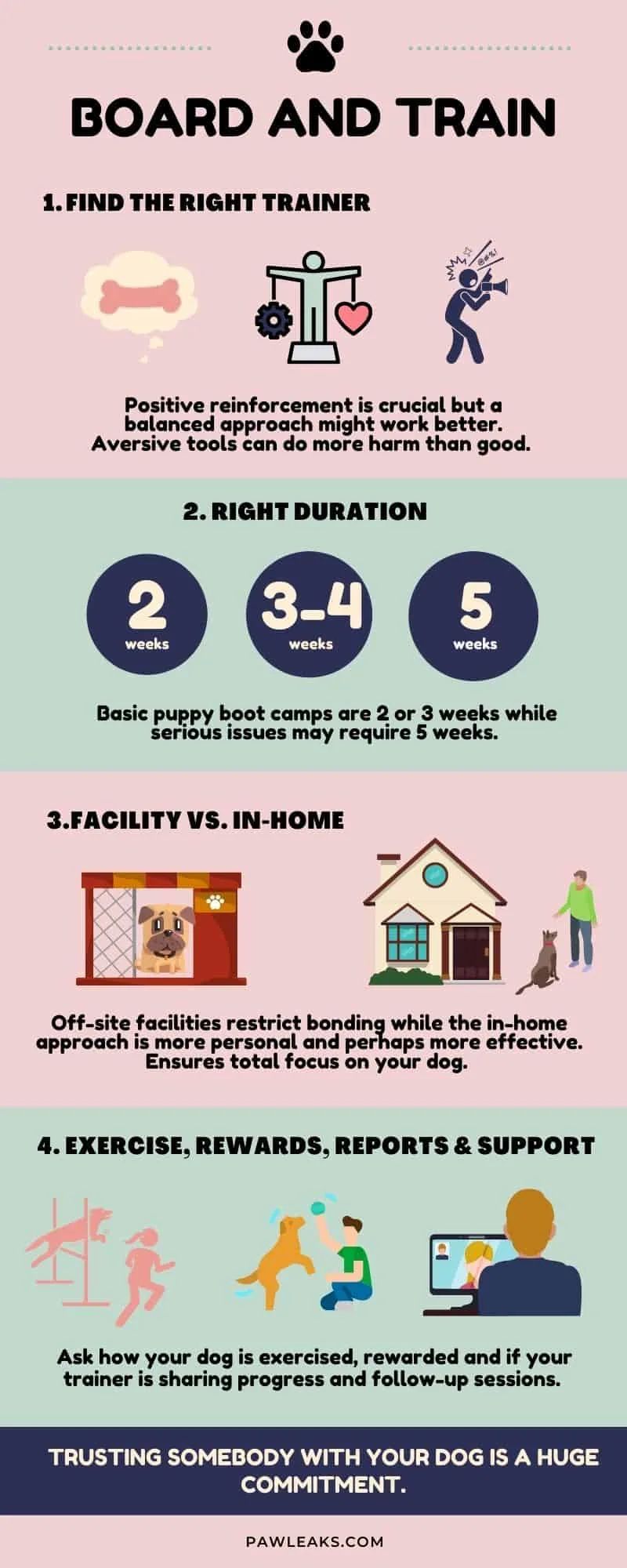 Board and train also has two parts that need to be played properly.
One part being the work of the trainer but the other half will happen when your dog comes home.
Lifetime training and the continuance of the things learned in the program are crucial for desired results.
Otherwise, your dog will come home and simply continue to behave as before.
Is it OK to Send Your Dog Away for Training?
Making the decision to send your dog away for training is a very personal choice.
It also largely depends on the quality of the facility and the level of care that will be given to your dog.
It is most important that you feel comfortable with sending your dog away and that you have made sure that he will be in good hands.
If your dog is struggling with separation anxiety it might not be okay to send him away for training as an unfamiliar environment might actually worsen the behavior.
With owner-directed issues, your dog might not show this behavior with another person since the underlying issue is an unhealthy attachment to you.
Can a Dog Be Trained In 2 Weeks?
A dog can be trained in 2 weeks but it largely depends on your training goals.
Do you want your dog to be equipped with basic obedience? 2 weeks are probably enough.
For more advanced training, specialized training and behavioral issues, I would recommend at least 3 weeks.
Some board and train facilities only accept dogs for 5+ weeks if they have serious issues while others are getting in all the basic obedience + potty commands, recall, release, and more in 2-3 weeks.
Some boarding trainers also provide a guarantee – dog is trained or you get a free extension.
Not all do that though, that's why I've tried to give a little overview over all the programs below.
How Long Should I Board and Train My Dog?
Most board and train programs will take 2-5 weeks depending on the severity of the behavior problem or the complexity of the obedience training.
A dog trainer that takes more than 5 weeks for training should have a very valid reason for it.
It also depends on your dog's age.
If you have a puppy and send him to a boot camp keep in mind that the longer he will be away, the more crucial bonding periods you will miss.
How to Choose a Board and Train Program
Doing your research and asking the right questions will eventually lead you to the best board and train program for you and your dog.
Firstly, you should make sure they have a solid reputation in the area, as well as positive reviews from other customers online.
Thoroughly check their whole website and board and train page to get an idea of what the facility is like and if the program matches your needs.
If you can, visit the facility to determine if it's a good fit.
You'll want your pup to be comfortable in this new environment, and you'll also get a feel for what life at the facility is like.
The final step is talking with staff members about potential issues or concerns you might have.
If they don't seem knowledgeable or are dismissive of your concerns, this is probably not the right place for your pup!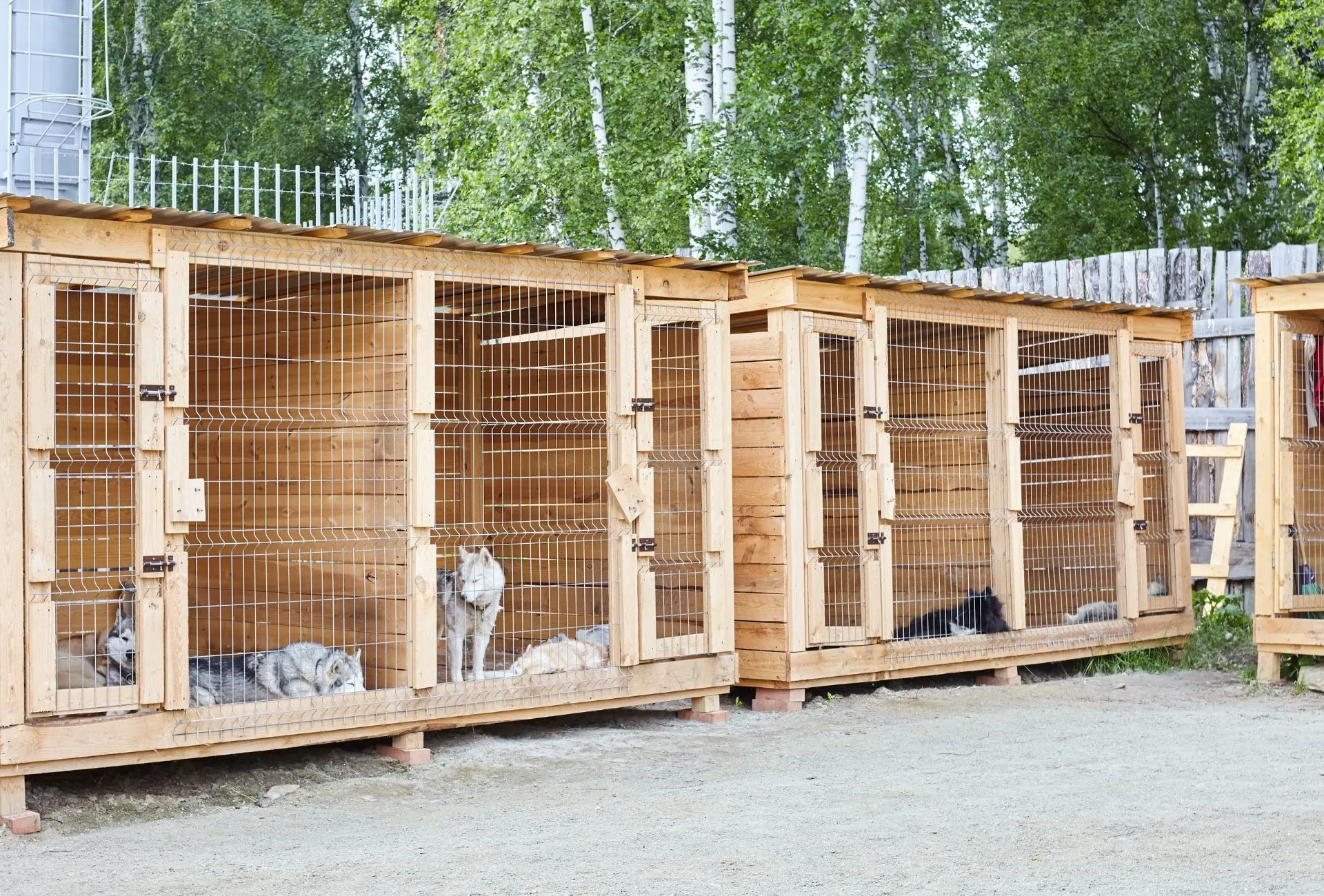 If you prefer your dog not being confined to a kennel, choose a dog trainer that trains the dogs in their own home.
This is the preferred choice for most dog owners as you want your dog to be in a cozy and homey environment but it also greatly narrow down your search as most programs will be in a facility.
If your dog will be trained in a facility, ask about how long they will be worked with during the day.
How long will they need to be alone in the kennel? How much exercise and attention will they get?
Sadly, many facilities will just cramp a lot of dogs into different kennels and will hardly pay attention to individual dogs.
Think about how you want your dog to be trained there.
Every dog trainer will use different training methods and many will use aversive tools to achieve the desired results.
How will the dog be corrected and how will the dog be rewarded?
Beware of physical corrections and aversive methods.
There should be many opportunities for you to work with your dog during the stay as a one hour session and the end of the program won't be enough to cover everything.
You should also be able to check in on your dog's process via images, videos and reports.
Ask about the number of dogs that will be at the facility. The smaller the group the more time a trainer will be able to spend with your dog one on one.
How Much Does It Cost to Board and Train Your Dog?
Board and trains aren't cheap but if they will be actually engaging with your round the clock then they are definitely worth your money.
Most board and trains will cost about $1,000 dollars per week. This depends on the type of training you have chosen and the goals you want to achieve.
Specialized training such as gun dog training will cost more than a simple obedience boot camp.
If the dog trainer only takes on a few dogs at a time inside their home, you will probably pay extra for that luxury.
To give you a better overview I have collected the prices from 10 different board and train programs:
| | | | |
| --- | --- | --- | --- |
| Program | Price | Location | Notes |
| Pak Masters – Larry Krohn | $3,500 | Kentucky/Tennessee | Up to 4 weeks + 10 hours consult |
| America's Canine Educator – Tom Davis | $3,900 | Clifton Park, New York | Off-site |
| Redemption Road K9 | $3,700 | Southern California | Off-site; 4 staff members & 10 Acres |
| Off Leash K9 Central Coast | $2,800 | Central Coast | Only 2 weeks |
| I Said Sit! | $3,250 | LA, California | Includes 4hrs consult; Advanced costs $250 extra |
| K9 Logic | $3,200 | LA, California | "Intermediate" 4w costs $1,700 extra |
| I Work Dogs | $4,200 | LA, California | 4 follow-ups & lifetime group classes |
| Pavlov Dog Training | $4,500 | Denver, Colorado | In-home & max. 3 dogs |
| K9 Denver | $2,000 | Denver, Colorado | 4w + 4hrs follow-ups & Guarantee |
| Wags Pet Resort | $2,400 | Portland, Orgeon | 2w; 3w only for hard cases +$1,350 extra |
Board and Train Price Comparison by U.S. state
Please note that I do not advocate for any one of these training programs.
This is solely for informational purposes and not a recommendation.
You should do extensive research before committing to a board and train facility. Your dog's life is in their hands.
Pros of Board and Train
The biggest advantage of boarding schools for most people is that all the training is done for you.
Good dog trainers will have way more knowledge and experience than owners so the success will be much higher.
You won't have to go through 10 private sessions plus training classes which can be quite stressful and time intensive.
Some behavior problems may be so severe that you would never trust yourself dealing with them alone.
And you shouldn't!
If you are going on vacation, training schools can be a great alternative to boarding kennels so your dog can continue learning while you are away.
A boarding facility will be way better equipped to train for dog sports than the average dog owner.
If you want your dog to perfect a certain skill, a trainer with this specialized experience is needed.
Lastly, most behavior problems are connected to you as the owner and the dog's environment.
Simply changing the routine and bringing structure into his life will account for a big behavior change which brings me to the biggest disadvantage of boarding.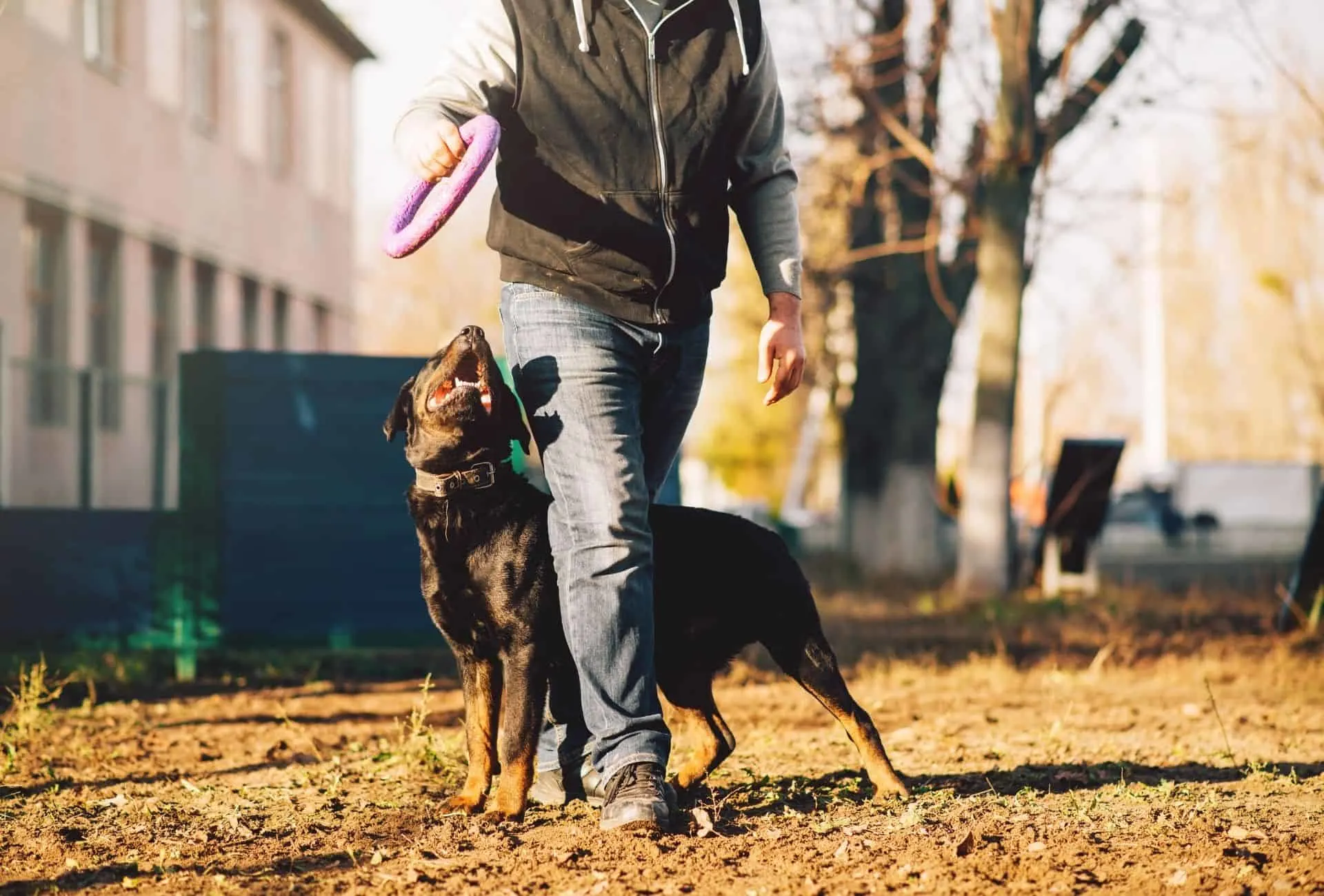 Cons of Board and Train
Training and obedience are two of the biggest bonding and relationship-building contributors.
Not having this opportunity with your dog is a huge loss.
Most behavior problems come down to a lack of understanding and miscommunication.
Going through a training process together is crucial and makes for a solid bond going forward.
You may have heard the phrase that dog trainers are really people trainers as they mostly teach the owners how to interact and understand their companions correctly.
Sending away your dog for training won't teach you to train your dog.
There may also be some challenges transferring your dog's new behavior into your home.
Dogs have a hard time generalizing and if things at home won't change significantly the dog may fall back into bad behaviors.
You have to commit to follow-through with what was being taught and this part also greatly depends on the trainer's ability to communicate every little detail that you need to know.
Regular follow up sessions are a must and your chosen dog trainer should offer them unsolicited.
Whatever a trainer might be telling you beforehand, there are no guarantees.
You have to be aware that the training program might only work to a certain degree or that it won't help at all.
Every dog is unique, learns at their own pace and in their own way.
In general, a board and train environment may not be best for aggressive or anxious dogs.
Furthermore, leaving your dog with someone else for several weeks is quite daunting.
You have no idea what really happens behind closed doors on a daily basis.
How much your dog will be really spending time in the kennel and if they are actually using the techniques they promoted.
They are also at risk of neglect, mistreatment, a lack of social interactions and exercise.
A few traumatizing weeks will cause a lot of emotional (and physical) damage.
What you want is a trainer that, at best, has the dogs living inside their own home and cares for them like their own.
The last argument revolves around the cost. Board and train programs will usually be much more expensive than classes or in-home training.
Even if you choose such a program you will still need some follow-up sessions that you also have to pay for if they are not part of the package.
Is Board and Train Worth It?
Every dog owner has to evaluate the pros and cons of boarding for themselves and if the programs are worth the price.
In my opinion, a dog trainer is the person that builds a bridge between you and your dog but you have to be the one to walk it.
Most behavior problems can be dealt with at home and in todays age, online dog training is more popular than ever.
A trainer can reliably work with you and your dog through video calls and guide you through the process.
Daily training doesn't have to be long but it needs to be consistent. This is what will determine your success rate!
Disclaimer: This blog post does not substitute veterinary attention and does not intend to do so. I am not a veterinarian or pet nutritionist. If your dog shows any sign of illness, call your vet.